We all have different preferences when it comes to what time of day we like to fly. Over the years I've become a morning person, so in general:
I love a 5-6AM flight, as it allows me to avoid traffic heading to the airport, and allows me to avoid the crowds once I get there
If I can't do that, I prefer to take a flight leaving between 11AM and 2PM, give or take; I like to avoid the "morning rush" (around 7AM to 10AM) and "evening rush" (around 4PM to 8PM), and also don't like to fly too late since I tend to go to bed early
Those are my general preferences. Of course this is more of an issue in some markets than others, as there's more traffic to account for in New York City than in Paro, for example.
However, I have one flight I just took (and that I've taken a couple of times in the past) that I simultaneously love and loathe.
American's A321 transcon service
American operates specially configured three cabin A321 aircraft between New York and Los Angeles/San Francisco. As an Executive Platinum member you receive complimentary upgrades on this route from economy to business class, though I've been finding that these upgrades are getting progressively tougher to clear.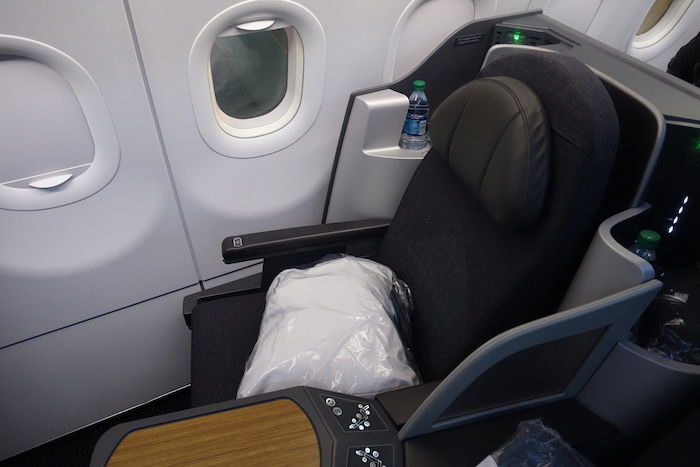 American's A321 business class seat
To me it's worth doing everything I can to be in a premium cabin on a transcon flight that's blocked at almost seven hours:
On American I'll try to apply a Business Extra upgrade certificate if I don't think my upgrade will clear otherwise, but unfortunately confirmable upgrade space is very tough to come by
If I don't think I'll clear, I'd rather connect somewhere to split up the flight time and maybe have a better shot at an upgrade on at least one of the segments
If JetBlue Mint or another business class is reasonably priced, I think it's worth just outright paying for a premium cabin to avoid being in a situation where my upgrade doesn't clear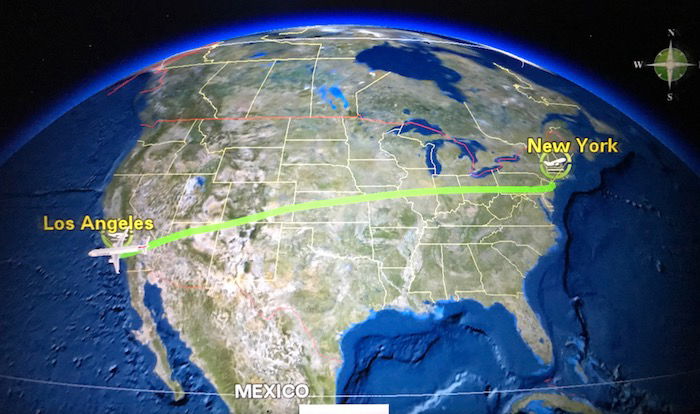 Airshow from New York to Los Angeles
American's one A321 flight that's a (near) guaranteed upgrade
Of all the transcon A321 flights, I've found that there's one that's a near guaranteed upgrade. Specifically, the 10:30PM flight from New York to Los Angeles, that is scheduled to land after 2AM. It's more or less a reverse redeye.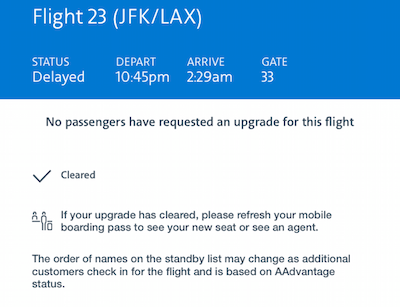 No one on the upgrade list to LAX!
When I first saw this flight I said "no way in hell I'm taking that." I usually go to bed by 8PM or so, and I prefer avoiding flights past my bedtime unless it's a longhaul flight. But there are many things to love about this flight:
This has to be the easiest transcon upgrade in the system, as there's regularly no one on the upgrade list, and lots of non-revs get on in first and business class.
As much as I hate leaving so late, it allows you to leave after the peak rush hour in New York, and to land in LA at a time where there's virtually no traffic (which is exceedingly rare)
The way I see it, the flight is a great opportunity to get a solid 4-5 five hours of sleep; sometimes that's enough sleep for me, and then I'm happy just staying up and being productive, and then then just go to bed super early the next night, or sometimes I nap for a couple of hours in the afternoon
The flight is often priced lower than other JFK-LAX flights, given how undesirable it is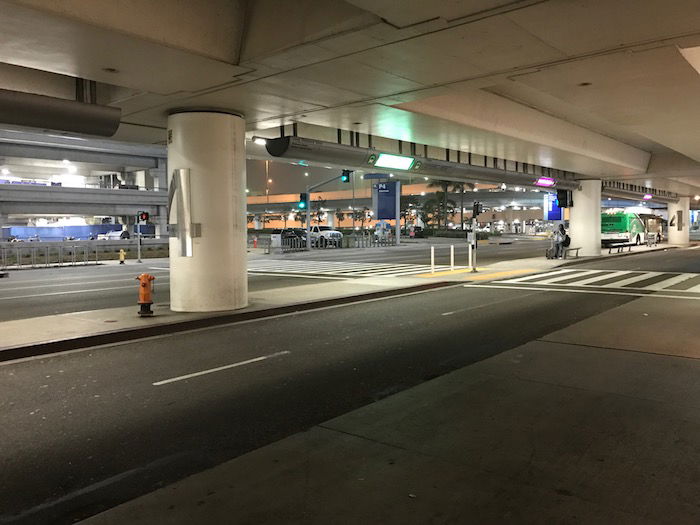 LAX is only this empty in the middle of the night
Bottom line
Perhaps it's largely a reflection of how far out of my way I have to go to get value out of my status anymore. However, ultimately there's value in a transcon upgrade (especially westbound, given the flight time), and as much as I'd rather fly earlier I find that it's better to just not sweat the upgrade, sleep most of the time, and take what I consider to be a pretty efficient flight.
Am I crazy for loving the late night American A321 flight from New York to Los Angeles? How far out of your way will you go to secure an upgrade?