Hello from Siem Reap, Cambodia! After great flights on Cathay Pacific from Los Angeles to Hong Kong to Singapore, and a couple of nights in Singapore, our next stop is Siem Reap, Cambodia.
Singapore Airlines' subsidiary, SilkAir, operates flights between Singapore and Siem Reap. The airline is a member of the Singapore Airlines group, though isn't a Star Alliance member. That means you can't redeem Star Alliance miles for their flights, other than Singapore Airlines KrisFlyer miles.
Fortunately I managed to redeem miles for this flight through a promotion KrisFlyer is offering, so the cost was just 10,000 KrisFlyer miles one-way in business class. I flew SilkAir several years ago on one of their A319s in business class, though they now have a fleet of new 737s, so I was curious to see how that experience compared.
Our flight was operated by a gorgeous new 737-800.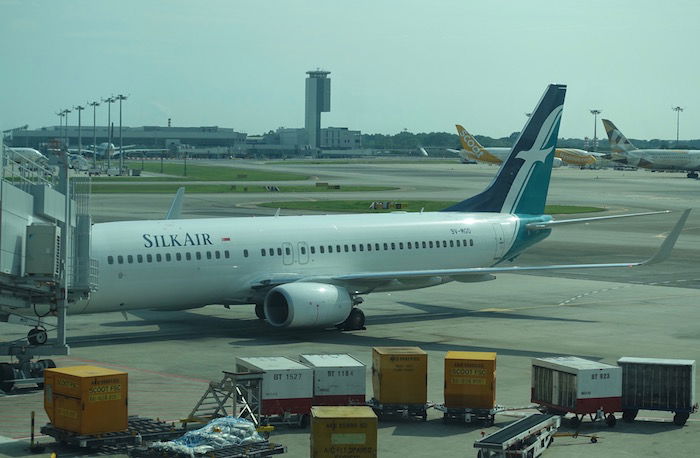 The business class cabin consisted of 12 seats, spread across three rows in a 2-2 configuration. The legroom seemed to be similar to what you'd get on a US airline in domestic first class, though the seats had legrests. To me that's rather puzzling, as there really isn't enough room to use them — the seats are already really tight if the person in front of you reclines. I think a simple footrest that swings down from the seat in front of you is much more practical.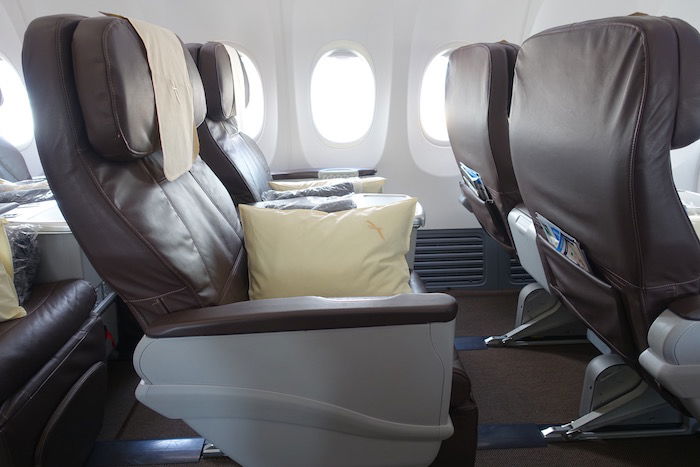 I was impressed that SilkAir had "proper" pillows and blankets, even on a sub-two hour flight.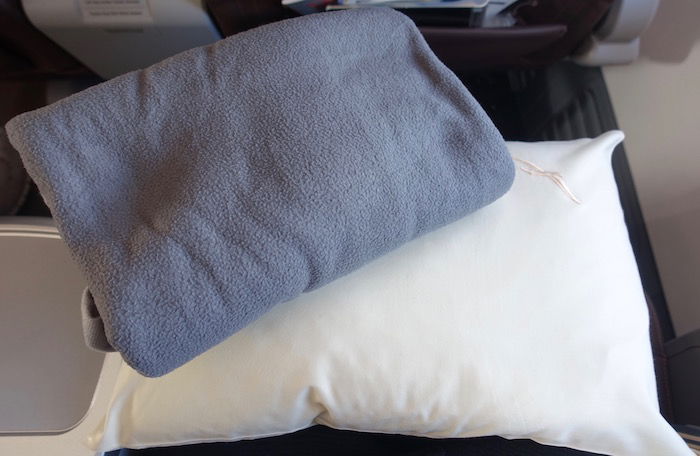 SilkAir certainly isn't as full service as their "parent" airline. They don't have built-in personal televisions, but rather in business class have portable tablets. That's a non-ideal setup, though they did have Ninja Warriors, which is possibly the best thing I've ever seen. How have I not seen that show before?!? I laughed to the point that I had tears in my eyes.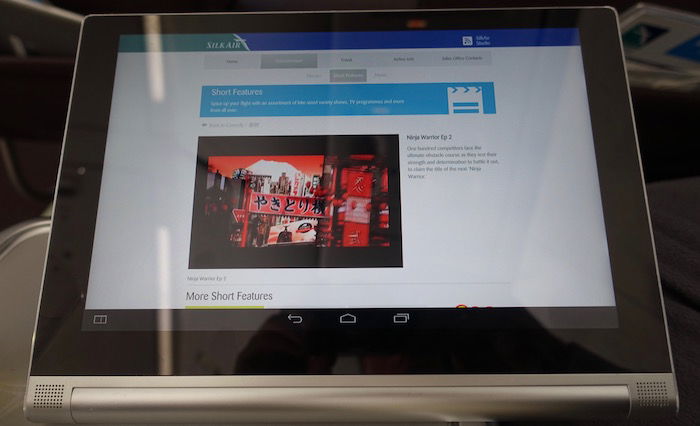 I was also impressed by the service. SilkAir has six flight attendants on their 737s. As a point of comparison, American has three. They had two flight attendants working business class. There were only two other passengers, so we had a 2:1 passenger to crew ratio.
While the crew was super friendly and attentive, unfortunately they didn't have much to work with. There was a single menu that the crew passed around when they took meal orders.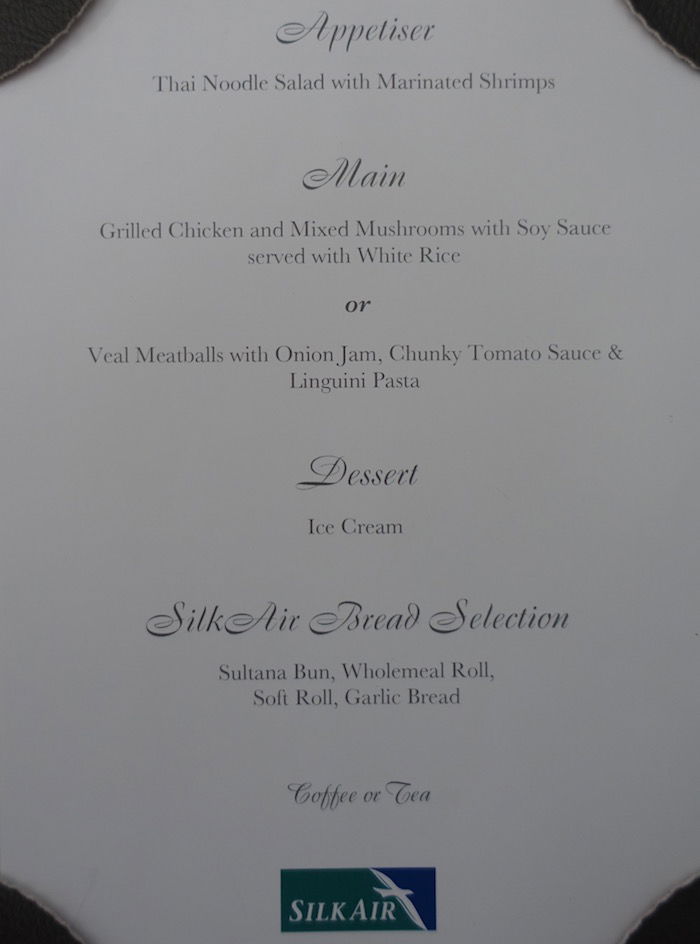 The food was served just minutes after takeoff, but was borderline inedible. The chicken was rubbery as could be, and the salad bland.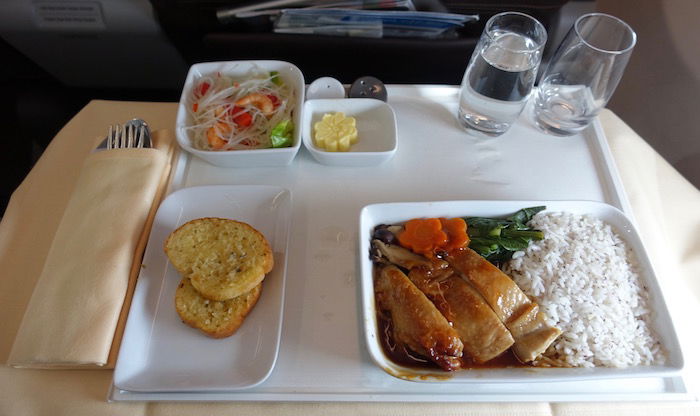 Ford had the veal meatballs, which he said tasted horrible.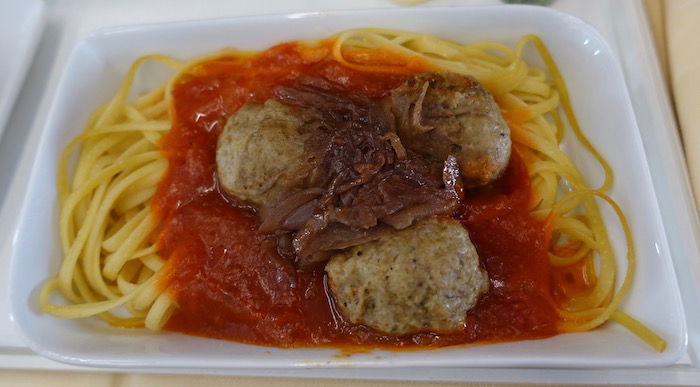 The only redeeming aspect of the meal was the ice cream.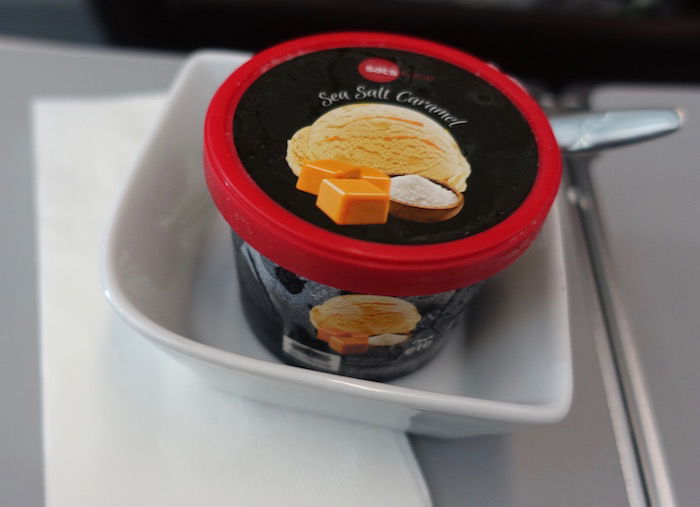 Unfortunately the coffee was vile, even by airplane standards (which is saying a lot).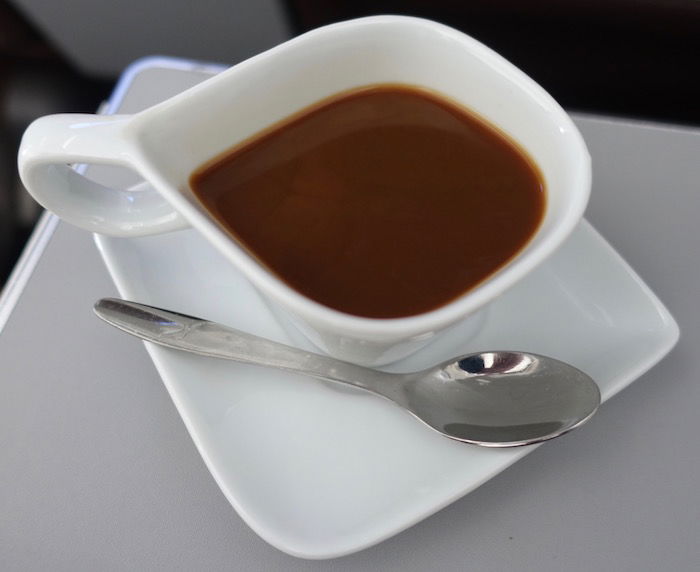 Oddly SilkAir only had small single-serving bottles of wine, with one red and one white choice. I asked if they had champagne, and they said "no, because of how short the flight is." Hmmm…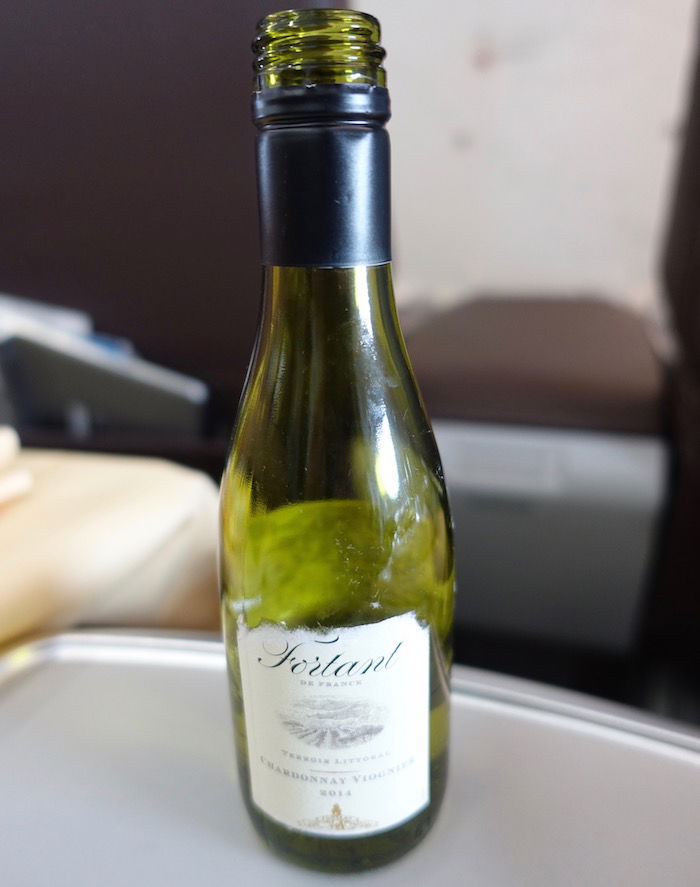 The flight was also really bumpy, though of course that's not the airline's fault. About 80% of the flight had chop, with about half of it being so rough that the crew had to be seated.
SilkAir business class bottom line
SilkAir is sort of like Singapore Airlines light. They run a solid operation with great flight attendants and high staffing levels. The planes are clean, modern, and in good condition. Unfortunately otherwise they fail to impress, at least based on my experience. The food was bad, the drink selection was underwhelming, and the tablets for entertainment sort of feel cheap. Who knows, maybe I was just unlucky with the soft product on this flight.
Still, there aren't exactly many great options for getting to secondary destinations in Asia, so SilkAir is probably the best among them. I'd certainly fly them again.
If you've flown SilkAir before, what was your experience like?