For a long time I've been wanting to try Meridiana's business class product, given my fascination with premium cabin products on seemingly random airlines. Meridiana operates flights from New York to both Naples and Palermo, which are markets where they have monopolies. I know a lot of New Yorkers who have wanted to go to the Amalfi Coast, so were drawn to the convenience of the nonstop flight to Naples, but were also concerned about flying with Meridiana.
I booked my ticket last minute for ~$1,000 one-way. Meridiana pretty consistently has ~$1,500 roundtrip business class fares in the market, so is Meridiana worth flying at that price? I'll be sharing my initial thoughts in this post, and then will soon have a full trip report about the experience.
Meridiana's longhaul fleet consists of four 767s, which were delivered to the airline in 2014, but have all been flying since between 1988 and 1998, so they're 20-30 years old.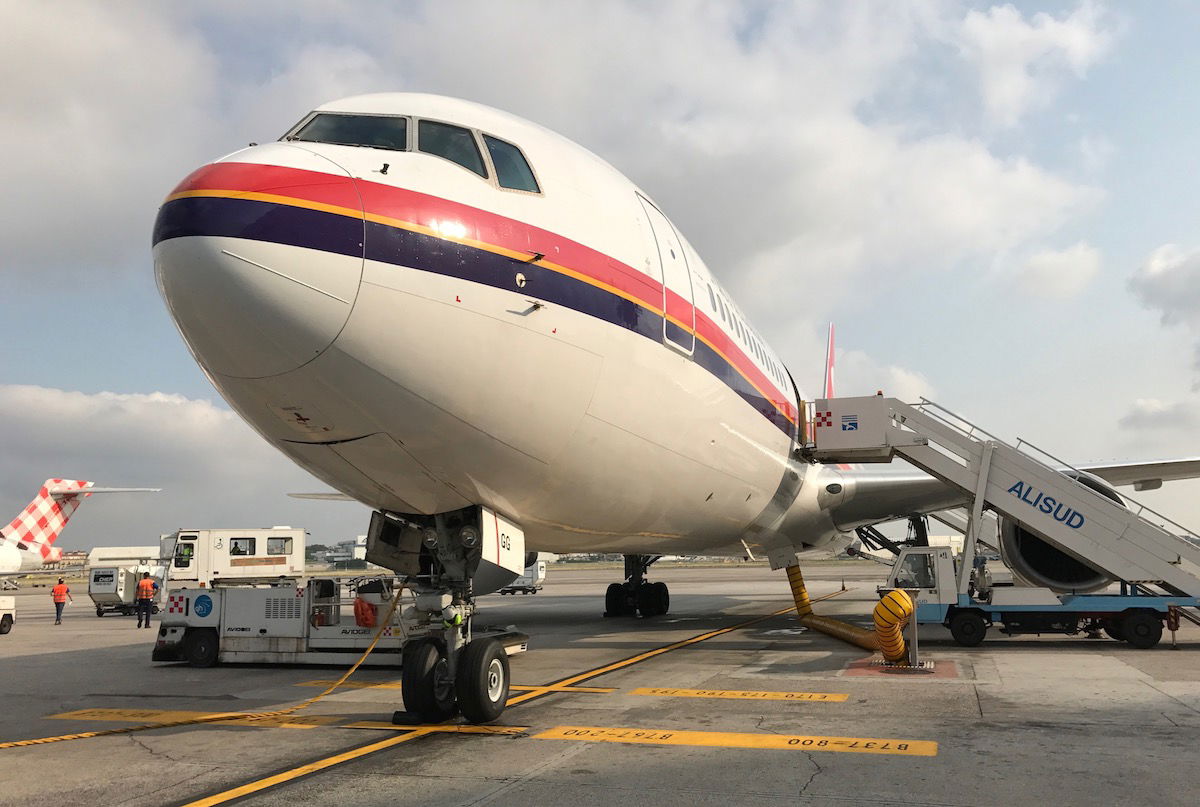 I doubt their interiors have been changed in that time, since the seats are ancient. Meridiana's business class consists of a total of 18 seats, spread across three rows in a 2-2-2 configuration. These are really more like premium economy seats than business class seats. Or perhaps to be most accurate, they're like business class seats from 20-30 years ago, which is quite literally what they are. 😉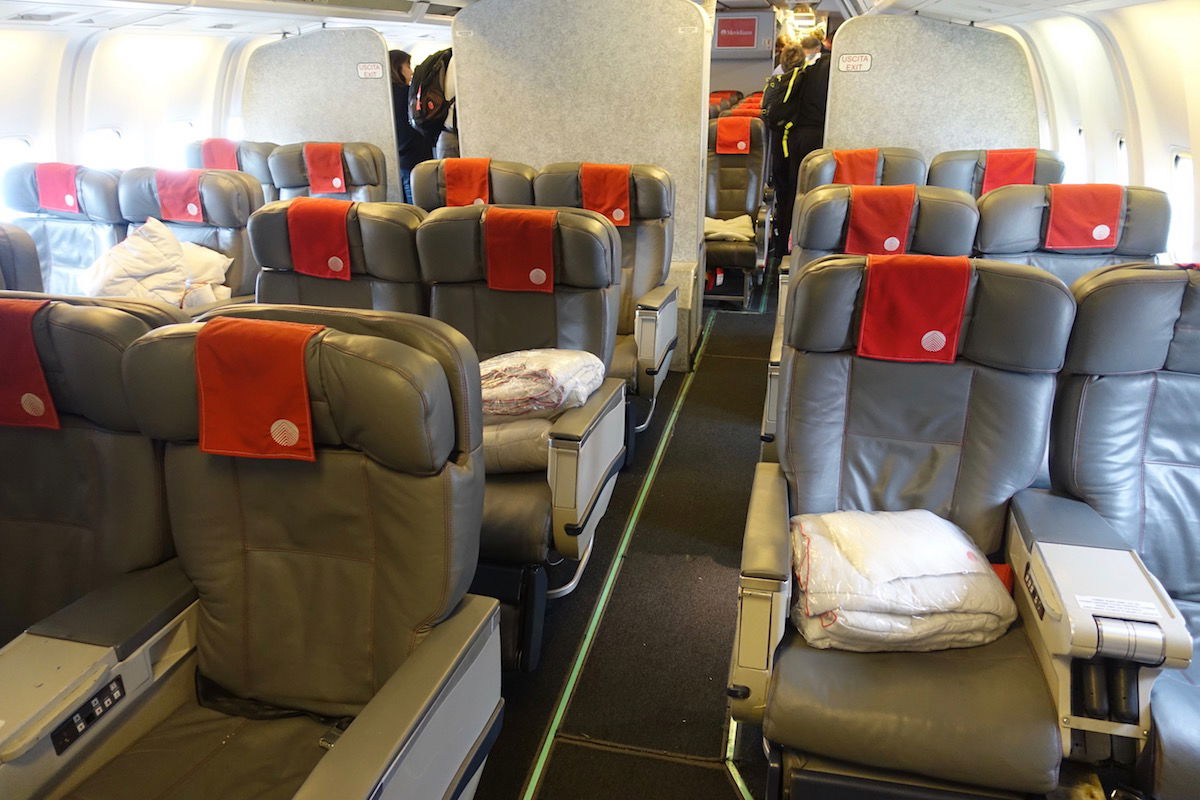 I'd guess that the seats have maybe 45-50″ of pitch, which is worse than recliner business class seats on airlines like Virgin America, but better than premium economy on most airlines. While the seats have clearly been reupholstered recently, everything else about them was ancient, from the manual seat controls, to the lack of built-in entertainment.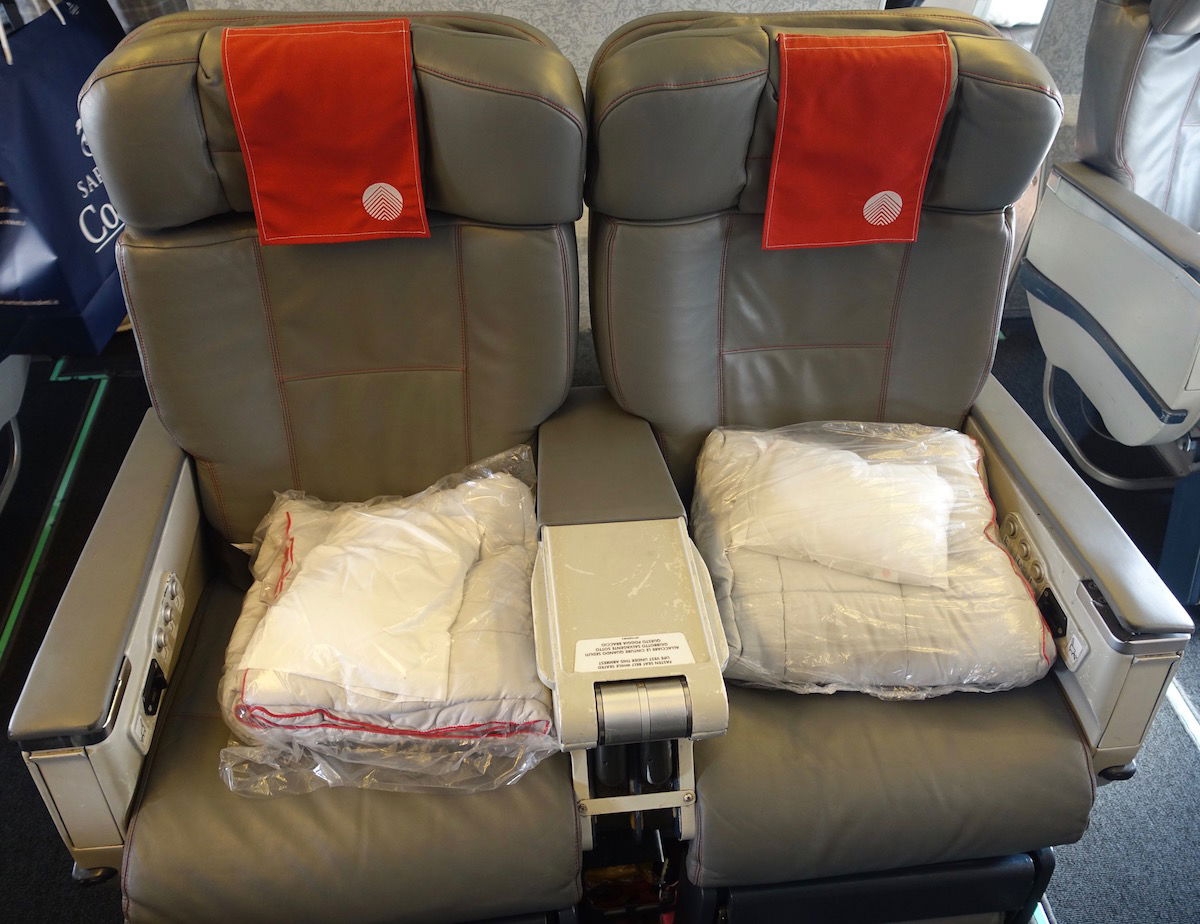 Obviously the plane has no Wi-Fi, though frustratingly there aren't even power ports either, which is sort of ridiculous. There are built-in overhead monitors, and in business class there are iPads available on demand, with about two dozen movies. The selection was pretty decent, and since I had nothing else to do, I ended up watching two movies ("Spy" starring Melissa McCarthy, which was a great airplane movie, and "A Cinderella Story," starring Hilary Duff, because I loved Lizzie McGuire as a kid).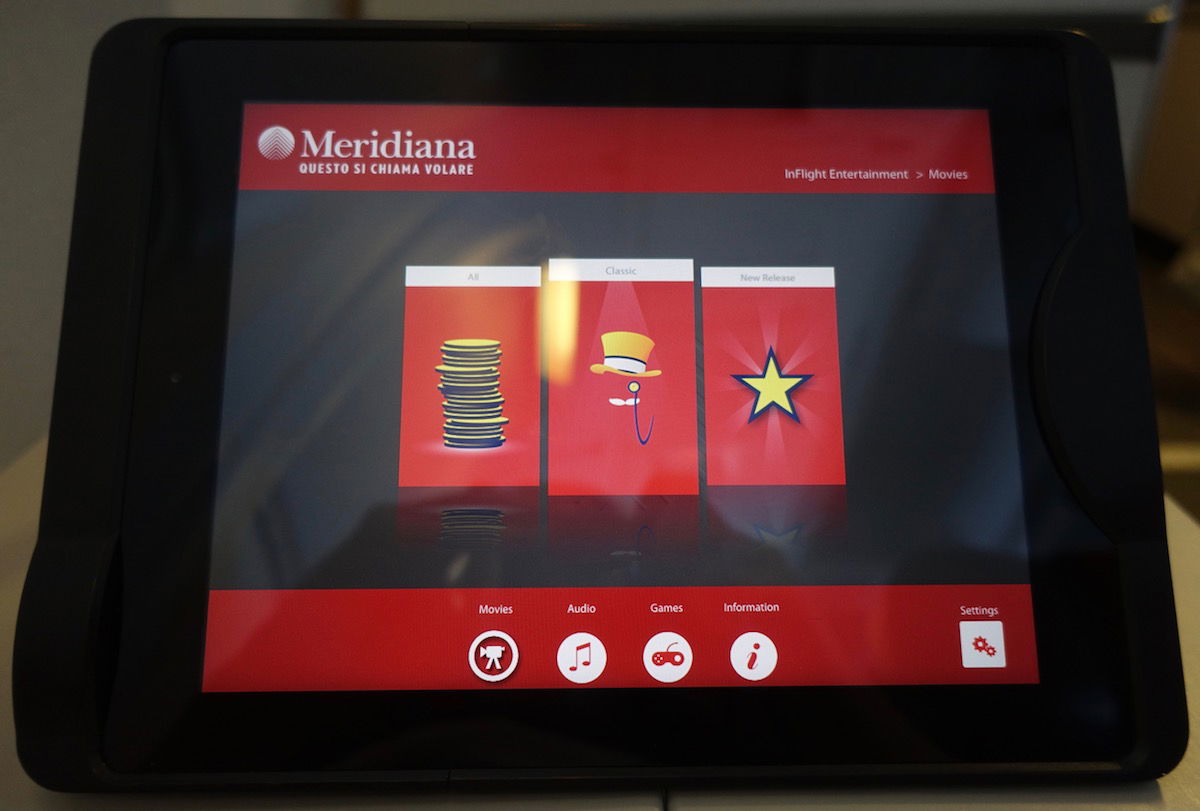 Other amenities were about on par with what you'd get on other airlines. There was a nice enough amenity kit, with Acca Kappa toiletries.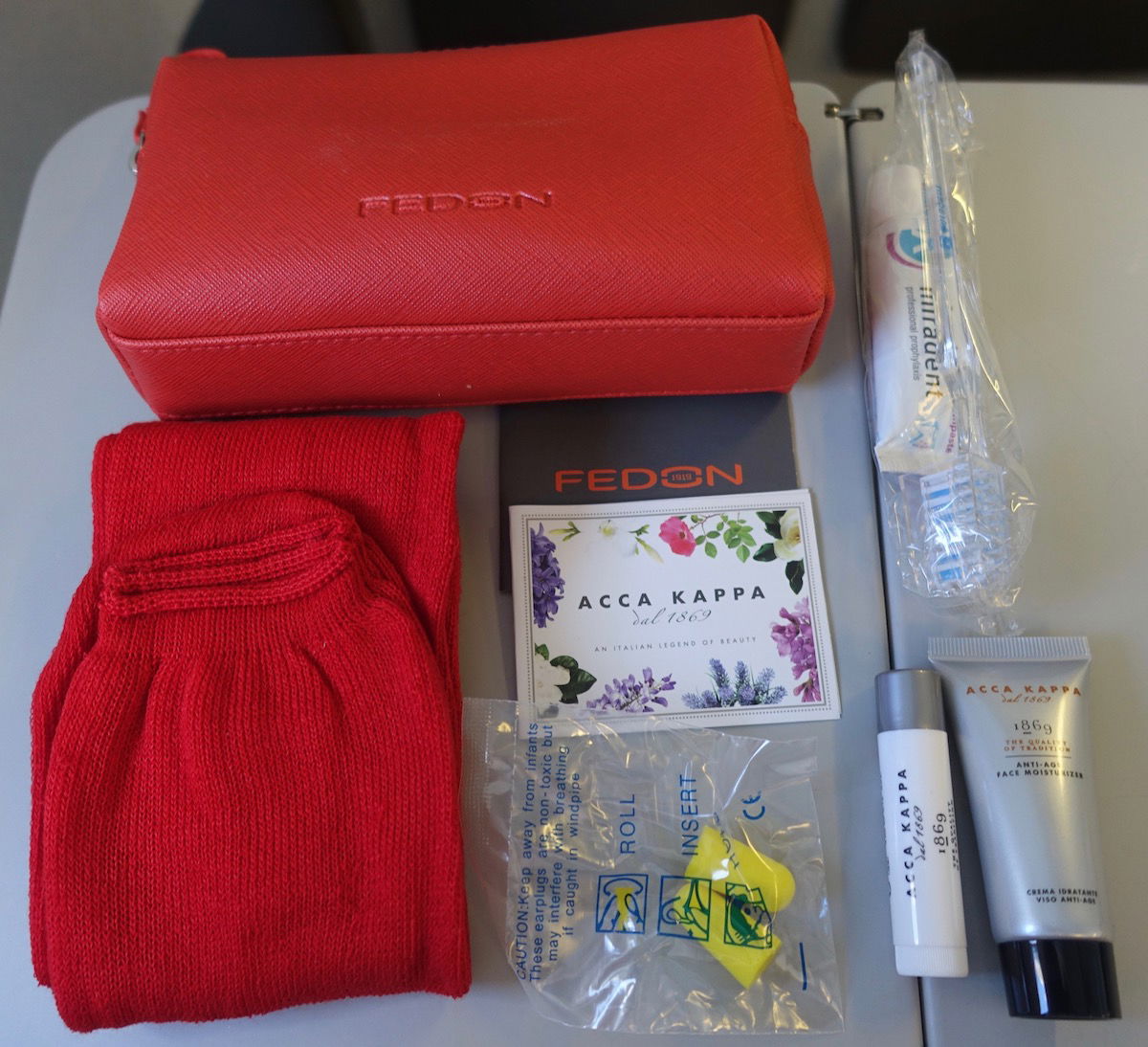 Then there was a fantastic blanket, but a subpar pillow. The blanket really was lovely, and helped me get cozy in the seat. The pillow, on the other hand, was tiny.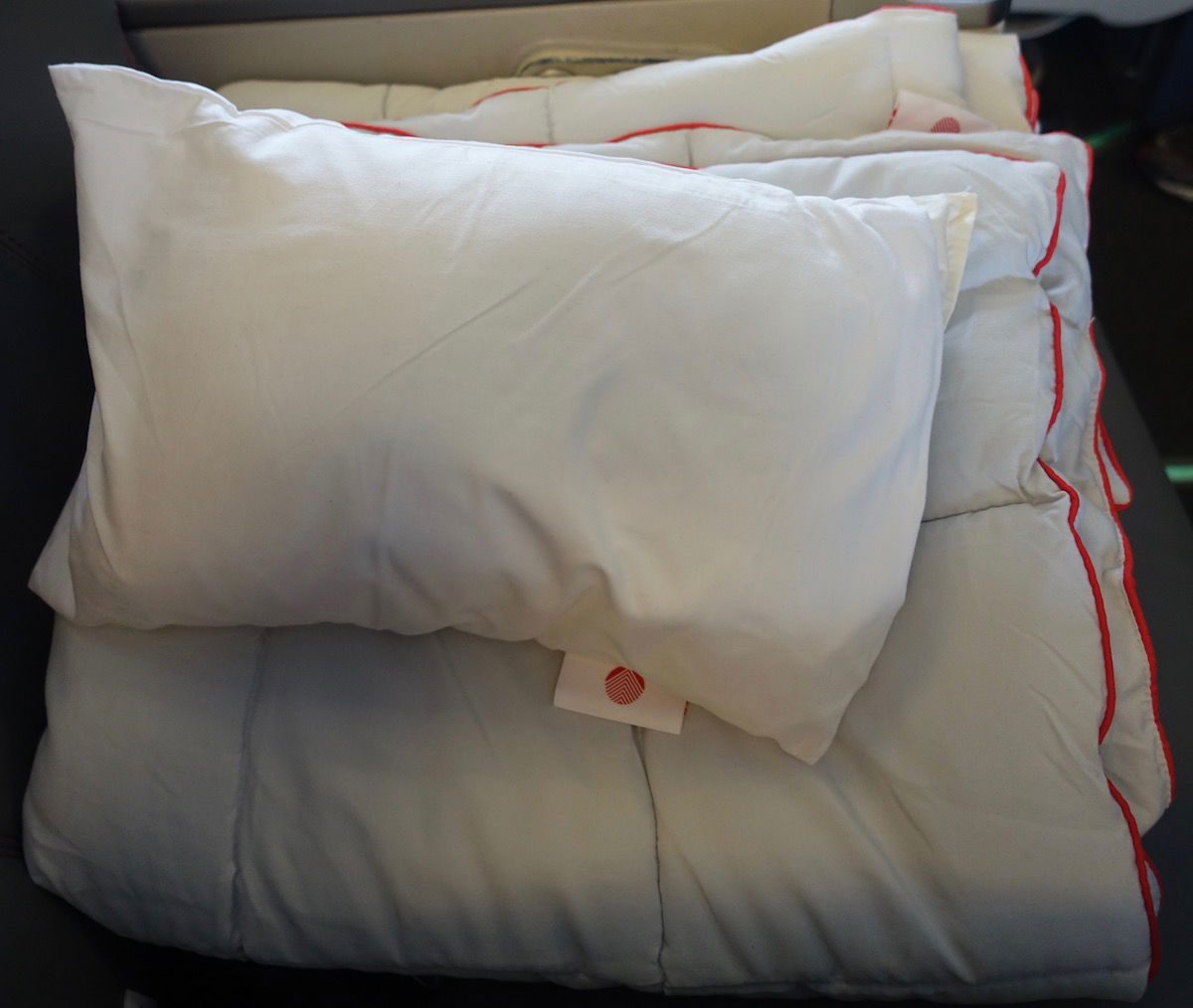 The food was pretty good, I thought. No, it wasn't the best I've had on any airline, but I enjoyed all of it. There were tomatoes & mozzarella to start, as well as a cheese plate.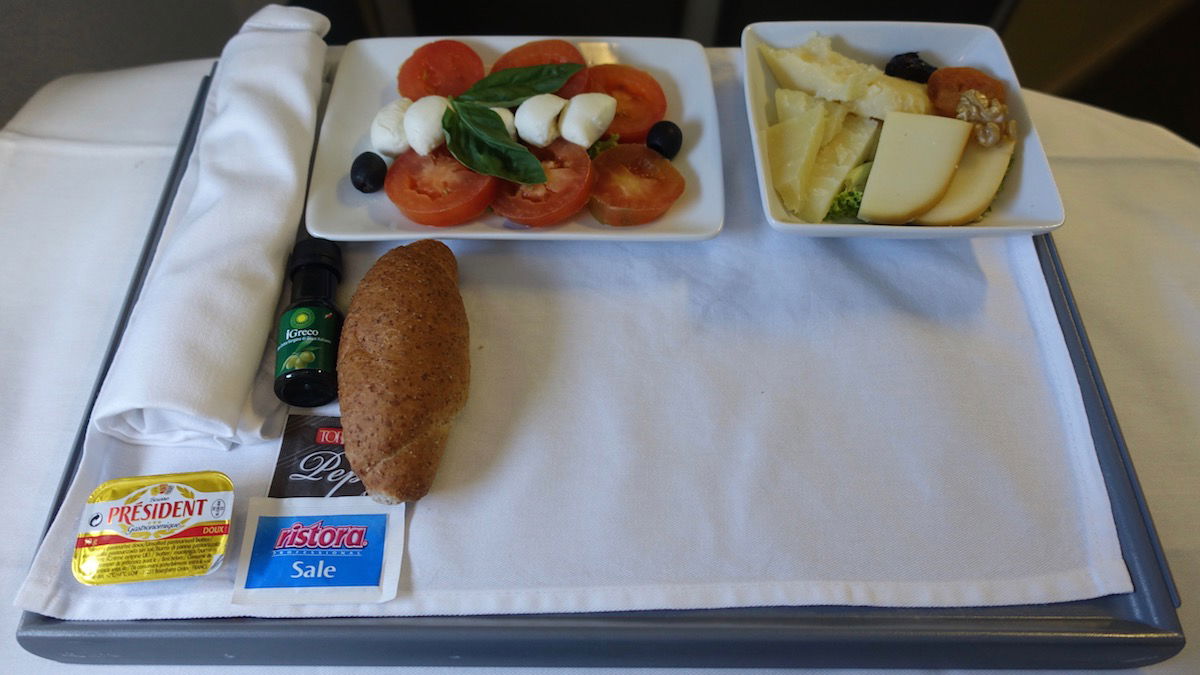 For the main course there was the choice between chicken, fish, and a vegetarian option. I selected the vegetarian option, which was parmigiana. While oily, it was tasty.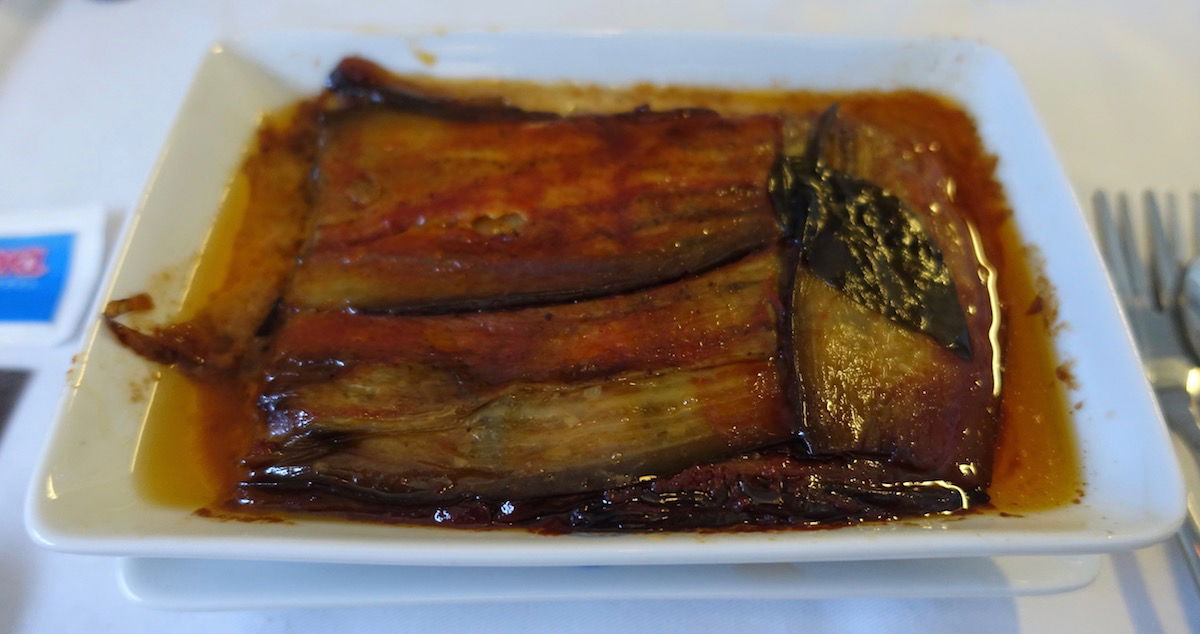 Then there was a piece of cake for dessert.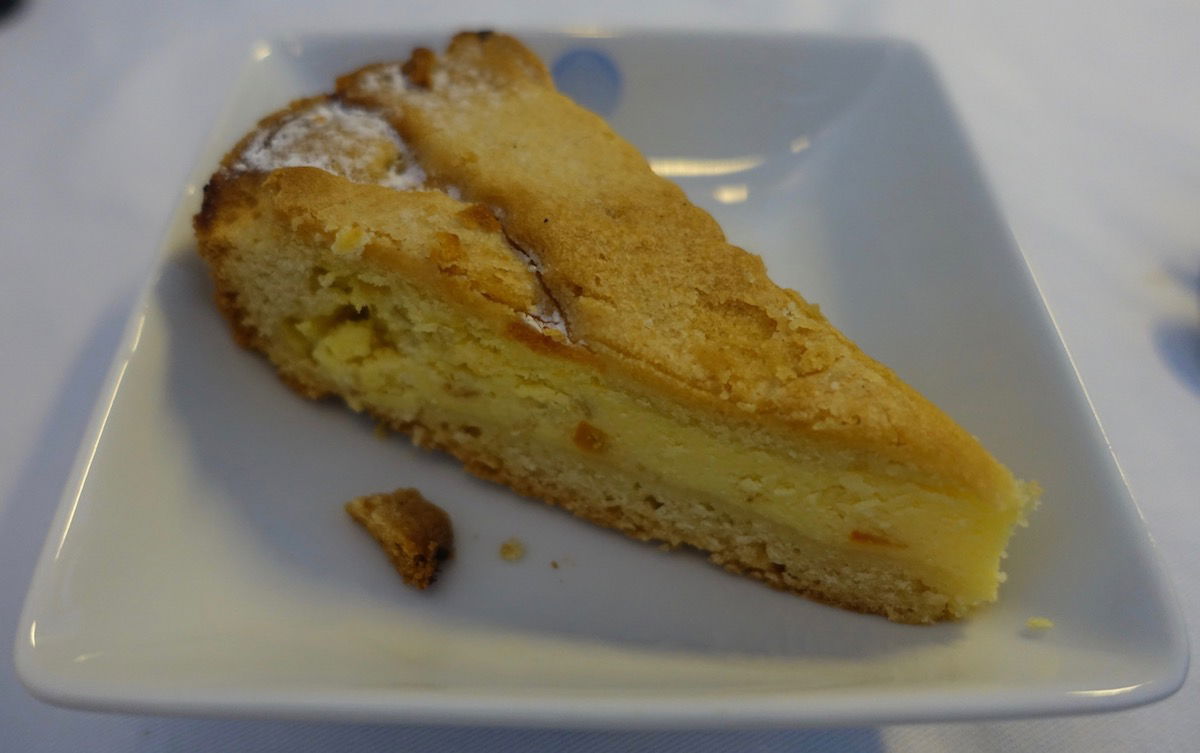 Then prior to landing there was a snack consisting of cold cuts, bread, and fruit.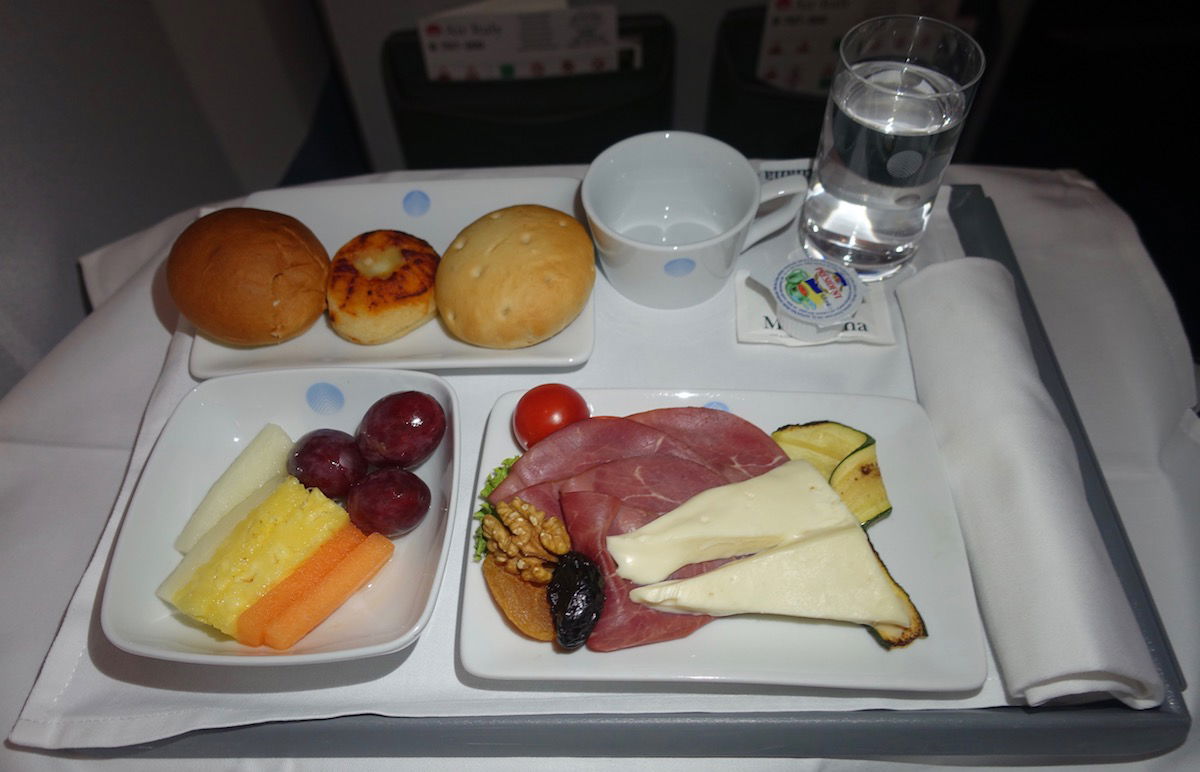 They had a nice selection of Italian wines, including sparkling, red, and white.
No, it wasn't the best food ever, but it exceeded my (very low) expectations.
What really impressed me about the flight, however, were the flight attendants. There were two guys taking care of business class, and they were fabulous. They couldn't have been more attentive, charming, etc. They really took pride in their airline, and that was great to see.
Virtually everyone else in business class was American couples in their 60s-70s, and it was fun to watch how delighted they were by the crew. There was a group of two couples traveling together, and as we deplaned they said "we've never been taken care of so well on a plane."
It's so refreshing to see people take such pride in their jobs, even when they quite frankly don't otherwise have a product to be especially proud of. So huge kudos to these two guys, the service was top notch. I overheard one of them have a conversation with one of the couples, and he explained that he was also a flight attendant trainer for the airline, in which case they're in good hands (his wife was also apparently cabin crew for Meridiana).
Where does that leave me when it comes to Meridiana business class? The way I see it, the hard product is roughly what you'd get in premium economy. The seats are much older than other premium economy seats, and there's no power, though on the plus side the seats are a bit more spacious. I actually found the seats really comfortable for lounging, and almost preferred them to an angled flat seat, which I find uncomfortable both for sitting and sleeping.
At the same time, I felt like service was pretty good for business class. Food was about average, while service was no doubt above average.
At the price point, and especially when you consider that they get you nonstop from New York to Naples or Palermo, I actually wouldn't necessarily avoid them, if that's the market in which you're looking to travel, especially if you don't have a huge stash of miles. There's something to be said for getting a nonstop flight to your destination.
Meridiana exceeded my (admittedly low) expectations…