I've written many times in the past about points dining programs. To drum up business, some restaurants partner with Rewards Network. The way it works is that consumers can register their credit cards with Rewards Network, and when they dine at an eligible restaurant, they'll automatically earn bonus points. It's a win-win for the restaurants and us — restaurants get more business and pay Rewards Network a cut, while we earn more points for dining out.
However, there's an app that Frequent Miler talks about that I hadn't yet heard of, which seems awesome, and is a great alternative (or potentially even complement, since there's some overlap) to a dining program. I can't wait to use it.
Basics of the Seated app
The app is called Seated, and the idea is that you can receive a $15-20 gift card with Starbucks, Amazon, or Uber, every time you dine out at a participating restaurant.
You have to make your reservation through the app, and then you pay for your meal as usual at the restaurant, and then within 24 hours you'll receive your gift card (the only time that won't happen is if you no show for your reservation).
There are a few restrictions associated with the rewards (which I'll cover below), though it's potentially lucrative if you live in a major city and dine out a fair amount. Let's take a closer look.
Downloading the Seated app
First you'll want to download the Seated app.
Once you've done that, you'll be asked to enter your phone number and email address, and you'll be texted a verification code.
You'll also have to agree to give the app access to your Facebook, though they won't post anything. I know some people don't like doing that, but personally I don't mind.
You'll also be asked to select what kind of rewards you want to earn — you can choose between Amazon, Starbucks, and Uber gift cards. You can change your selection at any point in the future, so you don't always have to earn the same.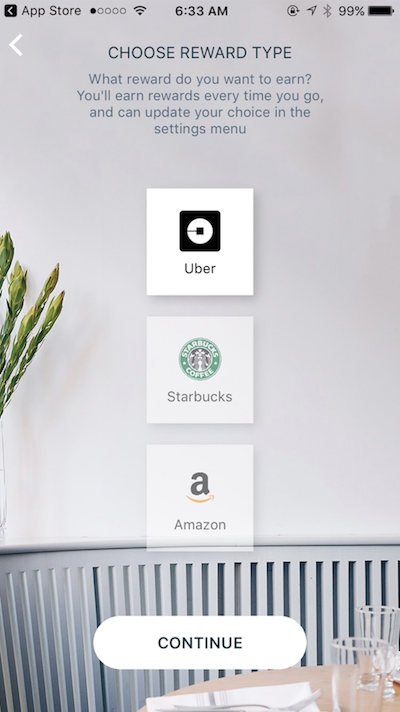 What cities have Seated restaurants?
As of now there are ~2,200 restaurants partnering with Seated, including in Atlanta, Austin, Boston, Chicago, Denver, Houston, Los Angeles, Miami, New York, New Orleans, Philadelphia, Providence, San Francisco, Seattle, and Washington DC.
For example, right now I'm in Los Angeles, and there are 160 restaurants here.
How Seated reservations work
In looking at the restaurant selection, you can sort by the date you want to dine, the type of food, the neighborhood, or the rewards you want to earn.
There are tons of popular restaurants participating in this program, though for the most part they're more high end, given the rewards they're offering.
Once you select a restaurant, you can choose the time you want to dine, and then book a table, just as you would with OpenTable.
What's the catch with Seated?
There are a few things to be aware of, all of which seem reasonable enough to me:
You can only make reservations for at least two people (it's understandable they can't justify giving out $15-20 in rewards for a single person reservation)
Most of the restaurants on the list are higher end (which also makes sense, since $15-20 in rewards is significant)
You can't make reservations for all times at all restaurants using Seated; often they'll only let you book during non-peak times, so reservations may not be possible for Friday and Saturday night, etc., though it does vary by restaurant
As a morning person and someone who goes to bed early, I love going out to dinner at 5PM on a weekday, so this sort of works great for me. I can't wrap my head around how some people apparently go to dinner at 7PM or later. Seriously?! 😉
Earn an extra $5 in rewards by being referred
Seated also has a referral program, where both the person referring and person being referred can receive an extra $5 in rewards after their first dine. If you haven't yet signed up, you can do so using code BEN242, and you'll receive an extra $5 after your first dine, and I'll get the same.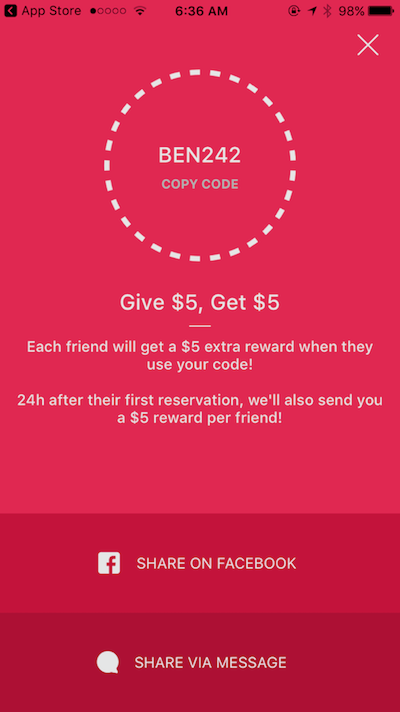 To enter this code, first sign-up for the app, and then click on the "wheel" at the top left of your account, and click on the "Redeem Promo Code" button. There you can enter the code, and it'll automatically be applied to your first dine.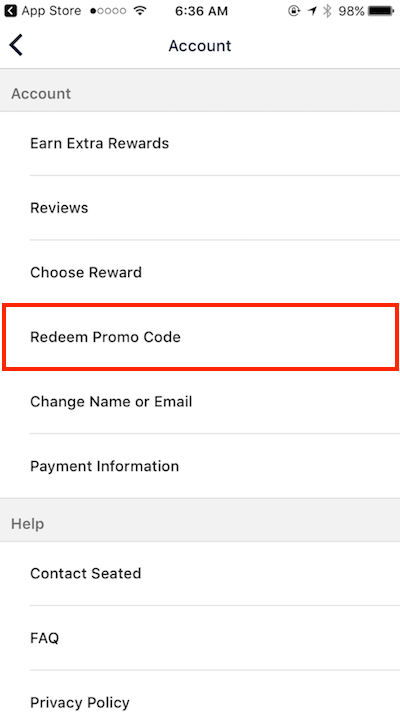 Bottom line
I've written about airline and hotel dining programs, so this is another alternative that's potentially significantly more lucrative. While this won't necessarily be for everyday dining, there are some fantastic restaurants that belong to Seated, so you might as well get back $15-20 in gift cards after your first dine (plus an extra $5 if you're referred). I'll be definitely using this with some frequency.
Has anyone used Seated before? What do you think of it?
Feel free to leave your referral codes below as well.