Over the past couple of years we've seen Priority Pass increasingly add restaurants to their global network of 1,200+ airport lounges.
The concept is that at some airports Priority Pass has a tough time striking a deal with a major lounge due to crowding issues, so when that's not possible, they instead work with a restaurant.
Ordinarily lounges are reimbursed a fixed amount for each Priority Pass visitor, so in this case they're instead reimbursing restaurants at a fixed amount.
Well, Priority Pass has just added their latest restaurant to the network.
SeaTac Airport Gets A Priority Pass Restaurant (Again)
Bambuza at SeaTac Airport has just joined Priority Pass. Priority Pass members have access to the restaurant between 4:30AM and 11:30PM, so this is a great all day dining option.
The restaurant is located airside in the North Satellite — once you disembark the train, take the escalator to the concourse level and turn left, and it will be located on the left hand side.
All terminals are connected airside at SeaTac Airport, so all passengers should be able to access this, though many Alaska gates will be the closest.
Here's how the restaurant is described on Priority Pass' website:
Bambuza offers fresh, authentic Vietnamese cuisine made with locally-sourced, organic ingredients. Popular dishes include grilled rice and noodle bowls with your choice of meat or tofu, traditional pho soups.
Here's the menu I was able to find online for the restaurant: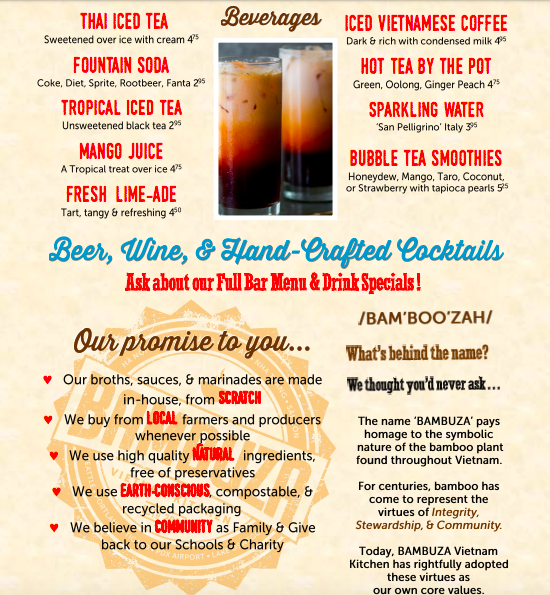 Priority Pass members will be entitled to $28 worth of food & drinks per person. A valid boarding pass is required, and the credit also isn't valid towards any grab & go purchases.
The Priority Pass member will be responsible for any overage beyond the $28 credit, and that credit can't be applied towards gratuity (and personally I think it's appropriate to tip, as a Priority Pass membership is just a form of payment here).
There are several popular credit cards that offer Priority Pass memberships, though do keep in mind that Priority Pass memberships issued through American Express are no longer eligible for restaurants.
Interestingly this isn't the first time that SeaTac has a Priority Pass restaurant. This February Floret by Cafe Flora was added, but then was removed, then added back, and then removed again. So at this point it no longer participates in Priority Pass.
Bottom Line
It's awesome to see Seattle once again get a Priority Pass restaurant. This is an airport that has grown so much and that has a real shortage of Priority Pass options, ever since the Alaska Lounges left the network.
At this point the only other two options are The Club at SEA, so this is a great alternative.
Is anyone planning on checking out the new Priority Pass restaurant at SEA?
(Tip of the hat to Doctor Of Credit)