As part of my four month trip, yesterday I flew from Berlin, Germany to the Canary Islands of Spain. This is my 11th time to Spain, so I wanted to go somewhere a bit different for a beach location. And it is… different here!
Berlin has two airports – Tegel, which is the main airport, closer to the city, and Schönefeld, which handles most low cost flights and is further from town, next to Brandenburg Airport, which is still being constructed. I've written before in detail about the enormous problems the construction of Brandenburg Airport has faced, and this has caused (and prolonged) this unusual airport situation Berlin faces, where no one wants to spend any money on the existing airports of Tegel and Schönefeld while they wait for Brandenburg to finally open.
And there's still no opening date for Brandenburg.
I've flown through Berlin Tegel many times, and it has a very unusual design, but not a particularly unpleasant experience. I do find myself seeming to be endlessly walking in circles around Terminal A, because of its hexagonal layout.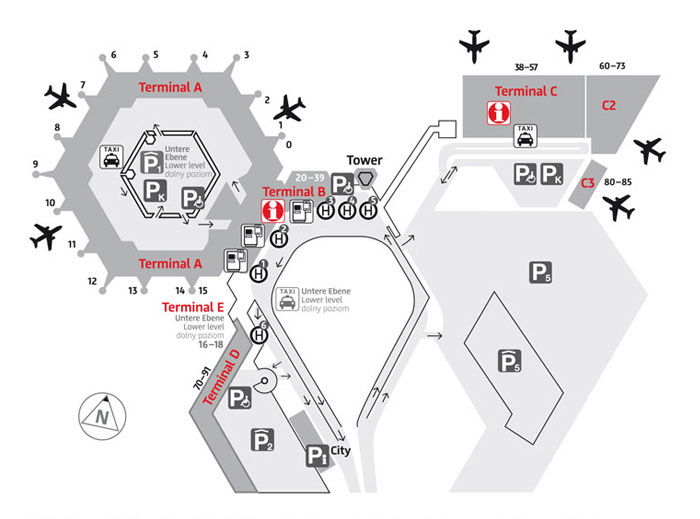 Berlin Schönefeld Airport
Yesterday was my first time flying out of Schönefeld, which is the airport most low cost carriers use in Berlin.
It has a long and complex history over the past 80 or so years, and has been extended, bit by bit, without any recent master plan (other than to eventually demolish it and move everything to Brandenburg).
Last year it handled almost 13 million passengers, so it's not a small airport by any stretch (it's more than Salt Lake City handled, for example).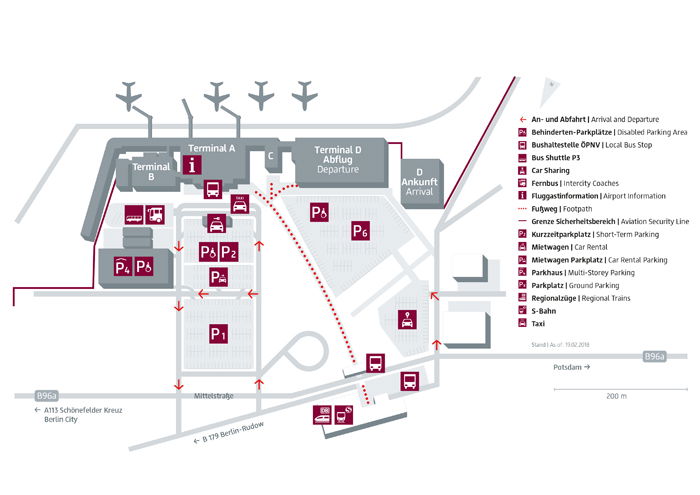 Although the airport map above shows what looks like multiple terminals, there is really only one actual terminal, with check in areas split across multiple zones, which is not unusual for a large airport.
As always, I was traveling hand luggage only, and had checked in online in advance.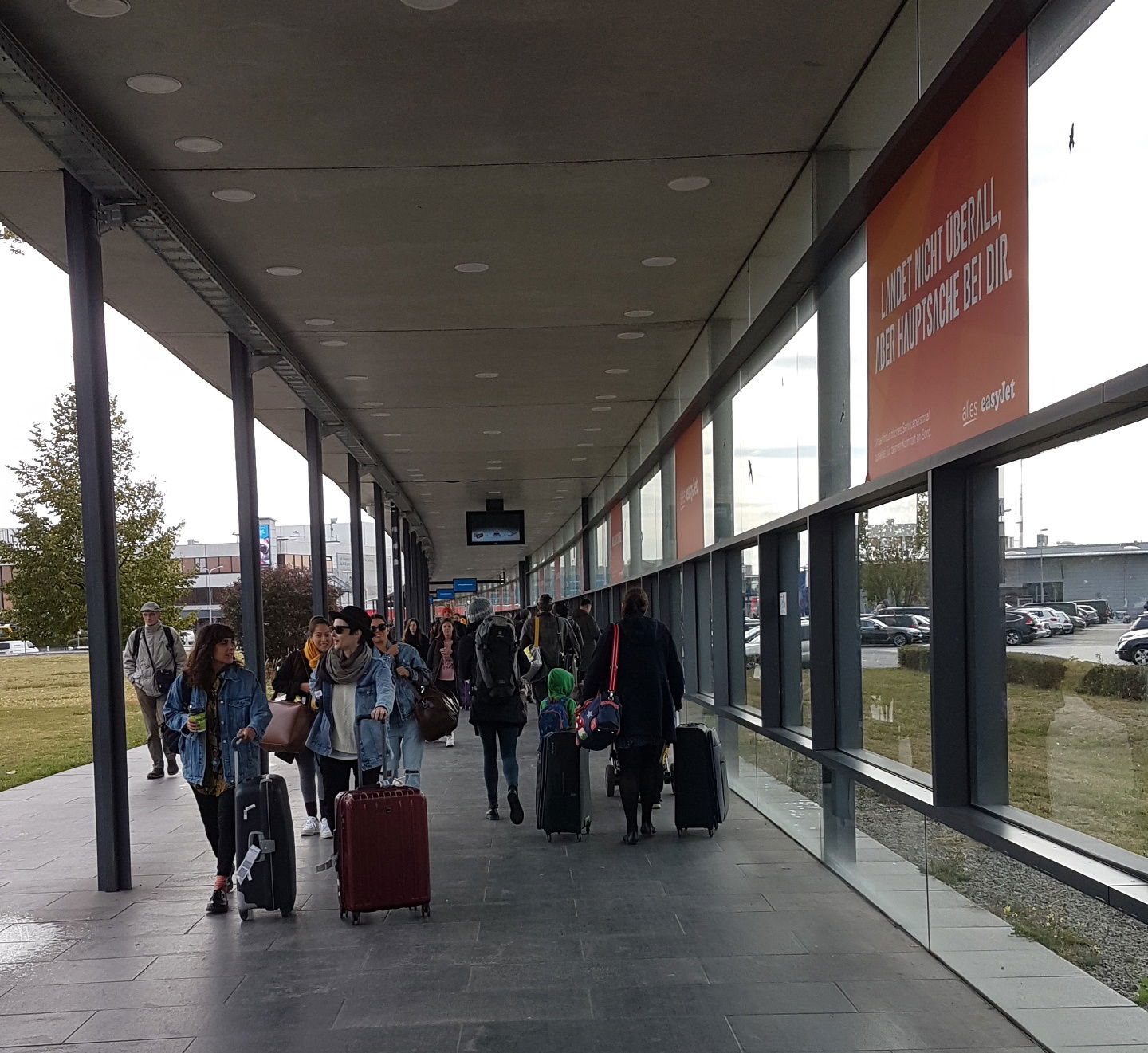 So what is the only redeeming feature about Schönefeld airport?
Well, Berlin Schönefeld has a completely separate express entrance for those passengers traveling hand luggage only, who have already checked in.
I'm not talking about a separate security line in the terminal, I'm talking about a completely separate entrance from the curb which allows you to skip the check in area completely.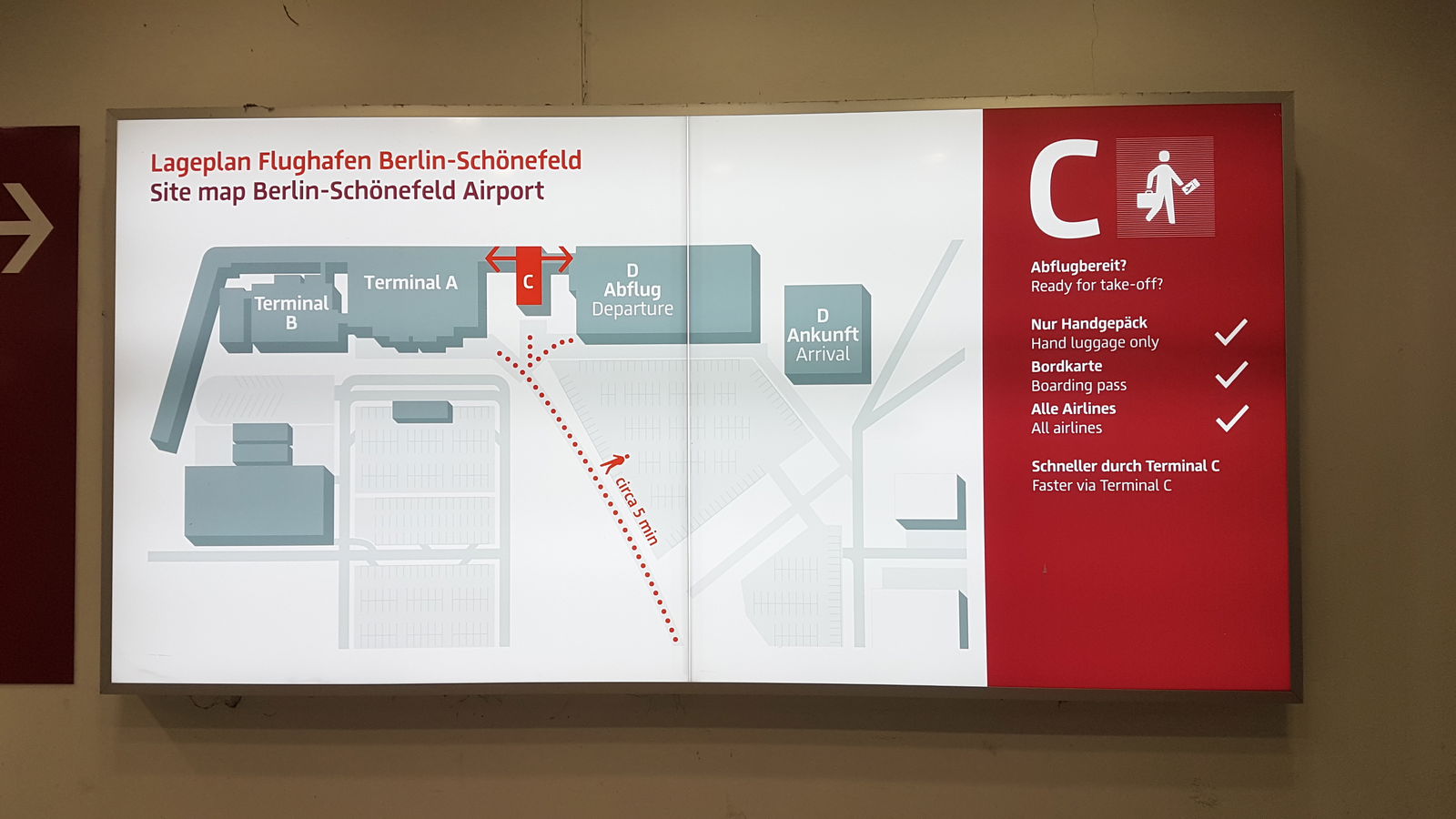 Now I've seen and used express/premium entrances at certain airports. If you are a Thai Airways first class passenger there is a separate check in area to the far left of the check in area. If you've already checked in and/or have no luggage to check they will escort you to a separate, faster security line. But this is only for Thai first passengers, and still requires you to enter the check in hall and go through the check in area.
Similarly, Virgin Australia also has a premium entrance at several Australian airports, for those passengers who are traveling hand luggage only, and have already checked in. While this skips the check in area completely (and deposits you straight into the lounge after security), it is only available domestically, and only available for business class and elite status passengers.
Before Berlin I was in Munich for Oktoberfest, and although Munich is a 'five star airport,' I walked what felt like miles through the terminal, then security and then to the lounge, even though I didn't need to check in, or check luggage.
Schönefeld was the first time I had been through an airport that has a completely separate entrance for all HLO passengers wishing to get to their gate as soon as possible.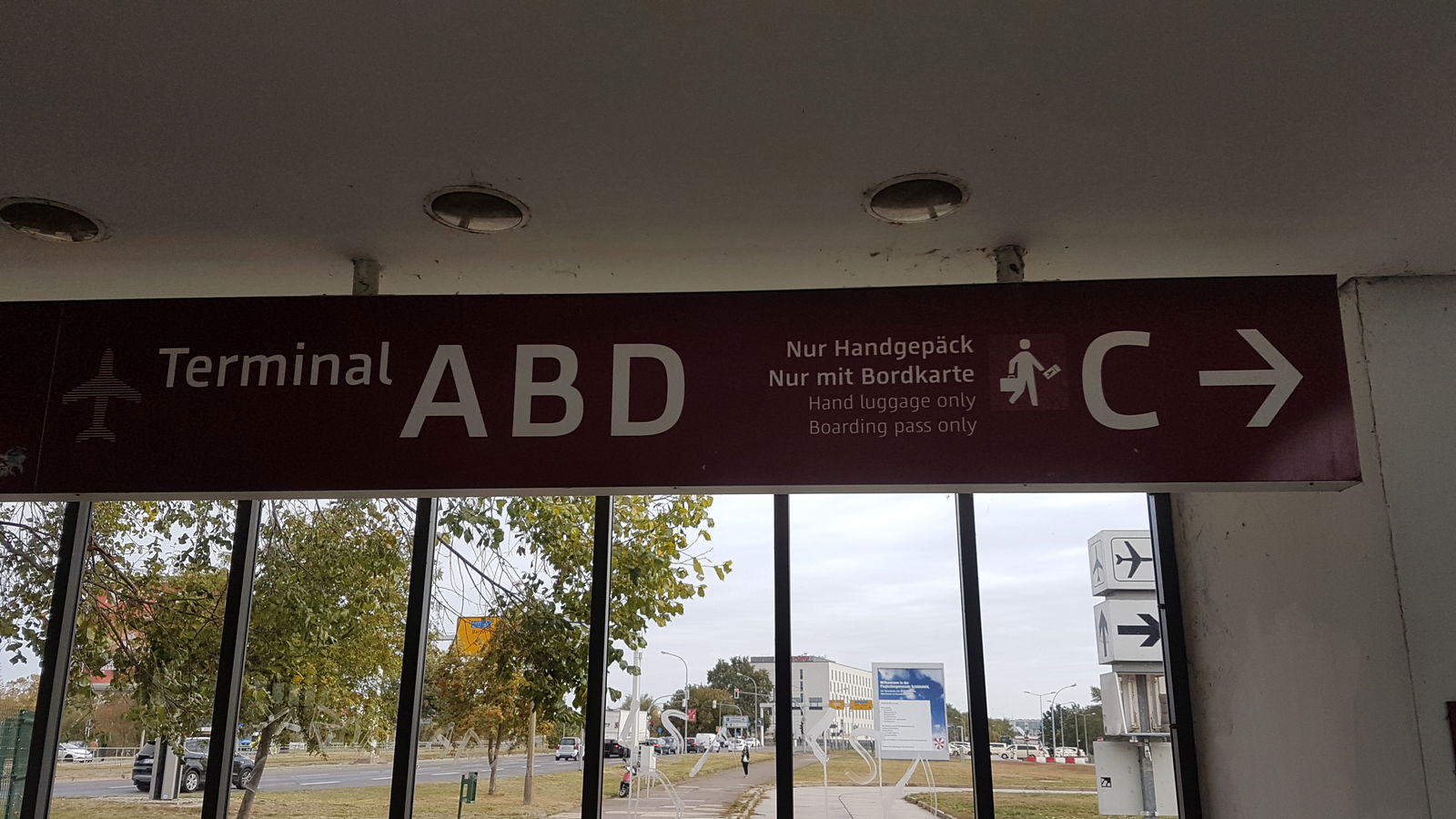 Upon arriving at the airport, you follow the signs for 'Terminal C' which is in fact not a separate terminal, but the special entrance.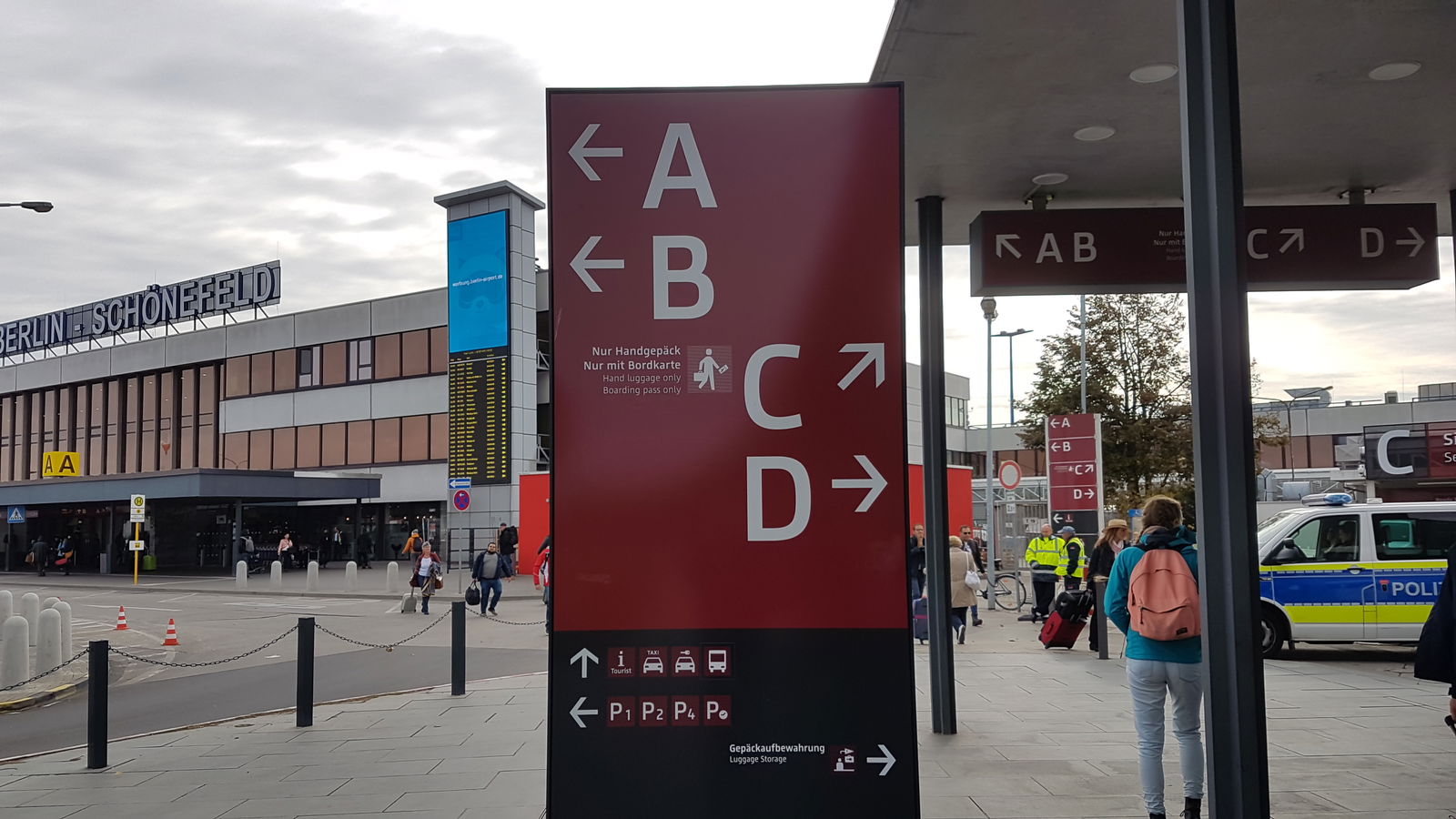 While the airport was very busy, the shortest security line was at this special entrance.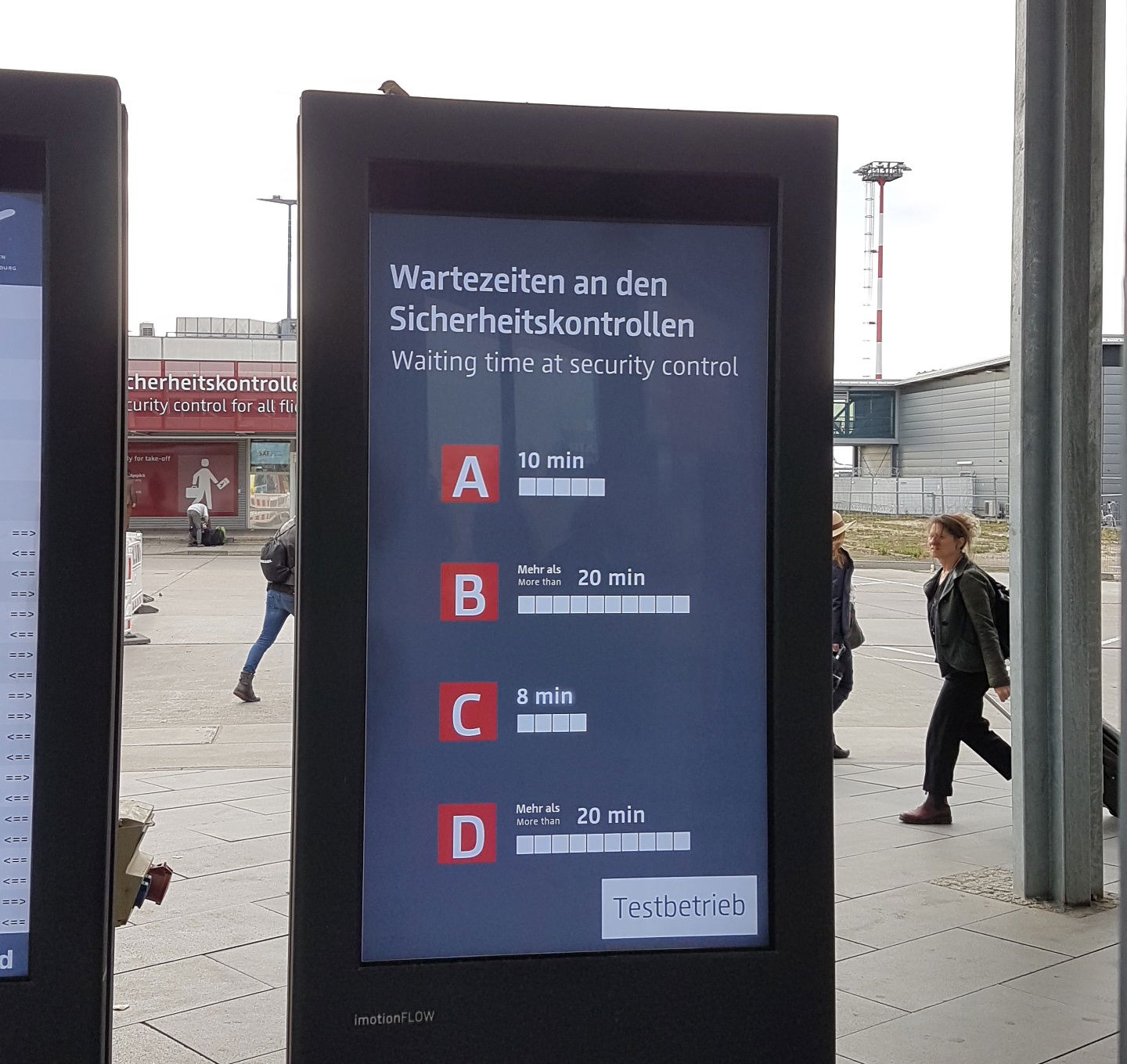 And you step off the curb and straight into the security line in 'Terminal C.'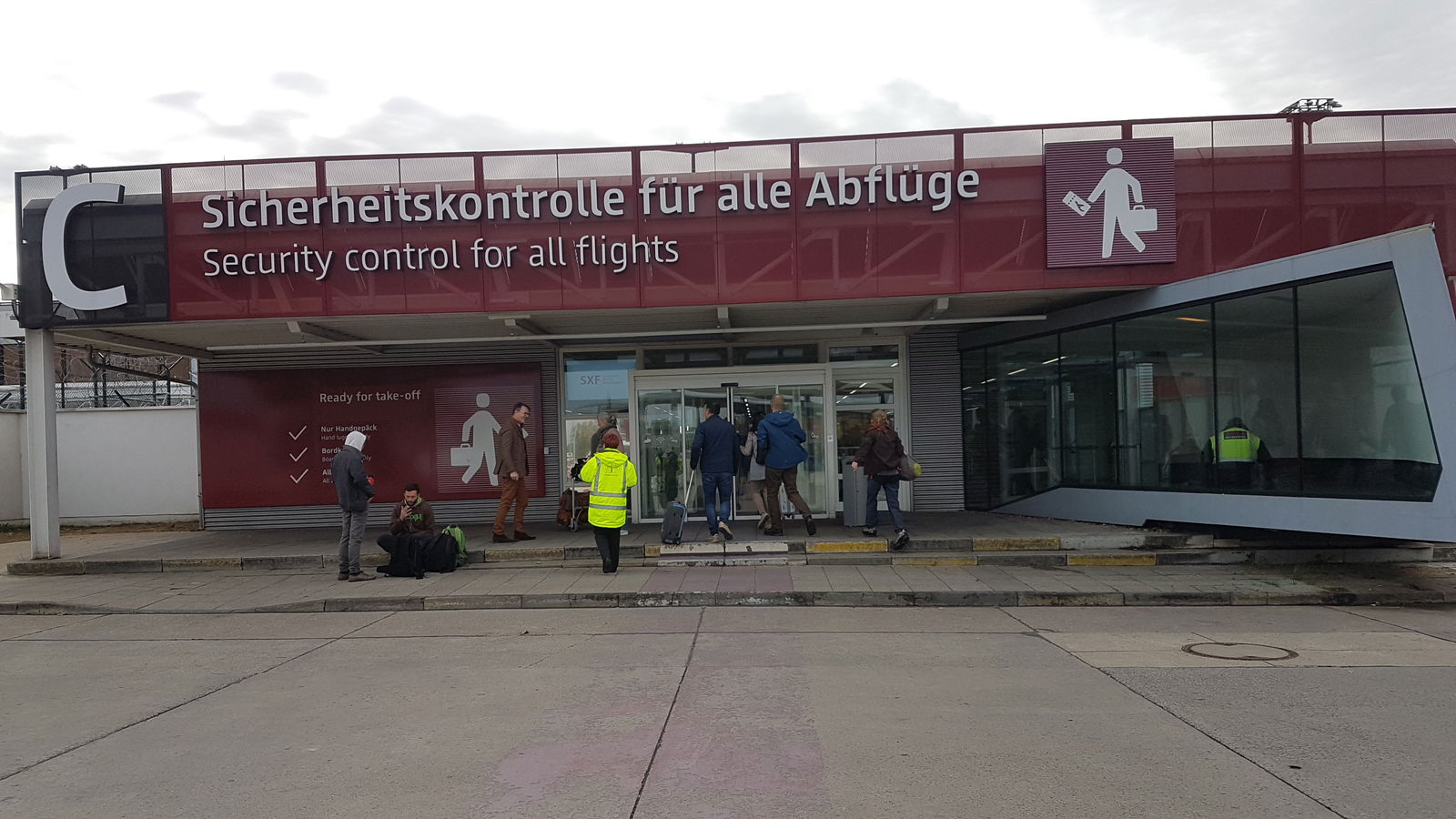 Security was efficient, courteous and took less than the eight minutes predicted on the screens above.
After clearing security, which was only a few steps from the curb, it was only a few more steps to the sole lounge at the airport, which I could access with my Priority Pass membership.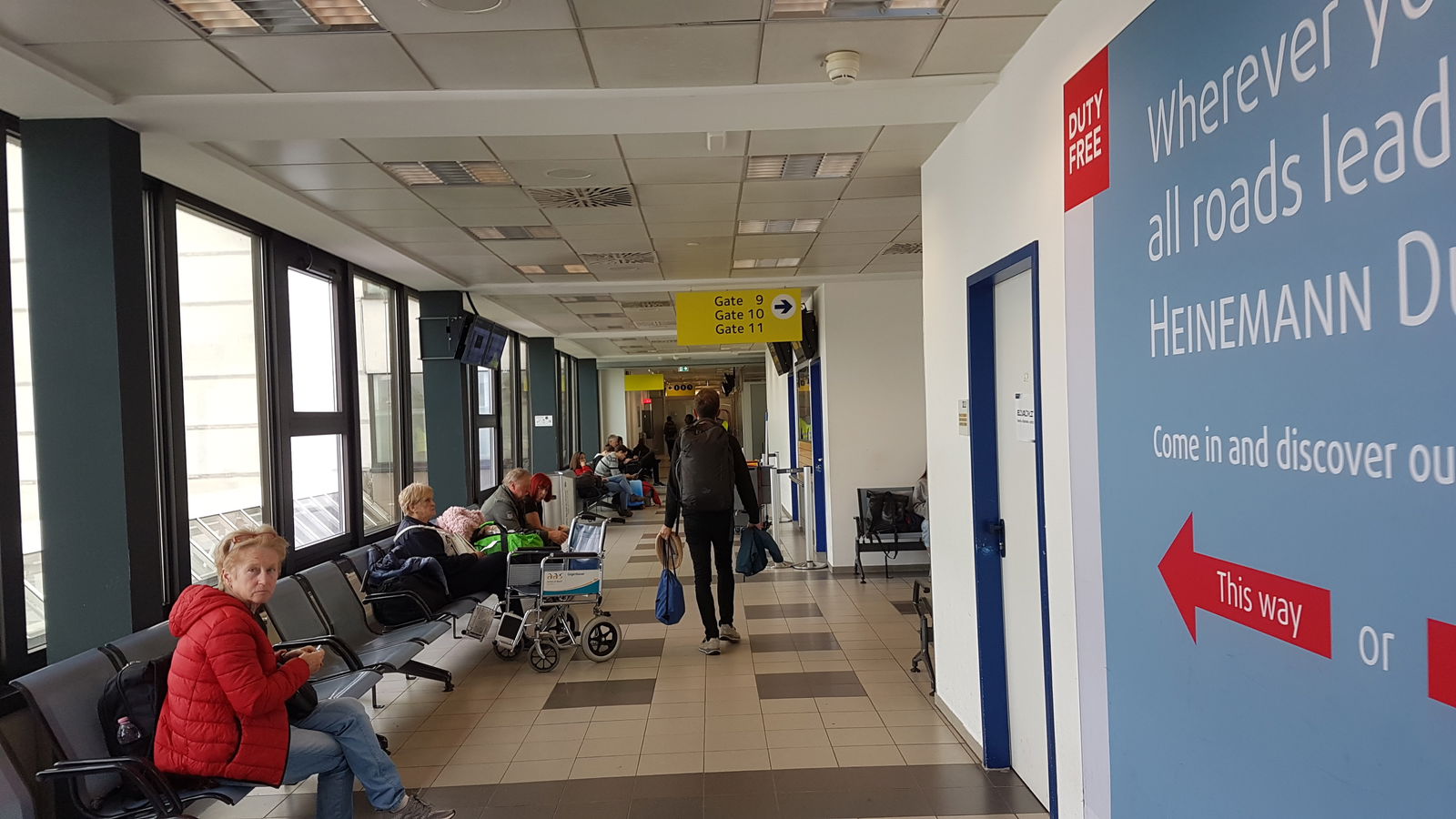 The air side departures area was, as expected, very dated and very cramped.
The Green Wings Priority Pass lounge, while very limited in its food offerings, was the nicest part of the air side area.
Bottom line
Even though I've travelled through so many different airports, I can't ever recall a feature like this being offered for non premium, non status passengers which allows them to step off the curb, right into security and then right to their gate.
This may be the norm at your local airport, but I don't think I've seen it before.
I did not see a single check in desk, or airline staff member until I reached the lounge. I understand this design was not intentional — this additional security check point was built for flights to Israel (as they needed an additional security check before passengers could even check in), but this additional check is no longer required.
So rather than just shutting down this security point, the airport operators have done about the only thing they can with an additional European security check prior to check in — they have set it up for those passengers who don't need to check in. And it's an awesome feature at an otherwise very unremarkable airport.
Have you seen this feature offered to non premium, non elite passengers at other airports? Not just an express security line, a completely separate airport entrance. Please let me know in the comments as it's a feature I'd really value when I travel!