Yesterday Singapore Airlines announced that they'd be relaunching flights between Los Angeles and Singapore, with up to 10x weekly flights. Arguably that wasn't even the most interesting announcement from Singapore Airlines yesterday. In many ways I find it even more interesting that they're adding a further three weekly flights between San Francisco and Singapore as of November 28, 2018, using their A350-900ULR aircraft.
Up to 4x daily flights between San Francisco and Singapore
Prior to June 2016 there were no nonstop flights between San Francisco and Singapore. Since then:
This means that we'll see a total of 24 weekly frequencies between San Francisco and Singapore, and up to four flights per day. That's insane.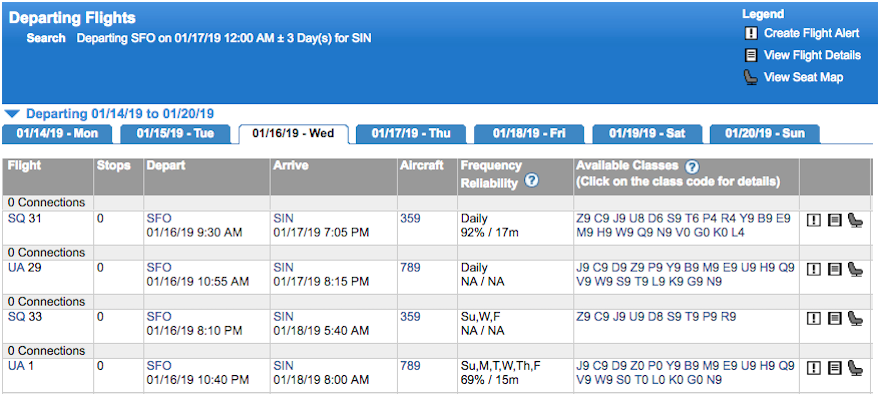 Not only does this represent a lot of overall capacity, but it represents a lot of premium cabin seats as well:
That means we'll see a minimum of 138 business class seats per day, and up to 205 business class seats per day. That's a lot of capacity. It's hard to argue that the rate at which capacity is being added is rational, but rather we're seeing an outright airline war at this point.
What makes this "war" so interesting
There are two things I find especially interesting about what Singapore Airlines and United Airlines are doing here.
First of all, I'm surprised that Singapore Airlines is getting involved in a war like this. Singapore Airlines is historically a very conservative airline. Actually, I can't think of a major airline that's more conservative with their growth. So to see them battling United the way they are is quite interesting.
Keep in mind that United first started flying between San Francisco and Singapore, and then Singapore immediately followed. Then when United announced a second daily flight, they added capacity as well. Clearly the timing isn't a coincidence, and Singapore Airlines is being reactive here.
The other aspect of this that I find interesting is that keep in mind that both Singapore and United belong to the Star Alliance. The two airlines don't cooperate especially closely, and it seems like their partnership has largely been reluctant.
There is something interesting about seeing two airlines that are supposed to be partners fighting one another in such a way. The irony is that the two airlines are trying to drive one another out of the market, yet Singapore Airlines is carrying United passengers before Singapore, and United is carrying Singapore Airlines passengers beyond San Francisco.
So they're very much working against one another here, yet oddly are still working together. I suspect this is largely because they don't have much of a choice given that they're in the same alliance, and neither airline is prepared to leave, and certainly not going to do so over a single route.
Bottom line
There's simply no way the San Francisco to Singapore market can sustain this much capacity. Sure, the airlines will probably be able to fill seats, but not in a way that's lucrative, given that all of this capacity will drive down fares.
I feel like capacity reductions are inevitable here, though I can't decide which airline is most likely to pull out first. Obviously Singapore Airlines has a far superior business class product, and also has corporate contracts in Singapore. At the same time, United has corporate contracts in San Francisco, and based on what I've seen the market is bigger for travel from San Francisco to Singapore than the other way around.
I'll be very interesting to see how this plays out.
What do you guys think — can San Francisco to Singapore maintain 24 weekly flights? If not, will Singapore or United relent first?