File this under "things that happen when borders are closed, but that most people who don't live on a remote island in the middle of the ocean don't think about."
Saint Helena is once again more or less cut off from the outside world.
What is Saint Helena?
Saint Helena is a remote island in the South Atlantic Ocean, about 1,200 miles off the coast of Africa. The island is a British Overseas Territory, and is known as the place of Napoleon Bonaparte's exile and death.
Up until a few years ago it could only be reached by ship, so as you can probably imagine, it's a pretty isolated place.
An airport had been under construction for several years, though construction was delayed significantly. The airport ended up getting commercial service in October 2017, about 18 months late and with a smaller plane than expected due to wind shear issues at the airport.
Up until now, Airlink operated a once weekly Saturday flight between Johannesburg, South Africa, and Jamestown, Saint Helena, using an Embraer 190. The westbound flight had a fuel stop in Walvis Bay, Namibia, while the eastbound flight was nonstop back to Johannesburg.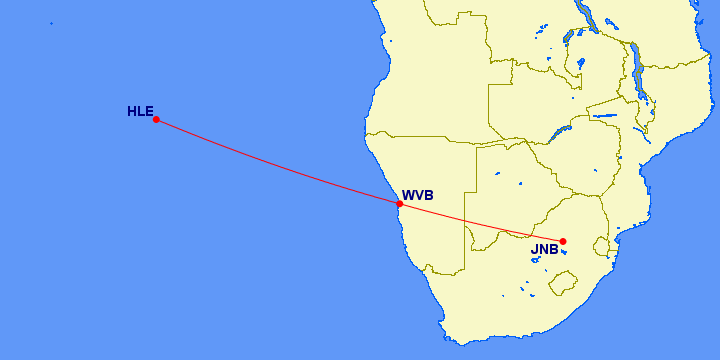 Saint Helena loses air service
Airlink has suspended all operations from March 26 through April 20, 2020, meaning that Saint Helena's one line to the outside world is also suspended for at least several weeks.
Airlink's decision to suspend flights comes as South Africa has closed borders to foreigners coming from high risk countries. The UK is considered one of those high risk countries, so I wonder if Saint Helena technically counts as the UK for those purposes.
Regardless, with the only airline offering service to the island suspending operations, they're in pretty big trouble.
This has been confirmed by the Governor of Saint Helena, Tristan da Cunha, and Ascension Island. The Governor's Office is looking at options to allow people to leave the island, and the Tourism Office is trying to compile a list of visitors looking to depart.
All air travel from #StHelena 🇸🇭 suspended by 🇿🇦 lock down. No alternatives yet. Governor's Office exploring options. Tourism Office in Jamestown asked to compile voluntary register of visitors seeking to depart. @sthelenatourism @StHelenaGovt @GO_ASHT @foreignoffice 🇬🇧 pic.twitter.com/tc9jBw4cN0

— Philip Rushbrook (@PhilipRushbrook) March 24, 2020
Bottom line
At this point Saint Helena is once again left without air service, as was the case altogether prior to a few years ago. Their only link was to South Africa, and with that flight suspended temporarily, there's no easy way on or off the island.
I imagine they're working on some sort of an evacuation flight at some point. The added challenge is the unique characteristics of the airport, which greatly limit the type of aircraft and routes that can be flown.