Titan Airways is operating a second flight to Saint Helena during the current pandemic, and this might just be one of the coolest routes we've ever seen…
What is Saint Helena?
Saint Helena is a remote island in the South Atlantic Ocean, about 1,200 miles off the coast of Africa. The island is a British Overseas Territory, and is known as the place of Napoleon Bonaparte's exile and death.
Up until a few years ago it could only be reached by ship, so as you can probably imagine, it's a pretty isolated place.
An airport had been under development for several years, though construction was delayed significantly. The airport ended up getting commercial service in October 2017, about 18 months late and with a smaller plane than expected due to wind shear issues at the airport.
Until earlier this year, Airlink operated a once weekly Saturday flight between Johannesburg, South Africa, and Jamestown, Saint Helena, using an Embraer 190. The westbound flight had a fuel stop in Walvis Bay, Namibia, while the eastbound flight operated nonstop back to Johannesburg.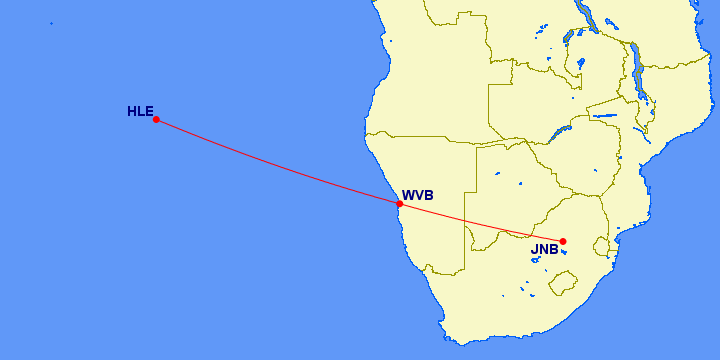 Airlink's usual route to Saint Helena
However, with Airlink having suspended all operations, Saint Helena has been cut off from the outside world.
Back in mid-April, Titan Airways operated a special flight from London to Saint Helena via Accra, to deliver vital supplies. Now Titan Airways is operating an even cooler flight.
Titan Airways' Saint Helena repatriation flight
Charter airline Titan Airways is currently operating a Saint Helana repatriation flight, for those looking to leave the island. There are many things that make this flight unique.
For one, Titan Airways is using a Boeing 757-200 with the registration code G-ZAPX for the mission. This will be the largest passenger plane to ever fly to Saint Helena. The airport has a 6,400 foot runway, but what's much more challenging is the lack of diversion points, meaning there's very little room for error in the event of bad weather and/or strong winds.
In the past week, Saint Helena Airport has been preparing for this arrival by brushing up on ground service equipment knowledge and skills, and even putting new tires on the airport fire truck.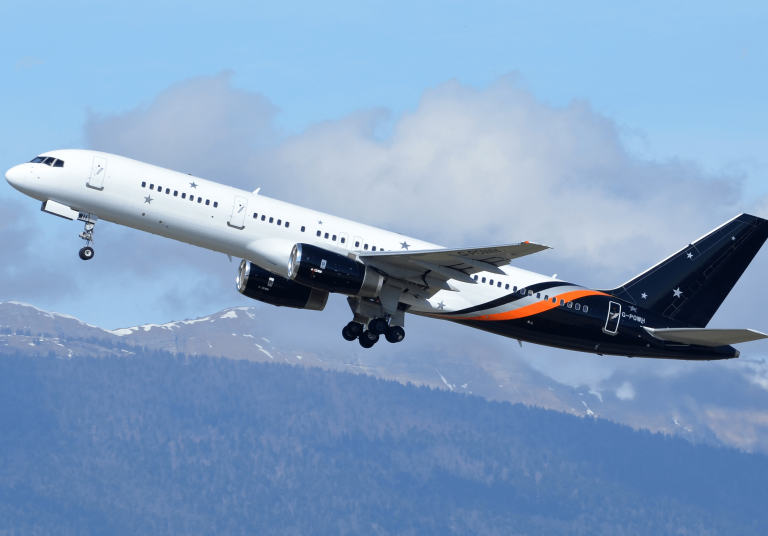 Titan Airways 757-200
What's equally cool is how the Titan Airways 757 is flying to Saint Helena. The plane was in London yesterday, so how is it getting to Saint Helena?
Yesterday it first flew the ~1,800 mile flight from London Stansted to Gran Canaria
Then it flew the ~2,500 mile flight from Gran Canaria to Ascension
Today it's flying the ~800 mile flight from Ascension to Saint Helena
Is this one of the coolest routes you've ever seen, or what?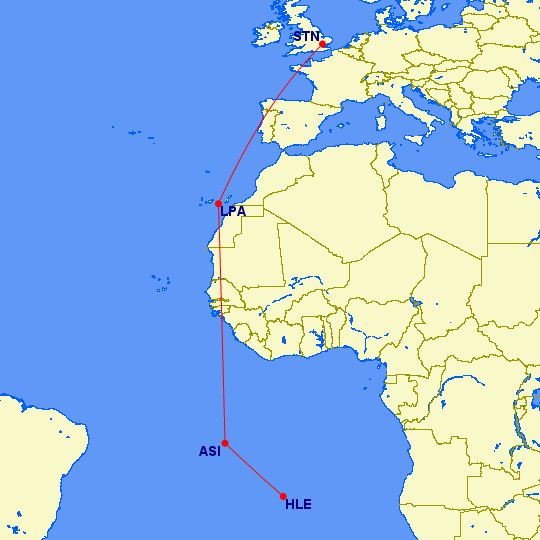 Titan Airways route to Saint Helena
This is operating as a repatriation flight, so presumably it will be taking people from Saint Helena. What remains to be seen is:
Where the plane will be going after Saint Helena; I'd assume it's returning to the UK, but let's see where it stops
Did the plane drop off any supplies or pick up any passengers in Ascension, since it's also a remote island?
What is Titan Airways' 757 like?
Titan Airways is a British charter airline that operates a fleet of 11 aircraft, including one A318, two A319s, four A321s, two 757-200s, and two cargo 737-400s.
The 757 operating this flight is roughly 20 years old, and used to fly for Iberia and EasyJet.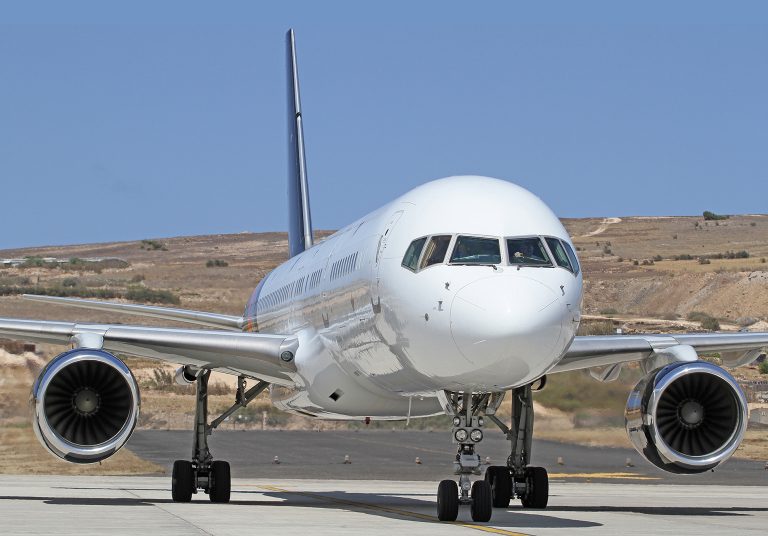 Titan Airways 757-200
What's interesting about Titan Airways' 757s is how versatile the interiors are. The plane can be configured with 76 business class seats.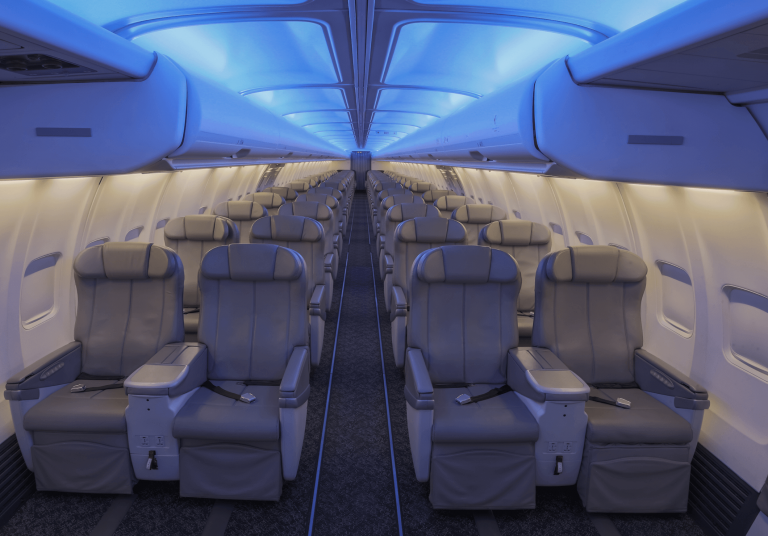 Titan Airways 757 all business class cabin
Alternatively the plane can feature a variety of two cabin configurations, including one that features 20 business class seats and 162 economy seats, or one that features 40 business class seats and 108 economy seats.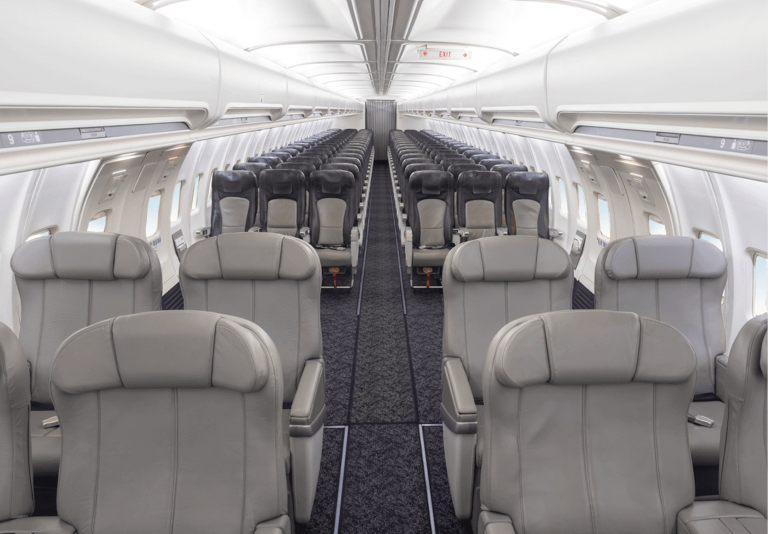 Titan Airways 757 two cabin layout
I'm not sure which configuration was used for this particular flight.
Bottom line
I thought the Titan Airways' flight to Saint Helena back in April was awesome, when an A318 flew there via Accra. However, to see a 757 fly to Saint Helena via Gran Canaria and Ascension is even cooler.
As an aviation geek, this has to be one of the most remarkable charter routes I've ever seen operated…
Anyone else fascinated by this Titan Airways charter flight?