A flight from Sudan to Turkey diverted to Egypt due to a mechanical issue, and while on the ground, the Egyptian government arrested an anti-government activist. Was this a coincidence, or at least a partial repeat of that Ryanair diversion to Belarus?
Badr Airlines flight diverts to Luxor, Egypt
As reported by IFN, this incident unfolded on a January 12, 2022, Badr Airlines flight from Khartoum, Sudan (KRT), to Istanbul, Turkey (IST). Flight J4690 was operated by a Boeing 737-800 with the registration code OM-LEX. This is actually an aircraft that's leased from Slovakian charter carrier AirExplore, which is where Badr Airlines gets multiple aircraft.
According to reports, the plane diverted to Luxor, Egypt (LXR), after the cargo hold smoke alarm went off. An inspection was performed while the plane was on the ground in Luxor, and it was confirmed that this was a glitch, with no signs of a fire.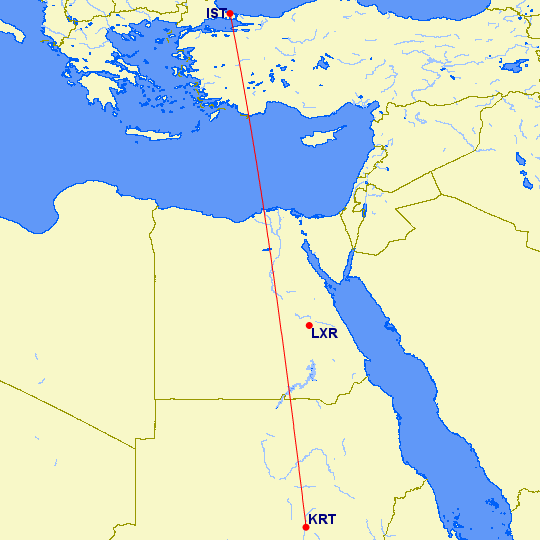 Passengers were on the ground in Luxor for around seven hours, as the initial Boeing 737 was taken out of service, while a replacement aircraft was flown in. The passengers (well, with one exception) eventually continued to Istanbul, while the following day the initial plane ended up being ferried to Bratislava, Slovakia (BTS), so that maintenance work could be performed on it.
One passenger was arrested in Egypt
Egyptian dissident Hossam Menoufy Mahmoud Sallam was on this flight from Sudan to Turkey, and was arrested when the plane diverted to Egypt. There seem to be two different narratives here.
The airline claims to have had no knowledge of the arrest ahead of time, and claims that the man was only arrested when the flight from Luxor to Istanbul eventually boarded, as part of standard ID checks:
"The company decided to send an alternative plane to Luxor to transport passengers and continue the trip. Boarding the alternative plane makes the Egyptian authorities part of the travel procedures as is in force in the aviation regulations, and this is what led to the arrest of the passenger mentioned in the means of transportation."
Other reports suggest that the man was arrested as soon as the plane arrived in Egypt. It's claimed that government officials escorted him and confiscated his passport, suggesting that they knew of his presence on the flight in advance.
On the surface this story sure sounds like the May 2021 incident where a Ryanair flight from Greece to Lithuania was forced to make an emergency landing in Belarus in order to arrest an opponent of the government.
While there are similarities between the two cases, it sounds like this might not have been quite as orchestrated:
There's no indication that Egyptian officials asked the flight to divert, but rather this was requested by the crew based on an actual maintenance issue
Beyond that, I could see this going either way — it's possible an ID check was just needed for passengers, and he was flagged in the system by the government, or it's also possible that the government somehow knew he was on this flight, and was quick to arrest him when the opportunity arose
Bottom line
A Badr Airlines flight from Sudan to Turkey diverted to Egypt over a faulty indicator light. When the plane landed in Luxor, an Egyptian passenger and activist was arrested. On the surface this reminds me of the Ryanair Belarus situation, though it's also possible that this wasn't planned quite in that way.
What do you make of this Badr Airlines diversion to Egypt?