Last November I wrote about how RwandAir's CEO went on record as saying that he wanted the airline to start flying between Kigali and New York in 2019, using an A350.
I have a lot of respect for RwandAir — I think they're trying to do good things, they seem like a cool little airline, and they have a solid business class product on their two A330s.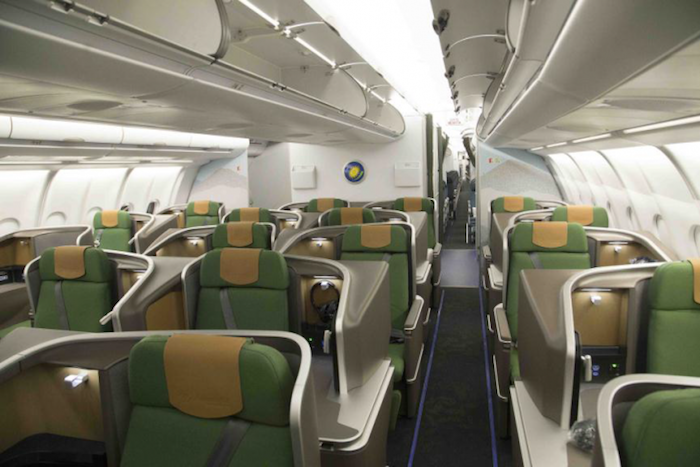 However, I figured this was a pipe dream, as the airline has virtually no chance of turning a profit on such a route. This would be a prestige route, rather than a profit driven route. Just look at the pricing on their flights to Dubai and London, even in business class, which is incredibly low.
Now, in many ways the concept of building an airline for the purpose of bringing people to a country isn't unheard of, even if there's no direct profit in it for the airline. Just look at what Emirates, Etihad, and Qatar have done to build up Dubai, Abu Dhabi, and Doha, respectively.
I expected we wouldn't hear much more about this route, but it looks like RwandAir is moving forward with their plans. The always reliable @airlineroute notes that RwandAir plans to launch flights to the US in August 2018, pending government approval. While not stated, I suspect that the flight would be to New York, since that's the city they've been talking about from the very beginning.
This likely wouldn't be a nonstop flight, given that Kigali to New York is over 7,000 miles. Last time we heard about this rumor it involved RwandAir acquiring an A350 to operate the route, though I haven't heard of them making any progress with that. Their existing A330s don't have the range to operate the flight nonstop, but then again, even if they had a plane that could, I doubt they'd operate it nonstop.
RwandAir recently added flights to Brussels, though that really just comes in the form of them making a stop in Brussels on their Kigali to London flight (and unfortunately they didn't really think through the logistics of that very well).
I'm not convinced this will actually ever come to fruition, though I always enjoy staying up to date on what airlines are at least claiming they're interested in starting new routes. A lot of airlines talk big but don't actually follow through on plans like this. For example, early last year Oman Air said they wanted to launch flights to the US, though they've now definitively said that's off the table.
Meanwhile we're still waiting for Garuda Indonesia's new flight to the US, which is supposed to launch in November 2017, though I haven't heard much about it lately. As much as I love Garuda Indonesia, this will be a huge money loser, as they'll operate a one stop flight, meaning they don't have any competitive advantage over their competition. Vietnam Airlines and Thai Airways have also talked about wanting to start service to the US (in Thai's case restarting service), but we haven't heard anything on that front lately.
Do you think RwandAir will follow through with launching US flights?