RwandAir is an airline that probably interests me more than it should, but for some reason I just find their little operation fascinating. They have two A330s with a fantastic business class product. They recently started flying to London and Brussels, though apparently didn't do all of their homework, because they had some issues with the flight. Perhaps coolest/craziest of all, this small East African airline with a dozen planes wants to start service to New York this year (I'm sure Kenya Airways adding daily 787 flights to New York will only encourage them more).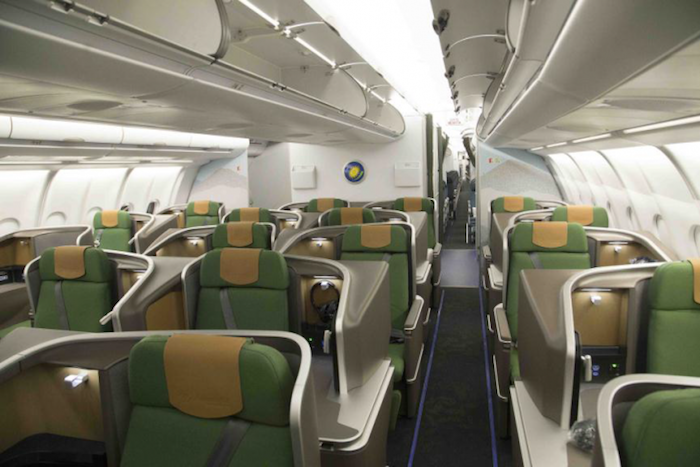 For over a year now RwandAir has been saying that they want to add flights to both Guangzhou and New York. I figured the odds of either of those routes happening is extremely slim. Maybe they could operate them short term for prestige, but to actually operate either of those routes profitably seems like a long shot.
Well, interestingly RwandAir is one step closer to adding flights to Guangzhou. The New Times reports that Rwanda's transport minister has announced that RwandAir plans to launch flights to Guangzhou in May 2018. I know my first thought was "but they only have two A330s, and they use those to fly to Brussels and London, and sometimes to fly to Dubai. Where will they get their planes from?"
Well, RwandAir plans to operate their new flight to Guangzhou via Mumbai. RwandAir presently flies 4x weekly from Kigali to Mumbai using a 737, and they plan to operate the Guangzhou flight as a tag. It remains to be seen whether all 4x weekly flights will continue to Guangzhou, or only select flights. Long term the airline is apparently considering operating the route nonstop.
My first thought was that this is a very long flight on a 737. The nonstop distance from Kigali to Guangzhou is about 5,800 miles, while the Kigali to Mumbai flight is 3,200 miles, and the Mumbai to Guangzhou flight is 2,600 miles. On the plus side, Mumbai is basically on the way. On the down side, this will be a very long flight on a 737 (which I assume RwandAir is using for the flight due to aircraft availability, though it hasn't been stated one way or another).
The economics of the route are interesting. Presumably there's decent demand between Kigali and Mumbai, or else the airline wouldn't operate the route. Given that many people will be getting off in Mumbai, RwandAir must think there's sizable demand between Mumbai and Guangzhou.
Surprisingly it seems that no other airline operates the route nonstop, so who knows, maybe they could pick up some traffic in the market.
While RwandAir notes that they hope this flight will be useful for destinations in Africa beyond Rwanda, the issue remains that RwandAir is a very small airline. They don't have dozens of flights arriving in Kigali where a connection on this flight would work, but much more likely just a few flights.
I'll be curious to see how this works out, and even more curious if RwandAir follow through on their New York plans. For now you can count me out for this 5,800 mile journey on a 737, though.
What do you make of RwandAir's Kigali to Mumbai to Guangzhou route idea?