I've taken an interest in RwandAir over the past few months, which seems like a cool airline that's doing great things. They have some nice-looking A330s that they fly to Dubai, Brussels, and London, and I'm hoping to fly with them soon, in conjunction with a visit to Rwanda.
In late June I first wrote about how the airline was planning on launching flights to Brussels. They advertised it as "3 flights a week starting 14th July 2017." That surprised me a bit given how small their fleet is, as I didn't think they had the aircraft to operate the route. That also seemed like a really last minute decision for launching a new route.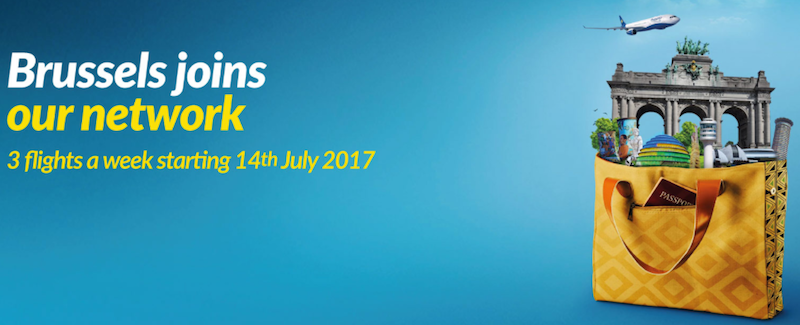 After looking at the schedule for the flight it made more sense. As it turned out, RwandAir was just adding a stop in Brussels for their existing flight between Kigali and London. In other words, the plane would fly from Kigali to Brussels to London to Kigali.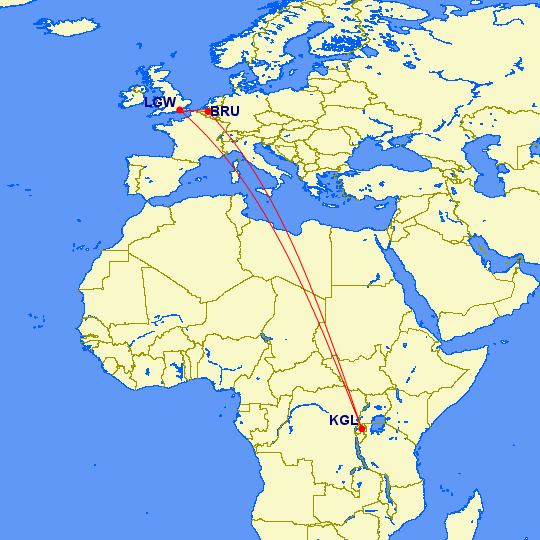 It seems they didn't put much thought into the route, though, as they had one major issue, which Sean M. pointed out at the time:
Rwandair has not thought through the logistics of this flight completely.

Rwandan passengers (and many other nationals from countries that constitute the primary markets for this flight) flying BRU-LGW-KGL will require UK Direct Airside Transit Visas to fly on this flight, even if they remain on board the aircraft at Gatwick.

The UK does not accept standard "C" class Schengen visas as exemption documents from the DATV requirements. They require a class "D" visa from an EEA state or else a class "C" visa issued under ADS scheme for the exemption. Therefore your average Rwandan/Ugandan/Kenyan/Tanzanian tourist/businessman would also need to apply for a UK visa just to fly on this flight.
So they've been operating the route in an incredibly inefficient manner:
RwandAir is operating the Kigali to Brussels to London to Kigali route as scheduled
However, due to the issues associated with having passengers transit the UK enroute from Brussels to Kigali, they're not letting passengers book the flight from Brussels to Kigali; so you can book a ticket from Kigali to Brussels and from London to Kigali, but you can't book a ticket from Brussels to Kigali
Instead, those inquiring about a reservation from Brussels to Kigali will be placed on the Brussels Airlines codeshare for the southbound sector, which doesn't go through the UK, and is priced considerably higher
At the time RwandAir said they were working with the UK government to find a solution. I wasn't expecting there would be much room for negotiation there, so RwandAir has finally done what many of us were expecting them to.
As of October 31, 2017, RwandAir's Kigali to London Gatwick flight will stop in Brussels in both directions. As the airline prefers to describe it, they're now offering nonstop roundtrip flights between Kigali and Brussels.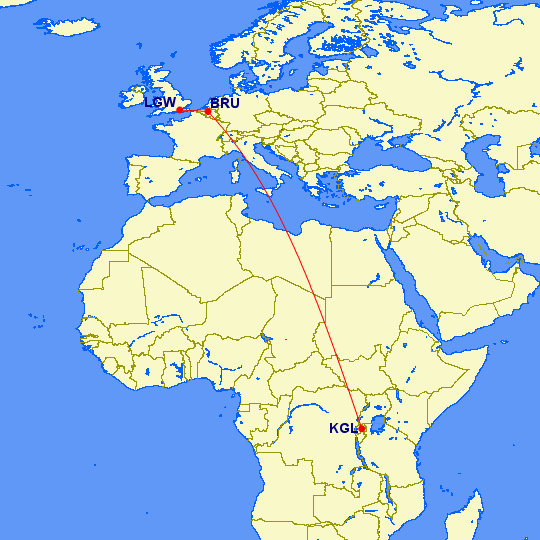 Per the press release (thanks again to Sean M. for the heads up):
RwandAir will continue to offer three weekly flights from/to Brussels on Tuesdays, Thursdays and Fridays; however flights from Brussels to Kigali will no longer be operated via London Gatwick which will eliminate the requirement for non-Schengen citizens to hold a UK transit visa and to disembark for rescreening at London Gatwick Airport.

The new schedule was made possible pursuant to negotiations with Gatwick Airport for an earlier slot out of London, enabling our aircraft to return to Brussels ahead of the jet ban.

"We are confident," says Chance Ndagano, Ag. CEO of RwandAir, "that the new schedule will improve the experience of our esteemed clients boarding from Brussels, while maintaining our schedule from London with only one stop in Brussels."

Passengers embarking from London-Gatwick Airport will stay onboard the aircraft at Zaventem Airport in Brussels and will not need a Schengen transit visa.
Here's the schedule for the Brussels & London service as of October 31:
This is of course great for those traveling between Brussels and Kigali, though it eliminates a real advantage between London and Kigali. There are many airlines offering one stop service between the two cities, so their competitive advantage is limited here if they don't even fly nonstop. They do have the advantage of at least letting you stay on the plane, but this still adds a couple of hours to the travel time.
At the bottom of the press release, the airline has reiterated their desire to launch flights to New York as of 2018. I remain skeptical of whether or not this will actually happen.