One of the places I've most wanted to visit this year is Russia, which I've never been to before. A practical opportunity to visit presented itself when Ford and I planned a trip to Longyearbyen, Norway, which is the northernmost city in the world. We booked SAS' new business class to get there, which is a product I've long wanted to review.
We didn't initially know where we wanted to go from there, but we decided that Russia wasn't far, so we might as well add that on to the end of the trip. So we planned to spend about a week there, split between St. Petersburg and Moscow.
One of the reasons I haven't yet visited Russia is because of the process of getting a visa. Having to fill out a long application and then part ways with my passport for an extended period of time often pushes countries further down on my bucket list, as I'd rather visit those countries which make it easier to visit.
If it's any consolation, I use Allied Passport for all my visa applications, and it takes much of the pain out of the process. So I figured I'd share the process of applying for a Russian visa with a US passport.
How much does a Russian visa cost?
Per Allied Passport's website, here are the fees charged by the Russian embassy for a visa: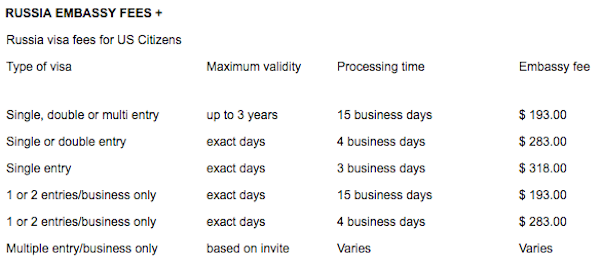 As you can see, Russian visas are expensive. Initially I was trying to decide whether I wanted a processing time of 15 business days or four business days. The cost of both is sort of outrageous, so I had initially decided I'd pay the extra $90 and just get my passport back as quickly as possible.
But then I realized that rushed visas are only single or double entry, while visas with the standard processing time can be valid for up to three years. I figured I might as well save $90 and get a visa valid for three years, so that I could visit Russia again without the hassle of having to go through the visa process again. After all, I'm sure there are parts of Russia which are far more fascinating than the major cities (as is often the case).
Visa application timeline
I emailed Allied Passport before submitting my application to ask what kind of a timeline they were running on Russian visas using the standard processing time, and they said Russian visas were averaging 7-10 business days at the embassy.
So here's the timeline from there:
We overnighted our passports on June 1
Our passports were submitted to the Russian embassy on June 2
Our passports were shipped back to us from Allied Passport on June 15
We received our passports on June 16
So it was 15 days from the day we submitted our passports till we received them back, which is pretty good for standard processing time (we did pay for overnight shipping in both directions).
How complicated is a Russian visa application?
Russian visa applications are notoriously complex. The people who had been through the process before warned me what a pain they are. I'd say it's more complicated than a Chinese visa, as it asks the most questions, and apparently they're very exact about everything. Just to give a few examples:
You have to list all the countries you've been to in the past 10 years, including the dates you visited
You have to list the full mailing addresses for just about everything, including universities you attended, etc.
There were some random and vague questions, like "list all professional, civil and charity organizations which you are/were a member of or cooperate with"
You need an invitation letter, which can be arranged for free by the hotel you're staying at (however, if you cancel your hotel booking, you'll be charged an exorbitant amount for the letter by the hotel)
The point is, the application is a pain, but there's nothing in there which is actually complicated. Instead it's just time consuming and annoying, if that makes sense.
Should you use a visa service or not?
This is something everyone feels differently about. I'm incompetent when it comes to filling out forms, so I get a ton of value out of visa services. Even just in terms of convenience, it's something which is worthwhile to me.
While I use Allied Passport for all my visa needs, I think a visa service is especially useful for a Russian visa, given how exact they are. When Allied Passport received our applications they made some minor edits to make sure they were accurate and would be eligible for a three year visa.
To me that's well worth it, since I've read all kinds of stories online of people having to submit their visa applications to the Russian embassy a few times before having them approved, due to minor errors.
So personally I find using a visa service worthwhile for any visa, but especially for something like a Russian visa, which is one of the more detailed ones out there.
Allied Passport charges $69 per passport for standard processing time for a Russian visa, so in my opinion that's a small price to pay for the convenience, and also to make sure the application is submitted correctly.
If you do use Allied Passport, you can receive a $5 discount by writing a note on your order form indicating that you were referred by One Mile at a Time. In the interest of full disclosure, I receive a small referral bonus if you use them as well. They're fantastic people, and I think their online reviews speak for themselves.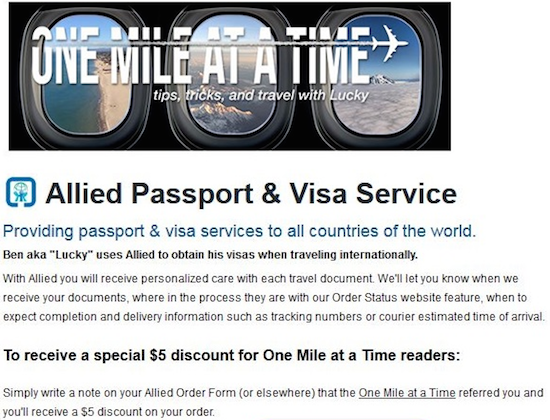 Bottom line
While a Russian visa application was the most complicated visa application I've dealt with to date, it certainly wasn't impossible. It was just tine consuming, though I'm happy we at least have three year visas now, so we can visit multiple times. I'm happy we used a visa service for this application, given that they helped with making minor modifications to make sure the application was "compliant" when submitted.
I can't wait to finally visit Russia in a few weeks!