This is awesome. I didn't realize this was a record, though now that I do, I'm totally going to try to break it. On Sunday Andrew Fisher, who is Etihad's VP of Fleet Planning and a self proclaimed aviation geek, will start a round the world trip that he hopes will set a world record. Specifically, he'll be flying from Shanghai to Auckland to Buenos Aires to Amsterdam to Shanghai, which covers a distance of 24,885 miles.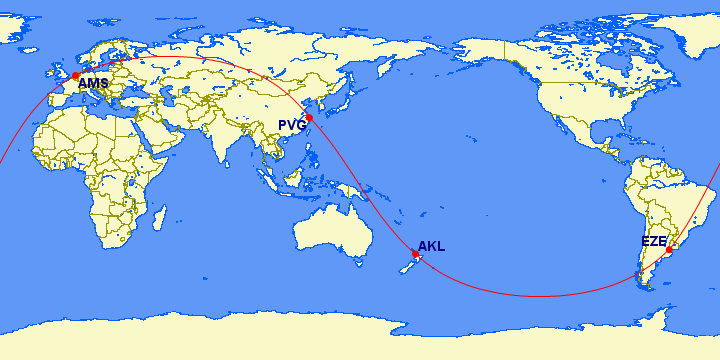 The record? If all goes as planned, he'll beat the current 55 hour record for flying around the world by about three hours. That's really damn impressive. If you assume planes fly an average of 500 miles per hour, it doesn't get much more efficient than that.
For anyone wondering, here are the previous records that were set for round the world flying, per The National:
The first Guinness record was set in 2004 by Michael Quandt from Germany, a travel editor of the newspaper Bild am Sonntag.

He flew around the world via six continents on scheduled flights in a time of 66 hours 31 minutes.

His journey started and finished in Singapore and proceeded via Sydney (Australia), Los Angeles (USA), Houston (USA), Caracas (Venezuela), London (UK), Cairo (Egypt) and Kuala Lumpur (Malaysia).

That record has since been broken several times, most recently in 2017 by Dubai resident Gil Azevedo who flew around the world in just 55 hours and 47 minutes.

The bank worker undertook his five-flight tour across the world traveling from Shanghai to Auckland, Buenos Aires, Paris and Moscow before returning to Shanghai.
To set the record, the time is recorded based on when the wheels of the first plane leave the ground at the airport of departure, until when the wheels touch down at the same airport at the end of the trip. Only flights that appear in published timetables may be used.
Based on doing some research it looks like there are different ways that round the world trips have been defined for these purposes, and this particular challenge is based on an attempt to reach approximate antipodal points. Here's how that's described:
A circumnavigation crossing the equator must be made. It is not necessary to visit the exact antipodal points, but airports nearest them. For this record an allowance of 5° is permitted, so if the co-ordinates north and south are the same, the east plus that west equals 180°, then that north might be, for example, 45° and that south anything between 40° and 50°. Alternatively that north might be 51° and that south 53°, in which case that west plus that east can equal between 177° and 183°. Being in a plane which lands at the airport but not having to changes would not be acceptable.
Good luck, Andrew! But careful, now that I know this is a thing, I'm determined to break it. If anyone has any routing ideas that beat ~52 hours, please do let me know. Now I know what I'll be spending my weekend researching. 😉
(Tip of the hat to @SaeedMehairi)