Update: Read my full Royal Jordanian Business Class Embraer 175 Cairo To Amman review.
Hello from Amman!
After an Air Canada Rouge flight from Tampa to Toronto, EgyptAir business class flight from Toronto to Cairo, and amusing transfer at Cairo Airport, I flew from Cairo to Amman on Royal Jordanian.
The flight was operated by an Embraer 175, which is my favorite regional jet.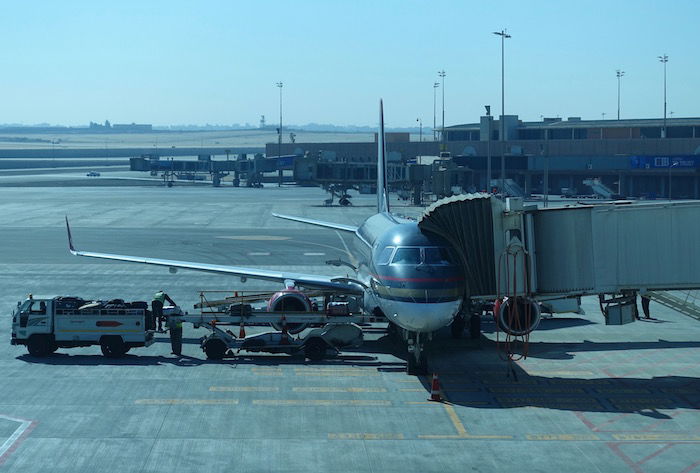 There was a bit of an adventure on boarding. I was the first to walk down the jet bridge, and there were three guys in hoodies standing on the jet bridge near the door to the plane. As I approached them they pointed at my bag and said "we check." It had been a long travel day and my brain wasn't working properly, so I thought they were telling me I needed to gate check my bag since it was a regional jet.
"No, it will fit." After a bit more discussion they grabbed the bag out of my hand, at which point I became a bit irritated, since I didn't understand what they were doing, and the whole situation struck me as shady, as they didn't have visible badges or anything. Then the flight attendant explained that they were just doing pat downs and bag searches on the jet bridge. Ah, that kind of a "check."
I think it's ridiculous that the people doing these searches don't have uniforms, or at a minimum, visible badges.
Royal Jordanian's Embraer 175 business class cabin consists of a total of 12 seats, spread across four rows in a 1-2 configuration.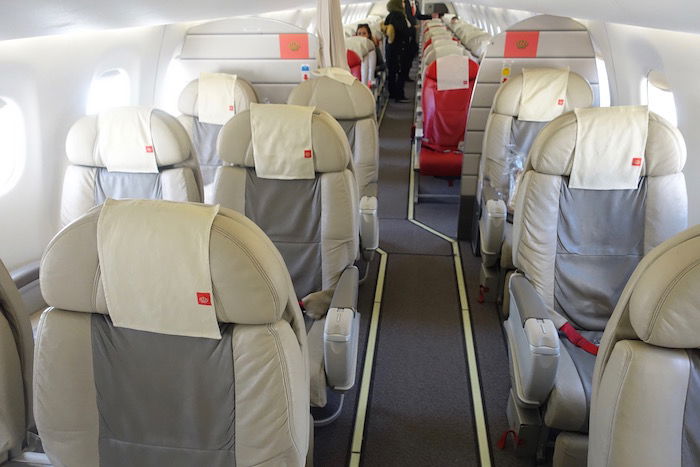 While the Embraer 175 is a comfortable regional jet in general, this configuration has to be the most comfortable yet, as the seats even have legrests and power ports.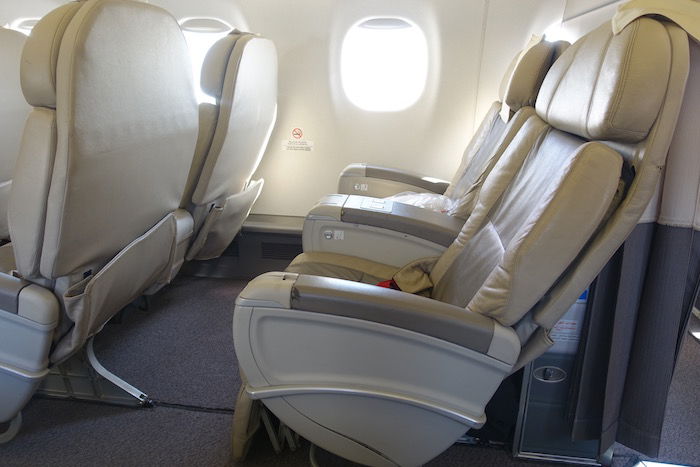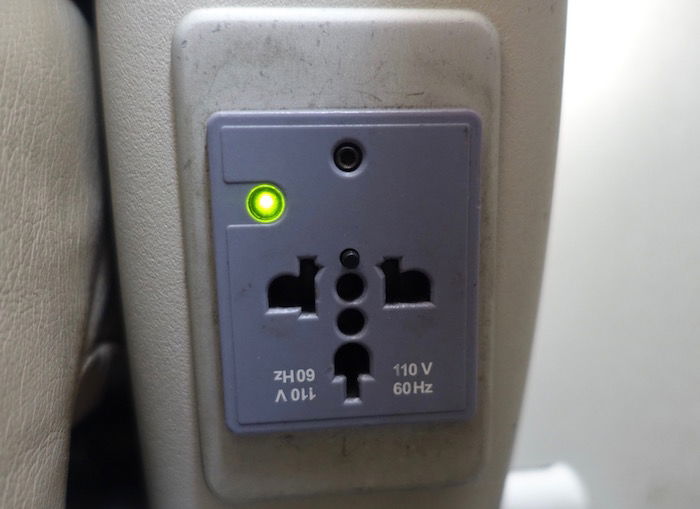 The flight attendant told me on boarding I could have any seat I wanted, as I was the only business class passengers (however, the three guys doing security checks on the jet bridge were on the flight to Amman as well, and one moved to business class when the door closed).
Before takeoff the flight attendant said "I have Arabic before takeoff if you want?" I said "sure," and her face lit up as she said "really?" I guess she was surprised I wanted some.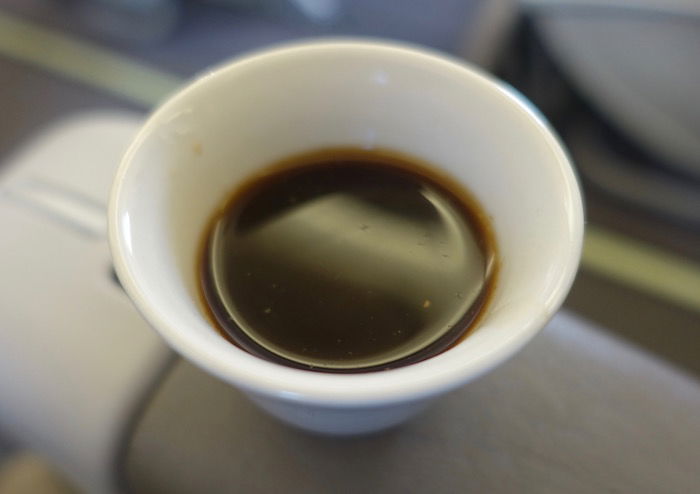 I enjoyed the views of Cairo Airport's new Terminal 2 on the taxi out, including of the A380 gates they now have.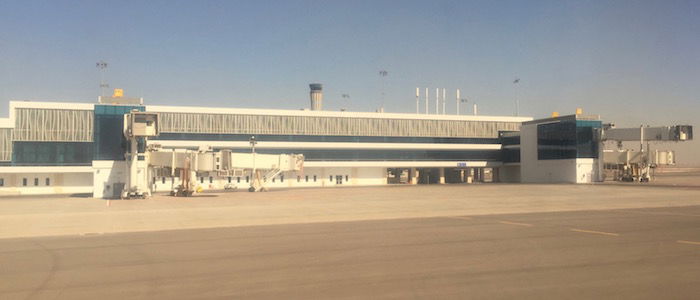 The flight time was just one hour, and after takeoff I was offered a snack. It consisted of a mini-bagel with cream cheese, a piece of bread with cheese and a tomato, and a piece of bread with salmon. Then there was also a salad and some dessert.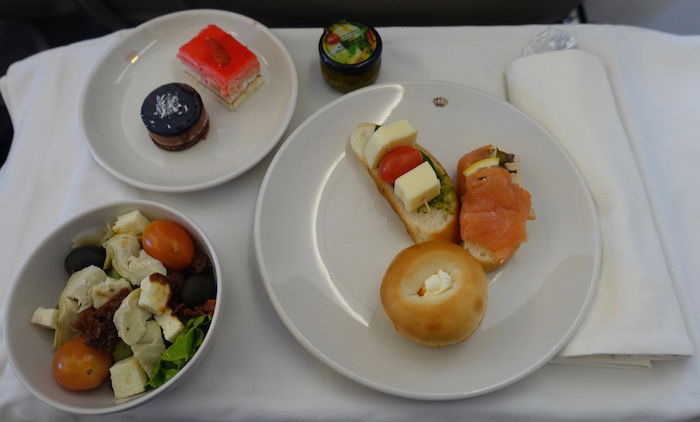 I spent the rest of the flight gazing out the window, and within about 30 minutes we were landing in Amman.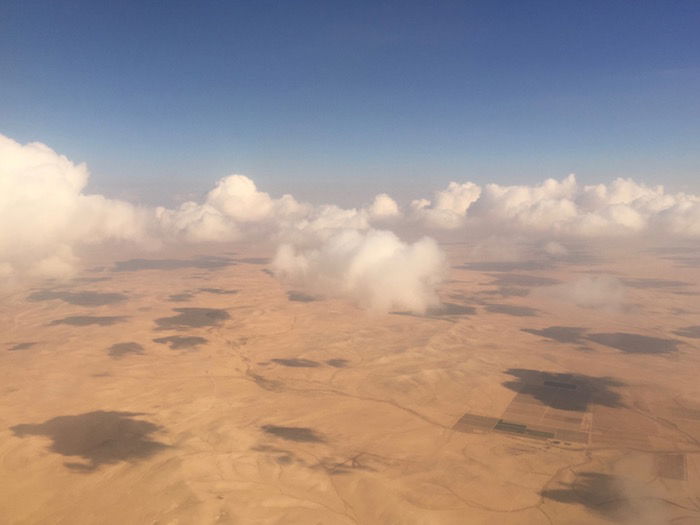 This was my first time passing through Amman Airport… it's gorgeous.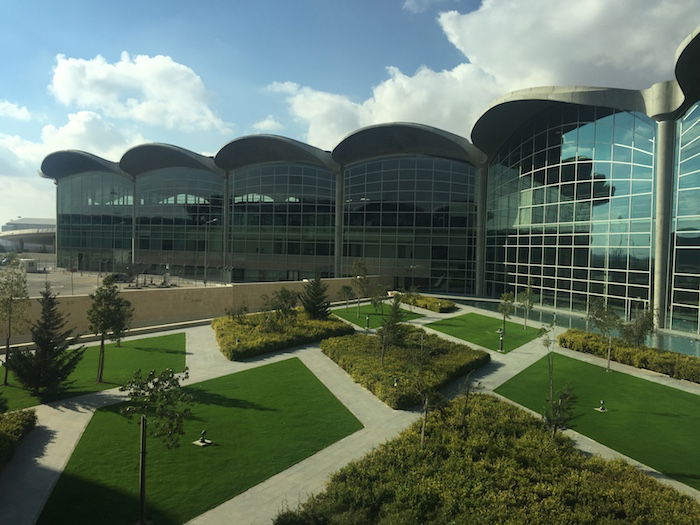 Overall this was a pleasant and quick flight, aside from the search on the jet bridge. The Embraer is my favorite regional jet, and Royal Jordanian's configuration is especially comfortable. The flight attendant working business class on this sector was also very nice.
This was my first time flying Royal Jordanian since my "flight from hell," so I'm happy to have had a good experience.