Update: Read my full EgyptAir Business Class 777 Toronto To Cairo review.
Hello from Cairo! I've been wanting to fly EgyptAir business class for quite a while now, and just had the chance to fly them from Toronto to Cairo. The inbound flight from Cairo was over six hours late (ouch!), though fortunately we were only delayed by about three hours, thanks to the amount of time the plane was supposed to spend on the ground in Toronto.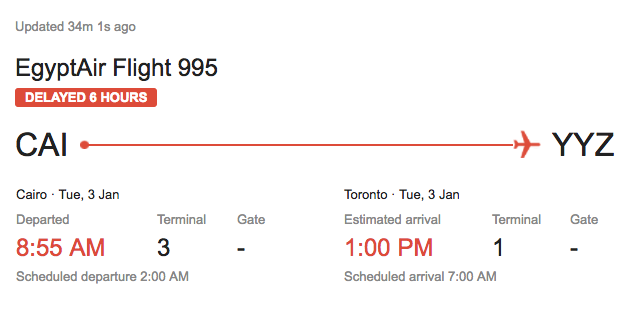 Last year a lot of airlines that I tried for the first time surprised me, which is to say that they were either much better or much worse than I was expecting.
In the case of EgyptAir, it was exactly what I was expecting. That's to say that it's a perfectly serviceable product, the flight attendants were well intentioned but not especially professional, and the food was edible, but that's about it.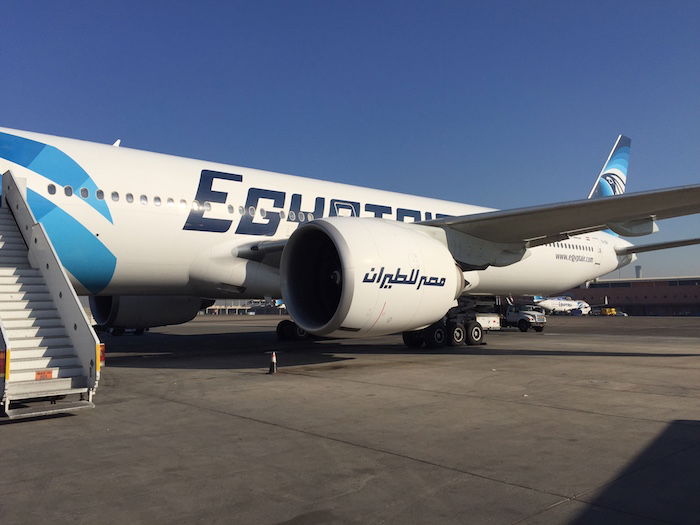 EgyptAir's 777 business class is in a 2-3-2 configuration, which isn't ideal. There are a total of 42 seats as the forward cabin has four rows, and the rear cabin has three rows.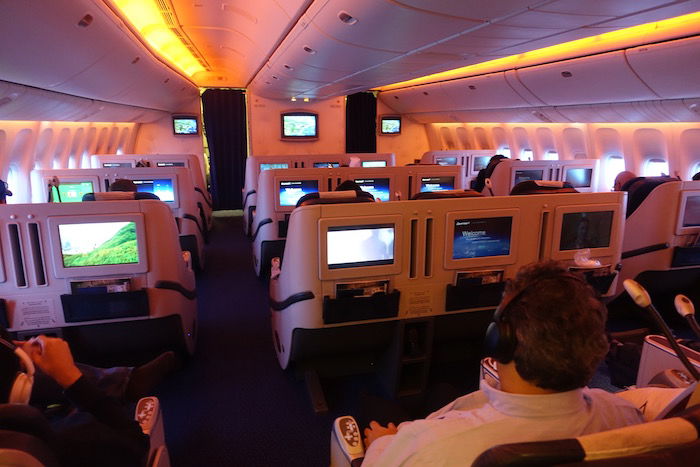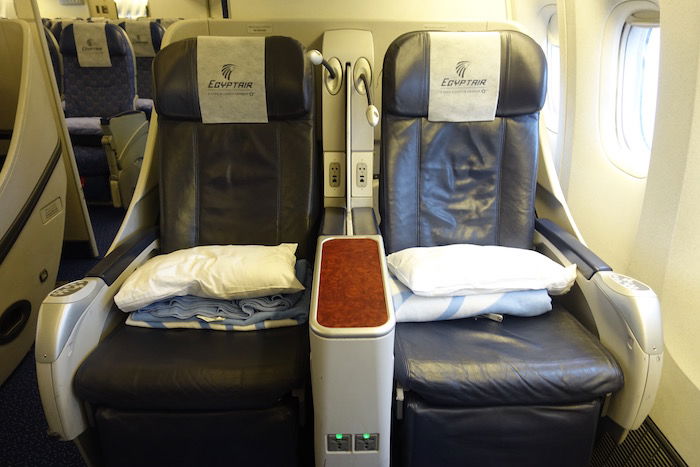 I've seen a lot of conflicting reports as to whether or not the EgyptAir business class seats on the 777 are fully flat or not, and now I see why. In terms of the bed, EgyptAir's business class seat is virtually identical to Emirates' 777 business class seat. That's to say that it's technically not quite fully flat, but damn close. However, given that planes are at a nose-up angle at cruise, I'd say it's fully flat, for all practical purposes.
I'm someone who is very sensitive to angled seats, but I found it very comfortable in the reclined position.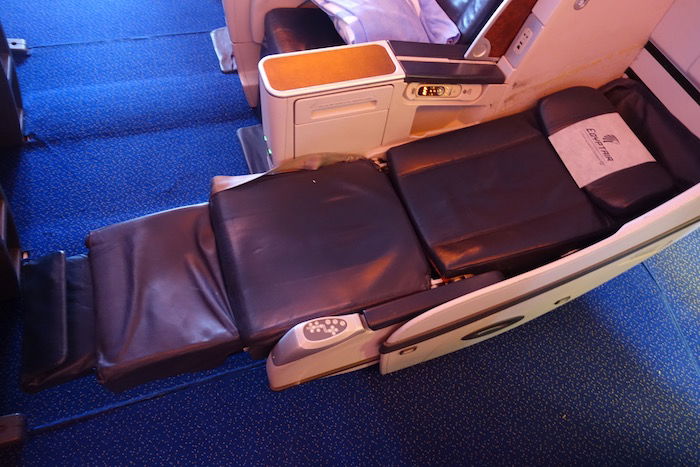 The food on the flight was edible, though that's about all I can say. Nothing tasted good, but nothing made me want to throw up either. My one major frustration was the lack of Egyptian dishes. You'd think they could serve some good regional cuisine, but instead everything on the menu was a bad attempt at a western dish.
There was a starter with marinated shrimp, smoked salmon, and mango salsa. That was also served with a salad and cheese plate.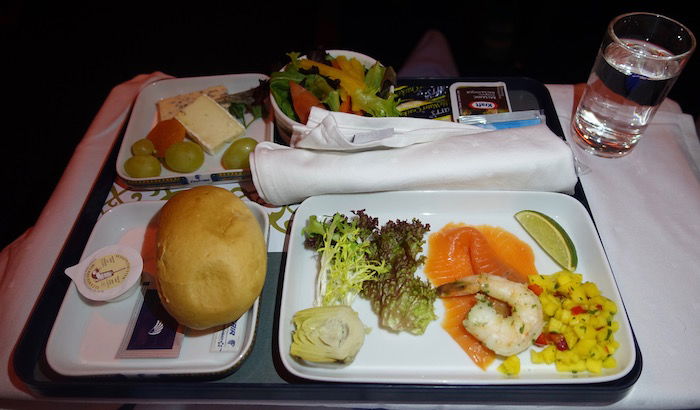 Then for the main course I selected the cod fillet and shrimp, which tasted worse than it looks (which is saying quite a bit).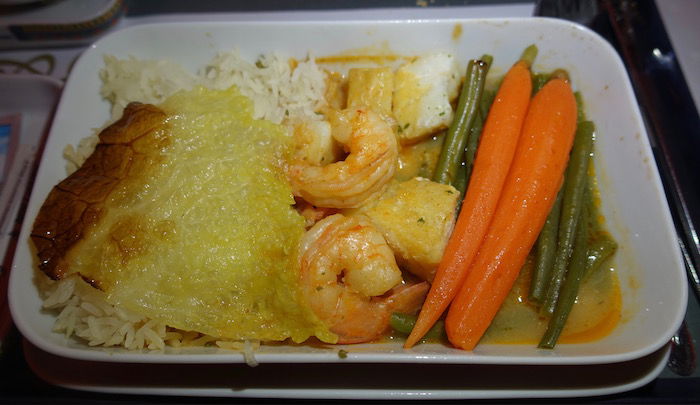 Next there was a fruit course.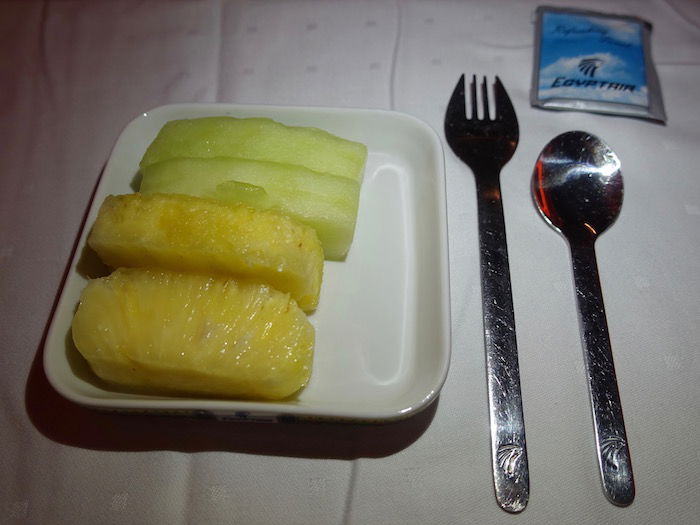 Then finally there was dessert. Even as someone who perpetually has a sweet tooth, the cake was dry and borderline hard. On the plus side, I loved the EgyptAir tea cup and saucer.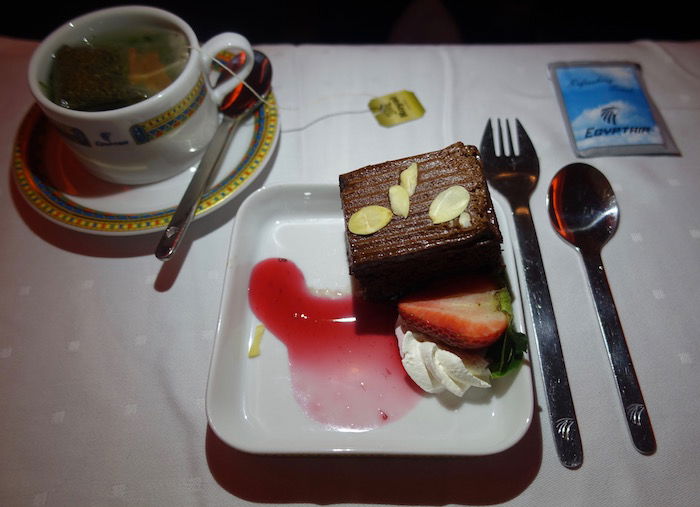 EgyptAir is a dry airline, so you'll be stuck drinking soft drinks, and oddly they didn't even have things like sparkling water.
As far as the amenities go, there was a really cheap amenity bag with some basic amenities. The headphones EgyptAir provides in business class are super cheap and flimsy.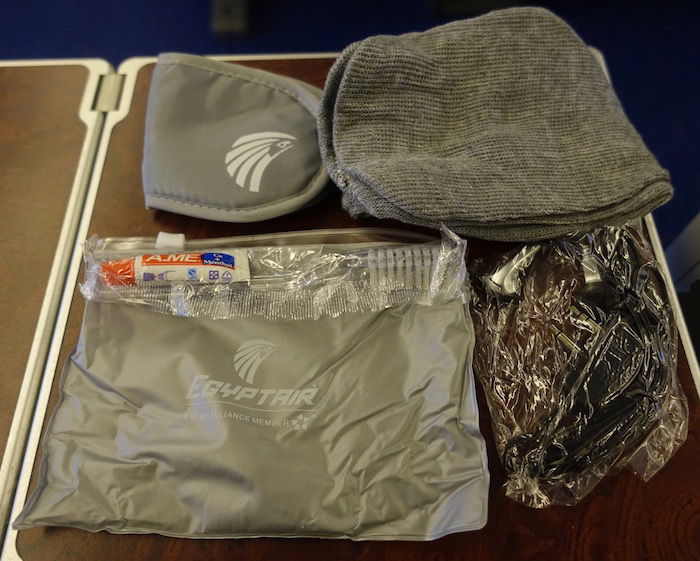 The blanket was one of the worse ones I've had in business class (but gets points for the branding — EgyptAir manages to brand everything — kudos!), though the pillow was comfortable.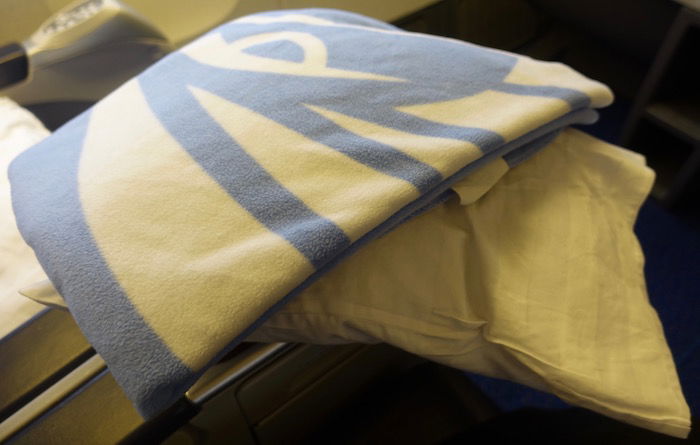 There were a few other things that stood out to me about the flight:
They screened the safety video for the A330, even though we were on a 777 ("this A330 is equipped with eight emergency exits"). How is it that the A330 safety video is even programmed on the 777? That doesn't sound like a crew error to me, but rather just the wrong video being stored altogether.

The lady seated next to me was in the fully reclined mode during takeoff, and no one said anything.

I had two empty seats to the right of me, which were empty for takeoff and landing, though for the rest of the flight two men in suits traded sitting in the aisle seat. They both watched movies but didn't really sleep. They were in the same uniform-style suit, but didn't seem to have wings, stripes, etc. Anyone know who they were? My first thought was some sort of Egyptian air marshals, but I didn't think they had those.
My seat stopped working altogether twice during the flight. When I informed the crew they didn't even seem surprised, and just told me to move seats.
I've heard that EgyptAir crews smoke even more than China Eastern crews, though that wasn't my experience. While there was a faint smoke smell shortly after takeoff, I didn't smell anything for the rest of the journey.
All that being said, my experience was pleasant enough overall. EgyptAir has some really cheap business class fares between North America and the Middle East, and at a good price I wouldn't hesitate to fly them again (unlike Ukraine International Airlines, for example). EgyptAir offers comfortable beds, which ultimately is the most important amenity in business class.
If they put a bit more effort into the soft product — having proper bedding, serving better Egyptian meals, having a better drink selection, etc. — they could actually be a pretty competitive global carrier, in my opinion.
Stay tuned for the full report!