Update: Read my full Royal Brunei Business Class 787 Bandar Seri Begawan To Dubai review.
Hello from Dubai! I just flew Royal Brunei's 787 for the 8hr25min flight between Bandar Seri Begawan and Dubai. The plane continues to London, though I got off here. I've been wanting to take this flight for a long time, and am happy I finally had the opportunity. There were aspects of the experience that were exceptional, while other areas where a small investment would go a long way.
Royal Brunei's 787s feature a total of 18 business class seats, spread across three rows in a 2-2-2 configuration. The seats are forward facing and fully flat, so they're not my favorite product when traveling alone, but are perfectly fine. This is very similar to the 787 business class product you'll find on airlines like Azerbaijan, Hainan, LATAM, LOT, Xiamen, etc.
The flight departs at 8:30PM and gets to Dubai at 1:30AM, so it's a bit oddly of a timed flight for those terminating their travels in Dubai. That's because it's timed to optimize connections to Melbourne and London. To my surprise, almost everyone in business class seemed to be flying from Melbourne to Bandar Seri Begawan to Dubai to London.
Royal Brunei has a dine on demand menu, though I elected to eat right after takeoff, so I could rest later on.
To start I was offered cashew nuts with a (non-alcoholic) drink.
Then for the starter I had a chicken, potato, and leek cream soup.
Then I had a salad with beef tenderloin.
Then I had a tumeric baked sea bass.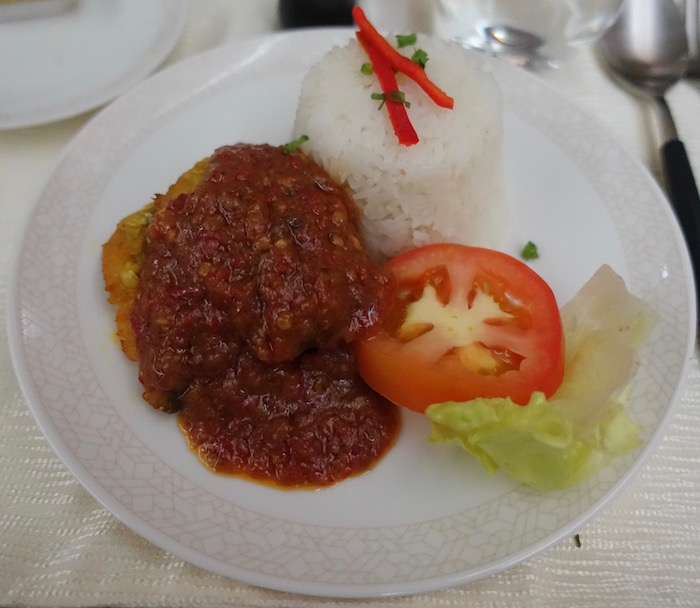 Lastly for dessert I had a bread butter pudding with blueberry.
I had a cappuccino to accompany it, which was freshly made with espresso, rather than powdered. It was very good.
The meal was okay — I thought the soup was good, the salad was alright, the main course wasn't very good, and the dessert was very good.
However, much like on my previous Royal Brunei flight, the service on the flight was once again exceptional. The crew addressed each passenger by name at each interaction, was very proactive in their service, and was just generally friendly. They were a delight, which matches my experience on my previous Royal Brunei flight.
While Royal Brunei doesn't have wifi, they do have an extensive entertainment selection. It's not the best in the world, but is quite solid. I especially appreciated that they had entire seasons of certain sitcoms.
I had mixed feelings about the amenities Royal Brunei offers. On one hand they offer a really cheap amenity kit and headphones that aren't especially comfortable.
On the other hand, the bedding was exceptional, and the blanket was the most comfortable one I've ever been offered in business class.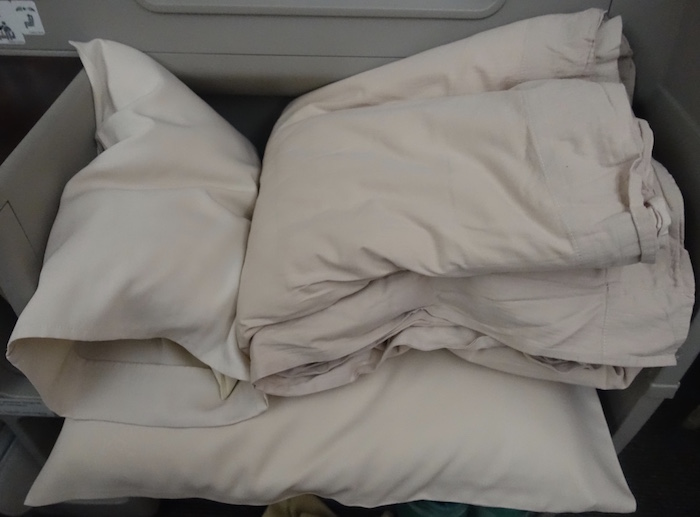 So based on my two flights with Royal Brunei, I guess my overall thoughts are that they're a solid way to fly. The service and bedding are exceptional, while there's room for improvement for food and some of the amenities. If it matters to you, the fact that they're a dry airline will also be a consideration for many.
Overall both of my flights on Royal Brunei were enjoyable.