The Last Trip (For Now)
We wanted to stay in the thick of the medina on this trip, but that does come with some safety considerations. We also liked the idea of staying in a small independent riad.
I'd had numerous people tell me that in Marrakech, your riad host is essentially your "fixer" for things you might want to do in the city, and while we didn't ultimately avail ourselves of that much, staying somewhere with a smaller guest-to-staff ratio definitely made us feel more comfortable.
Marrakech is one of those cities where you can spend anything on accommodation. Riad Joya is definitely on the higher end for a riad, but is probably in the middle range overall? And the seven rooms come at a variety of price points, so you could spend more or less to stay here than we did. We did enjoy staying in the Mouassine district of the medina, as it was convenient, but slightly less cramped than some of the other areas we strolled through.
I booked the "Dar Arabe" suite, which was ~$280 (including breakfast and airport transfers), but hotels.com was running a 10% off promo. On top of that I had a gift card from when I purchased a new Google Pixel a couple years back, so we didn't actually pay anything out of pocket.
The booking through hotels.com was seamless, and the hotel communicated with us several times before we arrived, both to note my gluten allergy, and to make arrangements for the airport transfer.
Arriving at Riad Joya
Immigration in Marrakech took a per-capita forever (seriously). The process as such wasn't onerous, and everyone was incredibly friendly, but I've never seen it take so long to process a relatively small number of people, who weren't even being asked many questions. With about twenty people in front of us and five kiosks staffed it was still almost an hour before we had our passports stamped.
We exited the terminal to find a man with a sign for the riad — he walked us out to the waiting van and driver, who explained it would take us about 20 minutes to get into the city, where the riad manager (Nour) would meet us at the gates to the medina.
And it's a good thing he did, because there's no way you're finding this place on your own the first time!
A porter took our bags, and we started walking through the crowded streets and alleyways.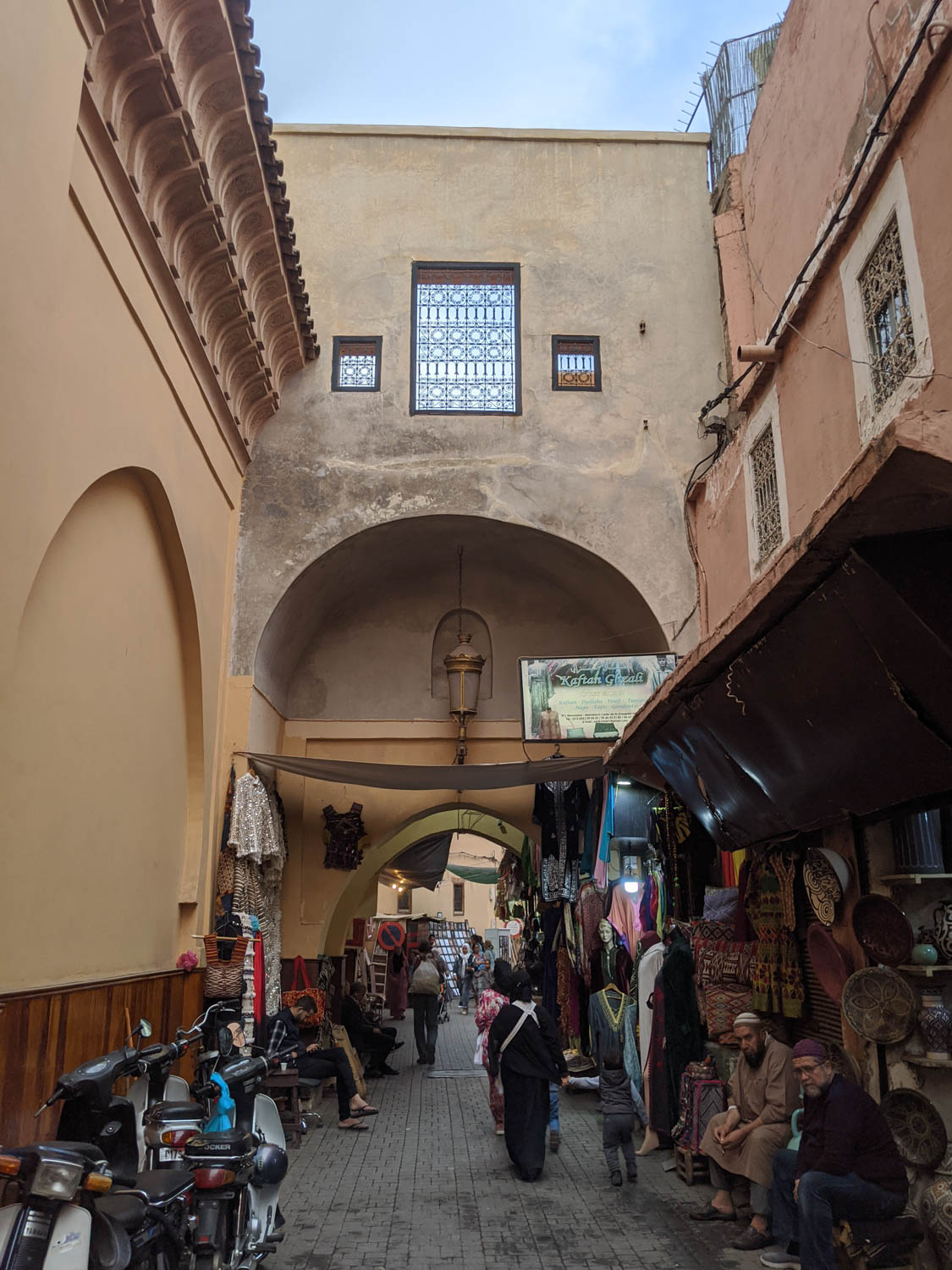 After a few turns, and at a somewhat wider spot in the laneway, we ducked under this blue sign (our host was quick to point it out to us as a reliable landmark):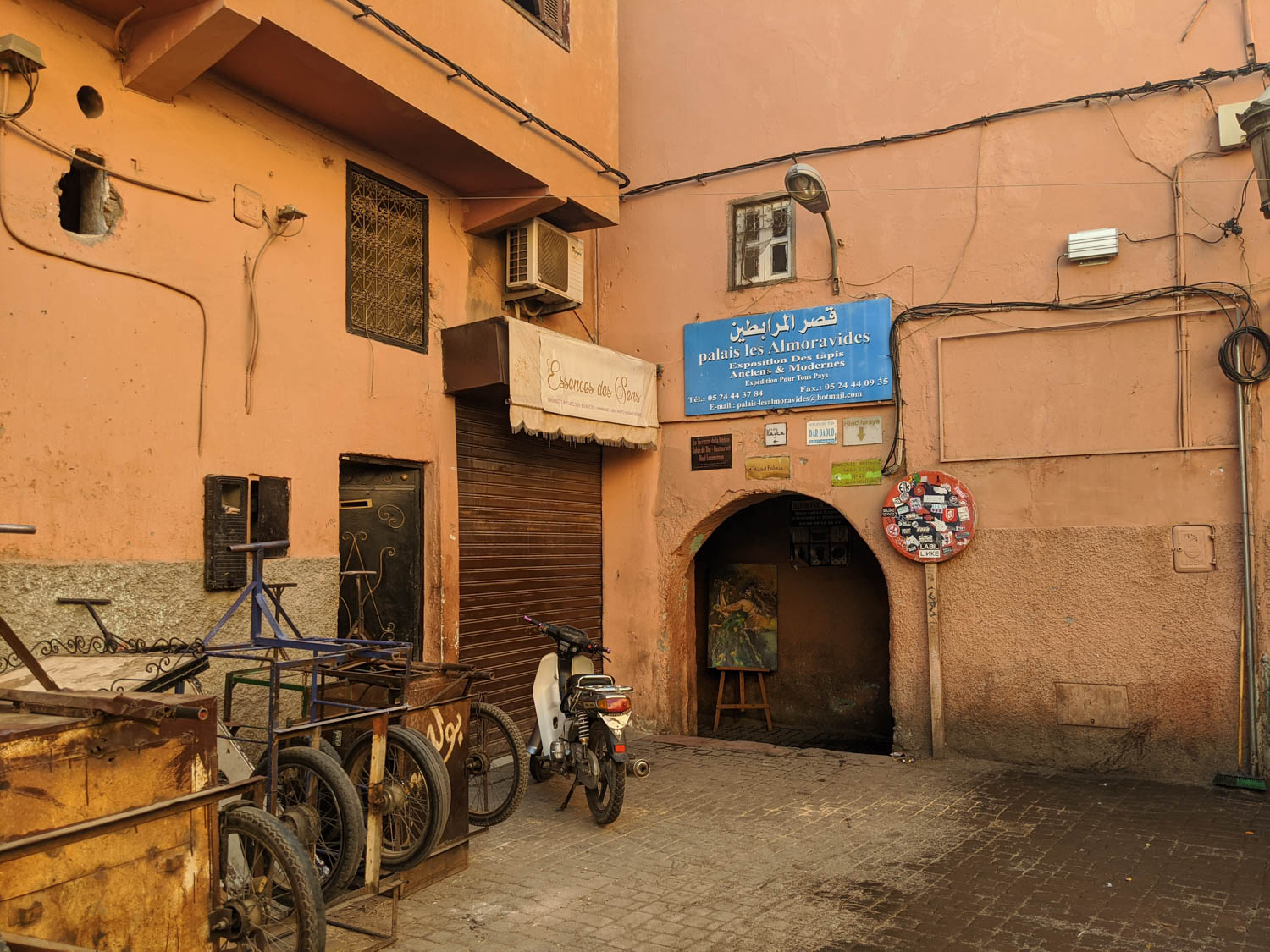 And then down a series of progressively narrower alleyways: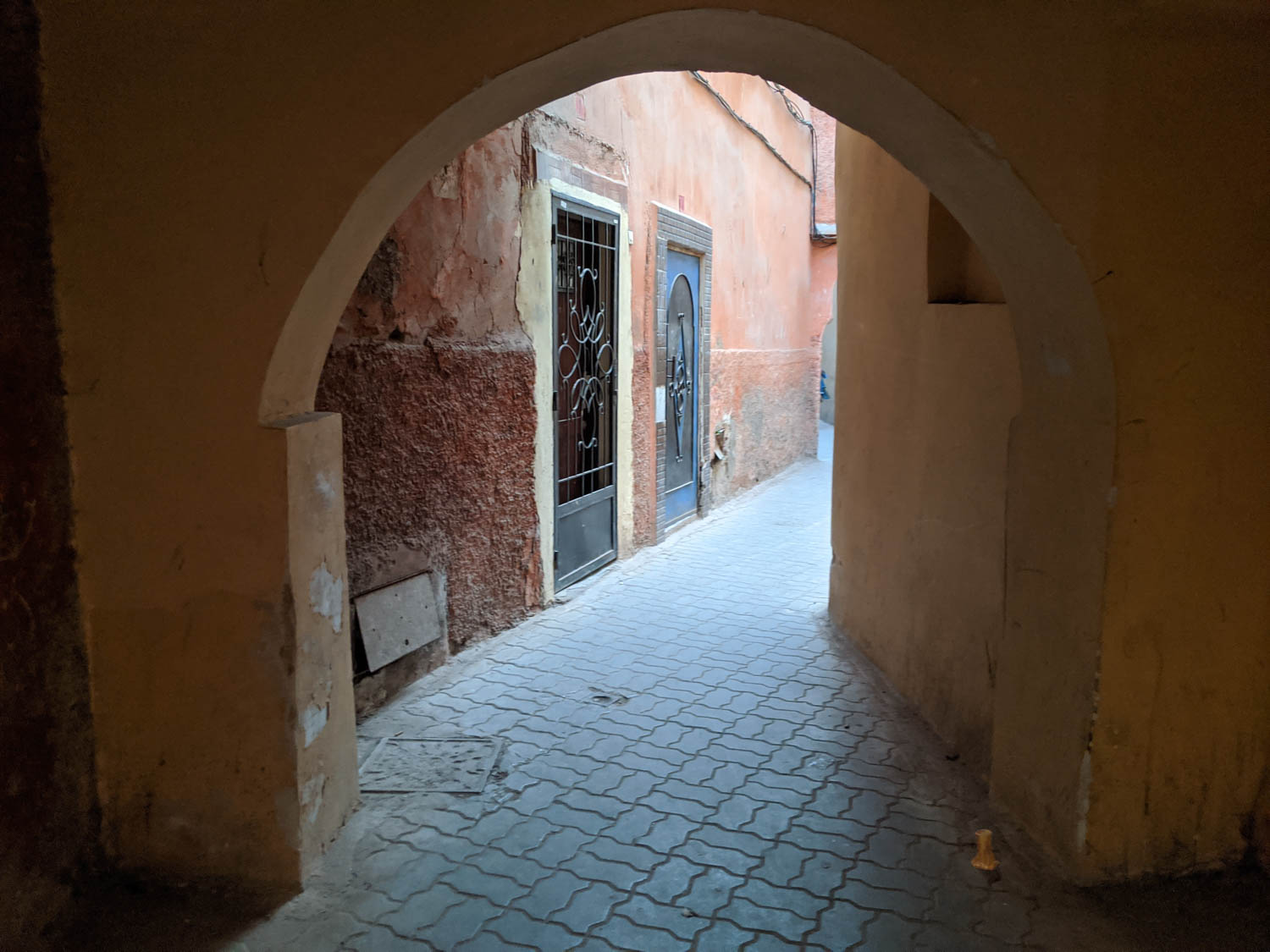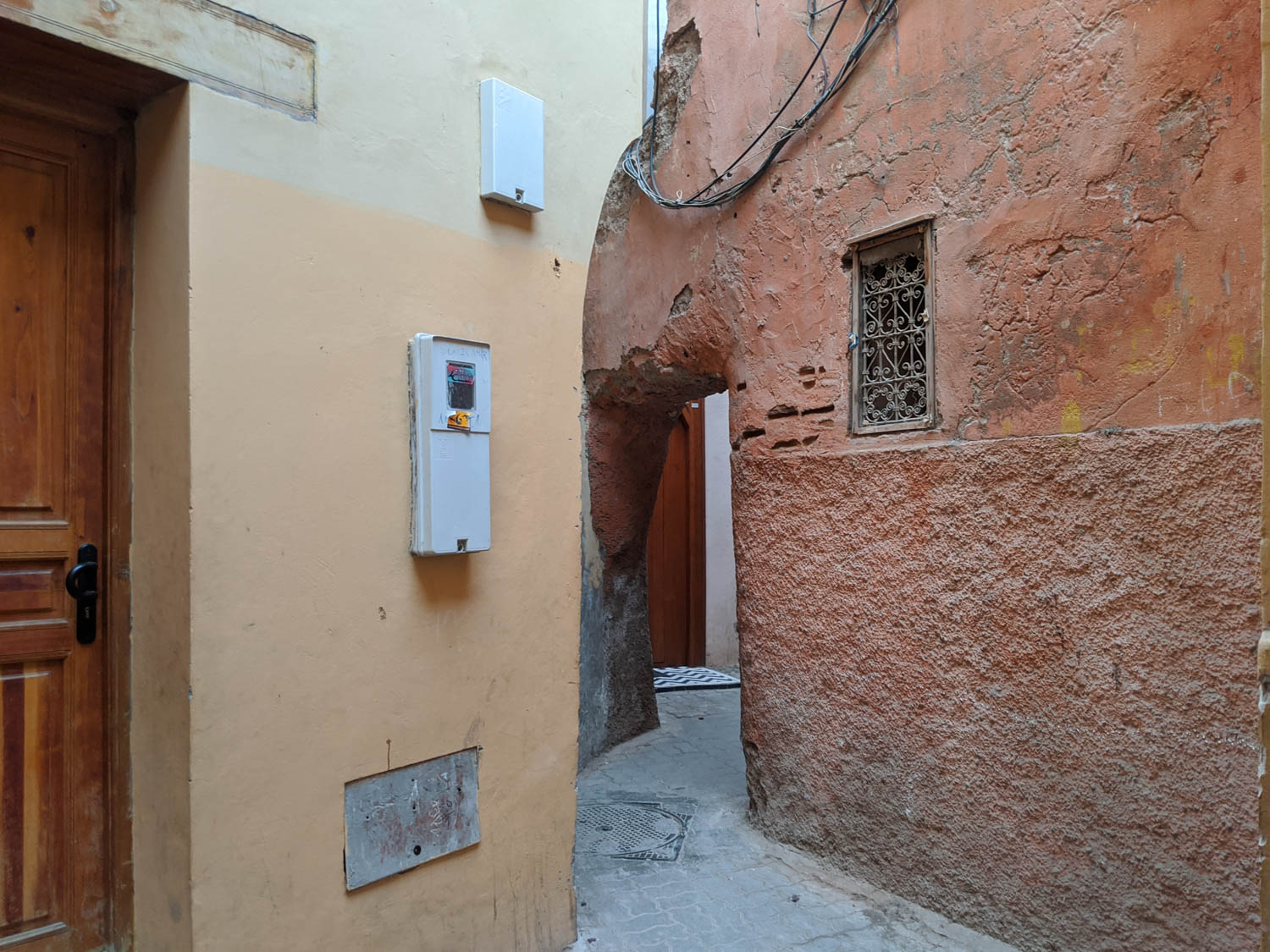 Until we came to the solid wooden doors of the riad, and the tasteful and calm entrance area: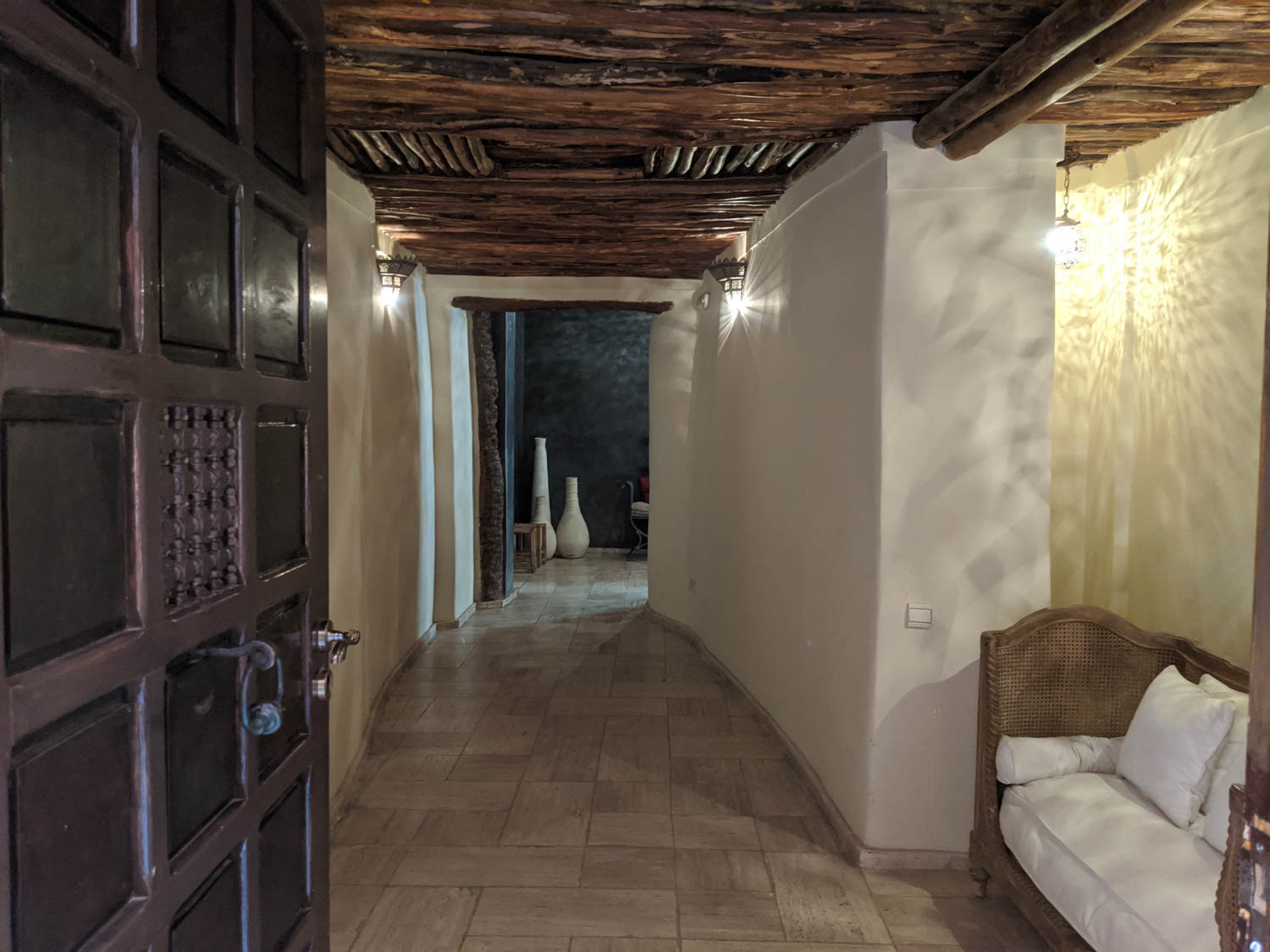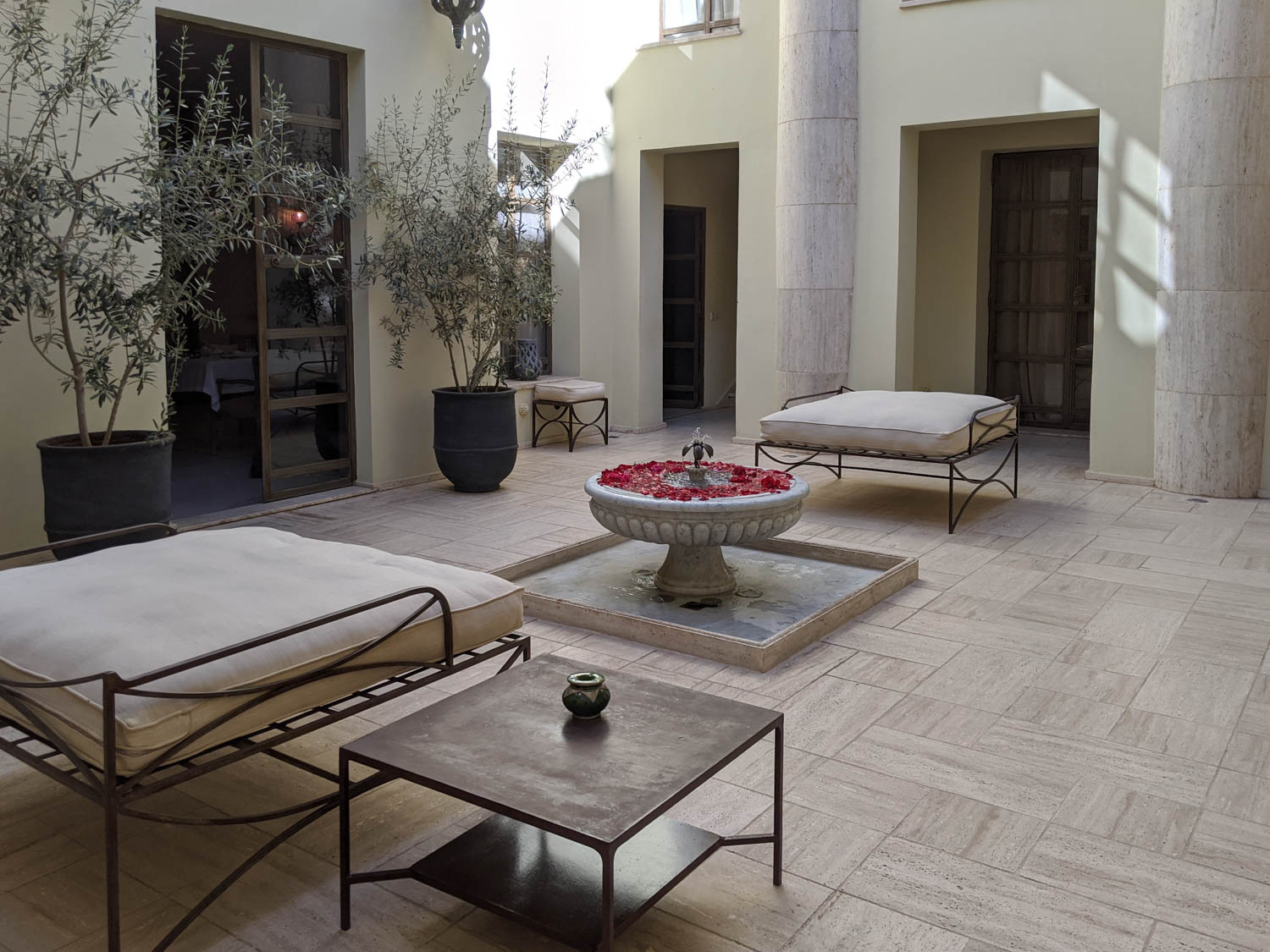 We were ushered into the reception area, which was just a small nook to one side of the open courtyard.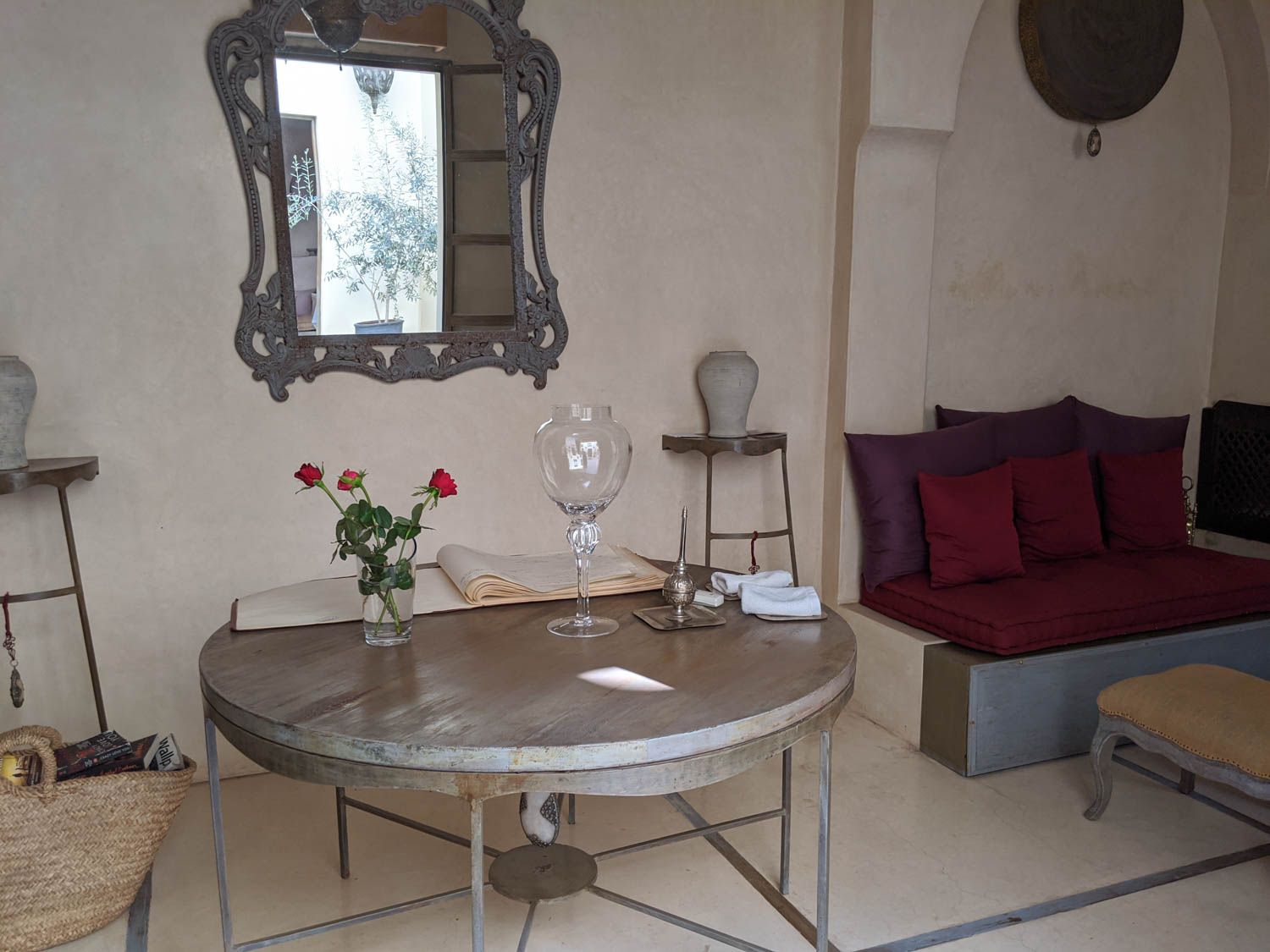 Our passports were collected, and we were offered cold mint tea and an assortment of Moroccan cookies (the gluten memo obviously hadn't made it this far).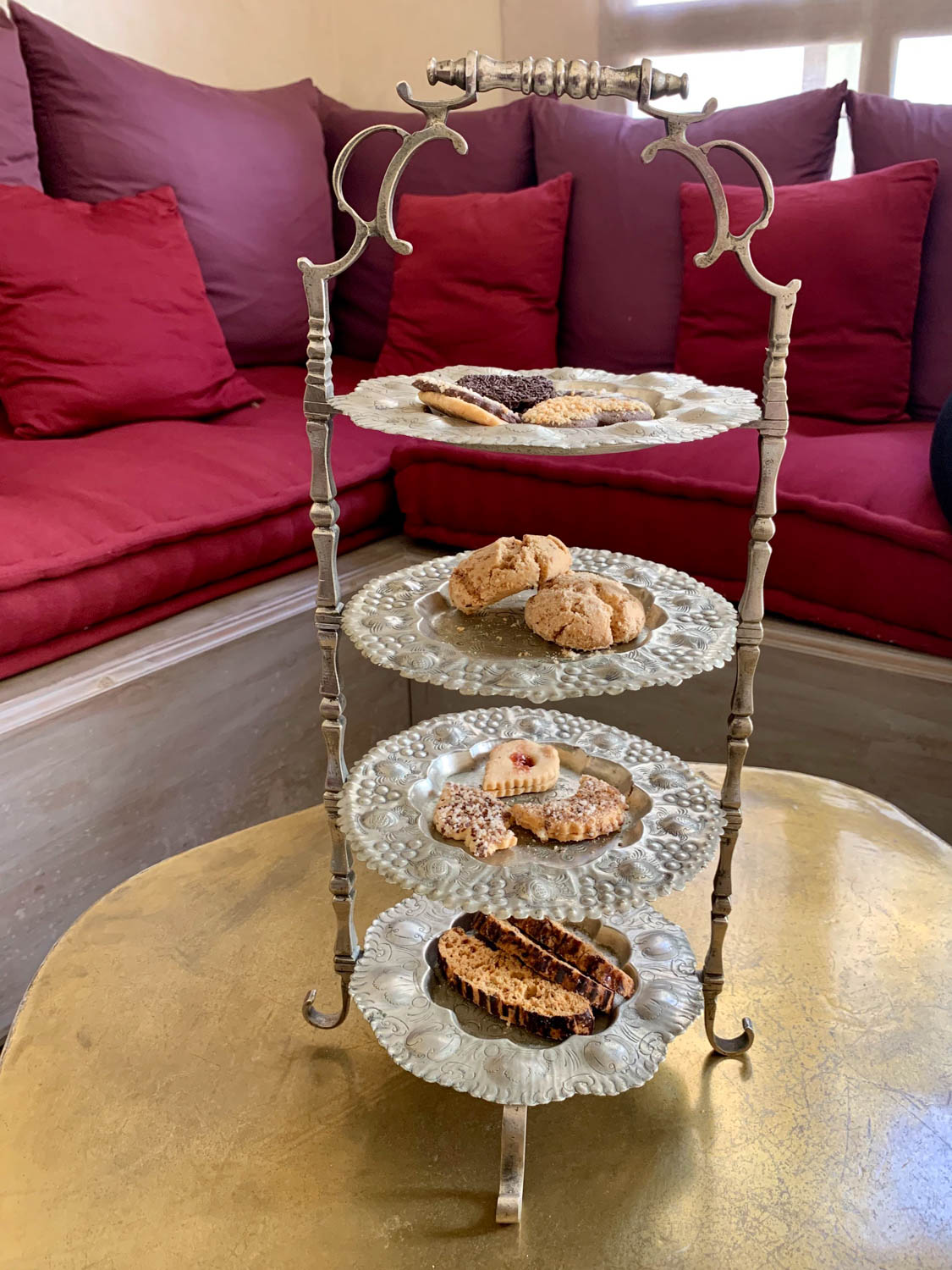 We were given a quick run down of the property, and Nour explained that we could have breakfast whenever we liked, but to let them know if we thought it would be later than 11ish. He also explained that the riad didn't have a formal restaurant (which we knew), but that with a bit of notice the chef Ahmed would happily prepare lunch or dinner.
After an efficient pass through the paperwork, we were taken upstairs to our room, where our bags had already been delivered.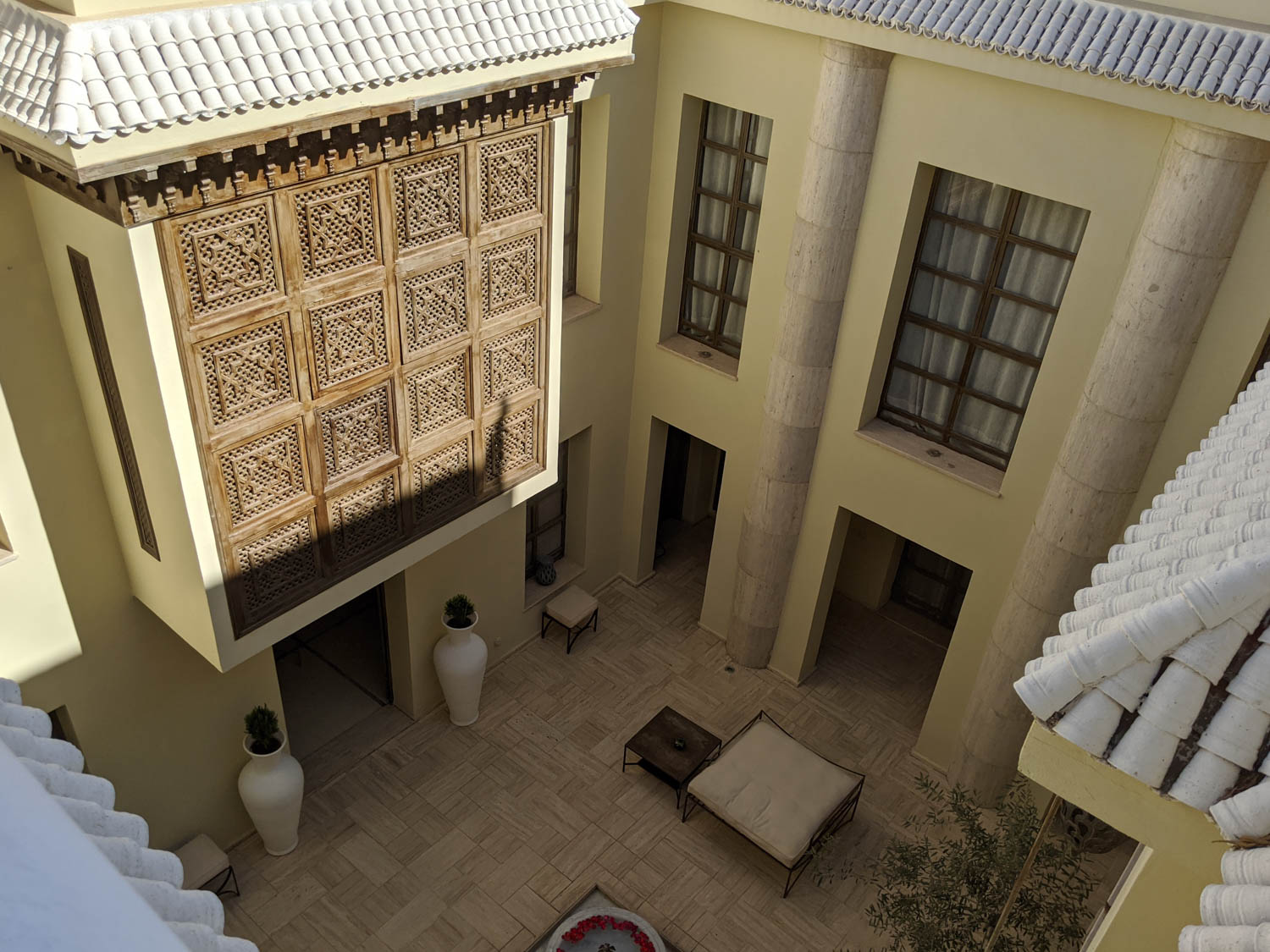 Riad Joya Dar Arabe Suite
When booking a room at a riad in Marrakech it seems you generally choose the exact room, which makes sense, given how few rooms most of these properties have. I selected a larger room so that I'd have a desk (I never know how much I'll need to work), and having a bit of extra space is always nice.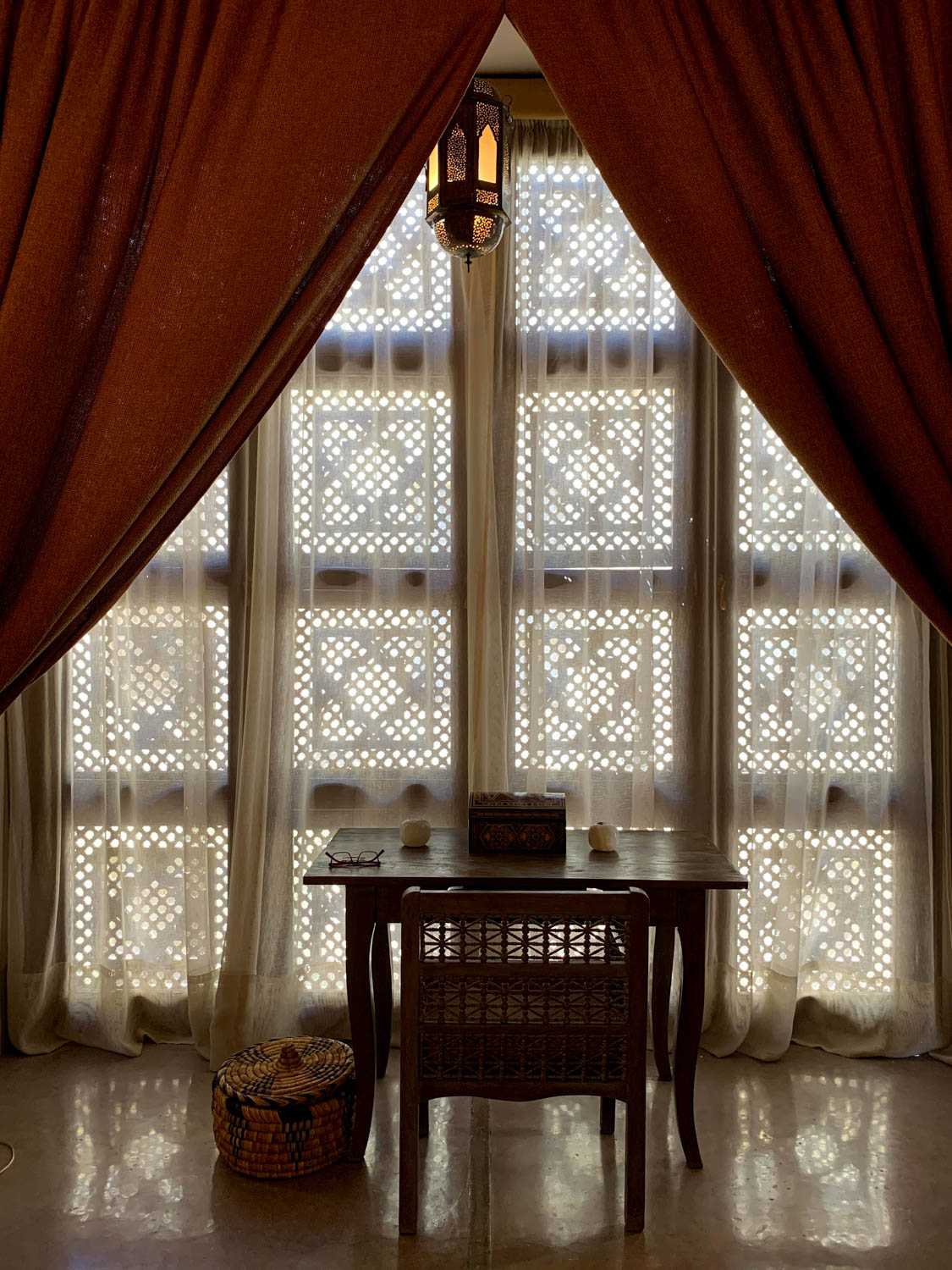 Riad Joya is owned by some Italians, and the property has won accolades for the design and refurbishment, so it's no surprise that the room was stunning, in a classic and understated way.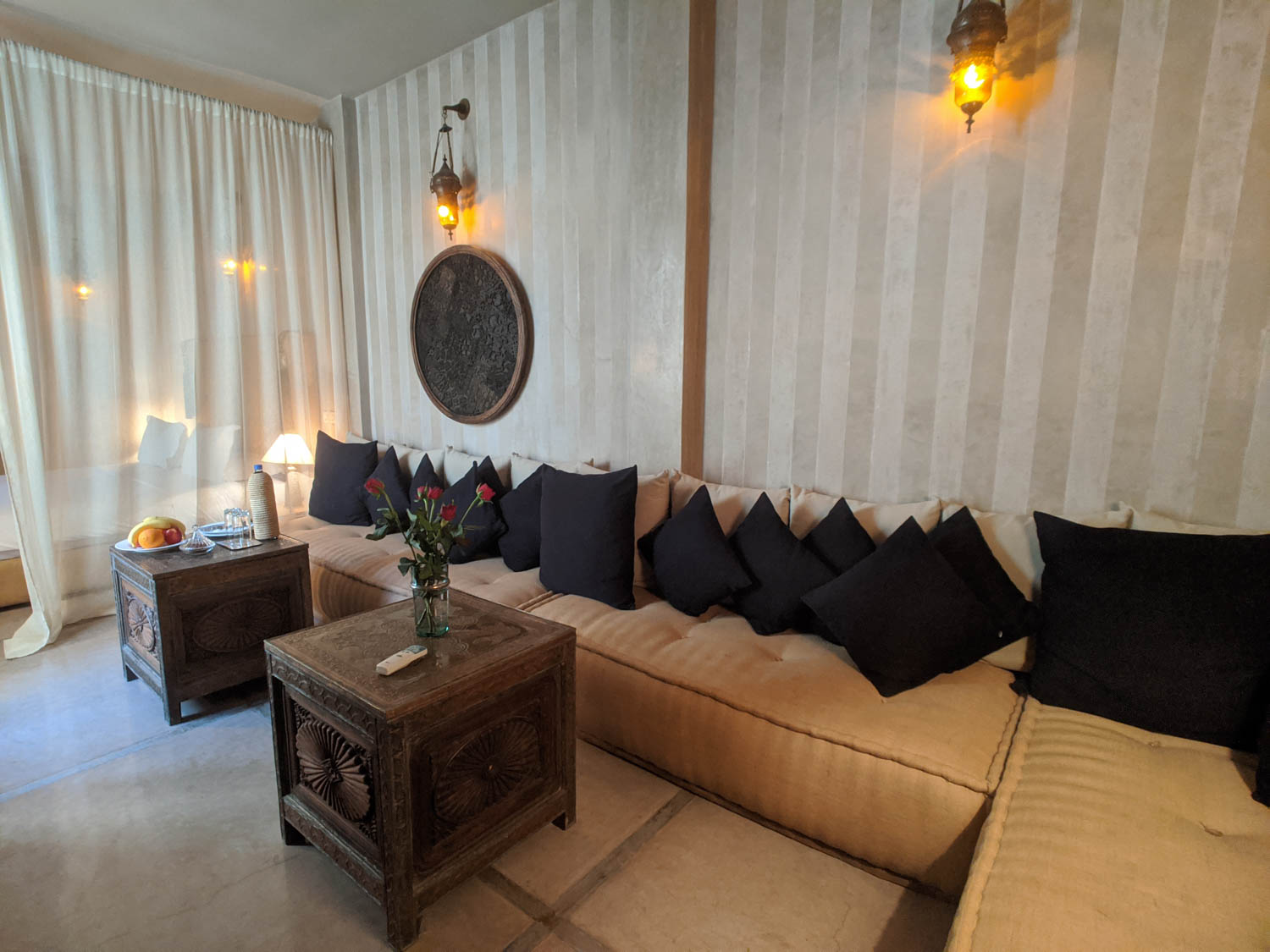 The room opened onto a large seating area, with plentiful pillows and a pair of charming carved tables.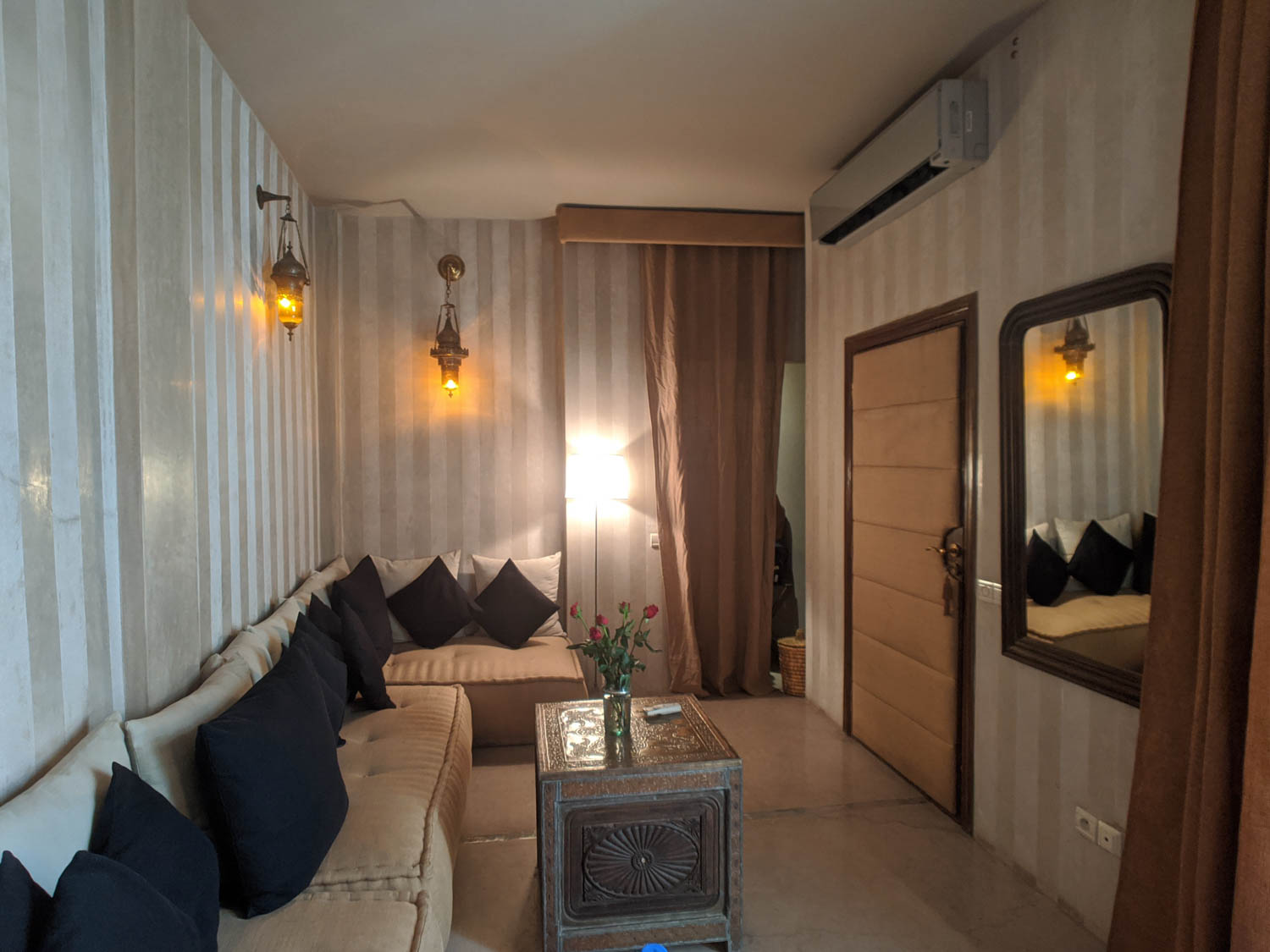 A closet tucked next to the door contained a safe, and plenty of room for bags and belongings (plus TWO luggage racks, which rarely ever happens).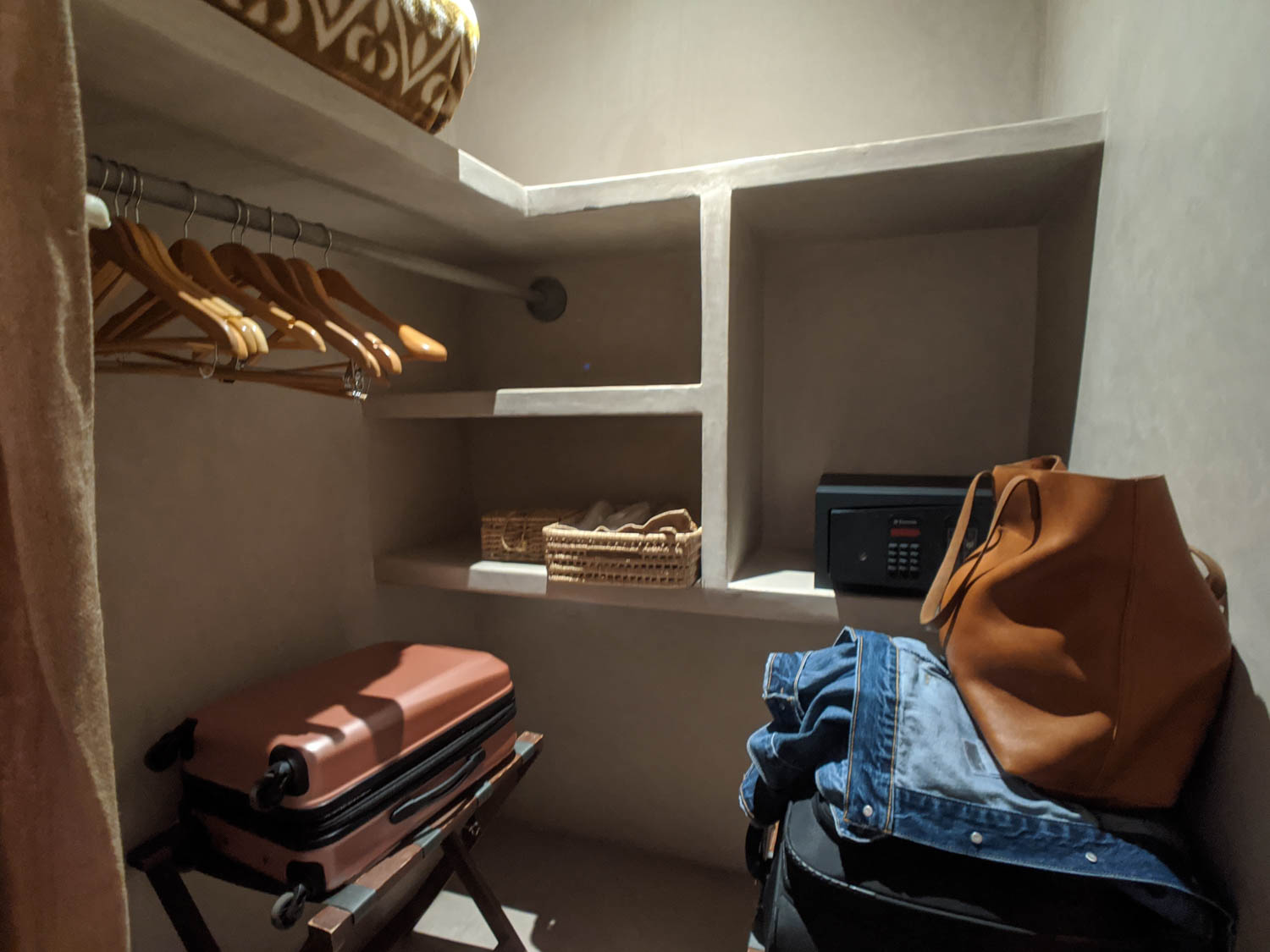 The beds were very firm, but also quite comfortable, and were separated from the living area and the desk by sets of curtains.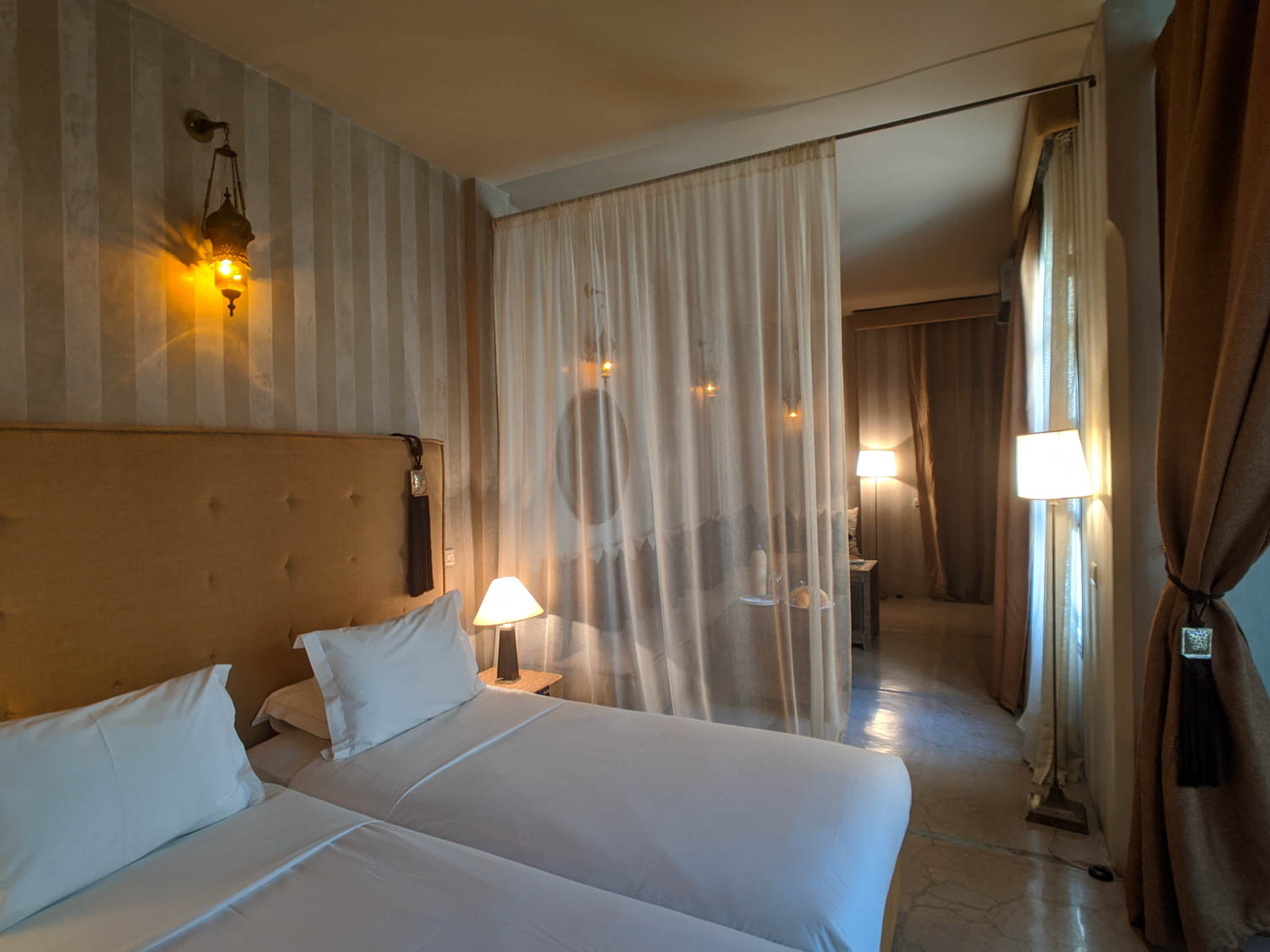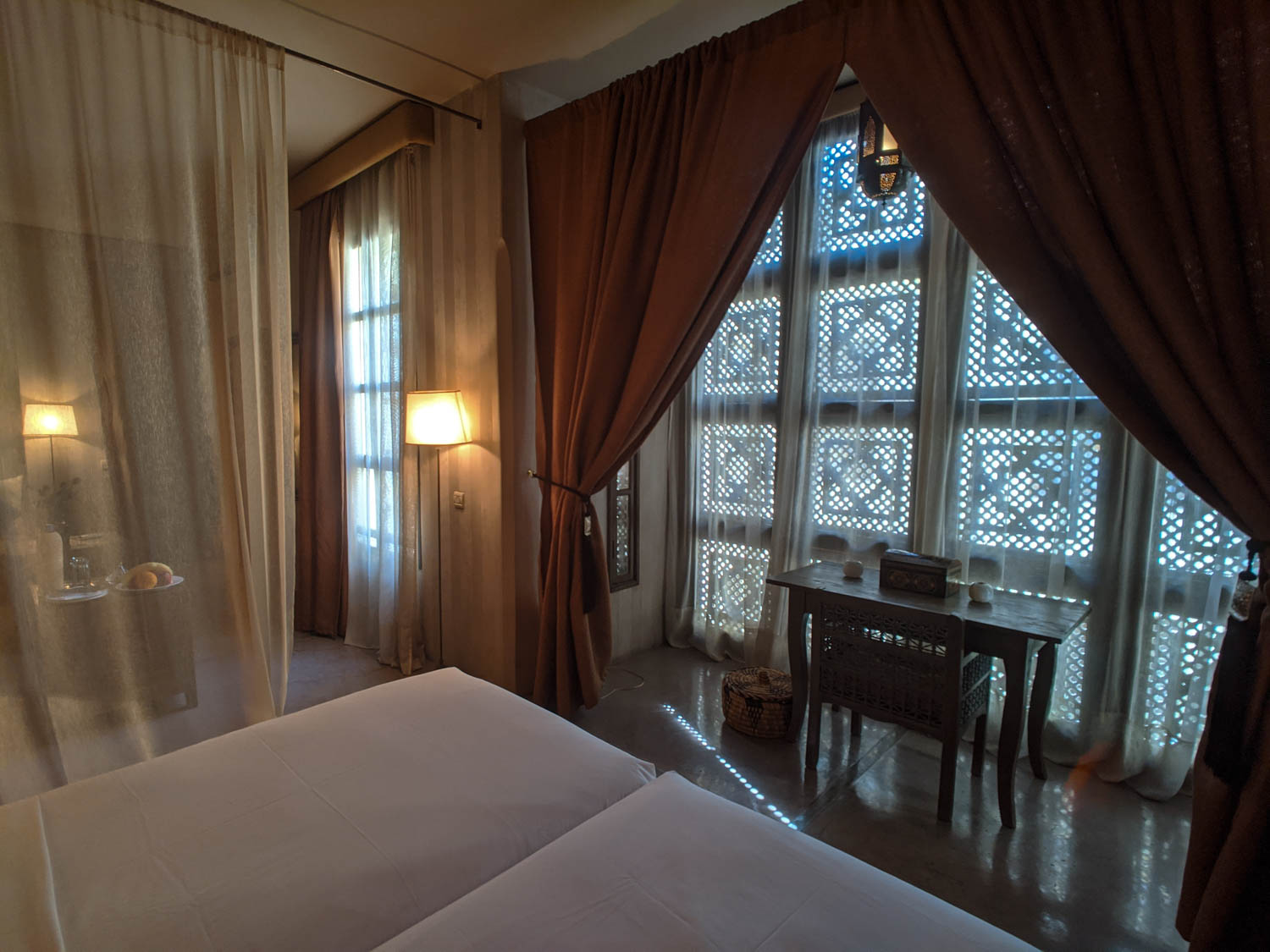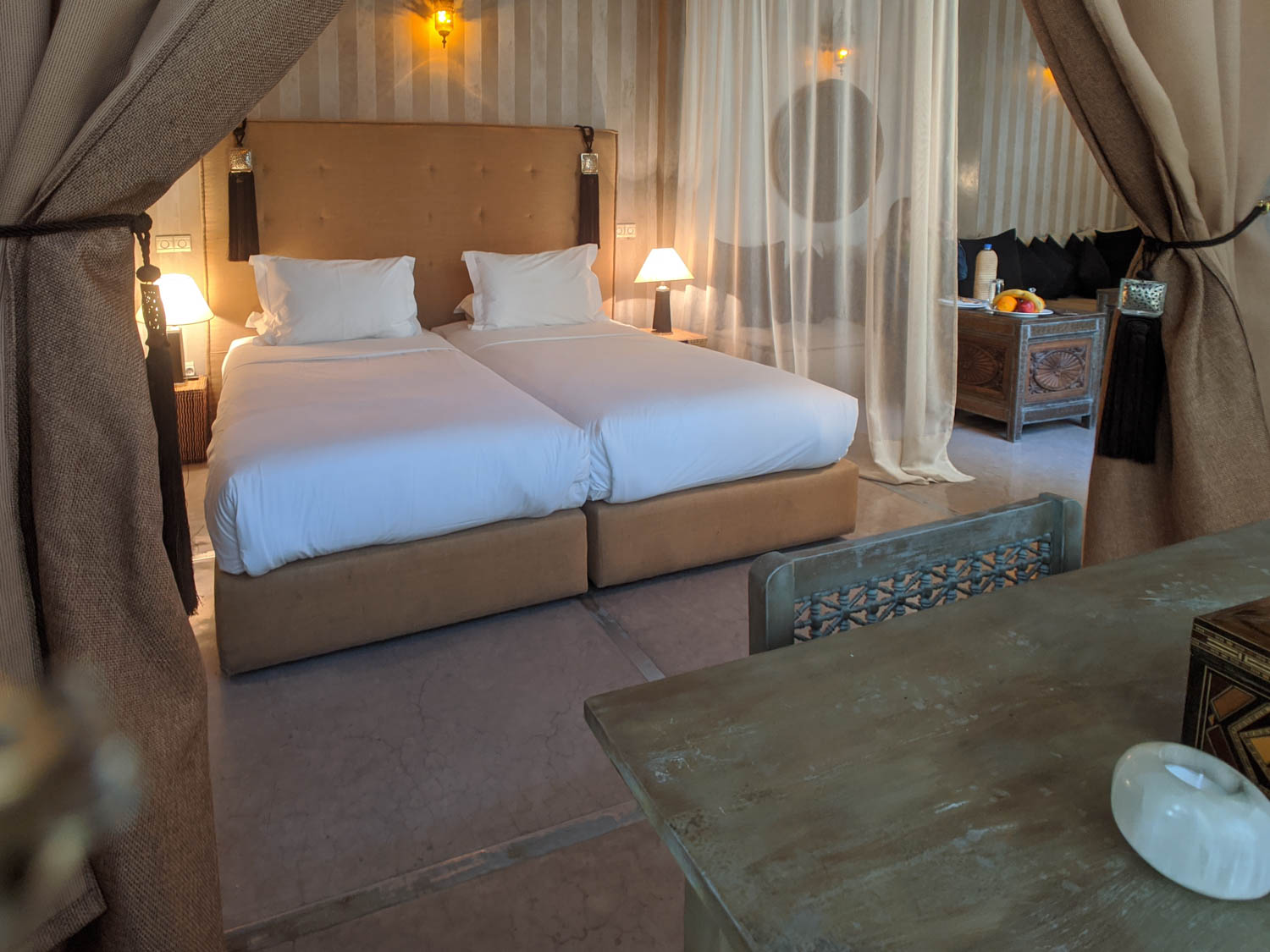 Now's a good time to mention that the housekeeper at Riad Joya is possibly a magician.
We only saw her once, when Heather dashed up to the room during breakfast to get her charger, but that lady was omnipresent and attentive as can be. Each time we left the room it was completely refreshed, from checking on towels to replenishing water, dates, and fresh fruit.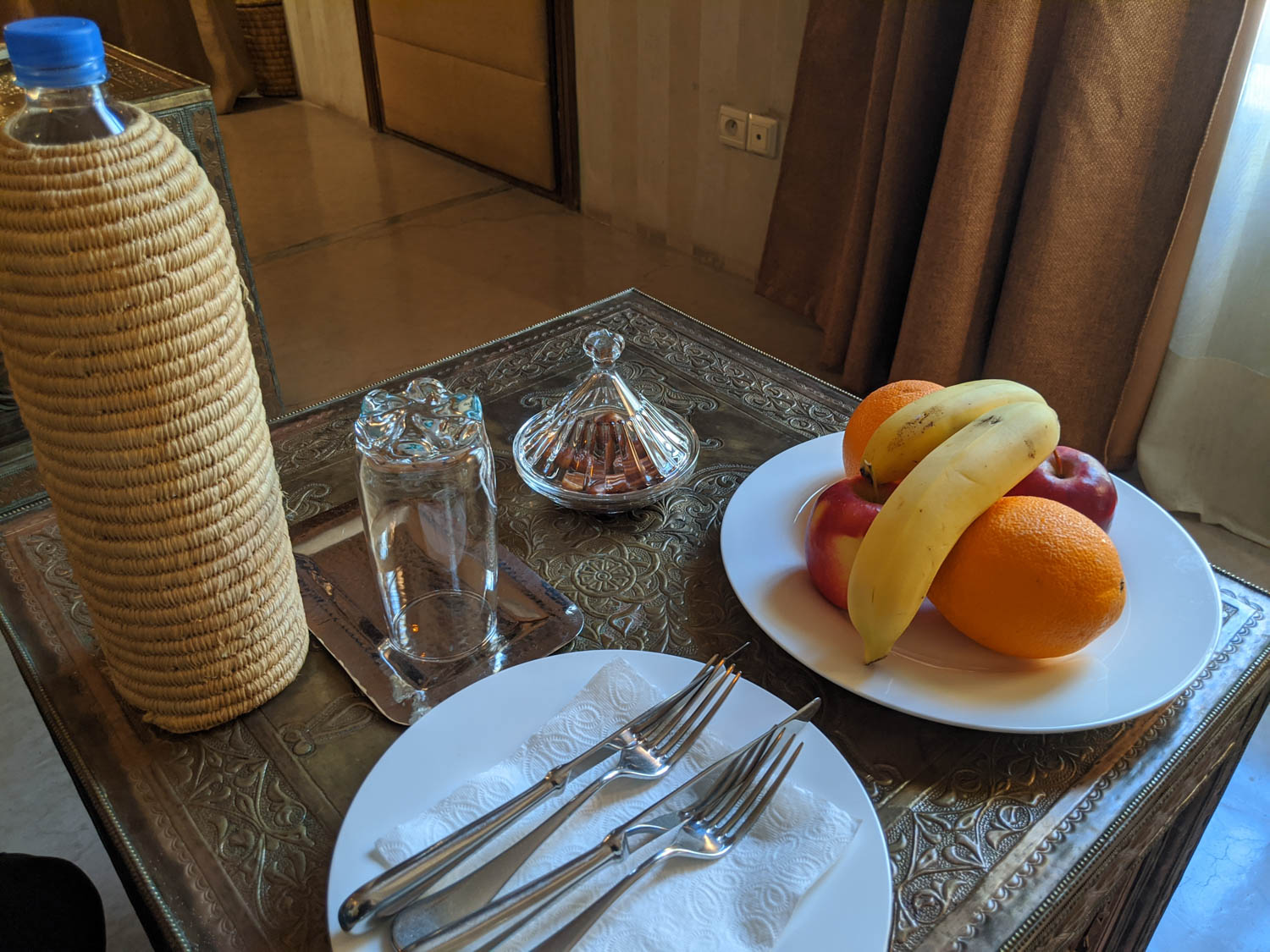 She also noticed that we'd pulled a blanket onto the beds the first night, and made up the beds with extra covers the next morning.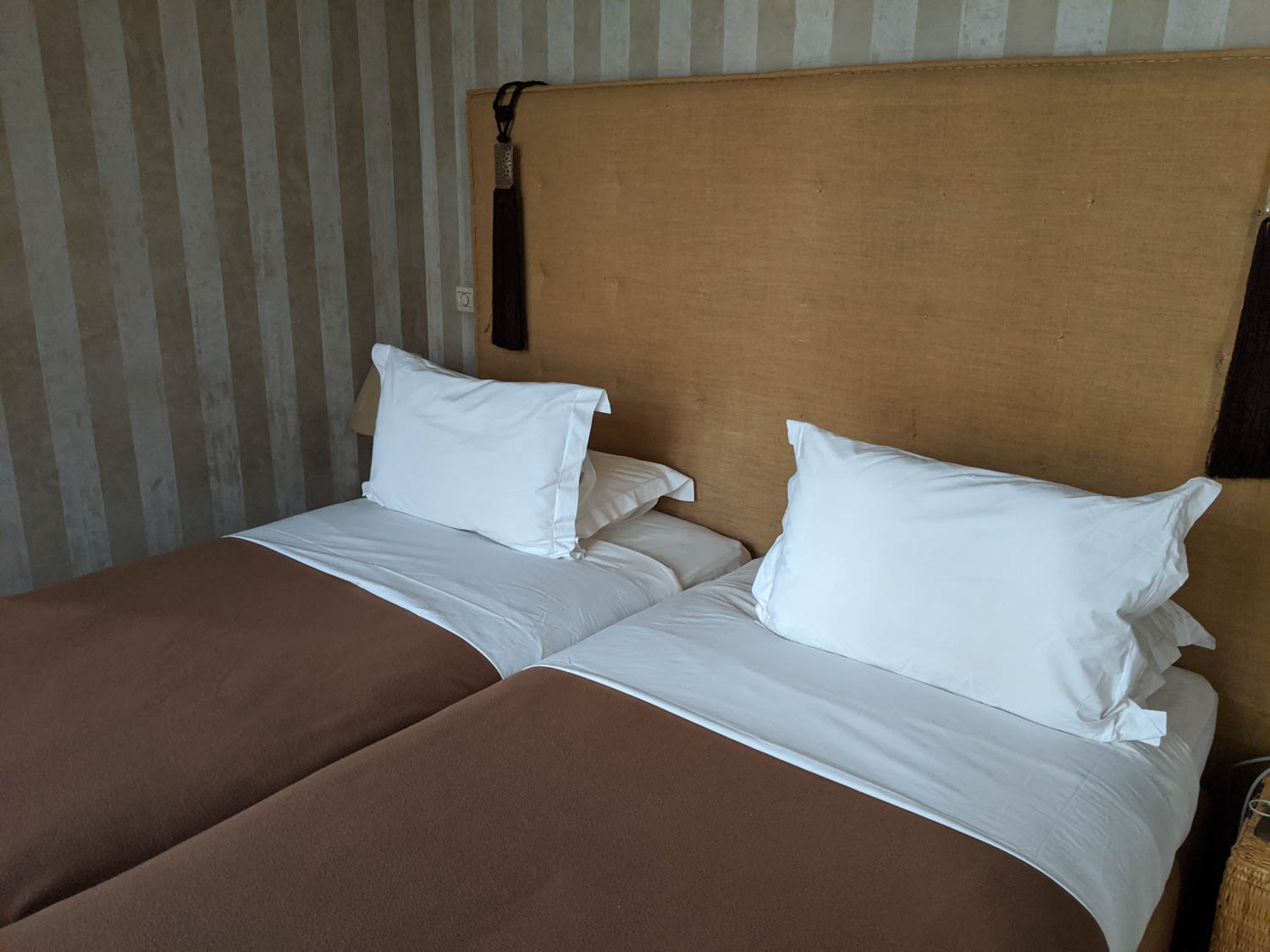 Past the bedroom was the bathroom, which like the rest of the room was made of carefully finished concrete, giving the whole room a cool and refreshing feel. It looks a little basic in the pictures, but the overall effect was pleasant.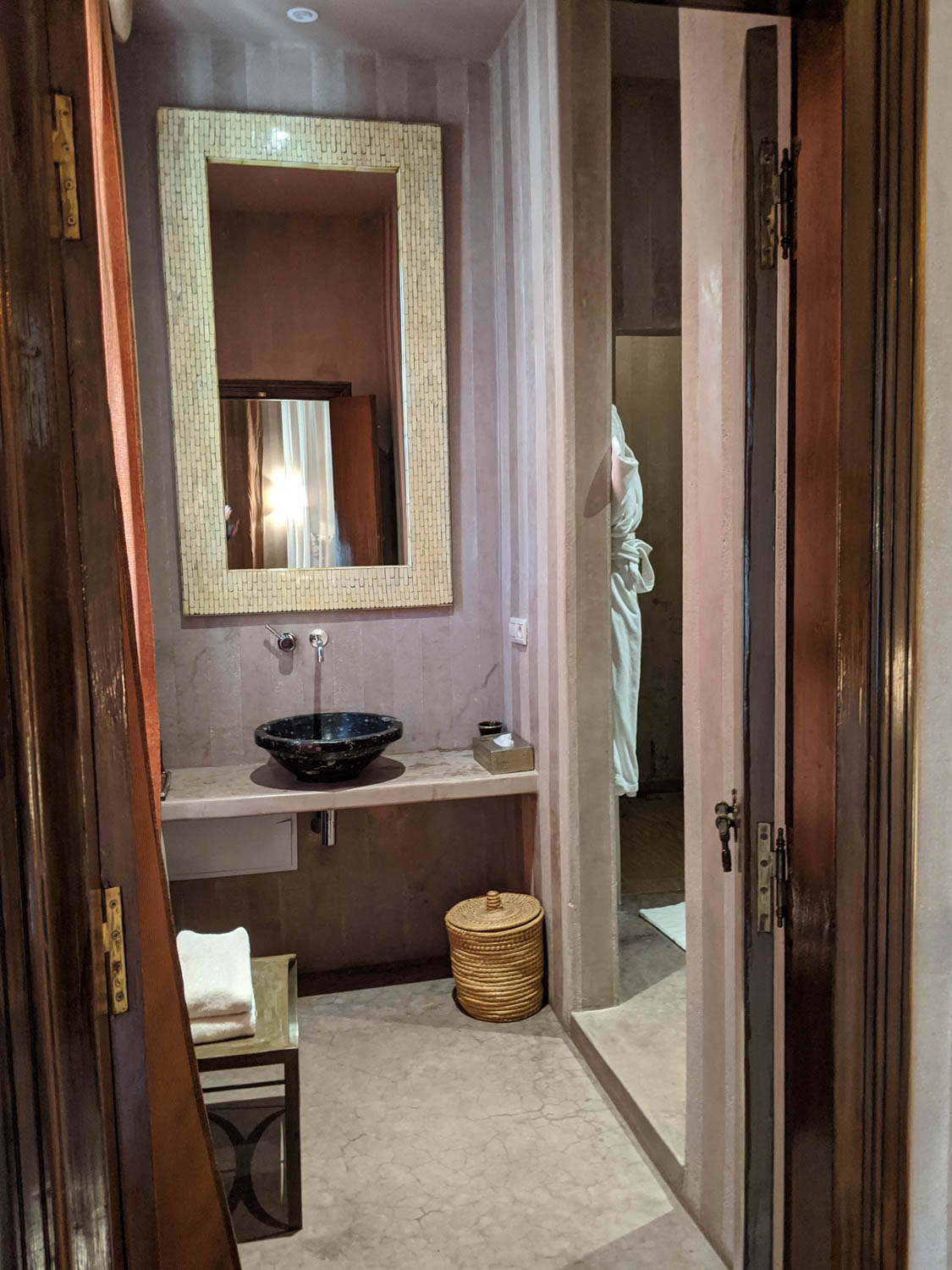 The vanity was stocked with hand soap, lotion, a container with cotton balls and swabs, along with a jar of black Moroccan olive soap.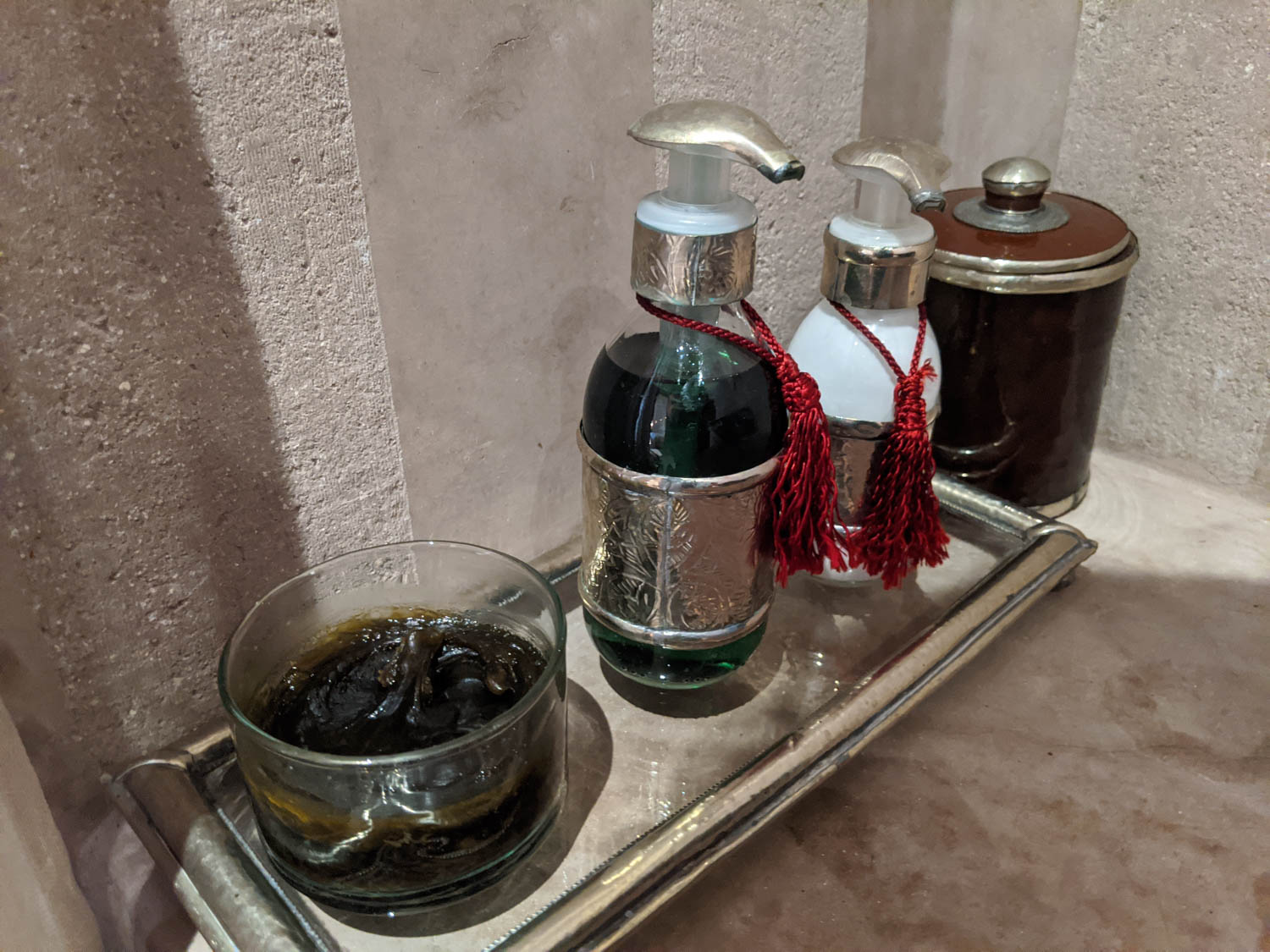 The next room had a toilet and a bidet (though the toilet paper was in a basket, rather than having anything mounted on the wall, which was odd):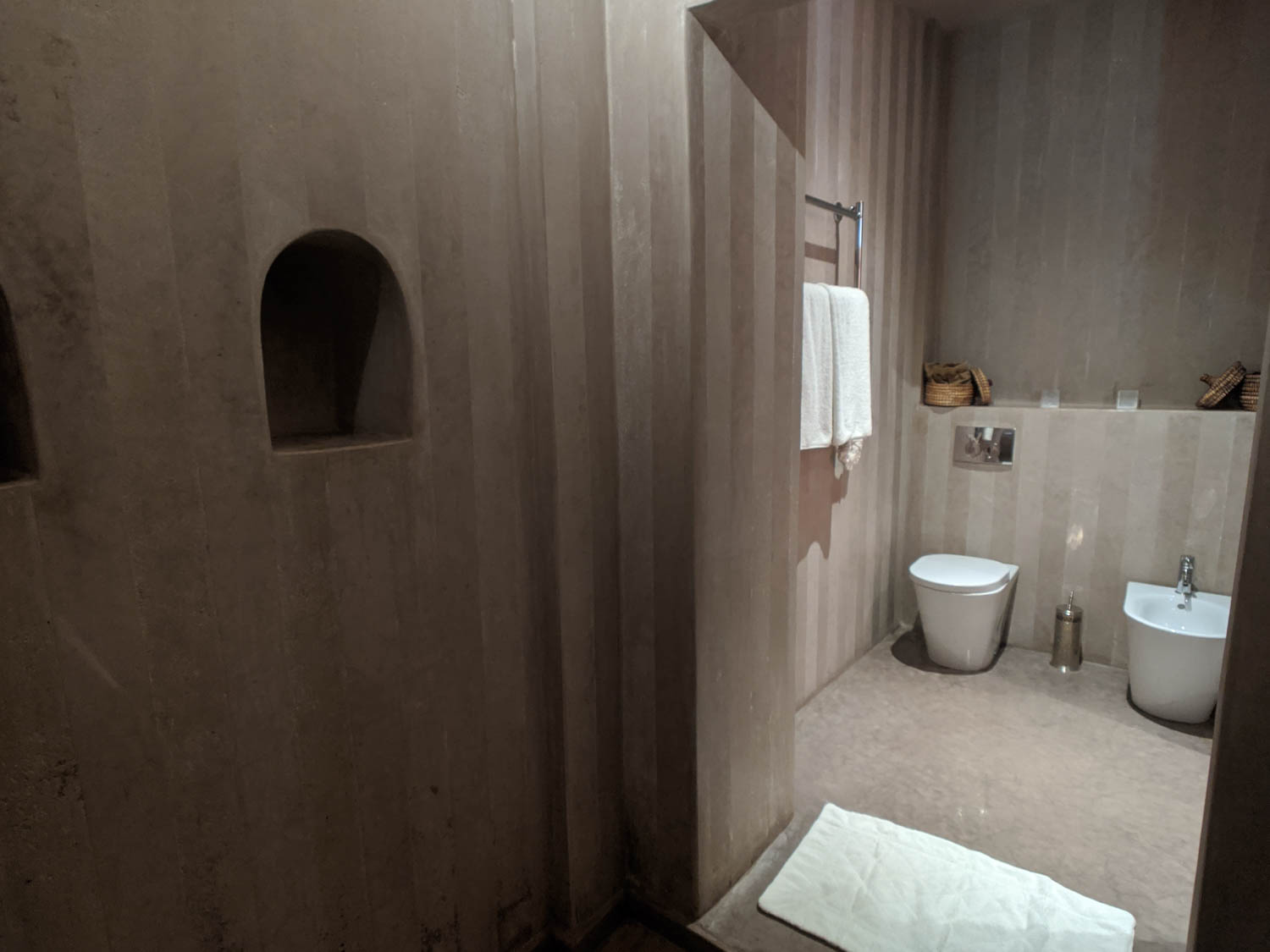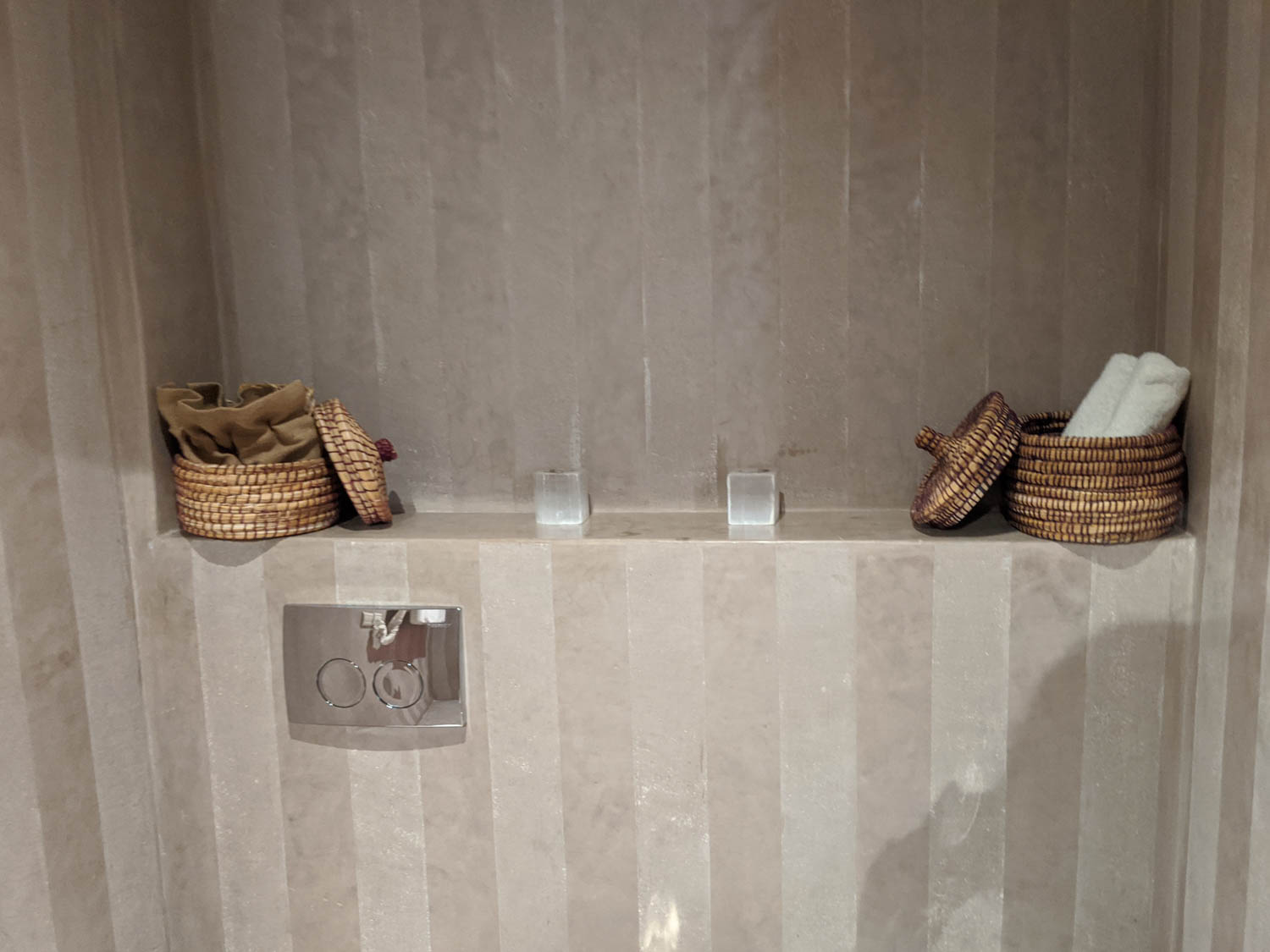 And then there was an open alcove to a large shower, which had both a wand and a massive rainforest showerhead in the ceiling. The water pressure was so strong as to be borderline violent, which was hilarious the first time we turned it on, and then much appreciated after long dusty days wandering the medina.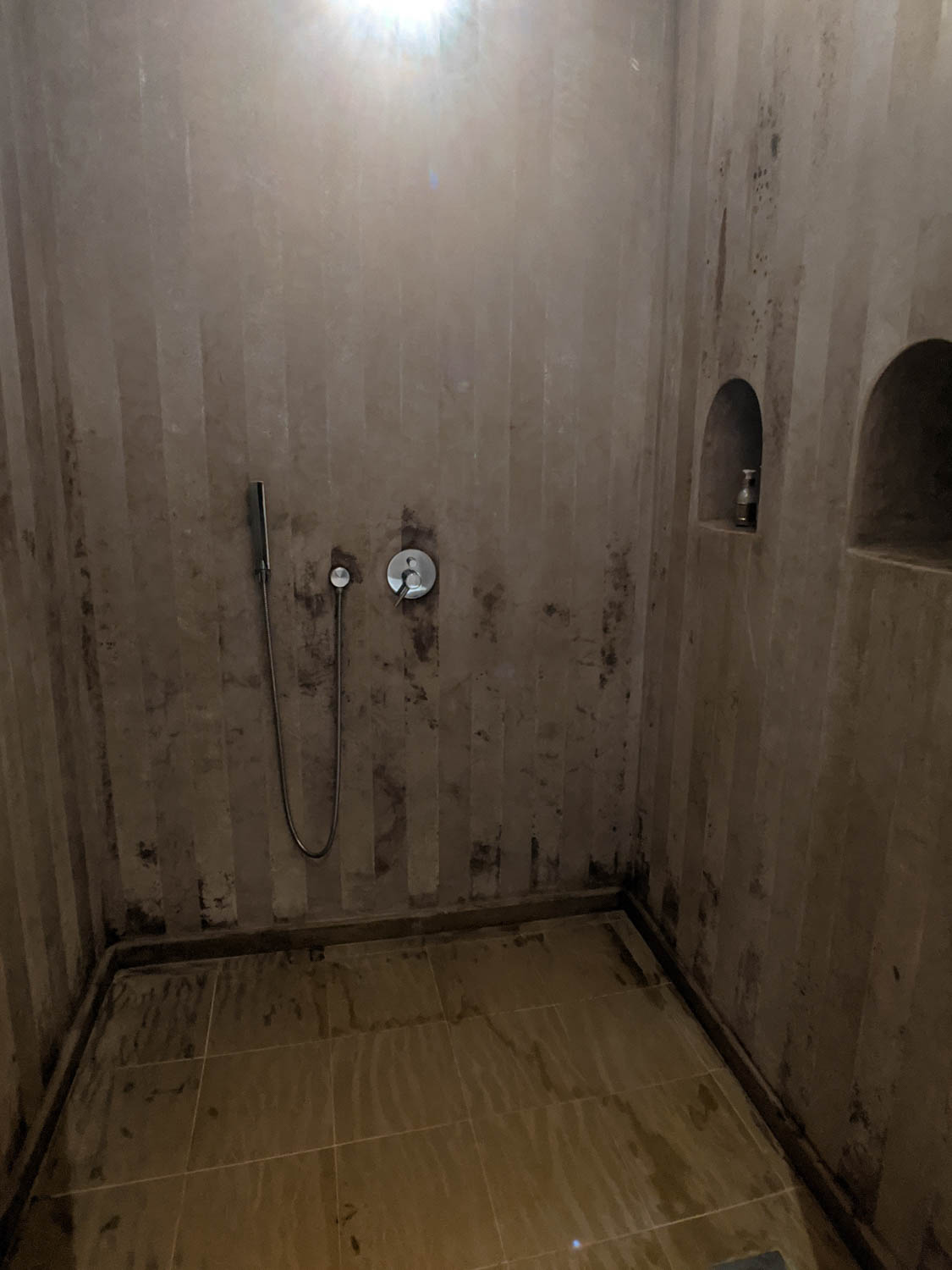 We liked the room, which was a cool, dark, oasis. The riad in general provided an incredible juxtaposition to the bustle of the medina — and that contrast, and being able to go through a door and feel transported is one of the reasons I'd recommend spending at least a couple nights in the medina itself.
The one negative of our stay was the nearby mosque. I adore hearing the pre-dawn calls to prayer when staying in muslim countries. I'm naturally a morning person, and the melodic sounds of the adhan are normally one of my favorite ways to start the day.
In this case however, it sounded like the Muezzin was bellowing through a pile of bricks, from inside a submarine, using an amplifier that had been discarded by a middle school garage band. I've never heard distortion like that in my life, and it was incredibly disruptive. The neighborhood riads should probably pool funds to purchase a loudspeaker made in the last century.
But other than that, we slept well.
Riad Joya amenities
This is a smaller riad, and while the finishes were higher-end, there isn't much in the way of amenities. We knew that going in, and it was fine for us on this trip, but if you visit in summer I might choose a property with at least a plunge pool instead.
As it was, a staircase across the courtyard led to a rooftop with several seating areas.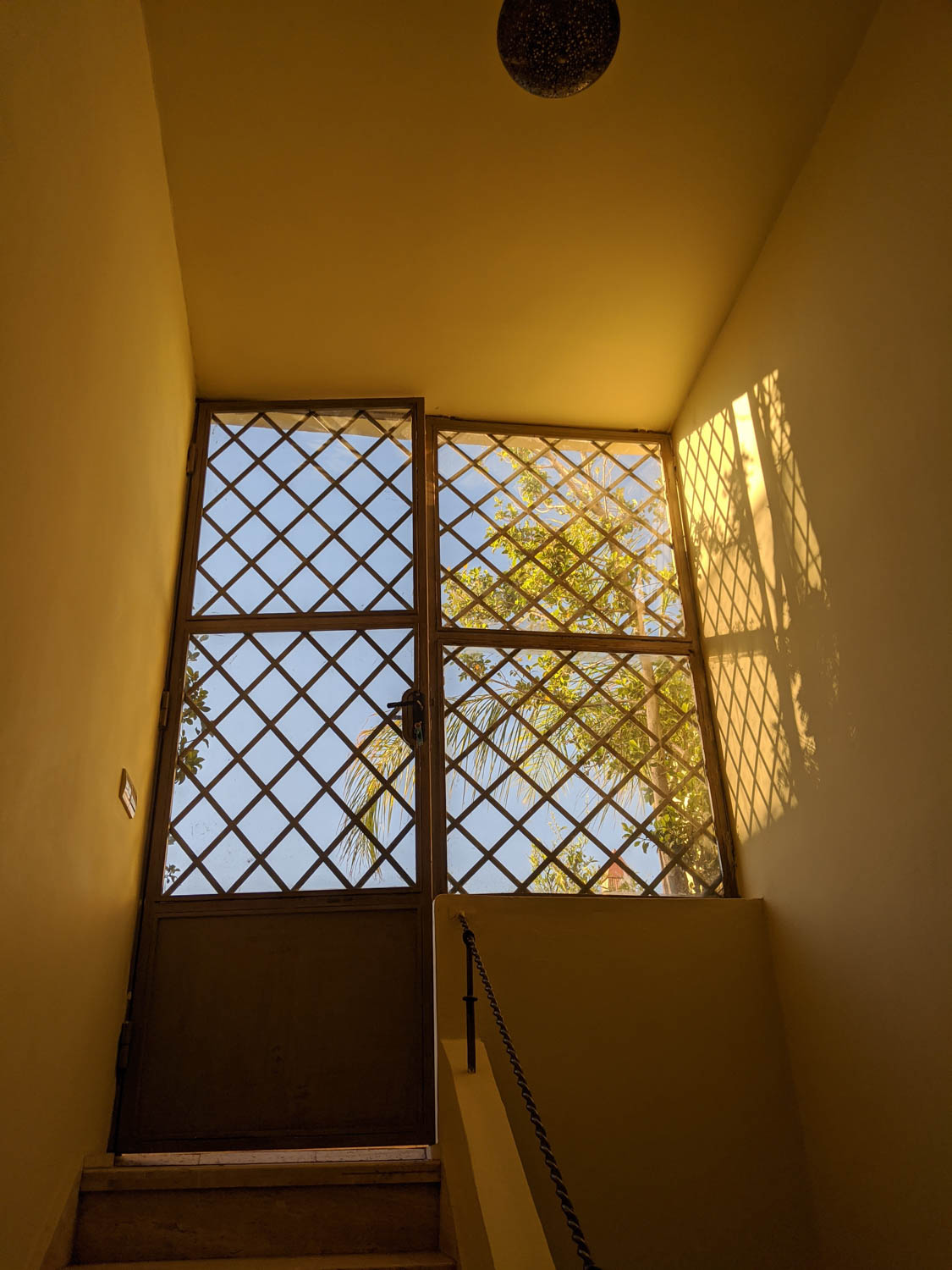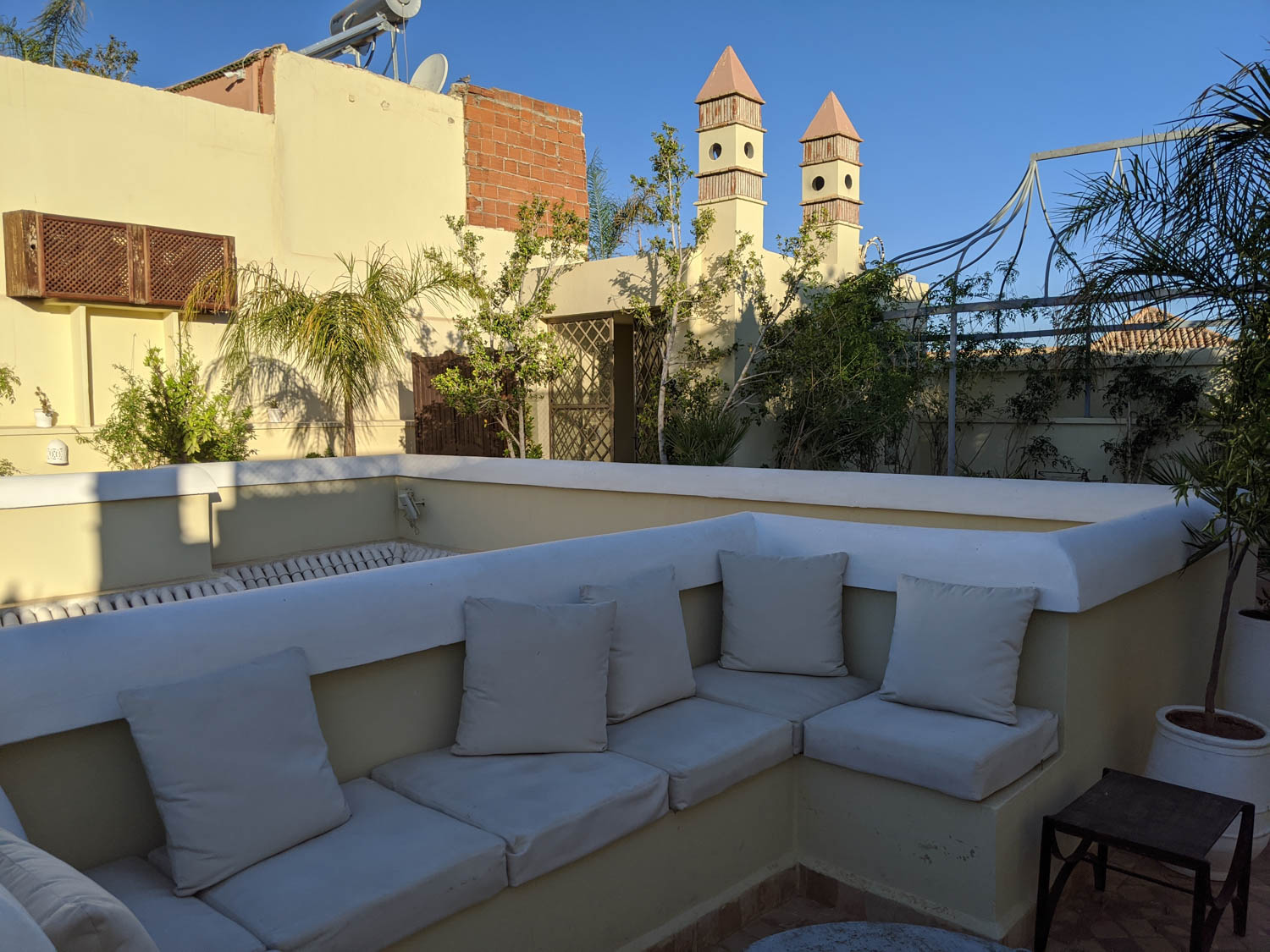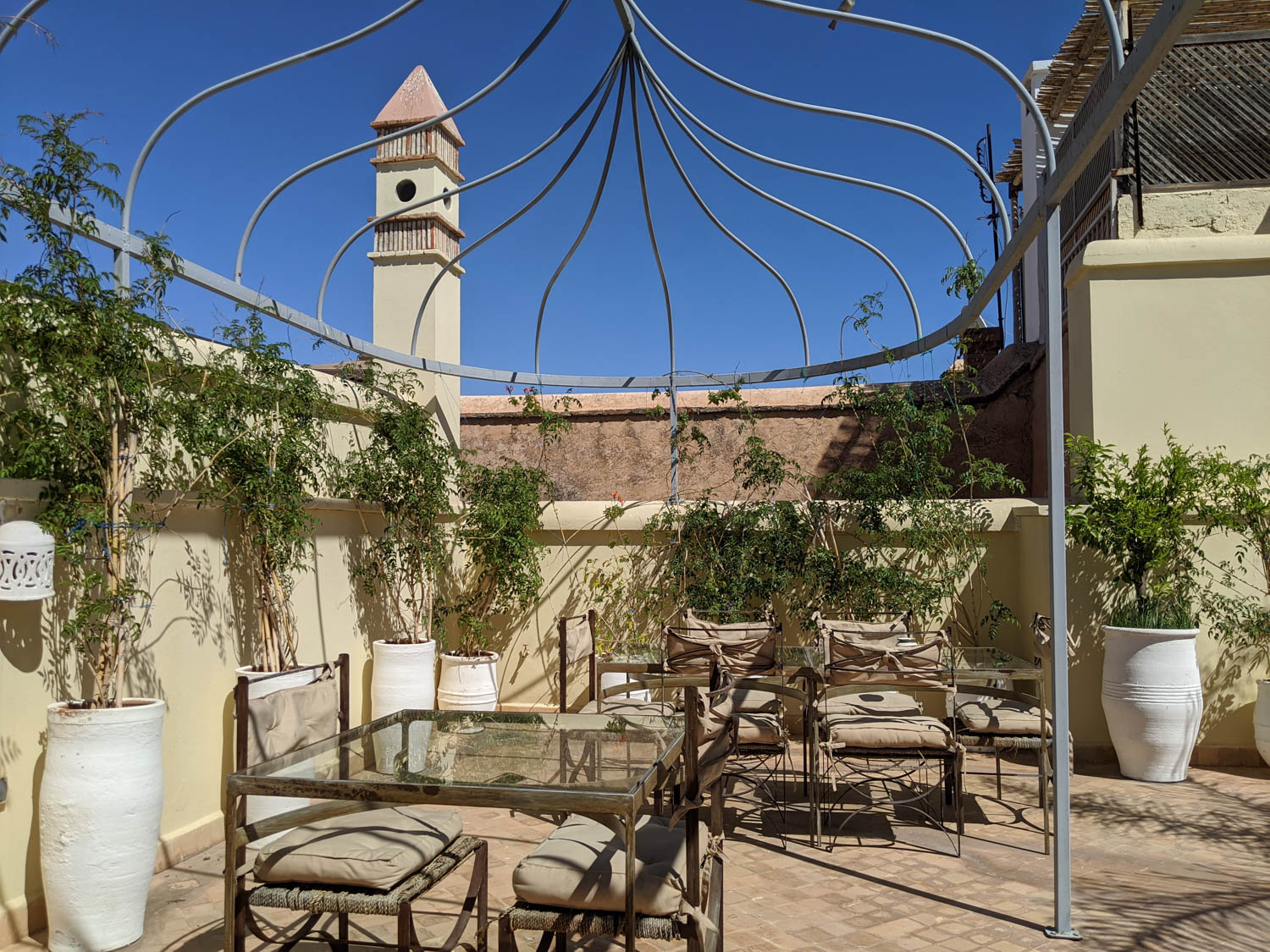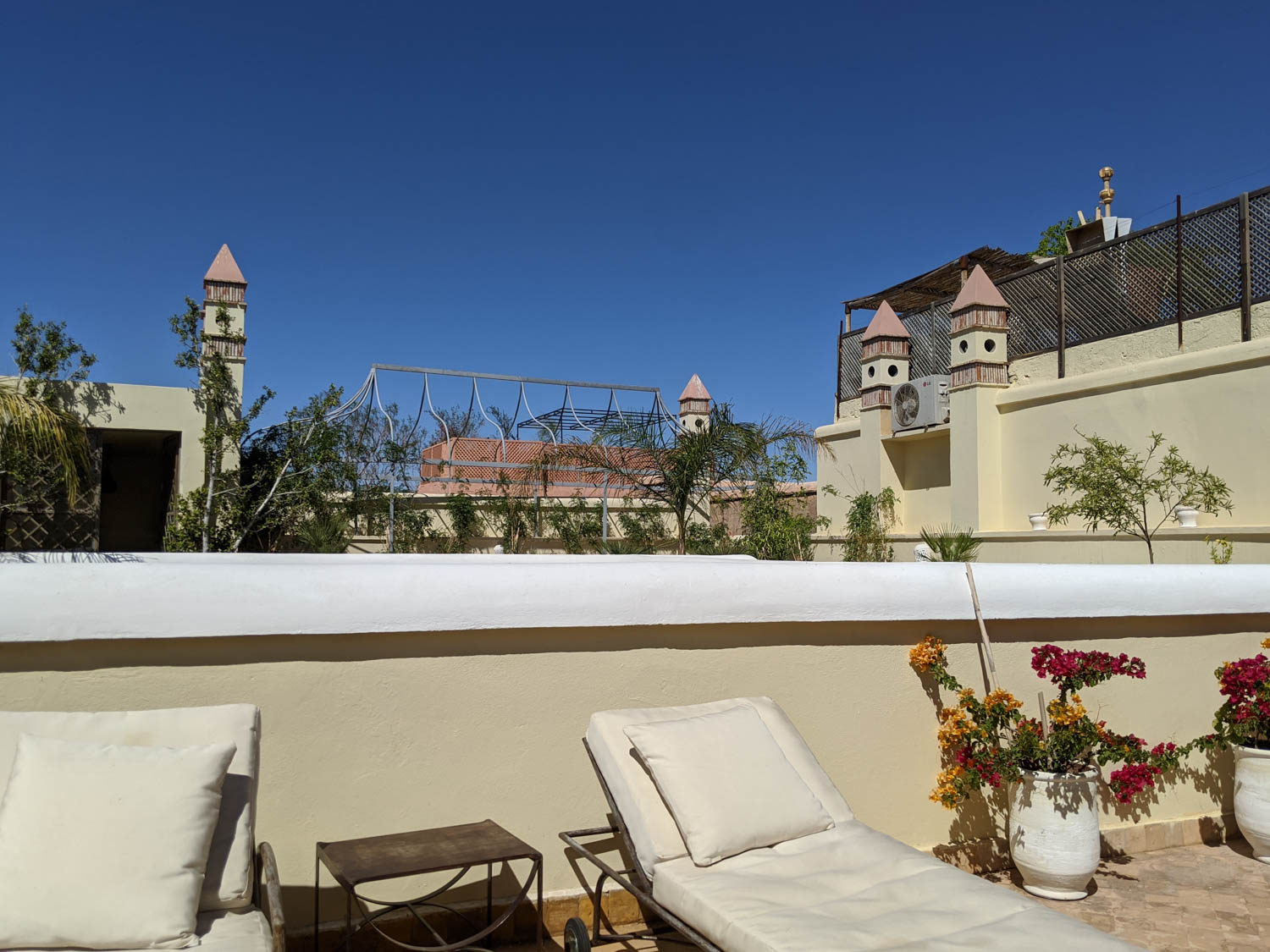 The views weren't great, given the surrounding buildings, but it was a nice place to sit with a book and a coffee.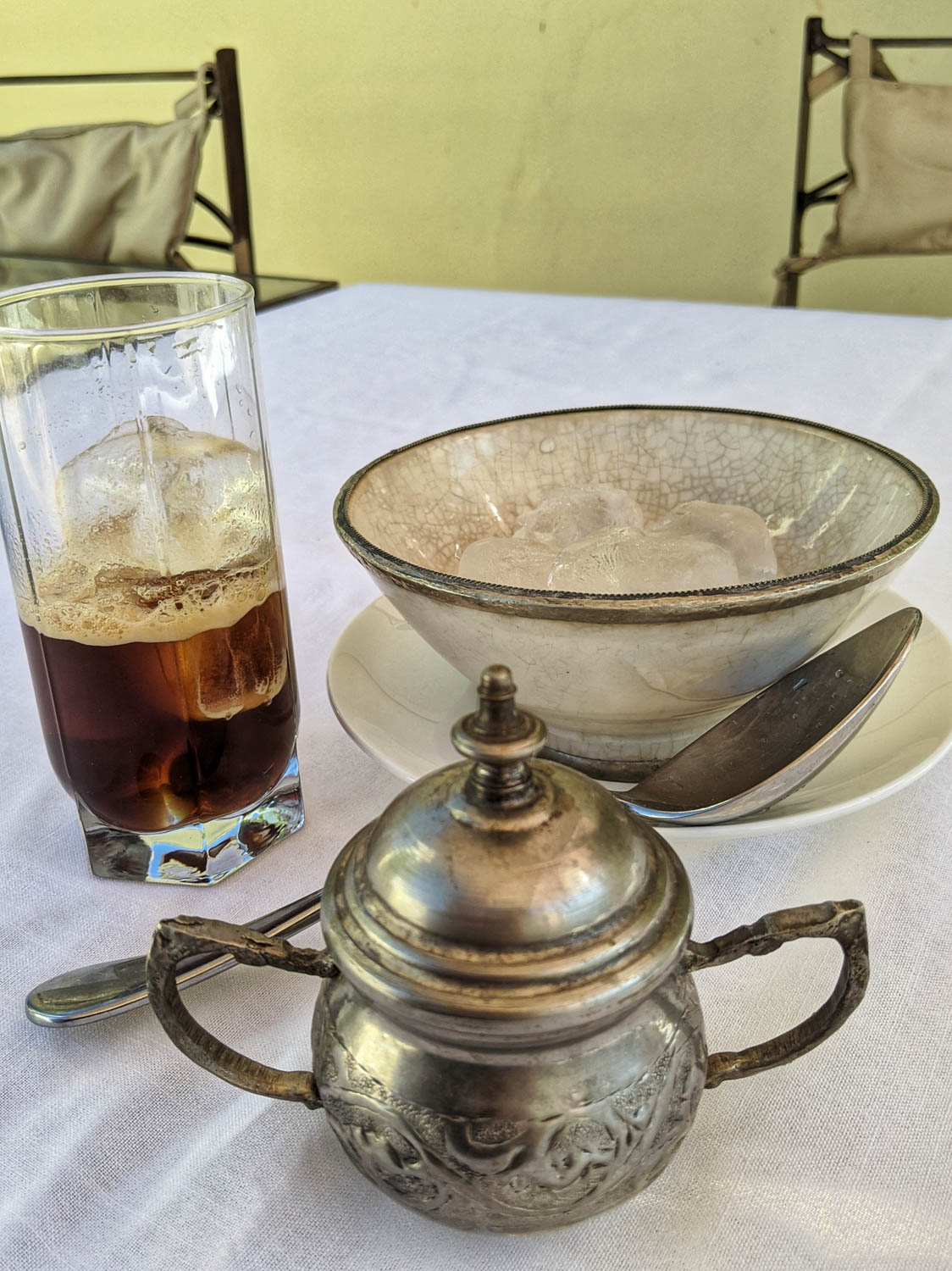 There was also a hammam and massage room in the basement, which could be heated on request.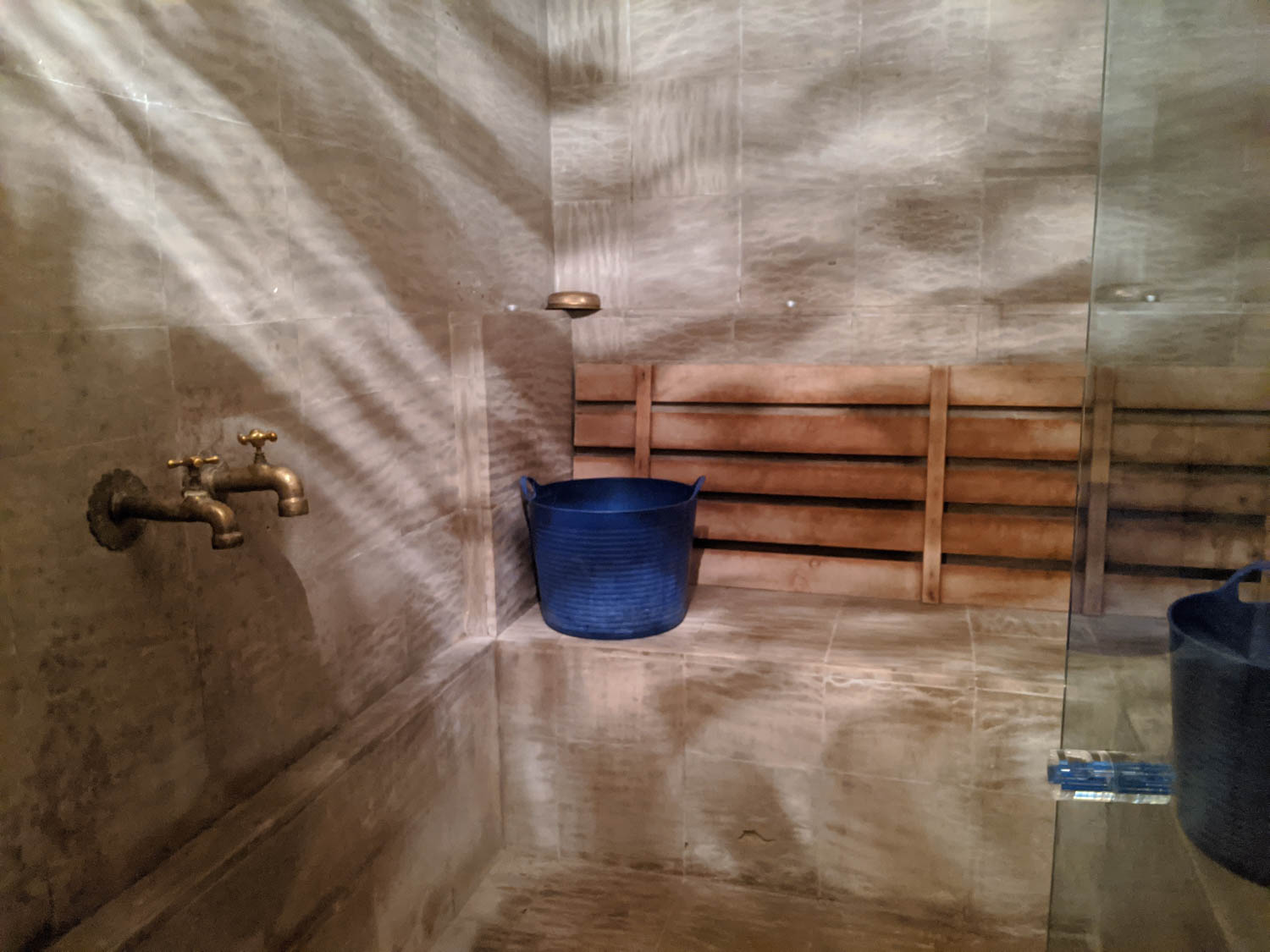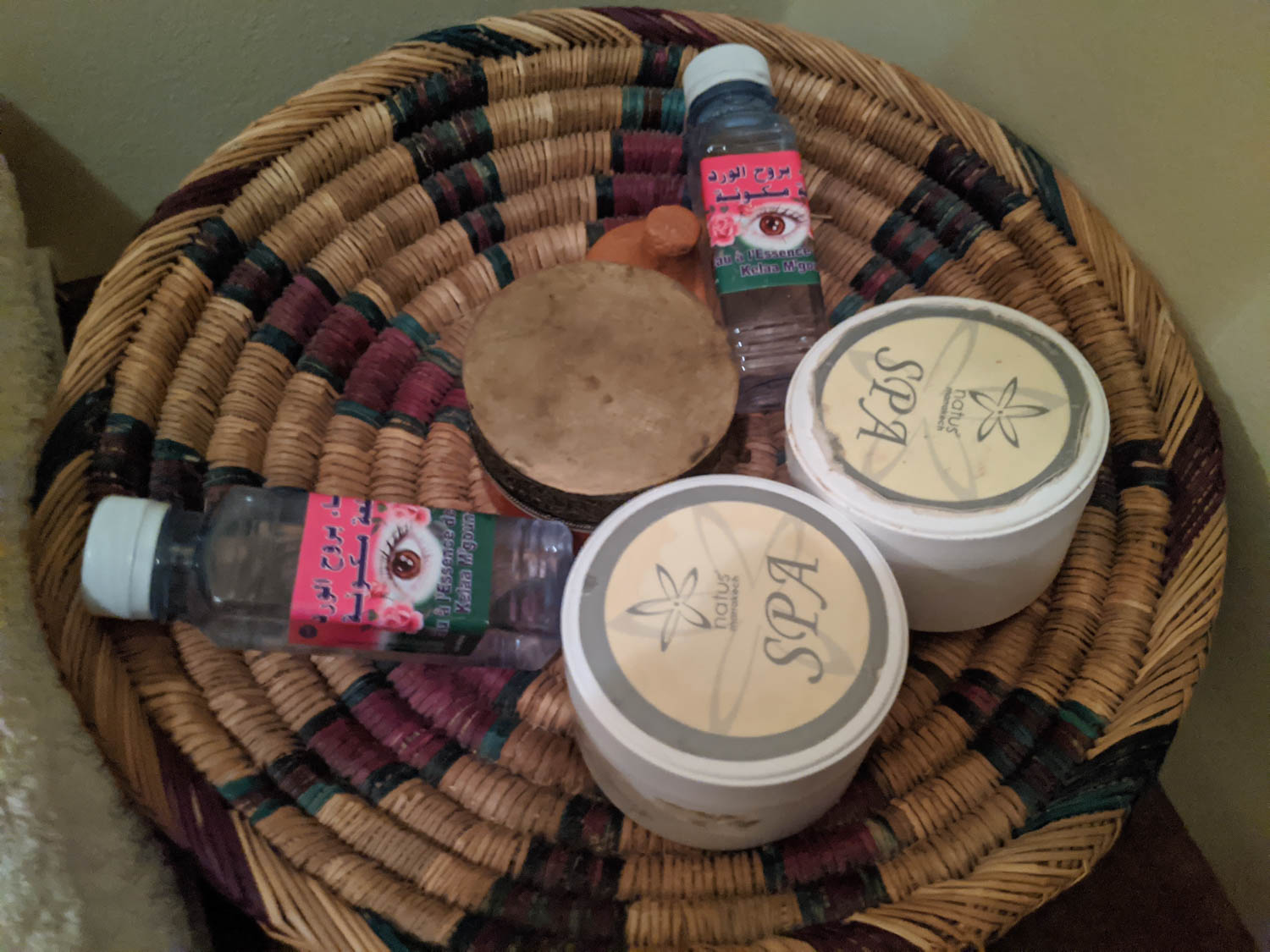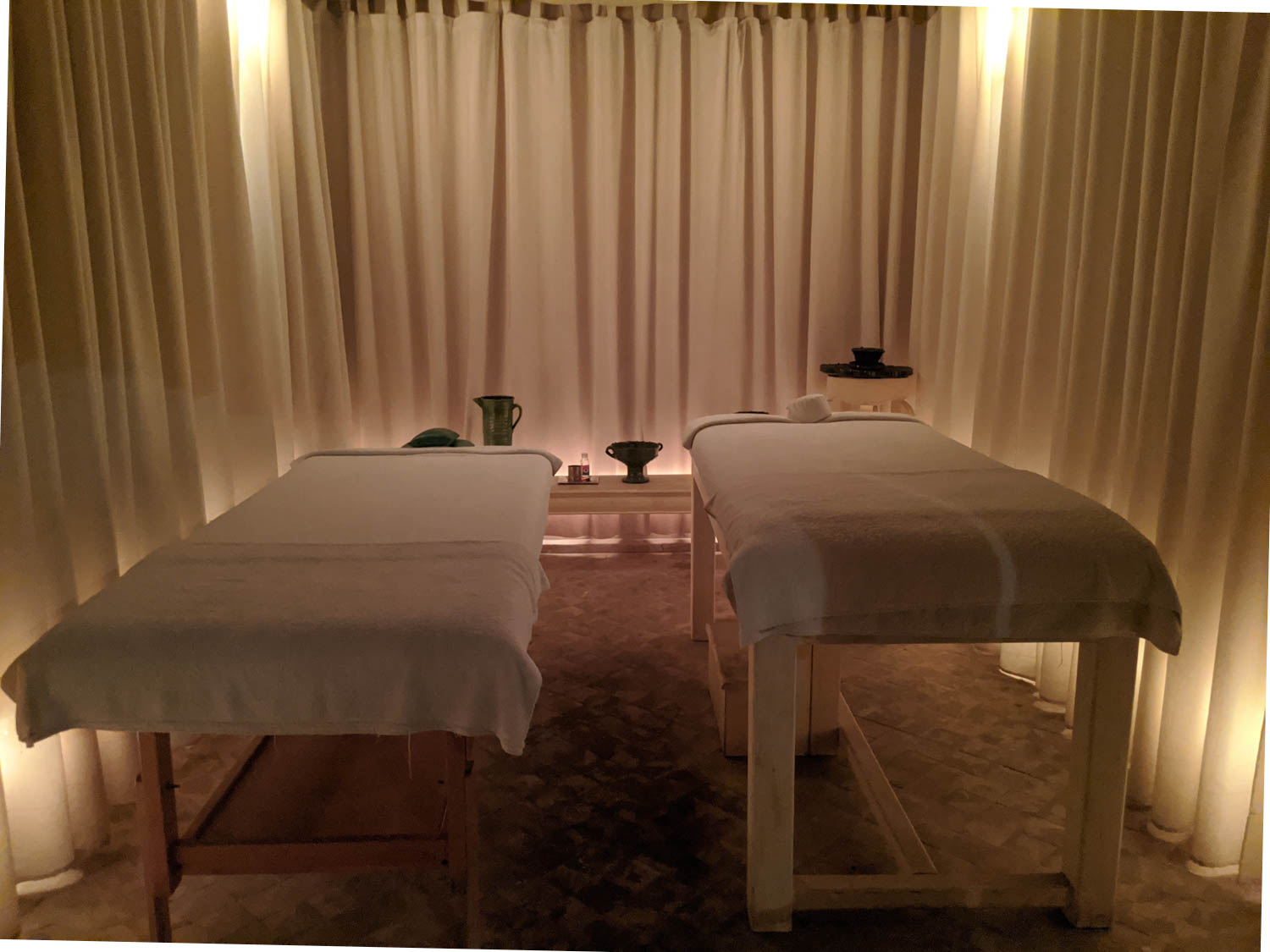 Nour said he could call an attendant in to help with scrubs and provide massages (for ~$150), but we ended up going to hammams outside the riad instead. More on those in a later post!
Riad Joya breakfast
Breakfast is included in all rates at this riad (and I think most of them), and was served in a darling room off the main courtyard.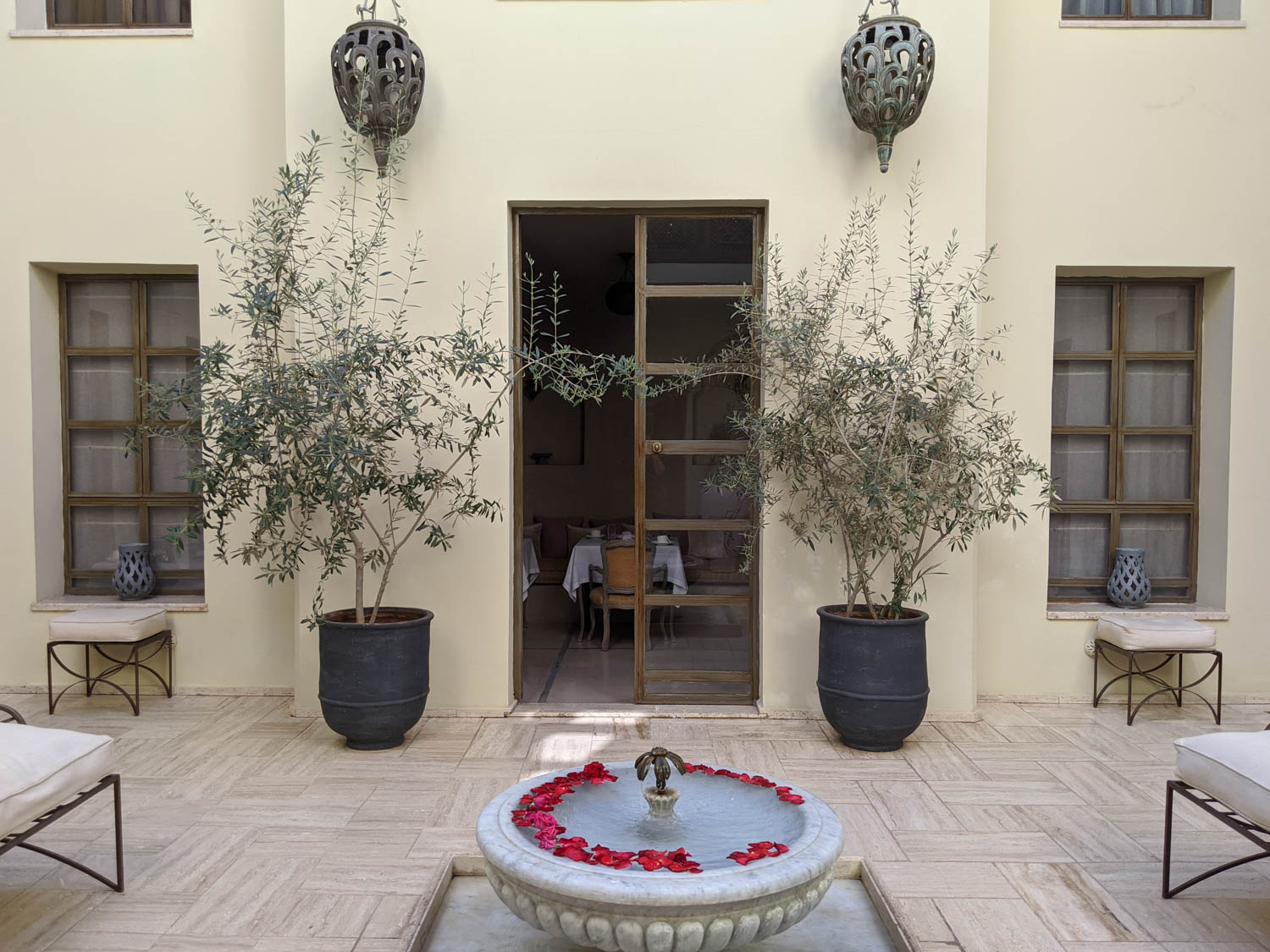 The tiny five-table room had comfortable chairs, darling alcoves with scones, high-quality linens, and an amazing glow from the sun reflecting off the courtyard stucco.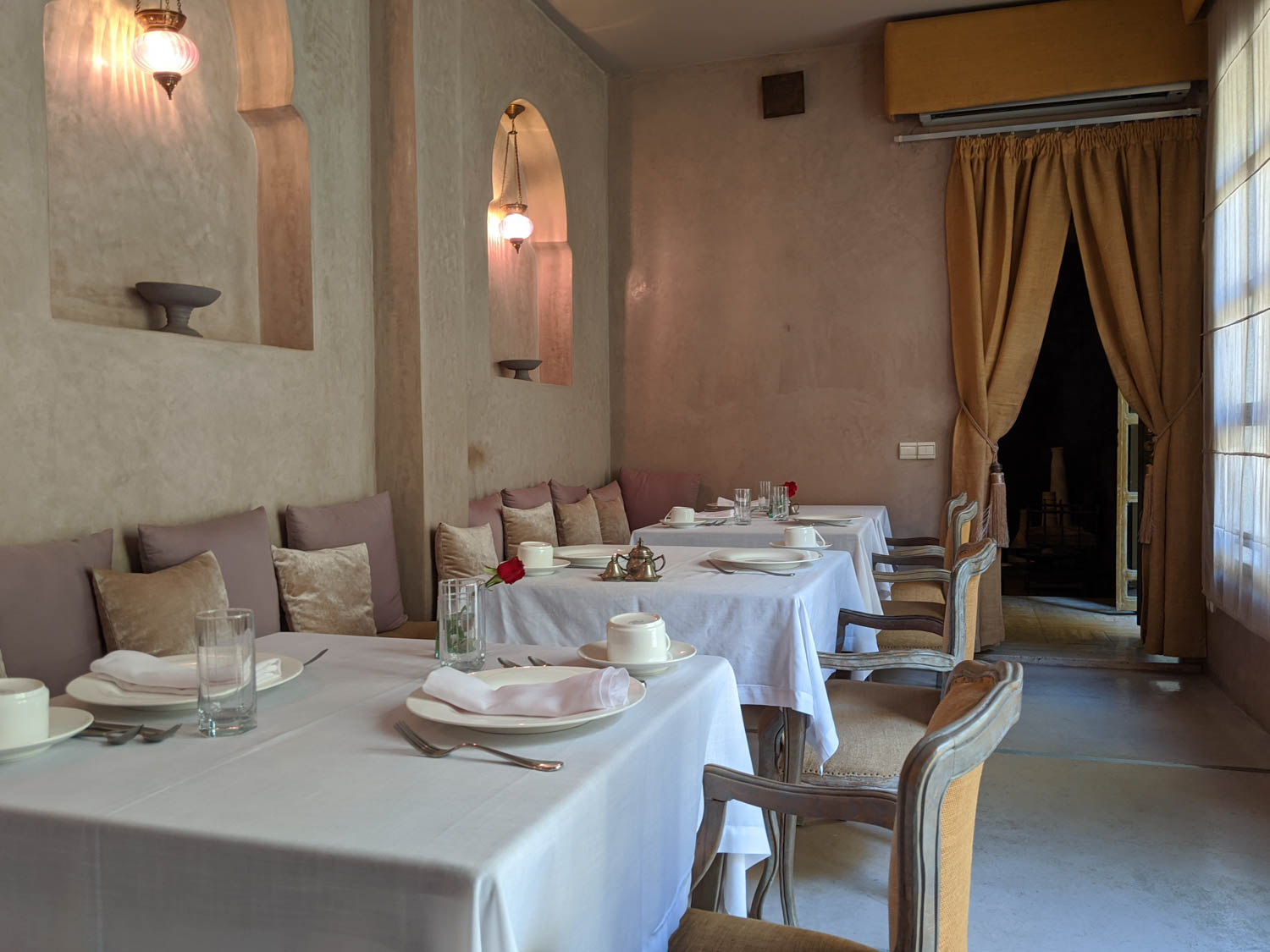 Truly, I could have breakfast in this room every day of my life, as it was just so intimate and pleasant.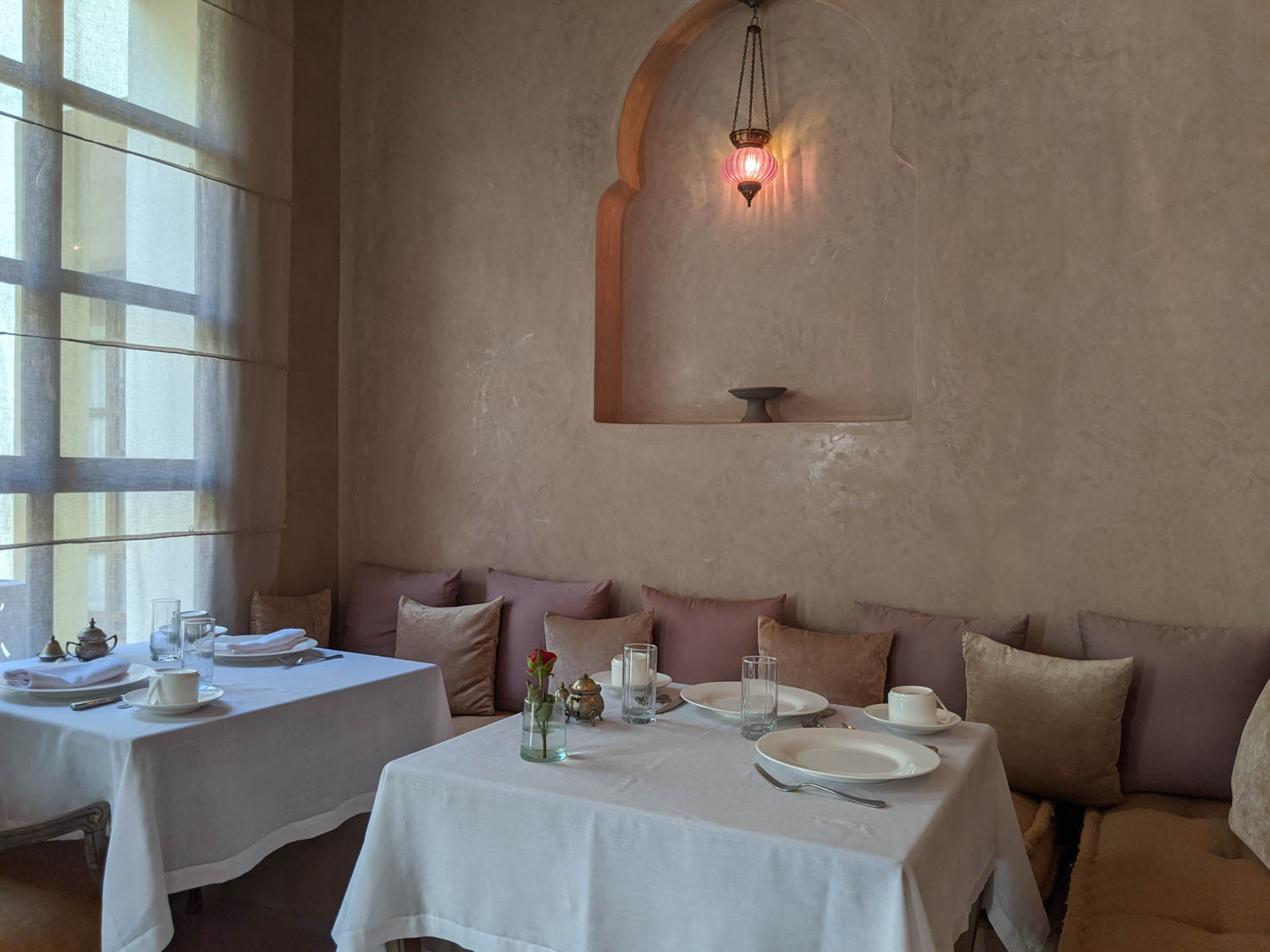 The breakfast itself was expansive, with local breads, cheeses, yogurt, jams, juices, fruit, and eggs. The avocado was a bonus after we purchased one during our market tour with chef Ahmed — he then made sure we had one each morning, which was sweet, but meant he then had to get one for the other guests who had avocado envy, so he may have ended up regretting it. 😉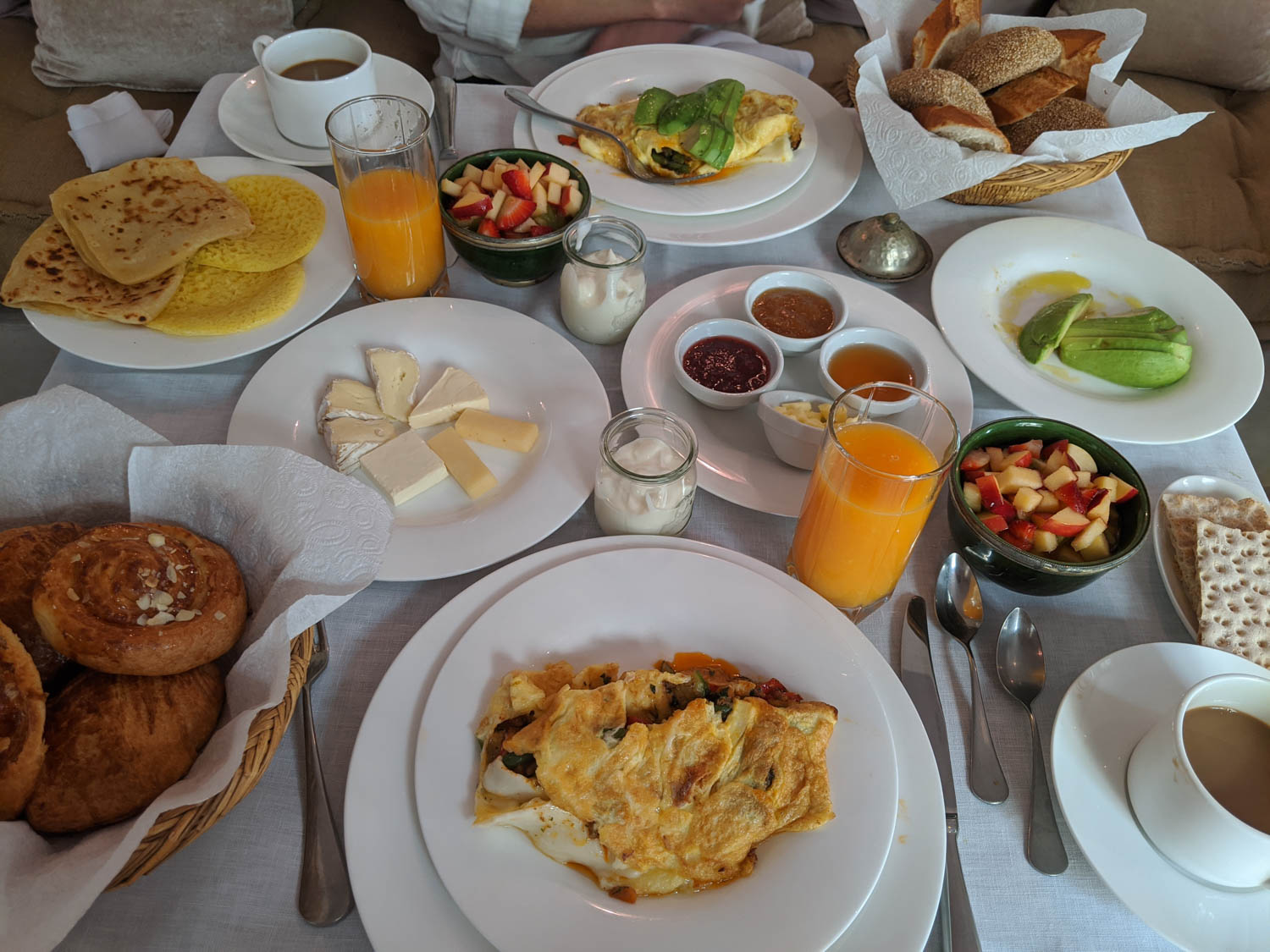 The coffee was a production, but quite good. Espresso was available as well, which was a nice touch.
Riad Joya cooking class
Okay, so you guys know that I can almost always find a positive to any experience, and even with things I didn't personally enjoy I try to point out where someone else may find it enjoyable.
But this one is a stretch.
Nour offered to arrange a cooking class and market tour for us, and as I'd read reviews raving about the time shopping and cooking with Ahmed, we happily agreed. We booked the lunch class for our first full day in Marrakech, at a cost of 1,000 Dirhams (so about $100).
The problem, ultimately, is that this is marketed as a class, which it absolutely isn't.
It's going shopping with grandpa, but not like…your grandpa. More like someone else's disaffected grandpa, who doesn't actually want two "kids" slowing down his market trip or doing things wrong in his kitchen, and would rather be chainsmoking and grumbling about politics with his friends.
To be fair, we might have caught him on a bad day, and even if we'd known he was such a crankpot, we would still have probably done it for entertainment and review purposes. But then we wouldn't have expected to learn anything (which we ultimately didn't anyway).
Going through the souqs with Ahmed did help us get our bearings, and made us much more confident in navigating the medina on the rest of our trip. And while he was shopping, we were able to look around a bit more — something that was difficult otherwise given the generally invasive hassling of medina vendors.
Ahmed did spend quite a bit of time grumbling about overtourism in Marrakech and talking about the shops that used to exist in the medina before most vendors shifted to selling mass-produced souvenirs, and how local Moroccans had been pushed out of residential real estate, so we did bond over that a little. But that was quickly tempered by all the racist and sexist comments lacing his commentary, which became exhausting quickly.
He was also very disappointed that the only extra things we stopped to buy were a delicate marzipan pastry Heather wanted to try, and the aforementioned avocado.
So by the time we got back to the riad I would have happily paid an additional $100 to not have to be pressed into a hot, cramped kitchen with a pontificating old man, but we pressed on in hopes that we'd learn something about Moroccan cuisine.
True Moroccan food (getting away from the usual drivel served to tourists at restaurants with laminated menus) is delicious, with delicate seasonings and ingredients that reflect both the Berber culture and the exchanges with other traditions based on Morocco being a trading hub for centuries. Generally when we take a cooking class — something we like to do in most places we visit — time is spent on techniques and spices, and there's something you can take back with you.
We didn't really get any of that.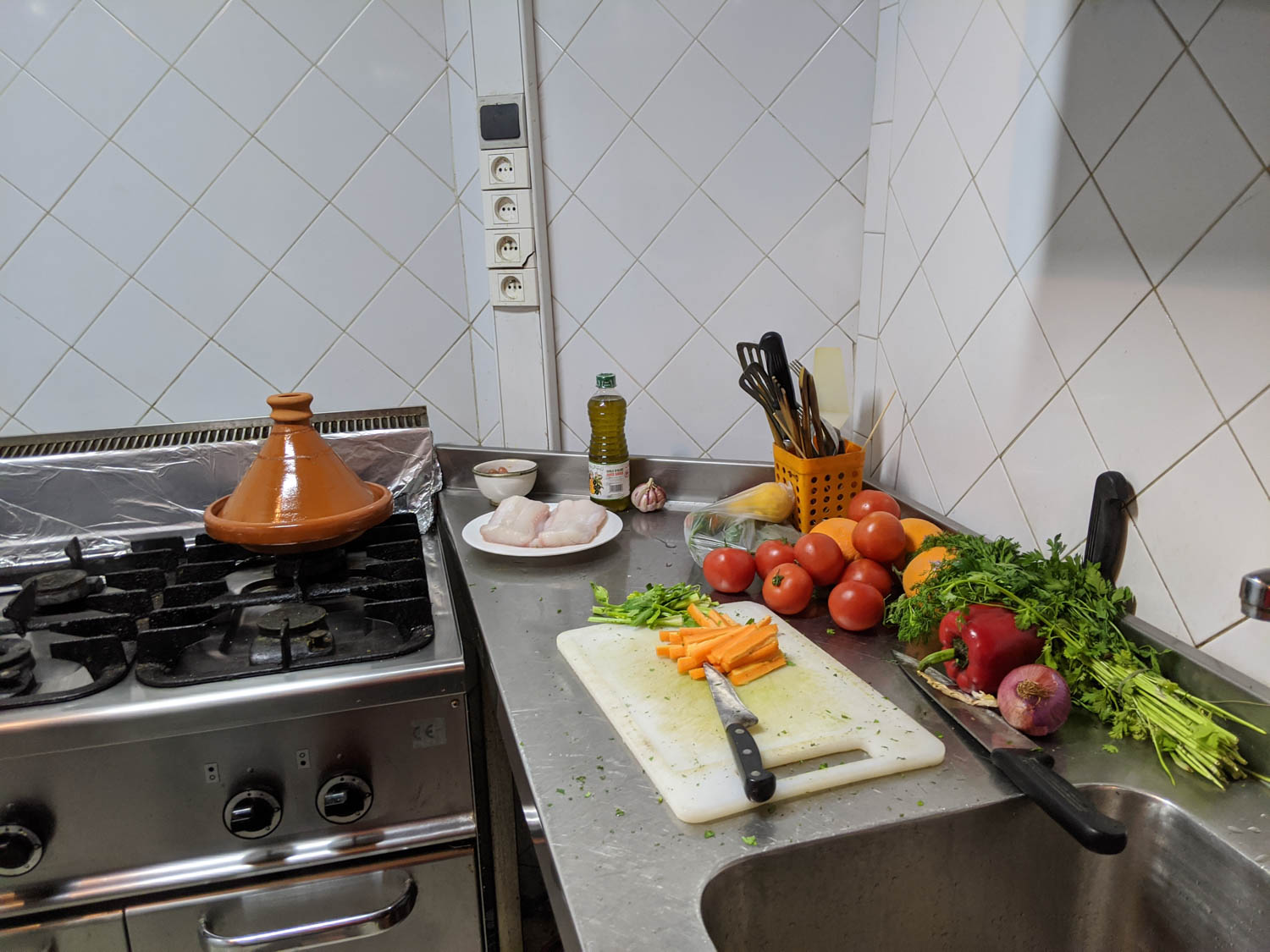 We did, however, embark upon preparing an obscene quantity of food for two people at lunch — massive halibut filets, and four different salads. Which mostly involved a lot of chopping, and a shocking amount of tomato-peeling.
As we finished, the kind innkeeper's assistant set the lunch table up on the rooftop, which was lovely for us, but we instantly felt badly about how many trips he ended up making up and down the stairs in the afternoon heat.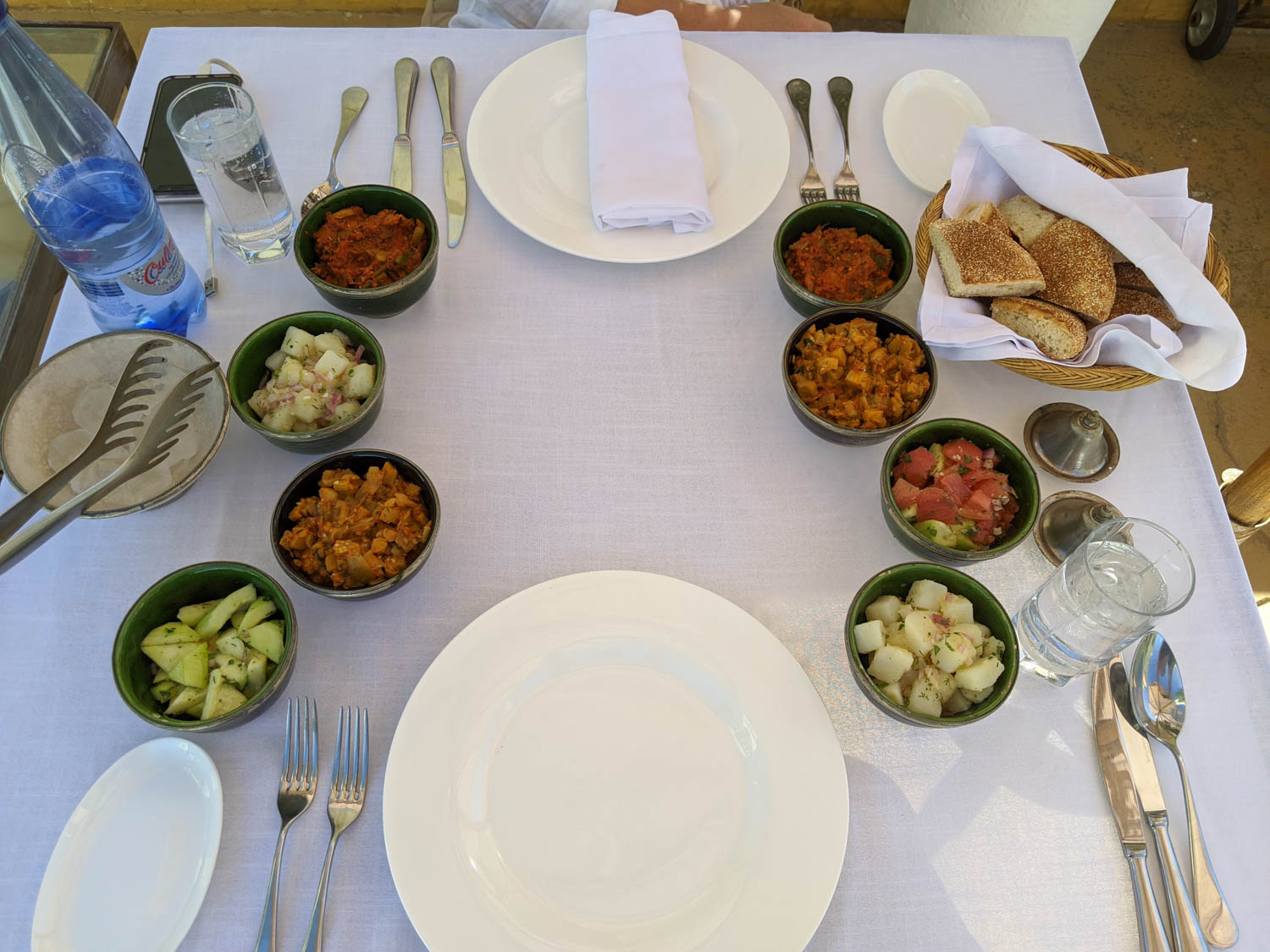 The various salads were quite good: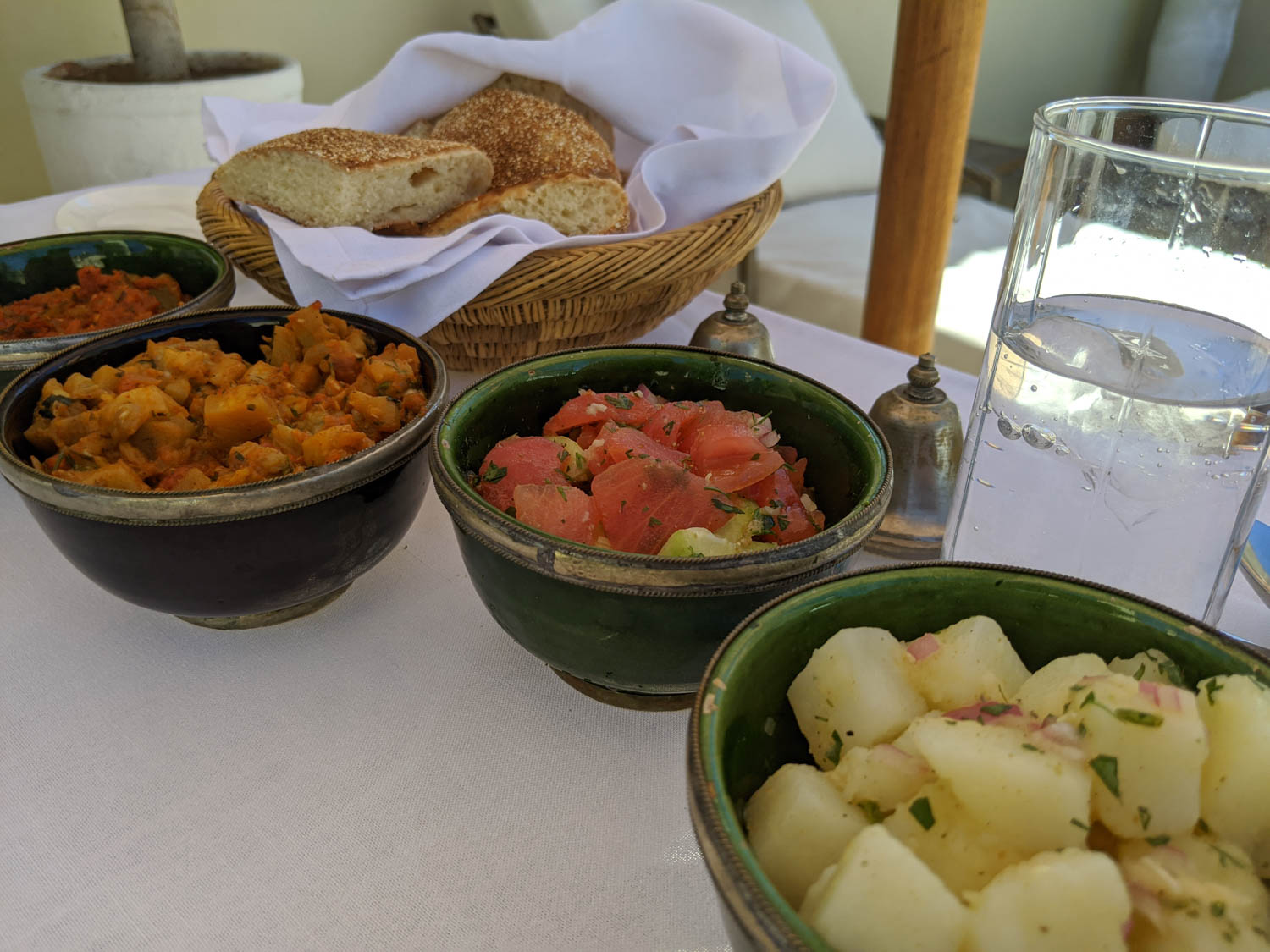 The presentation of the fish was attractive, but it unfortunately wasn't cooked through. Given that there were plenty of other things to eat (and we were frankly afraid of saying anything contrary to Ahmed, who seemed to be completely over it as it was), we just ate the vegetables.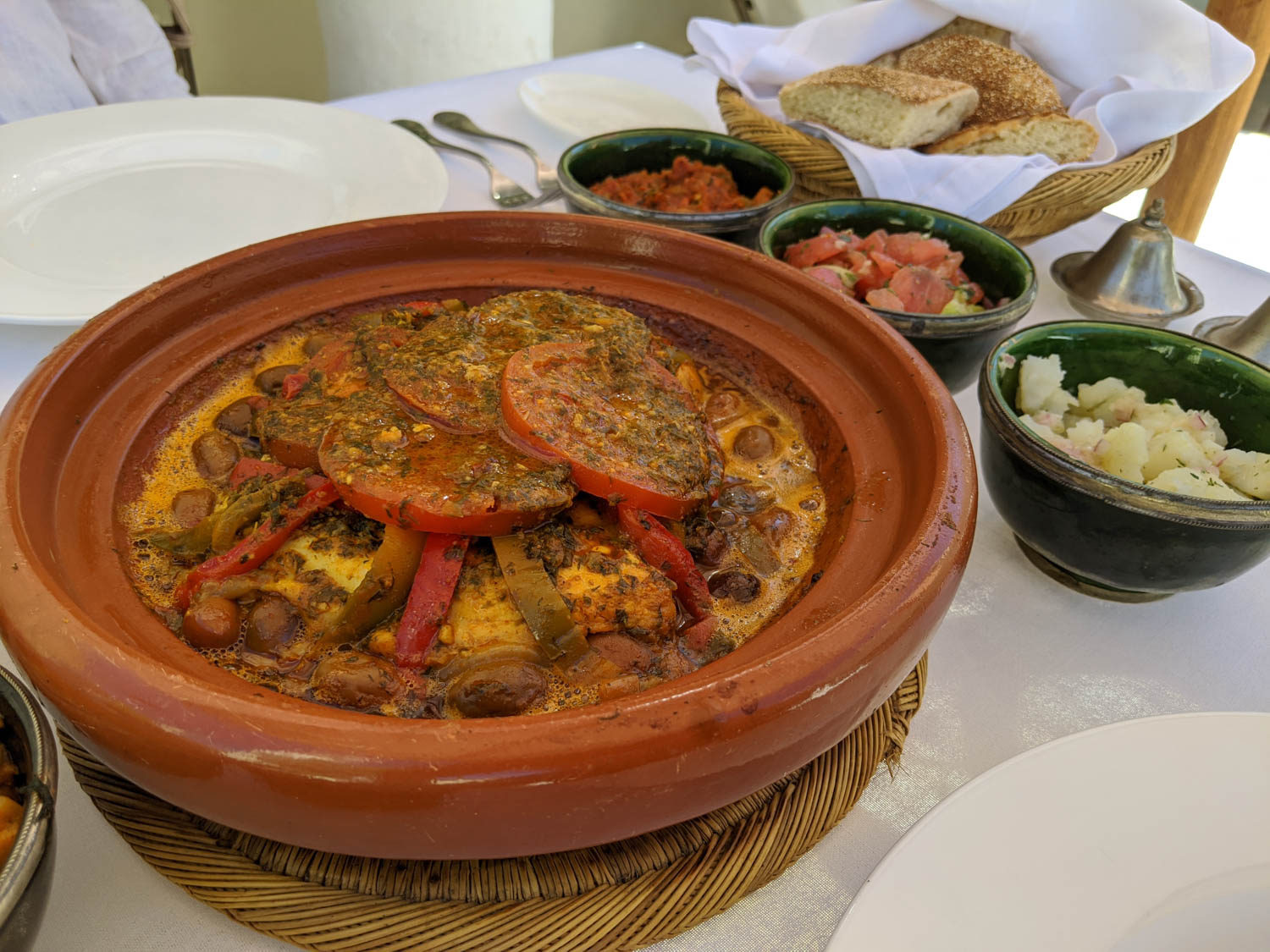 So yeah, I'd probably recommend skipping this, at least if you don't have a straight male in the group who might be able to inspire camaraderie, or at least better behavior. There are several other more formal cooking classes in Marrakech, including one run by the Amal Center, so if that's something you enjoy (which we generally do!), or are looking for more culinary insights, I'd look to one of those instead.
Riad Joya overall thoughts
With the exception of the "cooking class", we absolutely loved our time here.
Nour was an amazing host, and clearly cared so much about his guests. He was up early in the morning, checking with everyone about their plans for the day, and stayed up sitting by the front door until the last guests had come "home" in the evenings. He made sure we had his number, and that we were comfortable with where we were going each time we left.
I think he was surprised at how independent we were (he was pleasantly shocked when we were heading out at 9:40PM our first night with a dinner reservation in-hand), so I think you'd be in very good hands with him if you were less confident in your agenda.
And the other staff (especially the magical housekeeper) were amazing. We felt like we had a private home in the middle of a chaotic city, and it was the exact experience we were hoping for. It is certainly pricier than some options, but I think that's to be expected given the European owners, the recent renovations, and the location in the Mouassine neighborhood. But I'd recommend it overall, with a small asterisk for the pool situation if you were visiting in mid-summer.
Do you have a riad you'd recommend in Marrakech?