The Last Trip (For Now)
While we were in Marrakech, I had a work call, and when I disclosed my location one of the other meeting participants blurted out "Man. I effing hated that medina."
And I didn't hate it, but parts of the experience were decidedly unpleasant. Other aspects were great, like the beautiful carved doors, the various gardens and palaces, and the quieter moments down a side street. It is, perhaps, a polarizing place.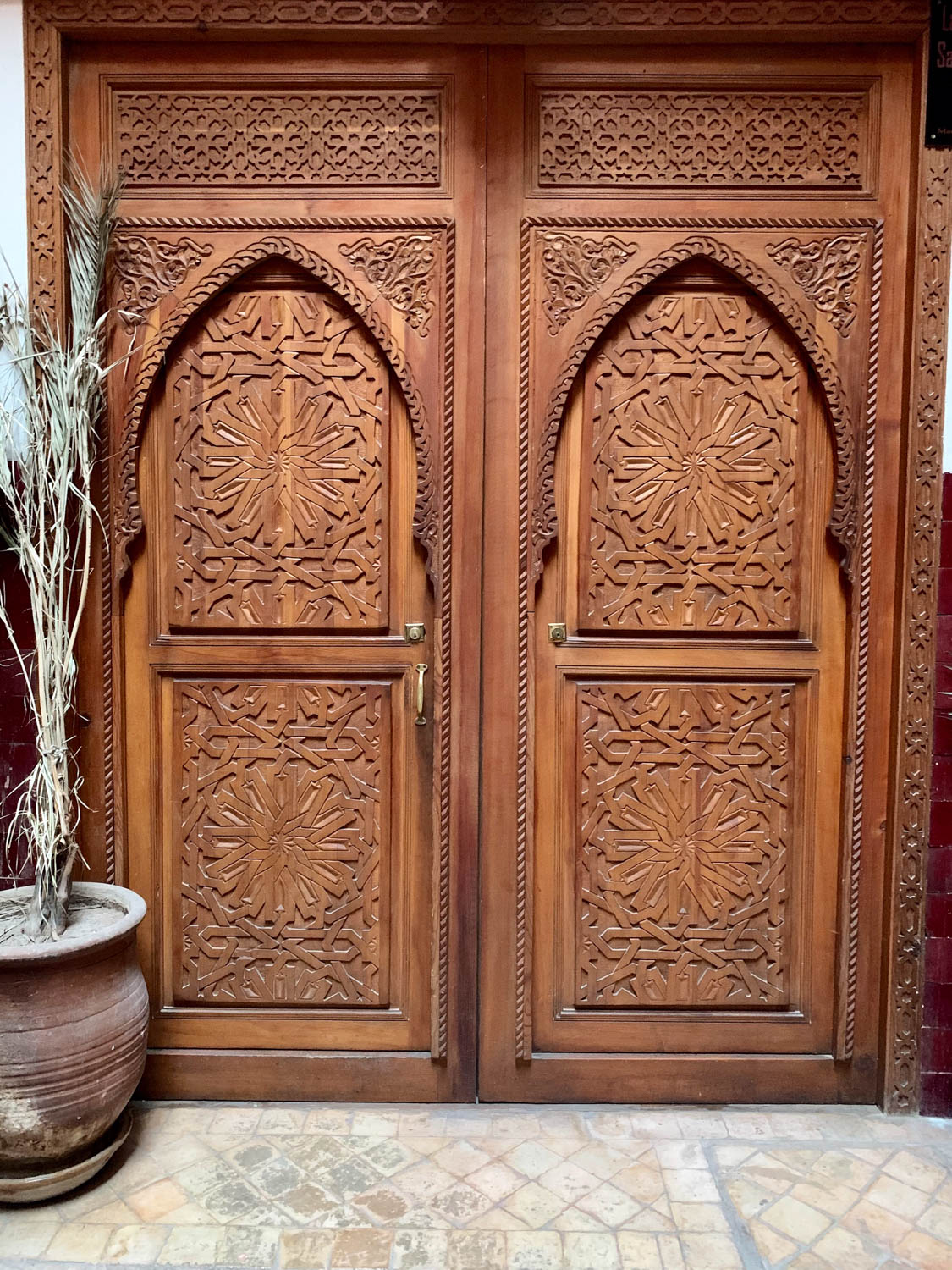 People also complain about "getting lost" in Marrakech, but thanks to Heather that wasn't our experience at all. That's ironic, because I am a phenomenal navigator — part of my love for aviation comes from spending a childhood pouring over charts with my Air Force navigator grandfather, and I can usually comfortably keep a map in my head, even in a new city.
Heather would not describe herself with any of those terms, and a running joke with her kids is how constantly she loses any sense of direction. But she got the medina.
"There's a pulse. The lanes stretch and then contract, the commotion increases as we approach bigger squares, then dies away as we get into the sidestreets. Just feel your way through it."
And that worked, so would be my recommendation. You really can't get too lost, because worst case, you can find your way to the main square, or at least one of the bigger ones, and regroup from there. Stressing over a map will be exhausting, and likely fruitless, as many corridors aren't marked.
Food
Like many cities, as long as you avoid the places catering to bus-loads of tourists, Marrakech has fantastic food. There's such a range throughout the city, but looking at just the medina specifically, there are two experiences we really enjoyed.
This was one of our favorites in the medina, for the combination of the ambiance, cuisine, and adorably friendly waitstaff. The restaurant has both indoor seating, and a series of charming outdoor terraces overlooking the spice market.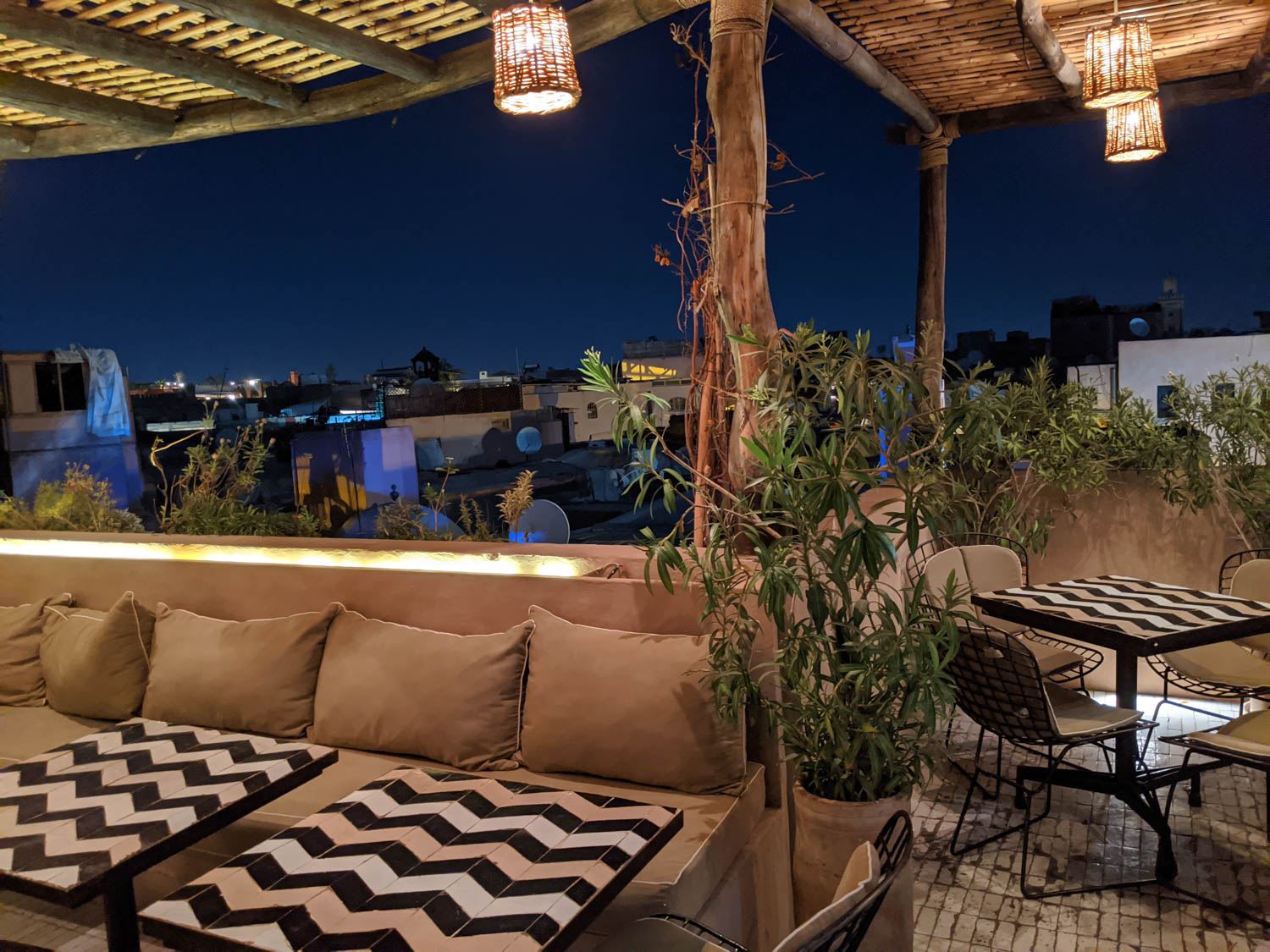 It's a little trendy (or was in March), and evening reservations are taken in two tranches — a 7PM timed with sunset views of the Atlas, or a 10PM table. The latter worked well for us as a natural dinner time on our first day, but it was a little chilly for outdoor dining that late (though would probably be ideal in the summer months).
The food is an updated-Moroccan, and reasonably. Appetizers were in the $6-$9 range, and entrees were $10-$14 (yes, there is less expensive dining in Marrakech, but we're talking about a more formal sit-down place with elevated cuisine here).
Though we did spend ~$20 creating our own ice cream tasting menu, because with flavors like "Berber Tea," "Sweet pumpkin and saffron," "Argan oil and honey," or "Rose and black pepper," how is anyone supposed to decide?
https://www.instagram.com/p/B9pvB_nh4W_
Nomad was also near enough to our riad that we felt okayish walking back at midnight, but if you aren't staying in the neighborhood I'd probably recommend the earlier seating.
This was a phenomenal experience, and I'd highly recommend you do this. We like food tours in general (street food gives you a great insight into local culture), and a tour provides a shortcut to learning the norms of a city. If you have food allergies, it's also a great way to learn about common ingredients in local dishes.
The husband of the woman who runs Marrakech Food Tours has celiac, so they were even more aware of food restrictions than I usually find — the owner Amanda sent along some homemade gluten-free round bread for me, and one of the other people in our group was a vegetarian, and our guide was very helpful in pointing out when things were made with chicken stock or whatever else. Morocco has a very grain-heavy food culture, so vegetarians can be accommodated more easily than those with gluten allergies, but it still worked out okay.
Note: having a guide in the medina did not seem to reduce the harassment from touts and vendors in any way, but it did lead us to more interesting foods and neighborhoods than we would have found on our own. Like, would I have walked down a tiny alleyway and then ordered half a sheep's head to eat on a rickety patio?
Nope.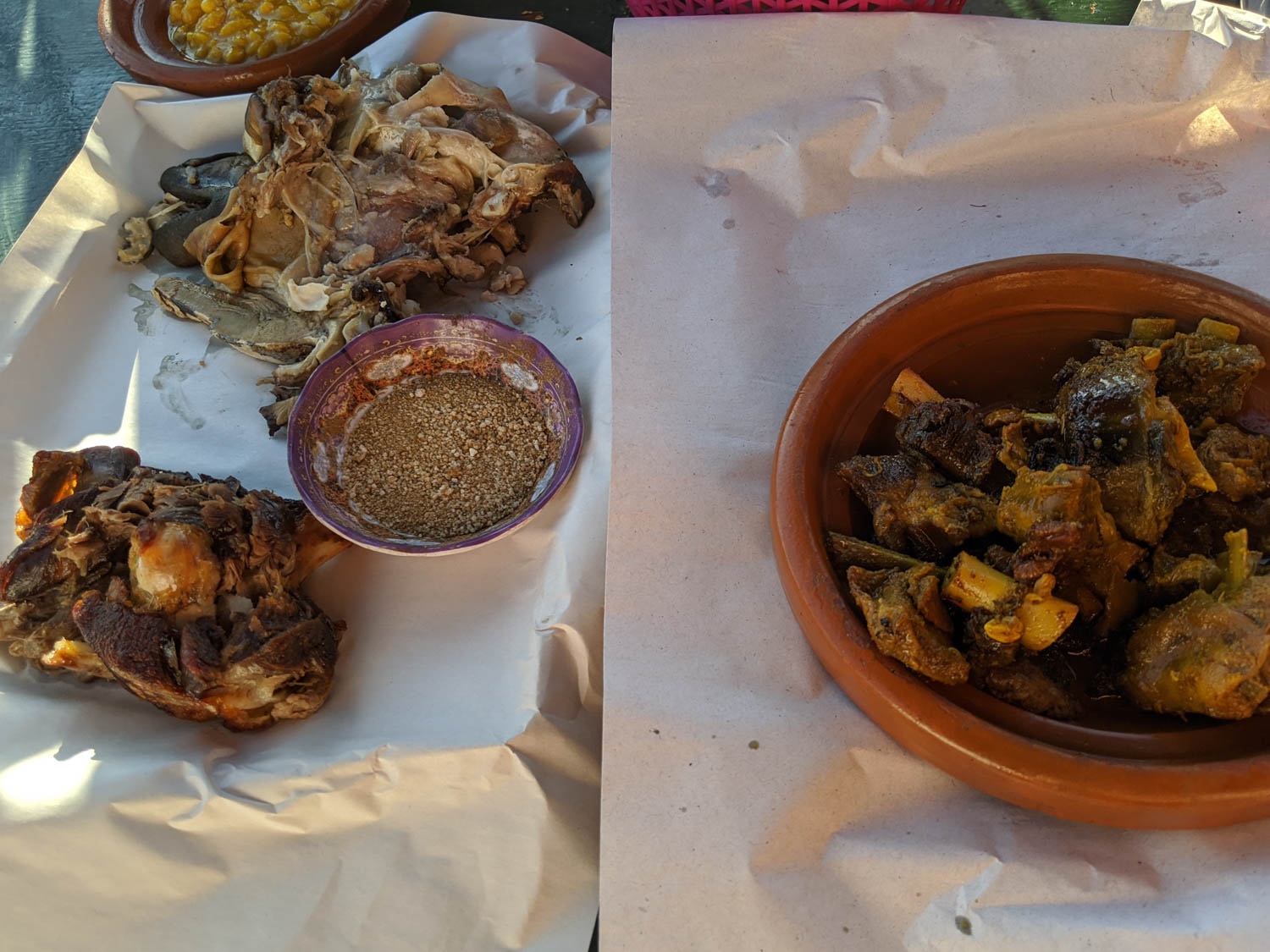 Along with the three kinds of lamb we tried sugared doughnuts (including some fried with an egg), sardine sandwiches (sounds gross, but actually delicious), harira soup, stewed snails, vegetable couscous, fruit smoothies, and of course the expected olives and preserved lemons.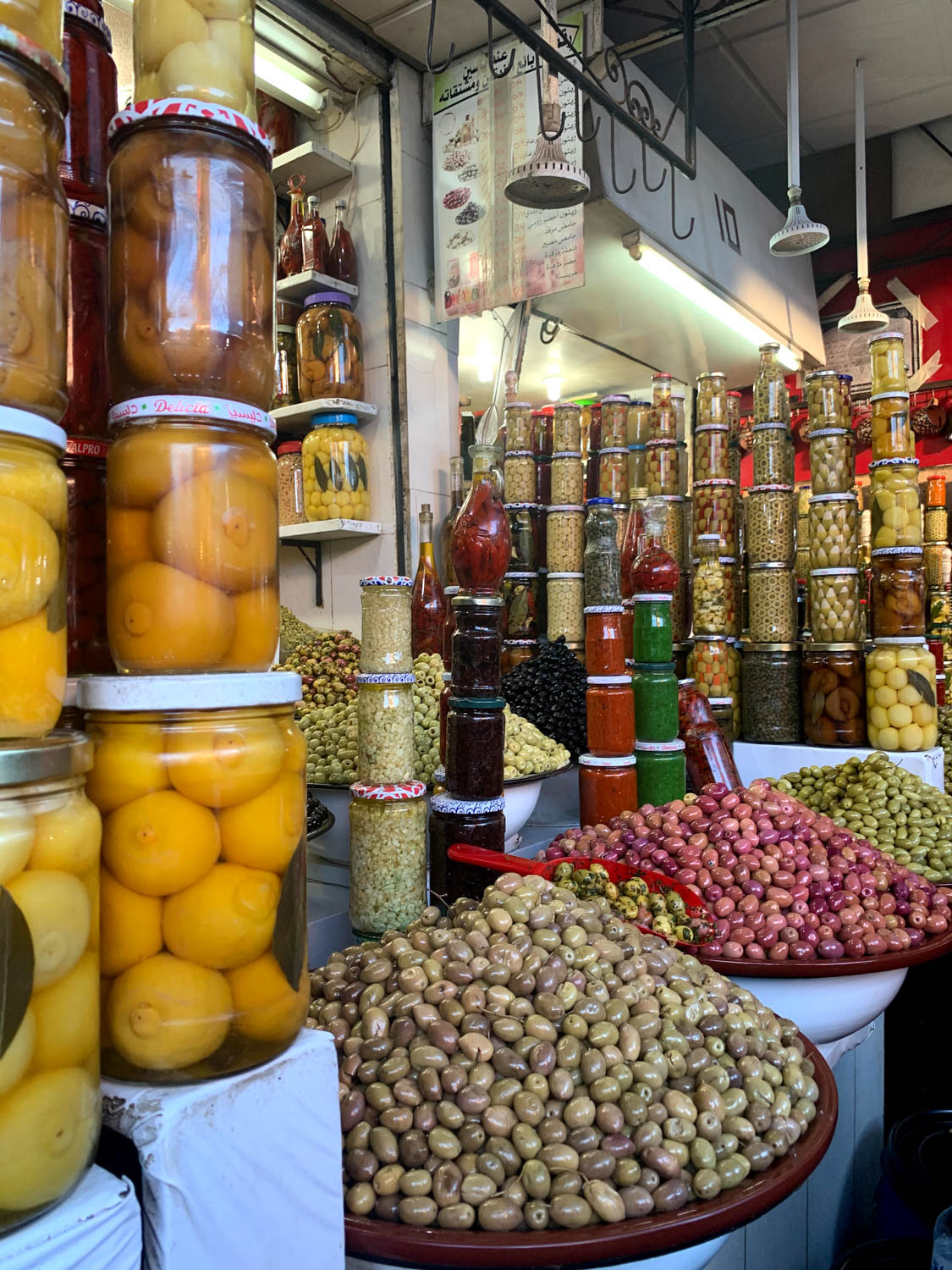 We also ducked in to a community bakery, and to the heating room of a local hammam — where the man tending the fires was happily slow-baking several tangias for neighborhood women in the coals. We loved those insights into the culture, and it was a great tour overall.
Colonialism, overtourism, and safety
I'm lumping these all together because, ultimately, they can't be separated. There's a series of causes and effects here, all of which impact the experience of the medina.
Going back to French Imperialism and the intent of establishing mass-tourism in Marrakech, restrictions were placed on construction and renovations inside the historic medina. Real estate codes and business licenses came with rules about what kinds of property could be sold, and what could only be inherited. Families without sons (or sons-in-law) to pass their shop onto often had to shutter them instead.
With many of those rules being relaxed nowadays, houses have been snatched up by outside developers to create properties catering to foreign tourists (our riad was one of these). Fewer Moroccans live in the medina of Marrakech, and it shows in the lack of everyday community-focused activity. If you have a business that caters to Marrakech locals, you're likely better off moving it into the suburbs and newer parts of the city where people actually live.
What were once bustling local markets and the hub of trade in northern Africa are alleyways crammed with commoditized tourism. There is nothing authentic about hawking Adidas rip-offs to throngs of bussed-in tourists.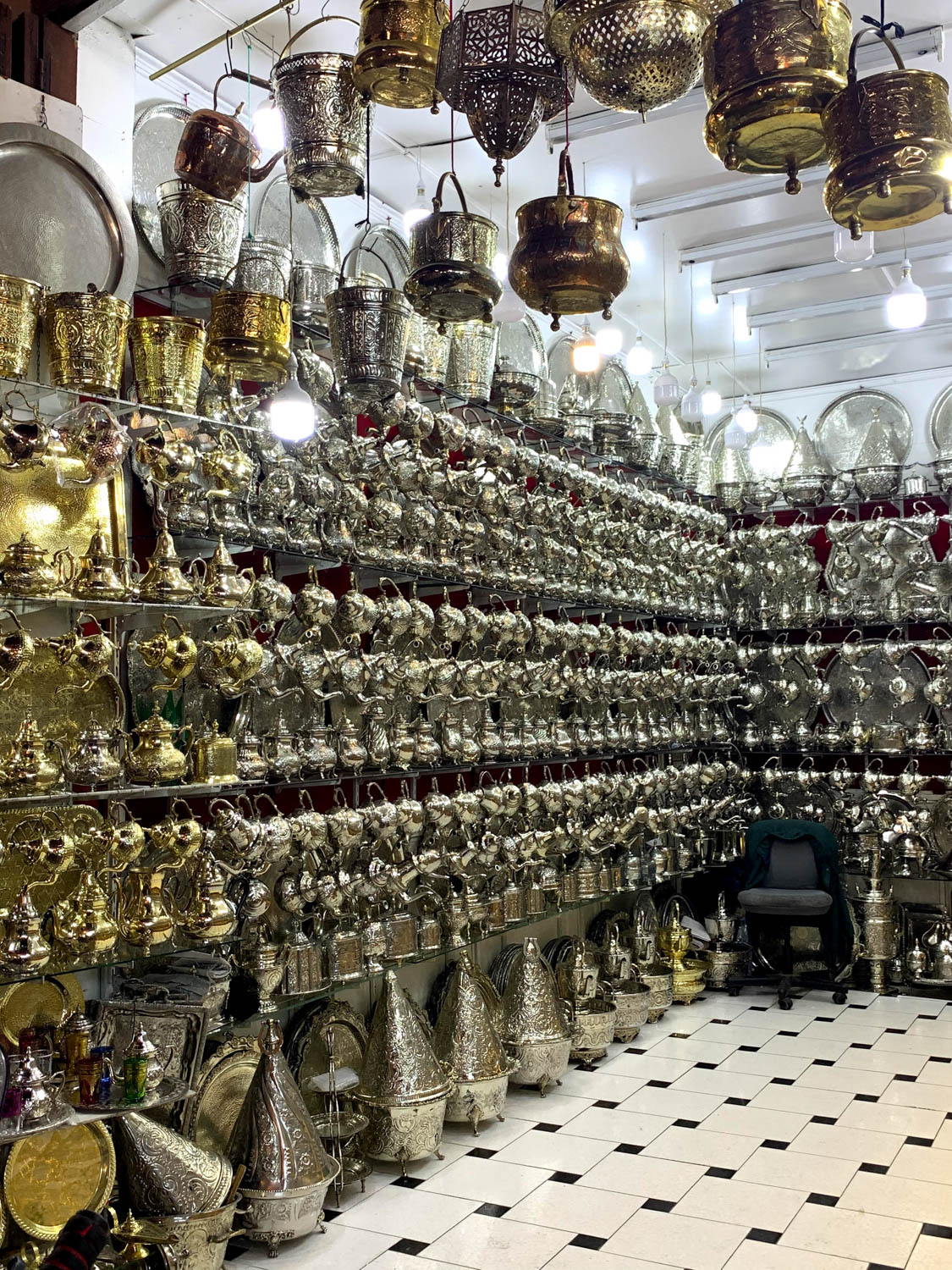 As such, many of the general "safety indicators" that one looks for in a new place (families out and about, women walking with their children, etc.) are absent in the medina. Outside of those working in shops or restaurants, the only local women we saw at all in the medina were in the hammams. There were, however, an abundance of idle and leering young men.
This was annoying during the day, though I am accustomed to ignoring aggressive and hostile shop workers, and all women know how to roll their eyes at catcalls and keep walking. At night, as the shops closed and all the young men were enjoying their first free time of the day, it was extremely uncomfortable.
In 36 states and nearly 80 countries, this was one of maybe four times in my life that I've felt an environment was actively unsafe.
Sure, the darkness of the maze-like streets contributes to this, but Sicily has endless narrow alleyways and an allergy to paying for government-taxed services like electricity. It never felt unsafe. But the urban blight of downtown LA circa 2002 made it unpleasant to walk around in at night (or even during the day), because no one lived there. Stretches of downtown Portland when I was in grad school were the same way — I'm sure we can all think of cities, or parts of cities, we've been to or lived in where this is the case.
And it's the same problem here. When we took my niece to Egypt, a young man in central Cairo meowed at her (taking catcalling literally I guess?), and a passing Egyptian woman lost her shit at him. You don't need to speak Arabic to recognize an Angry Mom tirade of "who raised you" and "this is why we can't have nice things." But with fewer people actually living in the medina, and very few shops selling things that locals would want to buy, maybe you just don't have that residential component who cares about the neighborhood and general goings on — the ratios are off.
Marrakech would be vastly improved by some grandparents going about their lives in the medina and scolding youth for inappropriate behavior.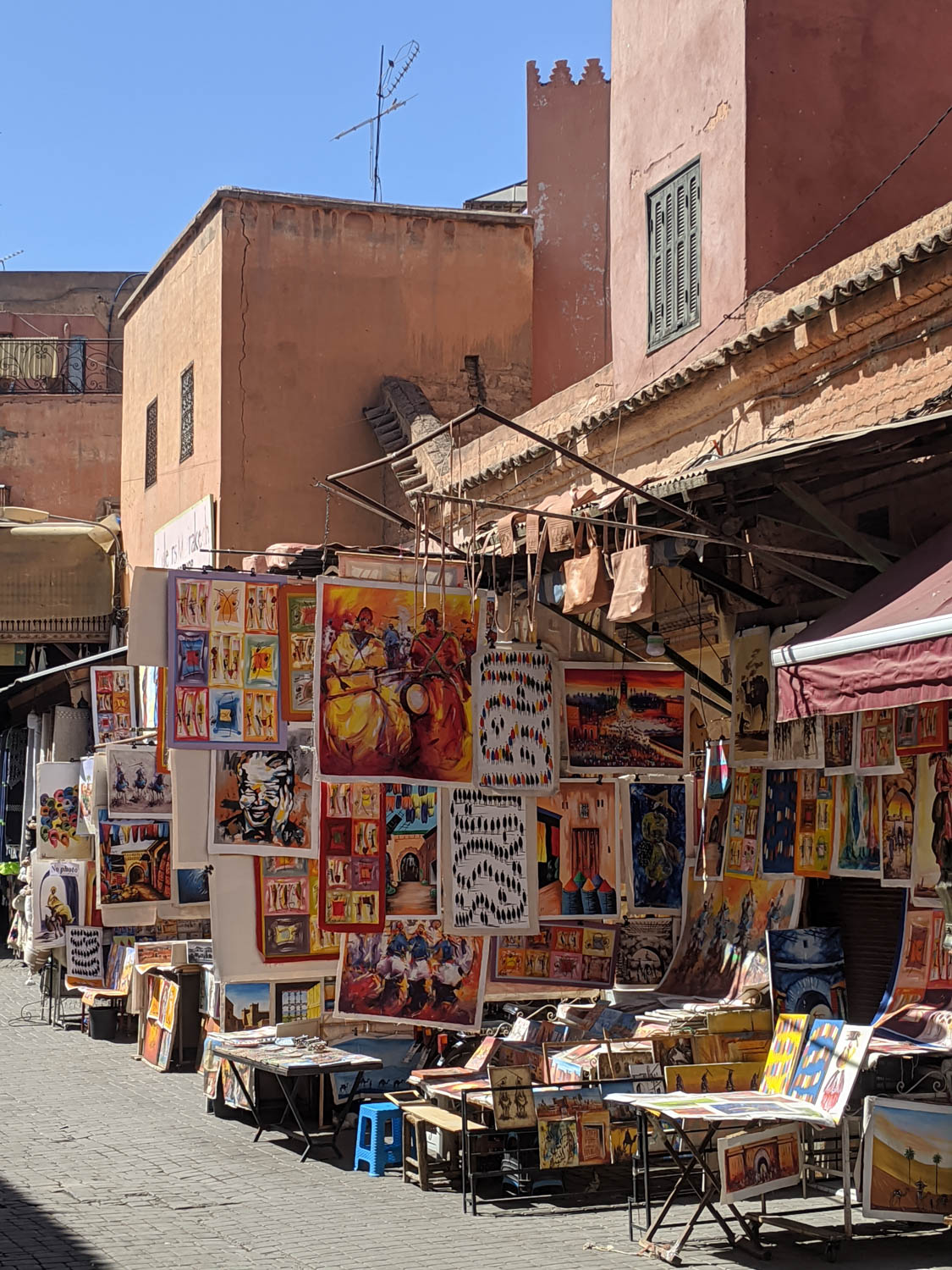 If there's one positive thing that comes out of the impact Covid is having on travel, I hope locals having a chance to take stock of how (and whether) their communities are served by the tourism machine is part of that.
Yes, the money is nice, and in many cases now essential to the economy. But for places like Venice, Santorini, Hoi An, Barcelona, Luang Prabang, Prague, Bali, and at least half of the Caribbean, those tourism dollars have often cost the local population access to their city centers or natural areas.
Ultimately places that only cater to tourists aren't really all that pleasant to visit anyway, versus mixed-uses spaces that serve local communities and aren't wholly dependent on outside dollars, so maybe this time will at least help these destinations regroup a bit.
Bottom line
I enjoyed Marrakech, and actually liked the experience of staying and wandering in the medina. But I definitely wouldn't recommend being out in the middle of the day if you don't want to be harassed endlessly, and women should 10000% not be out unaccompanied at night.
Early morning is probably the best time for walking through the streets if you want a lower-pressure shopping environment, and the bustle in the evenings is worth experiencing (but please don't support the monkey and snake abuse in the main square).