SPG recently invited my boyfriend Ford and I to attend an SPG Moments event at the Sheraton Downtown Los Angeles, which was part of "Hear the Music, See the World." SPG Moments is a fantastic program whereby members can redeem Starpoints for very cool experiences which in many cases you couldn't even buy with cash.
I've shared my experience with an SPG Moments event, Tiffany shared her experience at the SPG Suite at the US Open, and Mike shared his experience at the SPG Suite at the O2 Arena for a Paul McCartney concert. Heck, we've even had a reader meetup at the SPG Suite at the O2 Arena during a One Direction concert.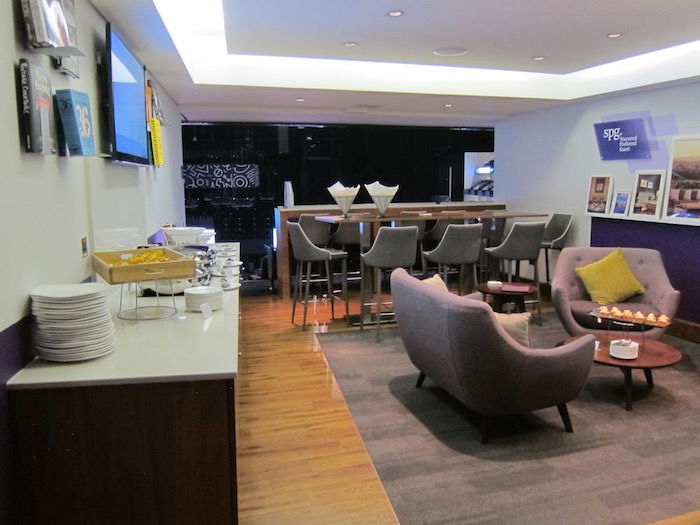 SPG Suite at the O2 Arena in London
With that in mind, I thought it would be fun for Ford to share his impressions, as it was his first time attending an SPG Moments event. Stay tuned for more from Ford, and in the meantime you can follow him on Instagram.
---
Ben and I recently attended an SPG Moments event at the Downtown Los Angeles Sheraton, where John Legend performed for about 200 of us. Doors to the event opened around 7:30 PM, we arrived shortly thereafter, and John Legend came on around 9:00 PM and performed until just after 10:00 PM. We were invited to the meet and greet as well, but we were tired and I find meet and greets a bit forced, although based on John's performance I'd say he's a genuine man.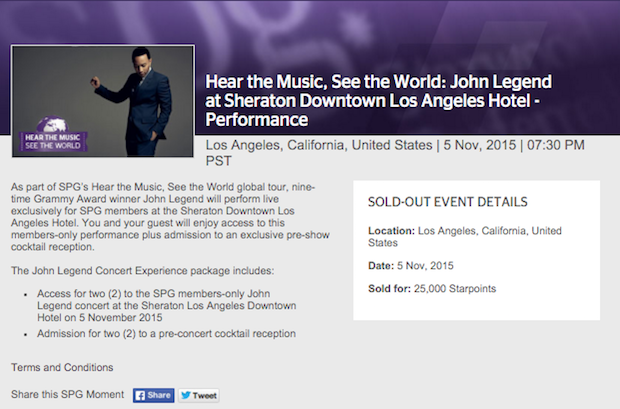 As I mentioned, the SPG Moments event was held in the newly renovated DTLA Sheraton, which had a very chic, crisp library-turned-lobby complete with taupe leather tufted couches, 20+ foot ceilings, mahogany paneling with brass fixtures, and a marble espresso and coffee bar with frosted glass bottles up to the ceiling.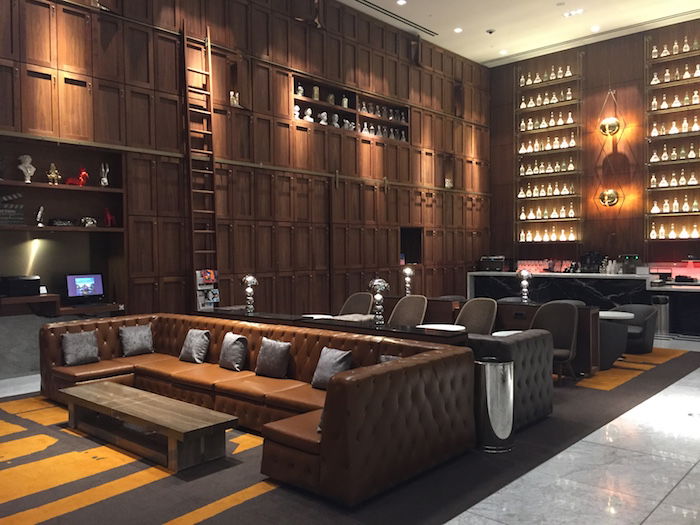 We were both very impressed by the taste and elegance, which gives us high hopes of the refresh the Sheraton brand is undergoing! If you're interested in staying downtown the next time you visit LA, the Sheraton is more than worthy of consideration.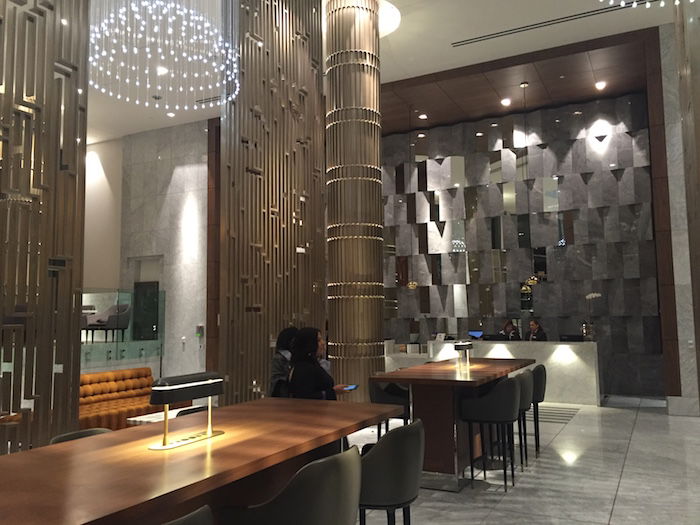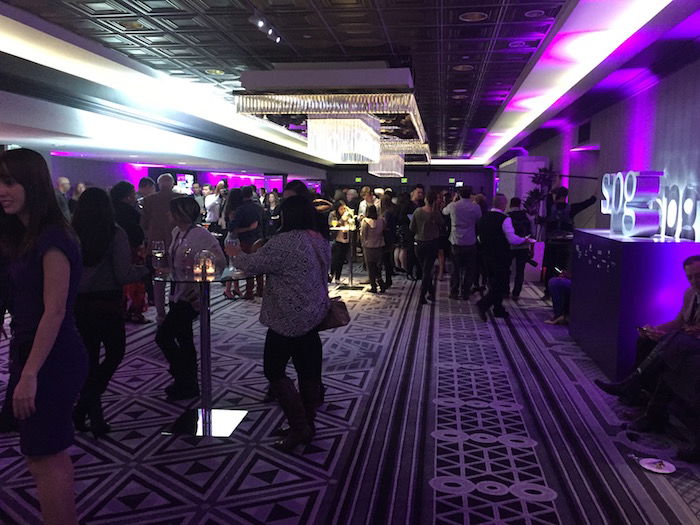 There was an open bar, and the appetizers consisted of some passed hors d'oeuvres as well as several "themed" tables with small bites. Paired wines accompanied the small bites.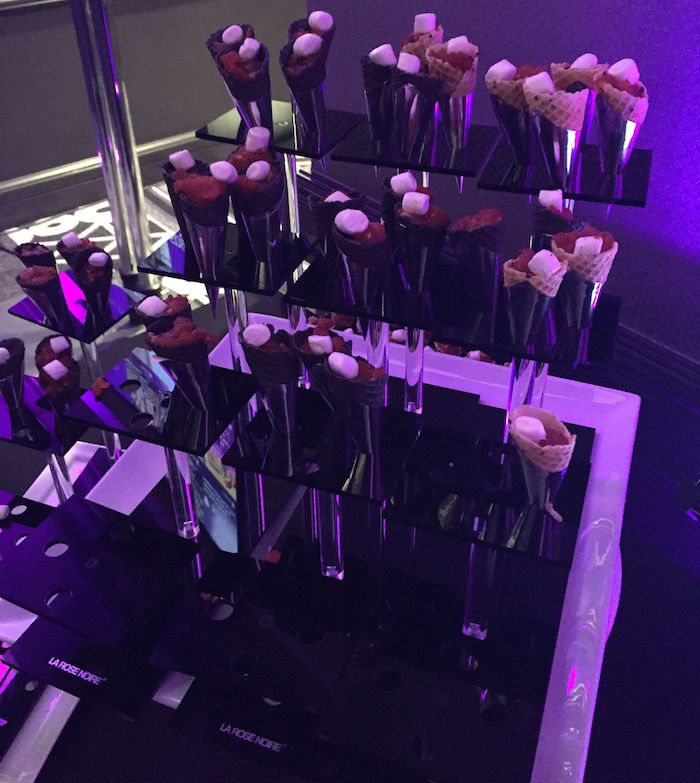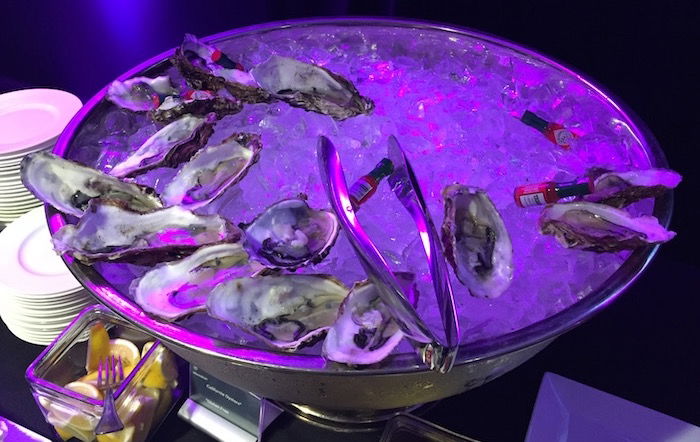 The appetizers I did have a chance to sample were all good, with the exception of the slider, which was dry and served on a white bread bun without any aioli, mustard, ketchup, or other accouterments. Ben actually made a face when he saw me reach for one.
Around 8:45 PM the hotel opened doors to another adjacent, purple-lit room. An exodus emptied out the bar area in a matter of seconds as guests rushed to get the best seats for the performance. There were about 8 rows of chairs, as well as some standing room and tables in the back.
Ben and I were unaware that the doors had opened until the room had begun to empty out, which was our cue to charge for decent seats or be doomed to stand on the shoulder of the venue. While this mad rush reminded me of the frenzy on Southwest to get a window or aisle seat for unlucky passengers without an "A" boarding card, I found that most seats had a good view and that the setting was so intimate that even seats off to the sides and in the back rows still felt quite close to the stage.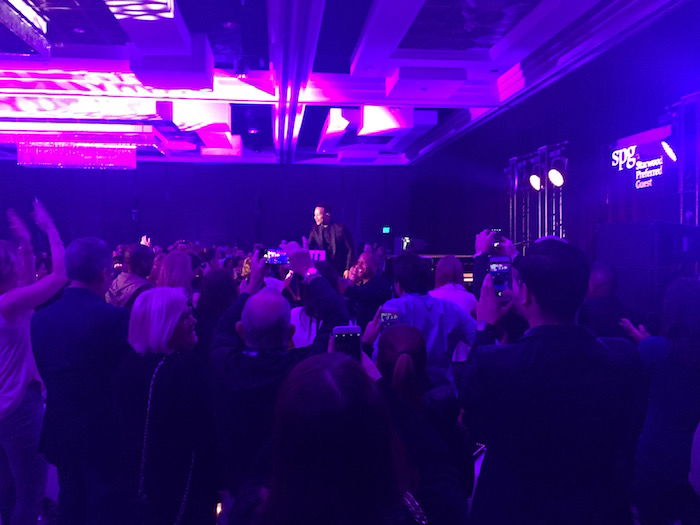 As you can see from the pictures I took during the performance from where Ben and I sat, which were by no means the "desirable" ones that evening, SPG did a fantastic job of making almost every guest feel that they were having an exclusive experience.
As for the performance, John Legend has nine Grammy Awards under his belt and a beautiful, soulful voice. He came on just after 9 PM and sang for over an hour. He graciously addressed the audience, cracked a few jokes ("It's good to be here with my fellow SPG members… I have a lot of points"), and sung about a dozen hits while he played the piano live, saving All of Me, his most popular hit, for last.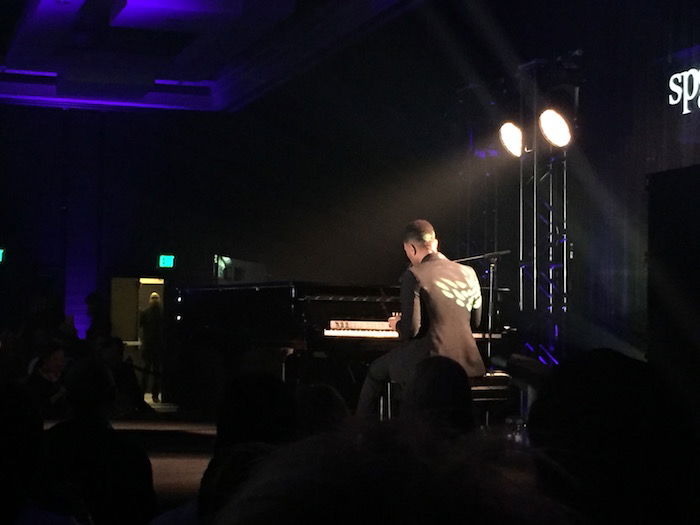 On the way out, guests were given gift bags with all kinds of SPG branded memorabilia, an American Express gift card, etc.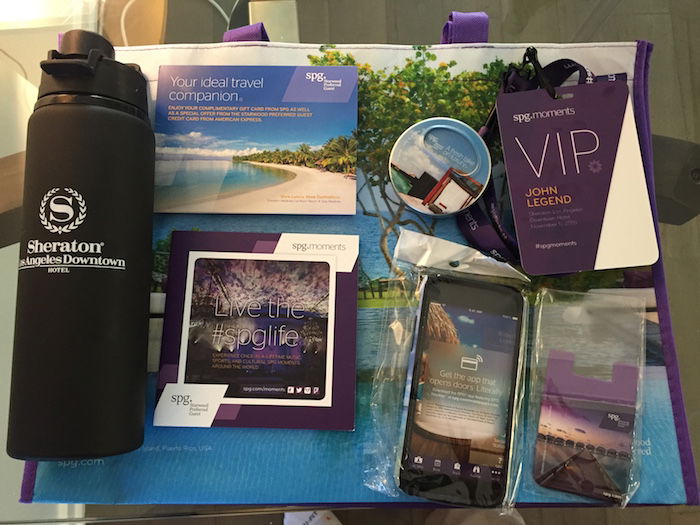 Getting out of the venue was more complicated than it had to be. The stairwells were marked for emergency use only, with the threat of an alarm sounding keeping even the most impatient guests (ME!) from using them. There was, of course, a line that backed up for the elevator. A bit of forethought and opening the stairwells for the willing and able-bodied would have solved this problem. Ultimately, it didn't turn into as big a hassle as I momentarily thought it would be – we waited 5 minutes at most.
Bottom line
In summary, the performance itself was flawless, the timing of the event was precise, the venue was intimate and created a cozy enclave for John Legend to belt out his melodious tunes, and the open bar and light fare were satisfying.
This event could have been redeemed for 25,000 Starpoints for a pair of tickets. To put this in perspective, this is less than one night costs at a Category 7 hotel, or roughly the same as two nights at a Category 4-5 hotel (for the time being… it remains to be seen what will happen with the Marriott takeover).
Some people will spend a $1000 on a concert ticket to see their all-time favorite performer, while others think $75 is steep, as live music holds a special place in the hearts or some and no place in the hearts of others. The point of the SPG Moments experience is to offer exclusive, incredible experiences to their loyal members, which they undoubtedly achieved with this event.
I will say that for those who love and cherish John Legend and paid the significant 25,000 Starpoints (equivalent to 75,000 Marriott Rewards points) to see him, it would have been a disappointment to be the unlucky guest seated on a bench flanking the edge of the small auditorium. Sitting front and center, however, would probably make the short list of best live music experiences, even for seasoned concertgoers.