How To Turn A Mattress Run Into A Free Staycation: Introduction
Review: Radisson Hotel Colorado Springs Airport
Review: The Airplane Restaurant, Colorado Springs
A Drive By Visit To The House Of Miles, Colorado Springs
---
As I explained in the introduction, we decided to spend a weekend in Colorado Springs, one of our favorite destinations for a quick getaway. Oh, who am I kidding — we all know the real purpose of the trip was to earn a shipload of Carlson points given the plethora of stackable promotions they are currently running.
It really is one of our favorite airport hotels though and one of the better places to stay in Colorado Springs especially given the typically very reasonable rates that include a lot of perks.
Location
The Radisson is technically an airport property, and in fact, it's arguably the nicest airport property at Colorado Springs. (I think it's the only full-service property.) But you wouldn't really know it since COS is relatively small and without a lot of traffic — there aren't really any views of the field and virtually no noise. It's not located downtown, but I'm not sure who really stays in downtown Colorado Springs anyway.
In fact, if you're aiming to do some sightseeing around Colorado Springs, it's actually a pretty decent location — relatively close to the US Olympic Training Center, Manitou Springs, Pikes Peak, and other attractions. It is on the opposite end of town from the Air Force Academy, however, which is also worth a visit.
The Radisson is located adjacent to The Airplane Restaurant (review coming shortly) which, if you're reading this blog, is probably reason enough to visit Colorado Springs.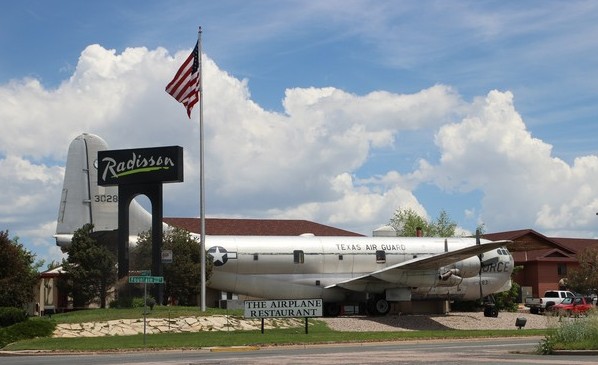 Lobby
The hotel lobby is on the small side. My kids seem to have my genes and can't pass up free food — given that they help themselves to an apple every time we go in or out, I think we probably get our money's worth on fruit alone.
The sweeping staircase sort of opens up the lobby and makes it feel bigger than it is. There is also a sign welcoming various groups to the hotel. On our visit it was the reunion of a World War II fighter squadron — with two Air Force bases, an Army base, and various other Department of Defense facilities nearby, you are almost guaranteed to see servicemen during your visit.
Check-in
After finding my reservation, the woman behind the counter recognized my Carlson Gold status and informed me that I had been upgraded to a room with two queen beds. (I had booked the standard room with two double beds.) This didn't seem like much of an upgrade to me, but I know from experience that this property has lots of 1-bedroom suites. I asked if one of those would be available for a Carlson Gold member, and she switched me over without hesitation. (She also sent the bellman to move our welcome amenity from the preassigned room to the suite.)
She then handed me my drink chits, breakfast coupon, and restaurant discount chit.
Our rate was right around $115 including tax. It's worth noting that at least some of their rates are based on single-occupancy and then add $10 for a second person. Normally, this would drive me bonkers, but given that it includes breakfast and drink chits (at least in my rate), that actually seems reasonable.
Hotel Layout
The hotel itself is a sprawling two-story building in the shape of a squarish-triangle. Whatever it is, there's a courtyard in the middle. The suites are all located along the back of the building, meaning that it is a decent walk to get there. You should pay attention if you are on the first or second floor, since there is only one elevator in the entire building, and it is located in the front near the lobby. The single elevator isn't a problem in general, as there are plenty of stairs located throughout that are meant to be used (as opposed to emergency stairs). If you have limited mobility, I would probably ask for a room on the front, however, near the elevator.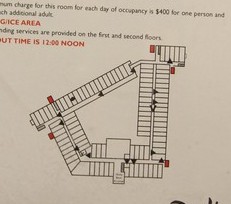 1-Bedroom Suite
The suite was quite spacious, though to be fair, the regular rooms look large as well.  There are at least two larger suites, though I've never tried my luck at getting upgraded into them. The bedroom had it's own door, which is a huge win if you have kids. We had been assigned a suite with two double beds, though they have one king versions as well.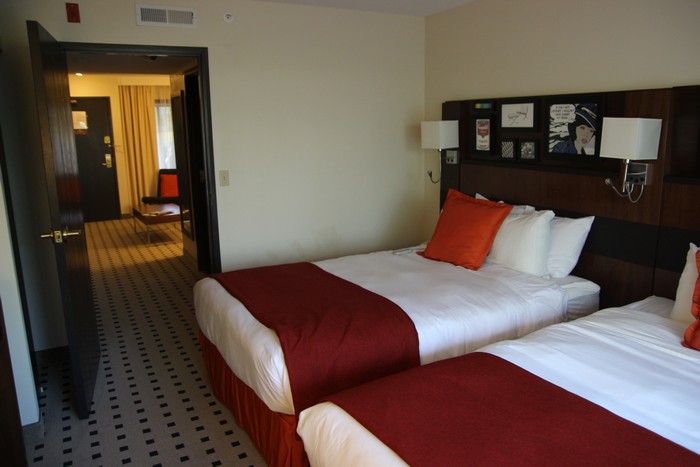 The beds were Sleep Number beds, although we didn't try them out. Our kids thought it was silly to have a remote control for the bed though.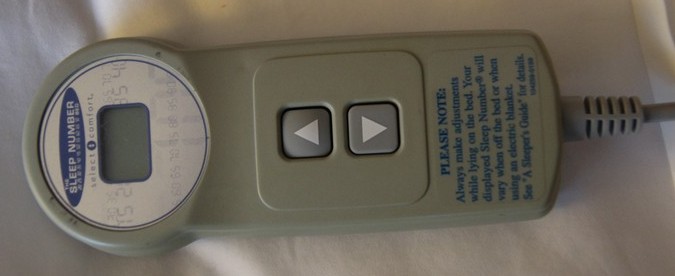 Turn-down service consisted of two chocolates for Deer and Zig-Zag.
There isn't much of a view out the back of the hotel, but then again, it's just a two story building so there just aren't many views to be had anywhere.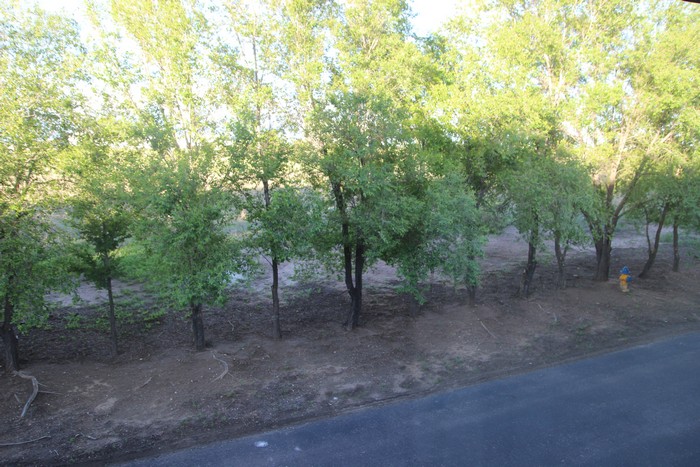 The living room had a pull-out sofa and a stylish chair. Some may find the window to the hallway a little odd, but we actually like it. The back of the hotel consists of only a single row of suites such that the interior side of the corridor looks out over the pool solarium and the courtyard. The window then allows the natural light into the living room, which really brightens the space. Others may find the window into their living room a little creepy, but the curtains are substantial enough that it shouldn't be a problem.
Our Carlson Gold welcome amenity was a box of upside-down chocolates. There was also a welcome card.
The minibar area had a microwave and refrigerator. The fridge was not stocked, just the way I like it.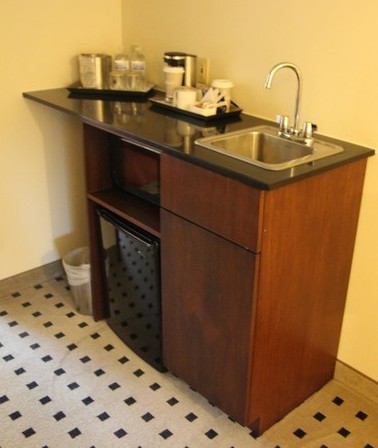 The bathroom is located between the bedroom and living room, which is a pretty good design considering that it allows easy access for those in the bedroom and anyone sleeping on the pull-out couch.
The downside is that it's not all that big.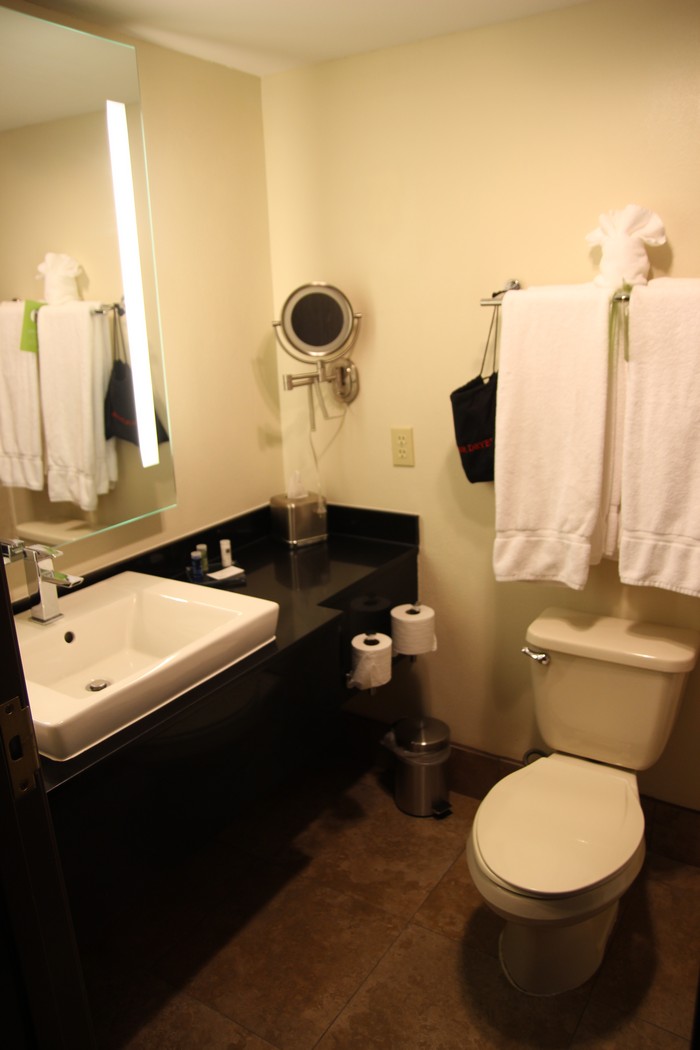 The bath products looked and sounded fancy. I mean, it said Japanese on it and seaweed, so it must be good, right?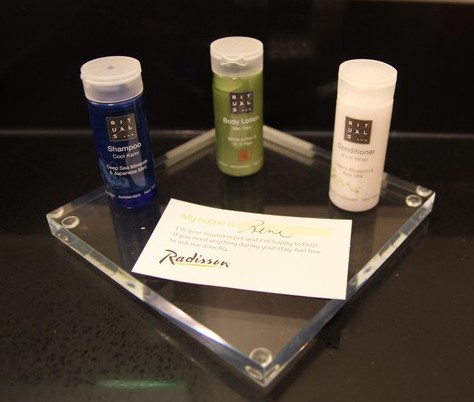 It was after dinner by the time we arrived on Friday evening, so we soon put the kids to bed soon after we arrived. We opted to put each of the kids on their own double bed in the bedroom with us using the pull-out couch.
This is opposite of how we usually do it, but since we had two double beds this time, we figured we'd give it a shot and enjoy some adult-time in the living room.
Dessert And Drinks
I then headed over to the bar to pick up dessert and drinks. Every room gets two drinks per day which are good for beer, wine, or soft drinks. I overheard one guy say that he told the front desk that he had five people in his room and they gave him five chits.
They do say that each person can only redeem two per day, so presumably you'll have to be creative if you plan to get sloshed on the house. They are also date-stamped such that you are supposed to use them within a week.
Given that my wife is pregnant, we went with the strawberry smoothies which were freshly made right in front of me.
My wife also requested an order of apple blossoms a la mode for us to share. I'm not sure that a strawberry smoothie goes well with apple blossom a la mode, but by now I've learned not to argue with a pregnant woman.
Dessert took a few minutes to prepare, so I munched on a bag of popcorn while I waited. I'm not a big popcorn fan, but when it's freshly made and free, well, I just can't resist. Hey, I've been known to wander into Ace Hardware just for the popcorn.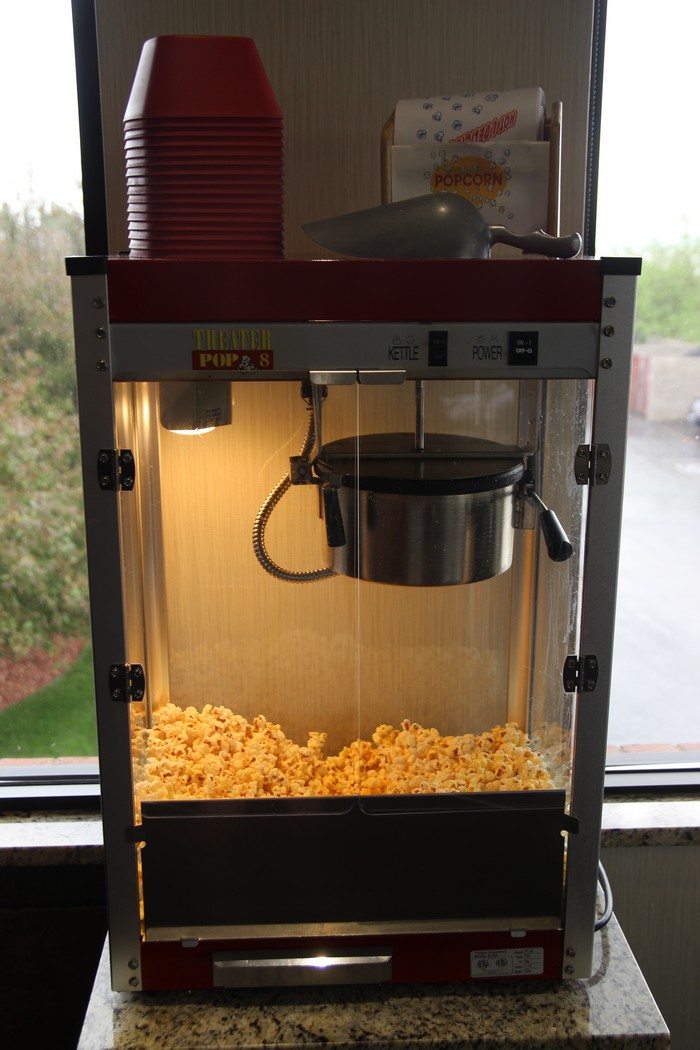 Breakfast
In the morning, we headed over to breakfast. The hotel was pretty full so the place was hopping. I'm not sure if every rate includes breakfast, but apparently a lot of them do.
There is ample seating in the restaurant and bar, both of which have (partially obstructed) views of Pikes Peak and the Front Range.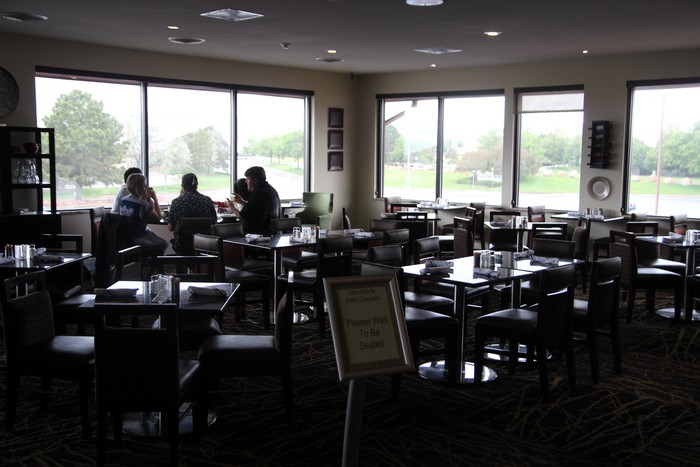 Breakfast consisted of scrambled eggs, sausage, potatoes, and waffles (which were swapped for biscuits and gravy the second morning), as well as fruit and pastries.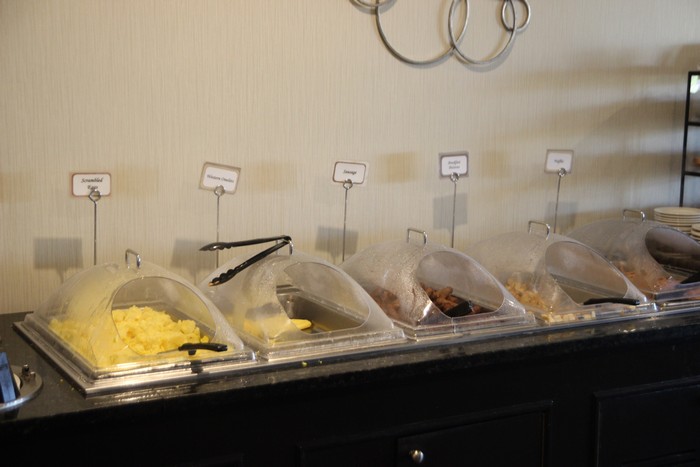 Pool, Hot Tub, And Gym
Like I say, the Radisson is a favorite of ours for nearby getaways, and one of the reasons is the pool. It's located in the center of the complex inside a solarium. It's a beautiful space with tons of natural light, hanging plants, and places to sit.
I like that the pool has a 7.5 foot deep end, much better than the typical hotel pools which are really just designed for wading. There's also commonly a beachball floating in the pool, which is good if you tend to forget yours, like we do.
The hot tub is located outside the solarium under a gazebo. It's probably big enough to seat 10, although that limit was exceeded when the wedding party showed up while I was hoping to get a few minutes of quiet time before bed.
It's also a legitimate hot tub rather than these lame warm tubs that feel like bathwater. That said, the jets are almost non-existent.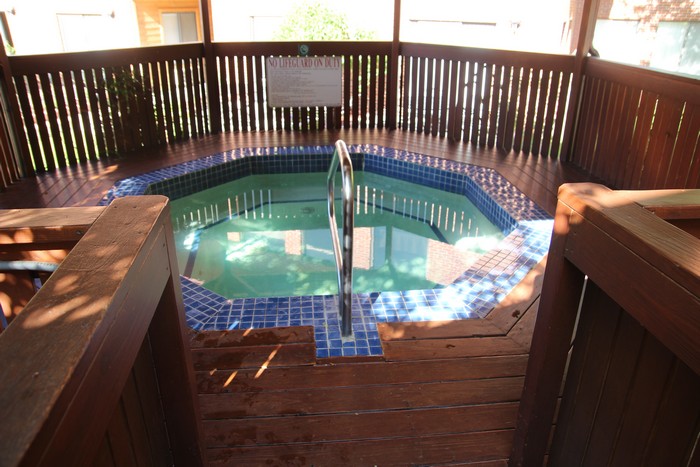 There is a large patio outside the solarium and within the courtyard.
The gym at this property is one of the weaker aspects. It's not bad, it's just different.
For starters, it's kind of shoehorned into a space adjacent to the solarium, so you could get a lot of distracting pool traffic going by. But mostly, it's full of cardio equipment. There is a multi-purpose cable tower (or whatever they are called) and a rack of free weights, but that's it. Again, the fact that they have about eight pieces of cardio equipment puts them ahead of most properties, but there's just not much on the strength side.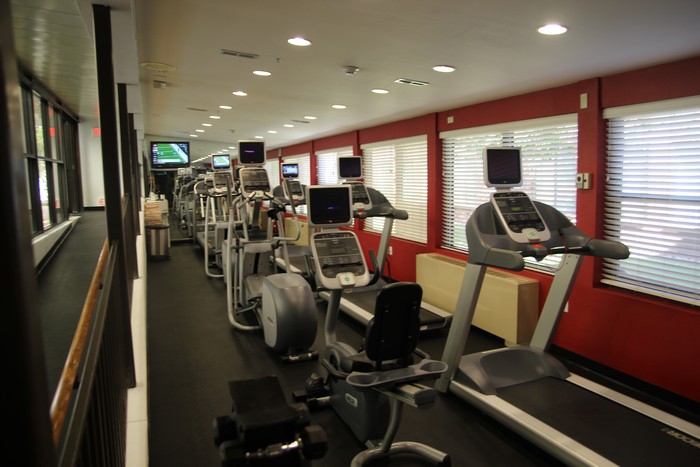 Game Room And Laundry
Perhaps one of the distinguishing characteristics of the Radisson Colorado Springs is their vintage game room. It was a real blast to introduce my 4-year old to his first game of pinball (Star Trek). I think they had two pinball machine and maybe six upright video game consoles. There's also a foosball table.
The games all take tokens that you have to buy from the front desk. Most of the games cost a quarter, pinball is 50 cents for one, or $1 for 3. The annoying part is that they won't let you bill the tokens to your room — I was really hoping to earn 77 points per dollar while trying to remember all the secret worlds in Super Mario Brothers.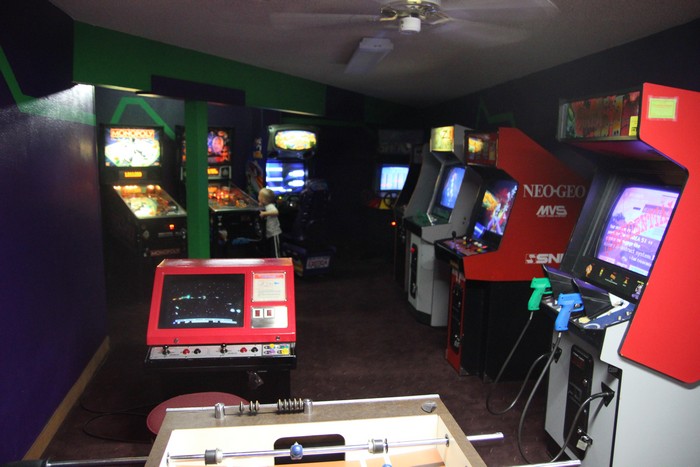 There is also a self-serve coin-op laundry which is rather unique for a full-service hotel. For a short visit, you rarely need these, but as a parent, I surely appreciate the option.
Overall
The Radisson should be your preferred airport hotel for Colorado Springs. It's also worth considering if you have reason to stay on the south side of town as it is close to a lot of attractions and even downtown. They have a lot of 1-bedroom suites, and as a Carlson Gold, I have never failed to receive one upon asking for it. Even the regular rooms are large, and that coupled with the pool and game room make this a great property for families.
I also appreciate all the little perks that the Radisson delivers, including drink chits, popcorn, breakfast (maybe not on all rates), and fruit. It probably sounds silly, but when you travel with kids, there really is value in all of those snacks.
We have always found the service here to be top-notch and professional, befitting of the high DoD presence that stays here. I'm sure we'll be back… probably the next time that Club Carlson decides to throw a shipload of points at us.