I spent about 36 hours in Toronto this past weekend visiting friends, which was my first time spending a night in the city. In the past I've visited the city for an afternoon during a long layover, and I've spent the night near the airport, but I've never spent a night in the city.
As a Hyatt and Starwood loyalist I took a close look at the options — Hyatt has two properties (a Regency and a Park), and then Starwood has several properties, all of which are mid-range and look cookie cutter.
So I decided to book the Park Hyatt Toronto, which had rates of 279CAD per night (~215USD). Best of all that rate was bookable through Virtuoso, which got me the following benefits:
Upgrade on arrival, subject to availability
Daily full breakfast, for up to two in room guests in restaurant
$100 USD equivalent Resort or Hotel credit, to be utilized during stay (not combinable, not valid on room rate, no cash value if not redeemed in full, not applicable to Spa Products purchases or Gift shop)
Early check-in/late check-out, subject to availability
Admittedly a lot of these perks overlapped with my Diamond status, but at a minimum I'd be getting a 100CAD hotel credit. The Virtuoso rate was the same as the flexible rate and just 15CAD per night higher than the advance purchase rate, so was well worth it to me.
I should note that before I stayed here, several friends warned me that this is one of the dumpier Park Hyatts out there, and isn't really worthy of the Park Hyatt flag, so I came in with fairly low expectations.
I took an Uber to my hotel on Friday evening, which cost about 35CAD. The drive took about 40 minutes, as I was fortunately arriving shortly after prime rush hour.
This is one of the larger Park Hyatt properties, with 346 rooms. The hotel has two towers, which are connected by a long hallway and the lobby.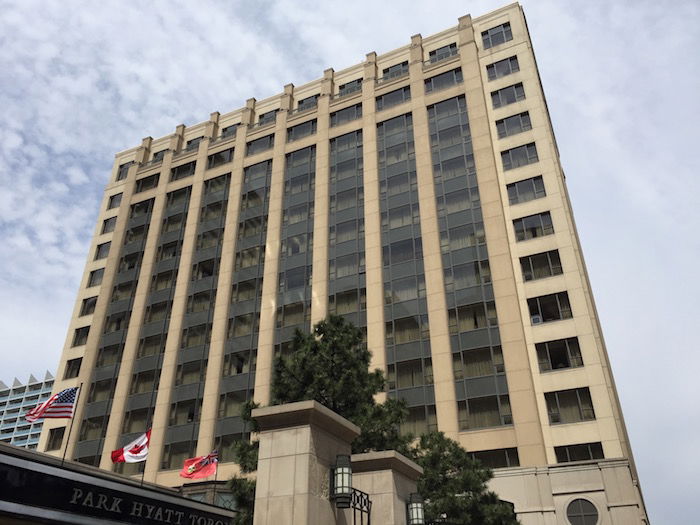 Park Hyatt Toronto exterior
As I pulled up to the hotel I was completely ignored by the bellmen. Not that I needed help since I just had a carry-on, but usually at luxury hotels (or any hotels, for that matter) they'll at least greet you and point you towards reception.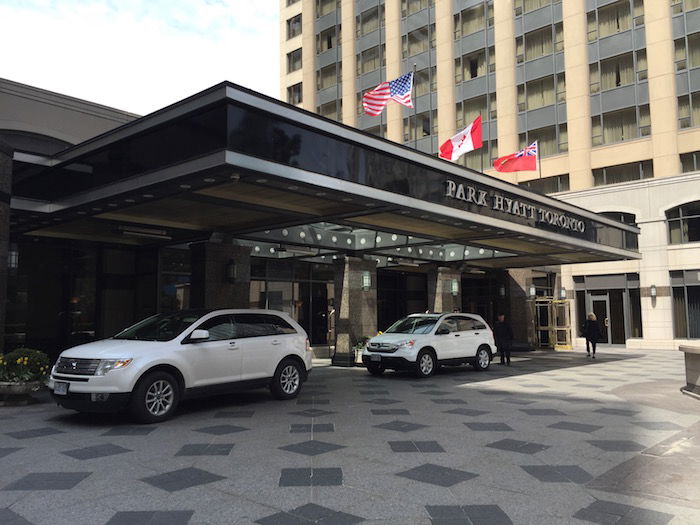 Park Hyatt Toronto driveway
When facing the hotel, the lobby is located towards the left, and it's definitely rather old world, though at least manages not to be too outdated.
While the bellmen ignored me, the front office associate checking me in was extremely friendly and efficient. I was checking in at around 7:20PM and told her I had dinner plans at 7:30PM, so she had me checked in within a minute. She informed me that I'd receive breakfast, and that I've also been upgraded to the hotel's single renovated room, which they're testing as a model for how to redo all the rooms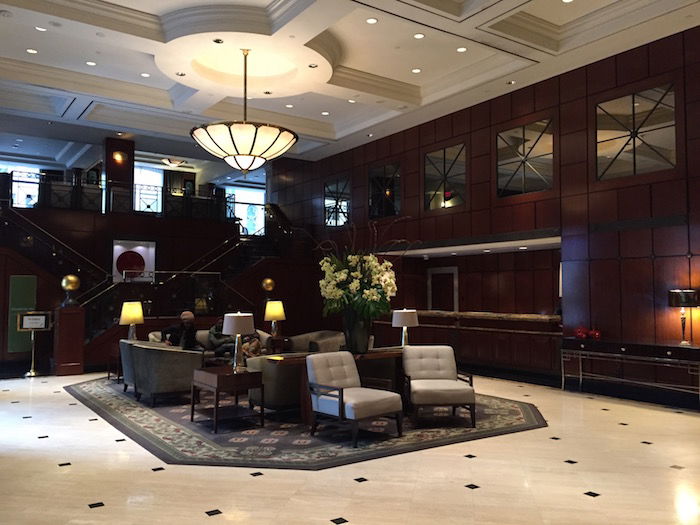 Park Hyatt Toronto lobby
I was also given a letter explaining the Virtuoso privileges.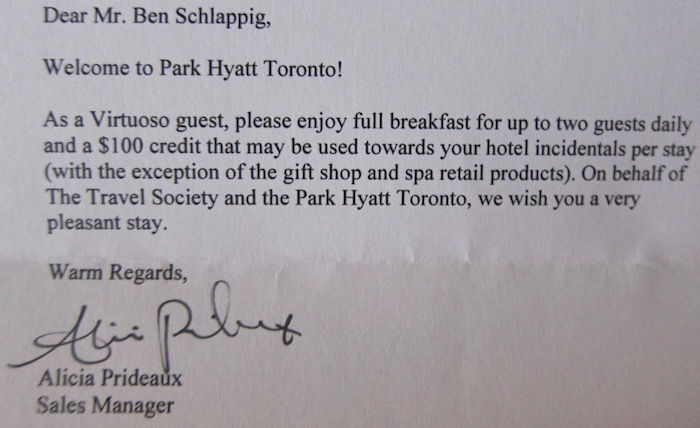 Park Hyatt Toronto Virtuoso welcome letter
My room was located on the opposite side of the hotel, so I took the long hallway to the other end. I sort of loved the design of the hallway, which is timeless, in my opinion.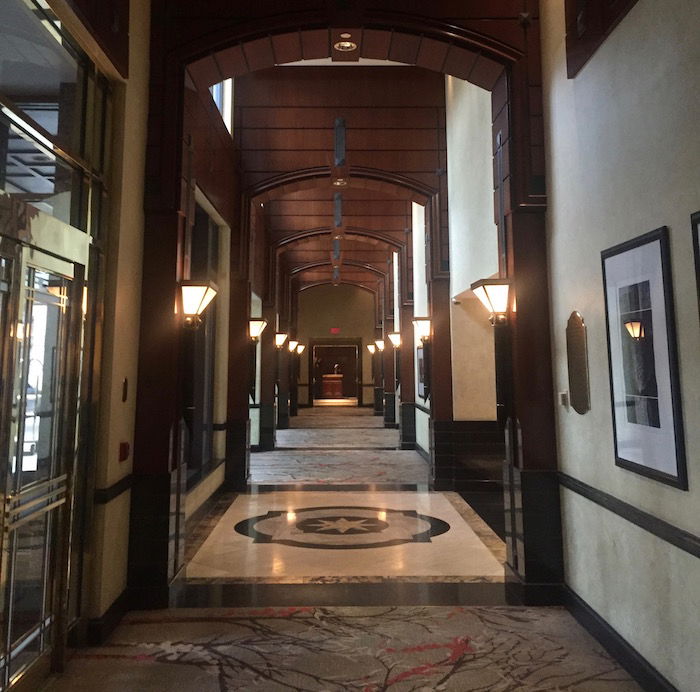 Park Hyatt Toronto hallway to elevators
At the end of the hallway were the three elevators to guest rooms (which are slightly less timeless, in my opinion).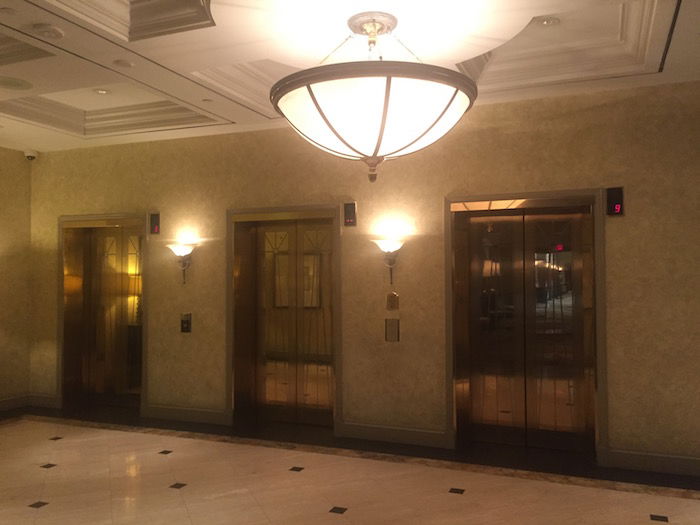 Park Hyatt Toronto elevators
I took the elevator up to the eighth floor, where my room was located.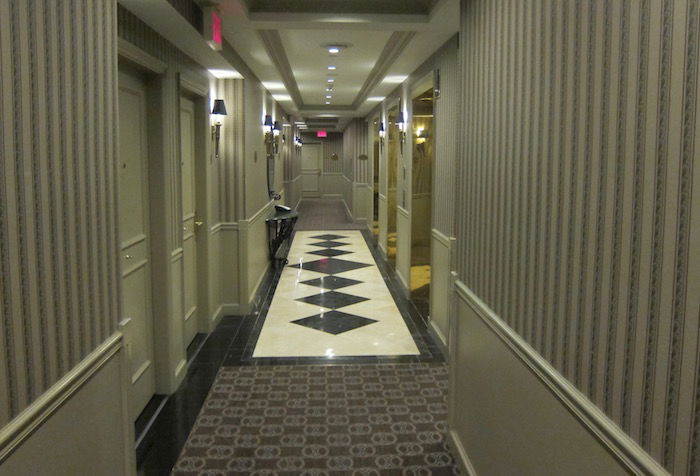 Park Hyatt Toronto hallway
I was assigned room 833, which had me turning left out of the elevator, and then it was at the end of the hallway on the right. Let me say once again that this is the one renovated room in the hotel, which they apparently completed a bit over a month ago. They're testing it for a while to work out the kinks, and will then bring the design hotel-wide.
The room featured a wide entryway, with a connecting door on the right and the bathroom on the left. The room was quite large and it's clear they wanted to fill all the space, though I found the presence of two benches in the entryway to a standard room to be a bit odd. I can see using one as a luggage stand, but two seems like an overkill.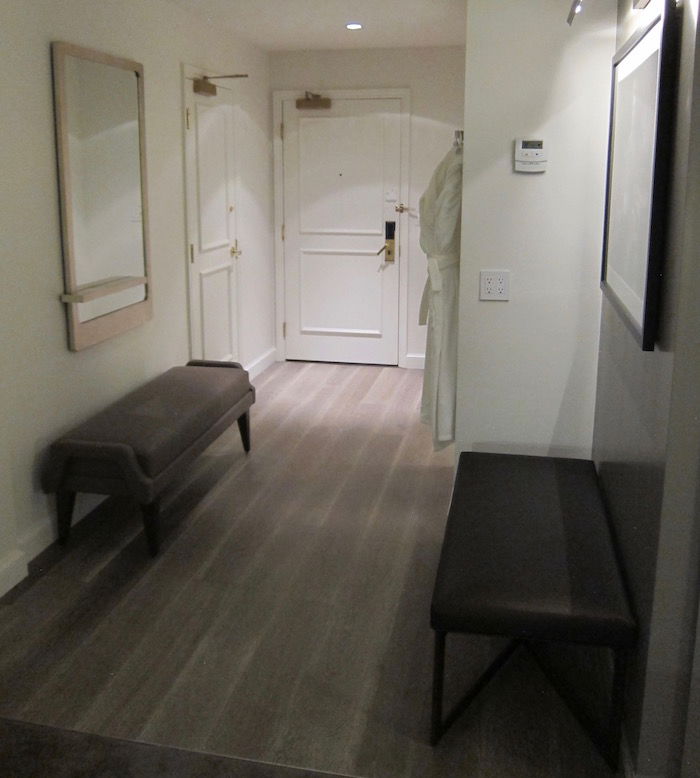 Park Hyatt Toronto renovated king room entrance
The room was a great size, with a king size bed, curved couch, and desk.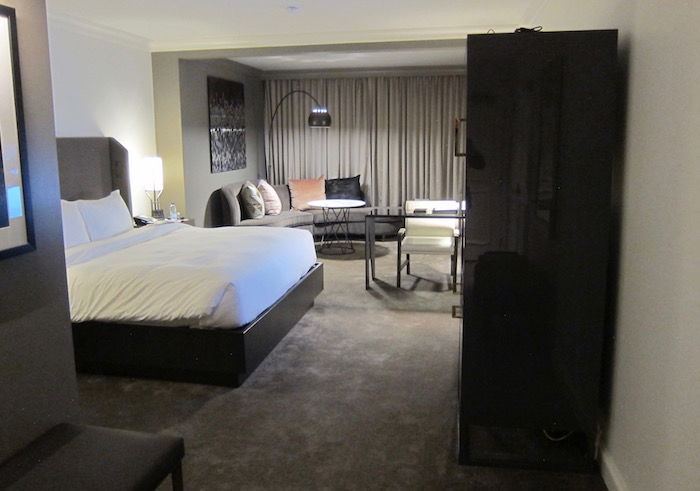 Park Hyatt Toronto renovated king room
The king size bed was extremely comfortable, and I especially liked that the pillows were quite large (I really don't like square pillows).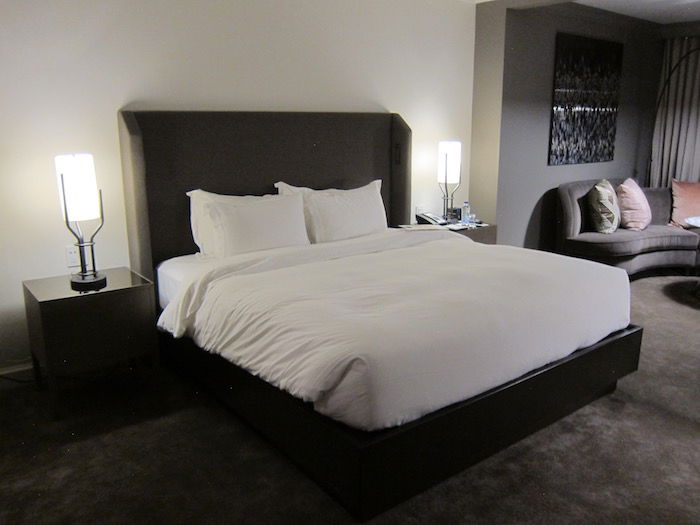 Park Hyatt Toronto renovated king room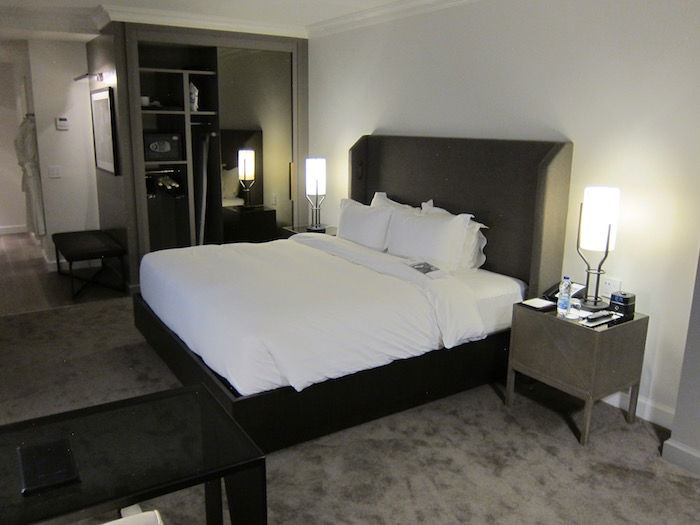 Park Hyatt Toronto king room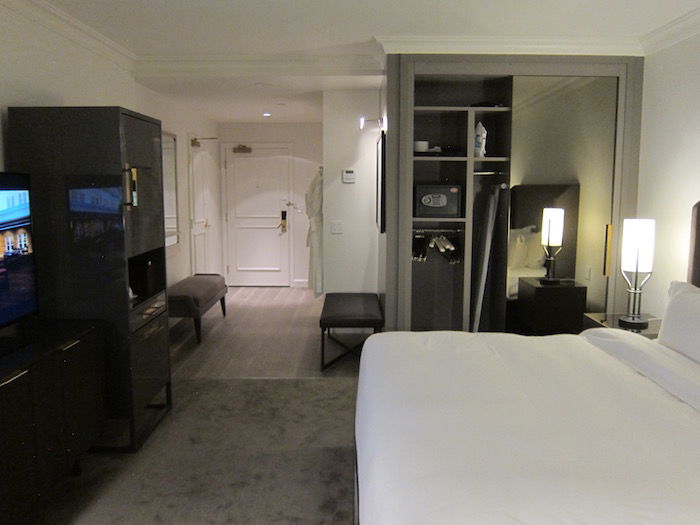 Park Hyatt Toronto renovated king room
The desk featured a comfortable leather chair, lamp, and phone.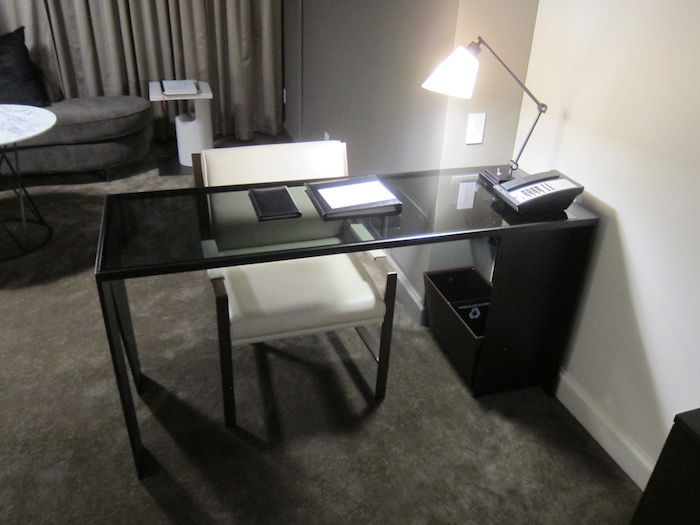 Park Hyatt Toronto king room desk
Then in the corner was a curved couch which could seat several people. There was both a side table, as well as a larger table in front of the couch. The couch was comfortable, so I really liked the design, as I haven't seen one of these in a hotel room before.
There was a big lamp behind the couch. The only issue is that best I could tell you could only turn it on using the button which was on the floor behind the couch. There was no easy way to reach it, though.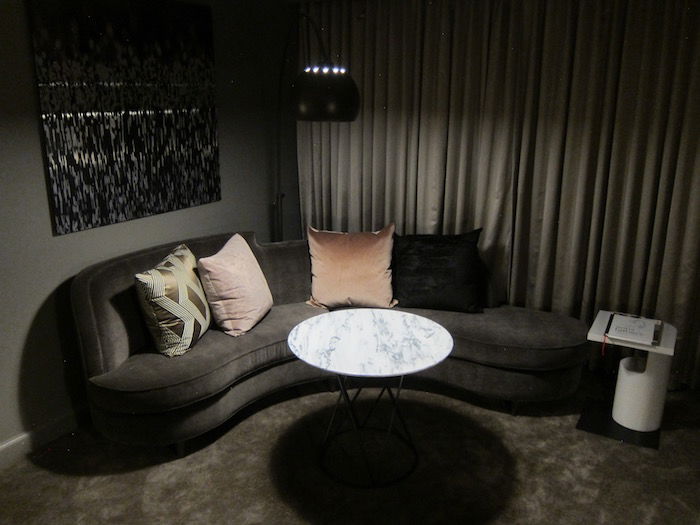 Park Hyatt Toronto king room seating area
Across from the bed was a large flat screen TV on a chest, and next to that was the minibar.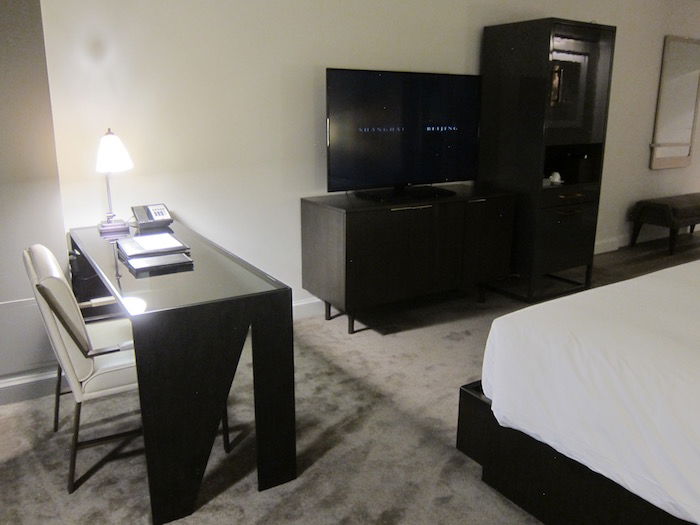 Park Hyatt Toronto king room desk & TV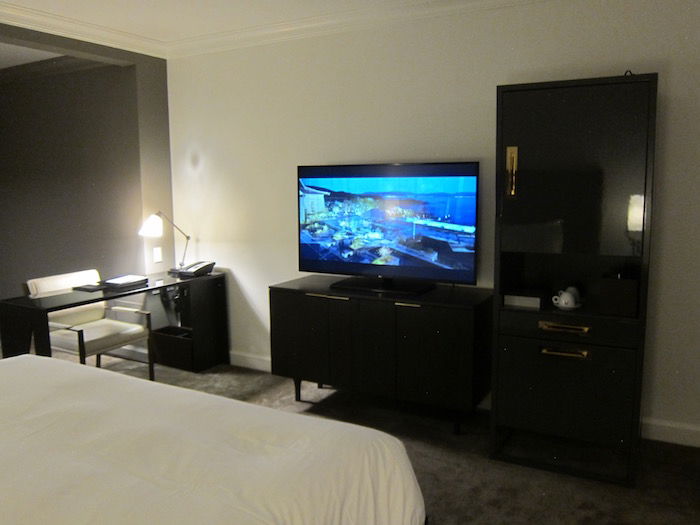 Park Hyatt Toronto king room desk & TV
There was an illy coffee machine inside the minibar, which made some great coffee — I actually liked it more than a Nespresso machine.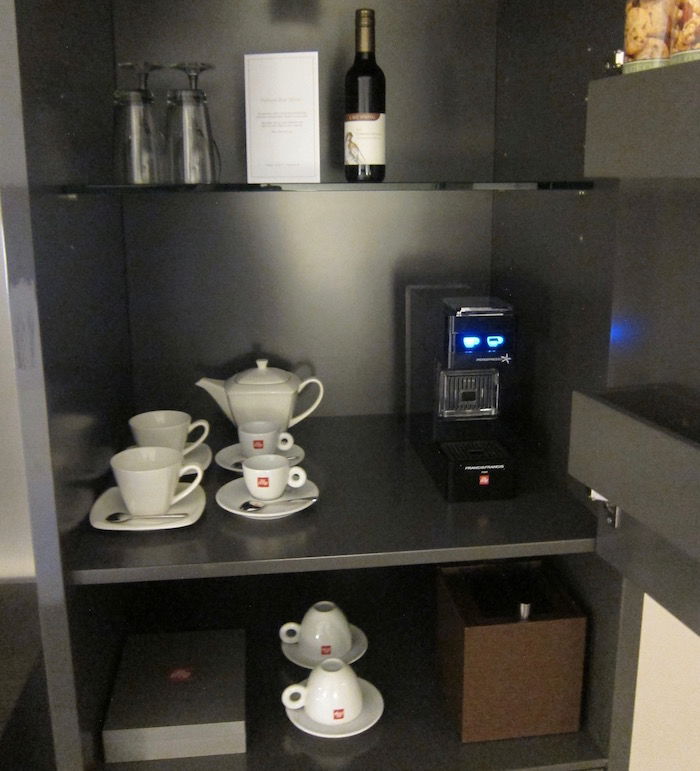 Park Hyatt Toronto king room minibar and illy coffee machine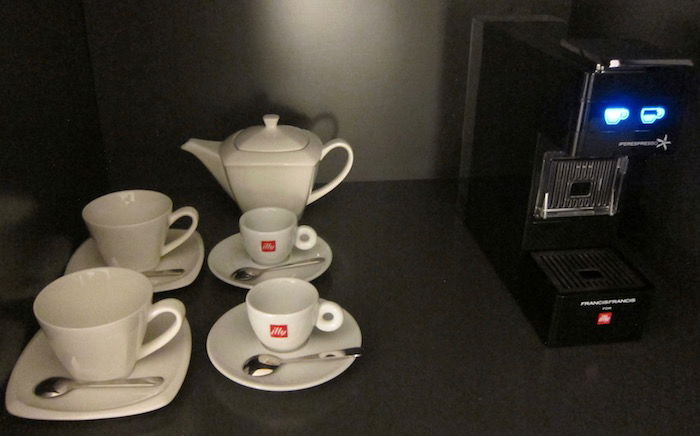 Park Hyatt Toronto king room illy coffee machine
The refrigerated items in the minibar were all in a pull-out drawer, as I've found to be the case at many hotels.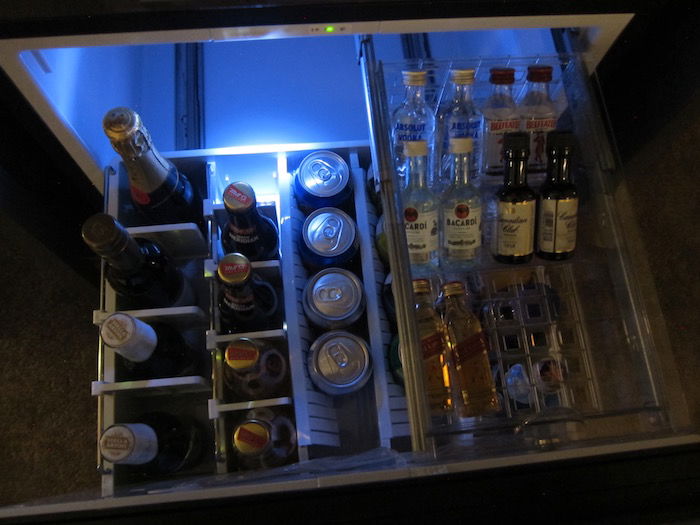 Park Hyatt Toronto king room minibar
The room faced views of the surrounding streets and buildings, though since I was only on the eighth floor, there wasn't much to see. At least the immediate area was pretty quiet.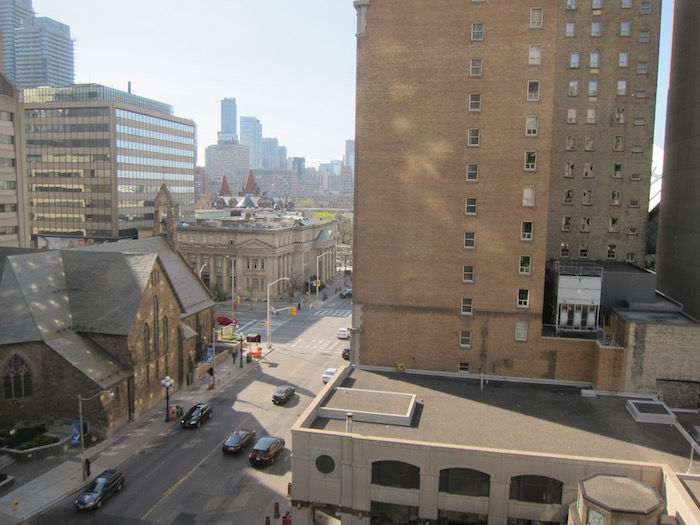 Park Hyatt Toronto renovated room view
The bathroom featured a sink, toilet, and then a walk-in shower.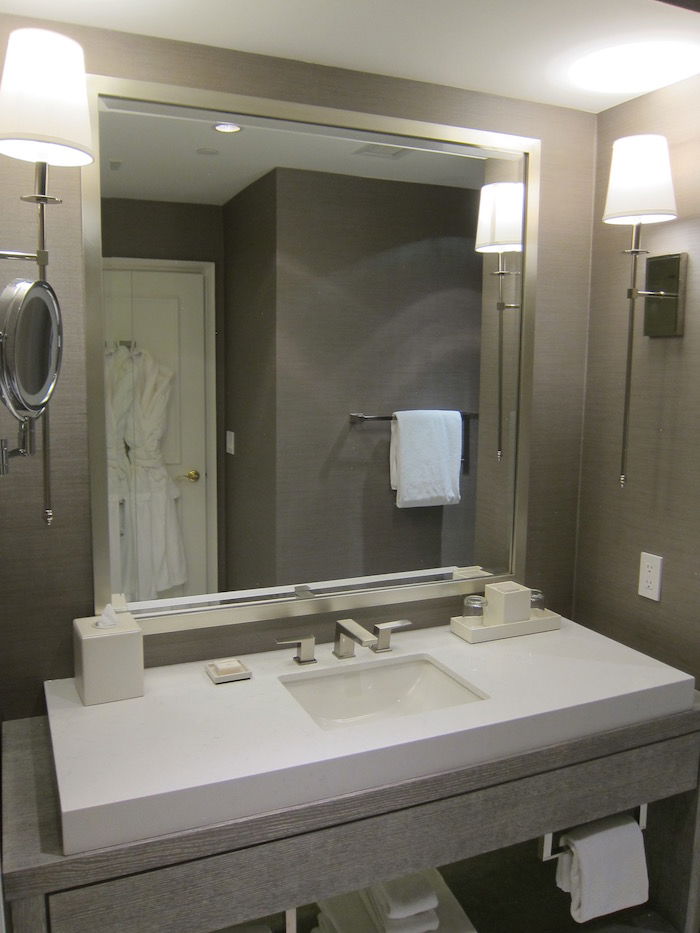 Park Hyatt Toronto renovated room bathroom
The toilet was located to the right of the sink, and wasn't partitioned off in any way.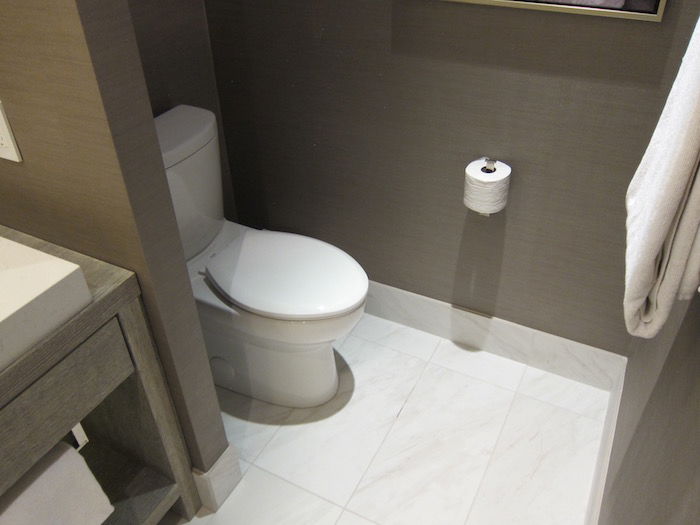 Park Hyatt Toronto renovated room toilet
Then there was the shower, which had fantastic water pressure and two heads, but there's just one major issue — the shower controls are on the opposite side of the shower of where you enter. The shower controls aren't labeled, so the only way to turn on water is by getting in the shower and getting soaked. It amazes me how many hotels screw this up — have the people who designed these showers never stayed in a hotel before?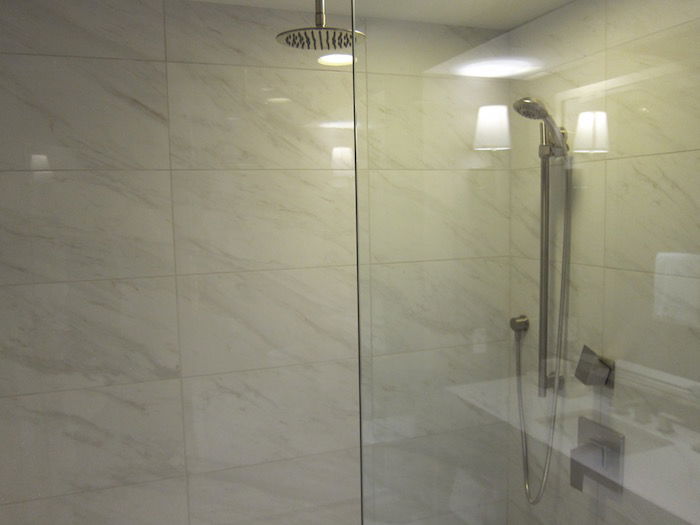 Park Hyatt Toronto renovated room shower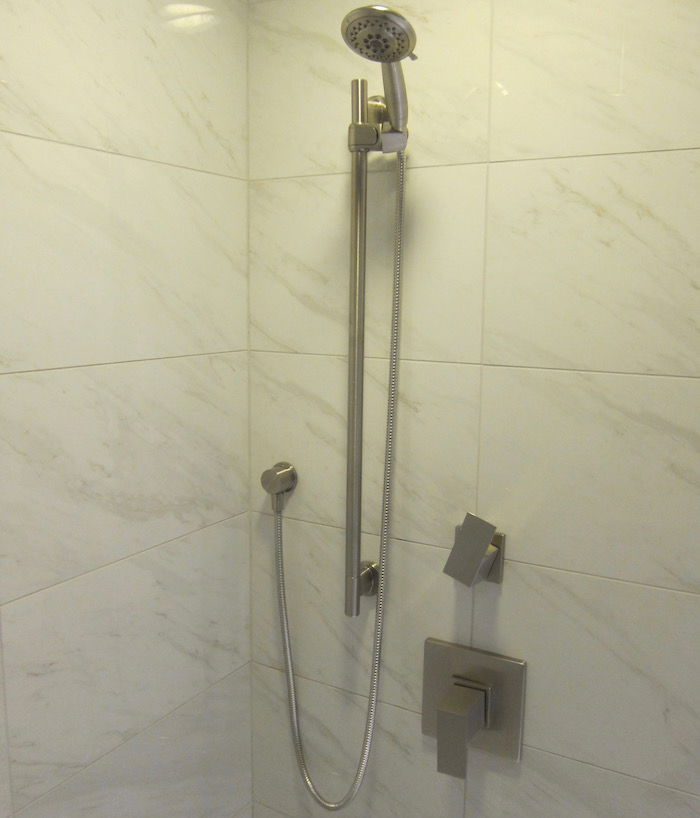 Park Hyatt Toronto renovated room shower
All bath amenities were the Bergamote 22 line from Le Labo, which is tough to beat.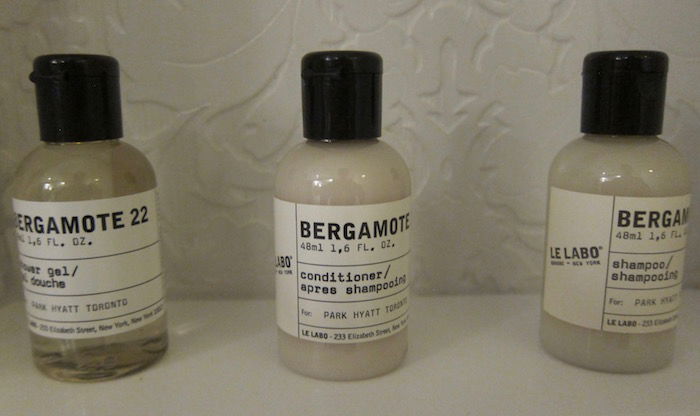 Park Hyatt Toronto renovated room Bergamote toiletries
I've never stayed in the old rooms, though I think the hotel did a fantastic job with their new model room, all things considered. The decor is modern and (for the most part) functional, so I assume this will be a huge improvement over their old rooms.
The first morning I had breakfast at the hotel's restaurant, Annona, which serves breakfast starting at 6:30AM.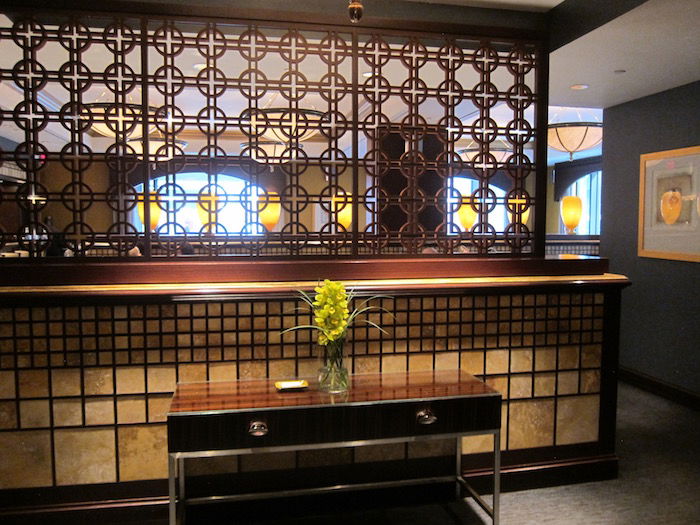 Park Hyatt Toronto restaurant entrance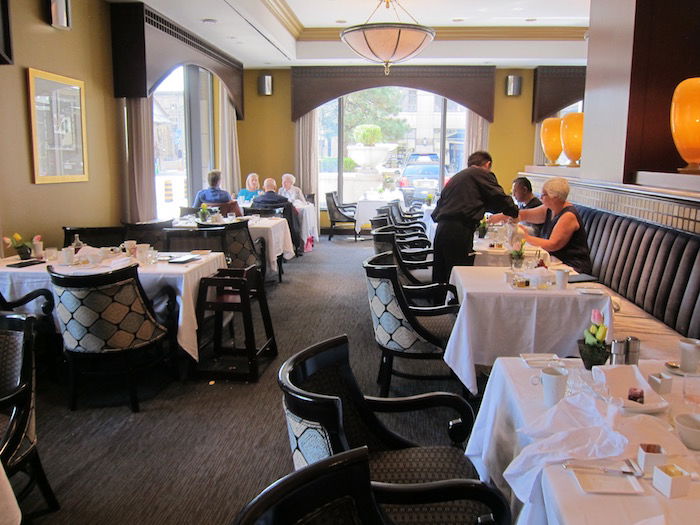 Park Hyatt Toronto restaurant
The breakfast menu read as follows: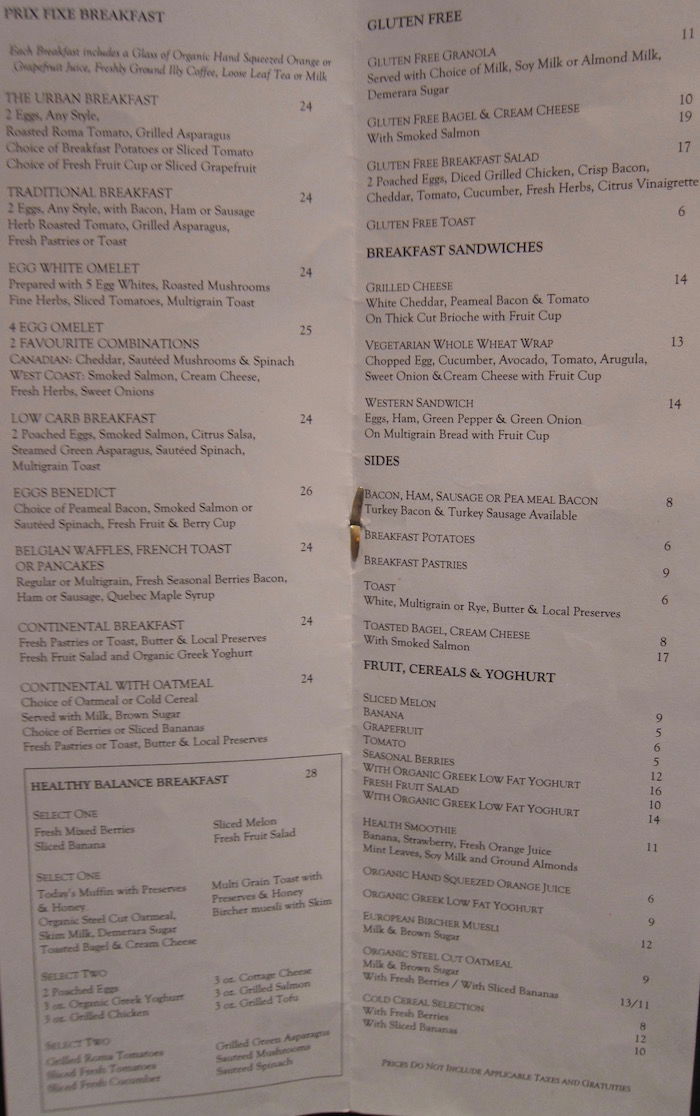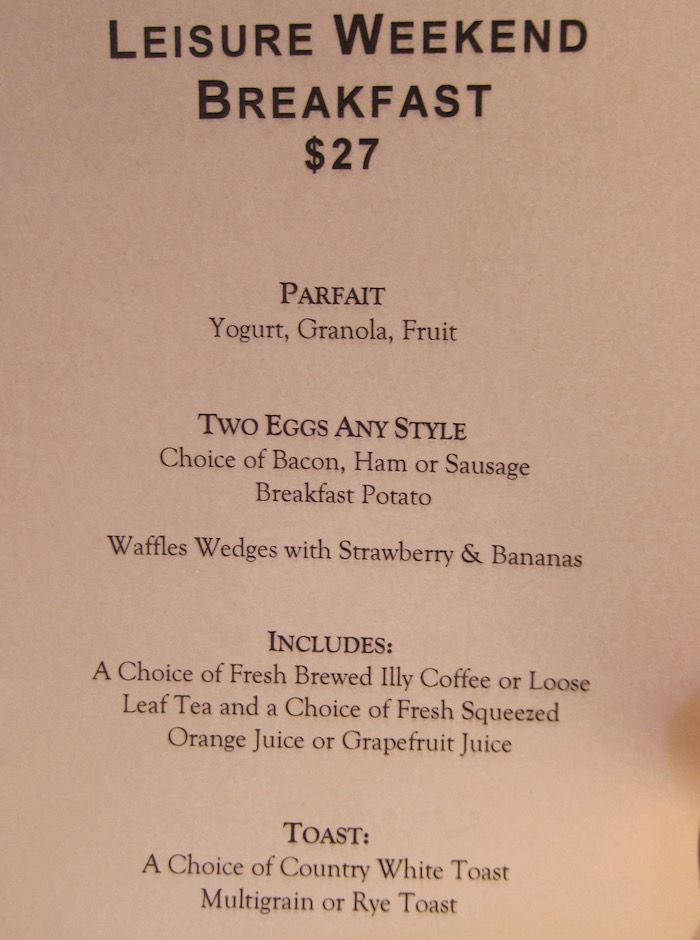 I selected the "Leisure Weekend Breakfast." While breakfast was included, I couldn't help but think it was an especially good value for breakfast at a luxury hotel, especially when you consider the prices are in CAD and not USD.
The breakfast came with illy coffee and fresh squeezed orange juice. Since the breakfast included waffles, I was brought a cute maple leaf-shaped bottle of maple syrup.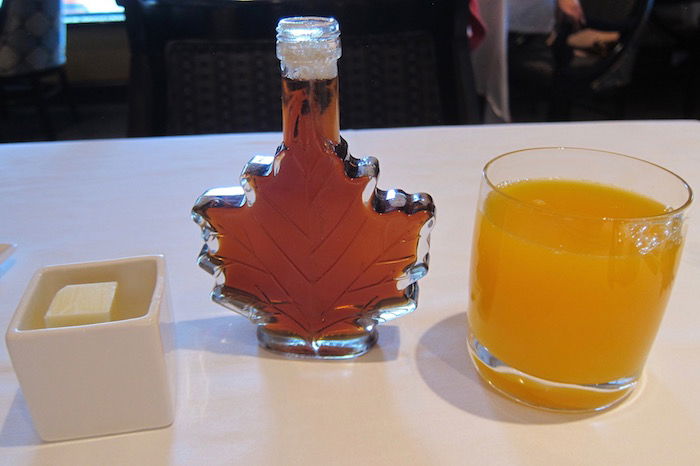 Park Hyatt Toronto breakfast — orange juice and maple syrup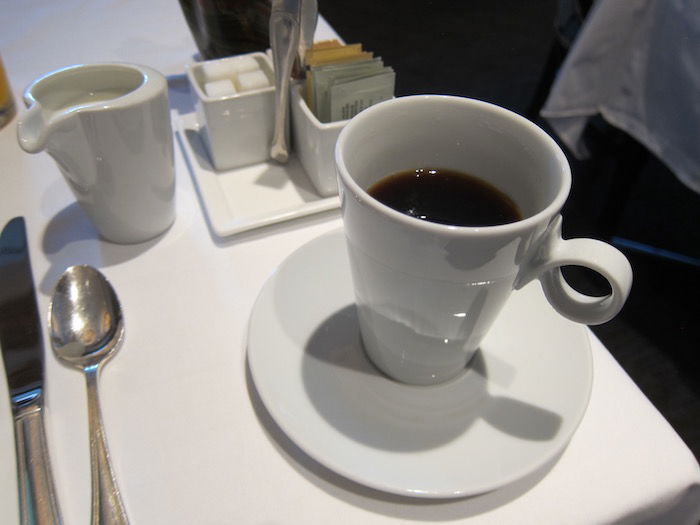 Park Hyatt Toronto breakfast — illy coffee
The breakfast began with a yogurt parfait, which was tasty as could be.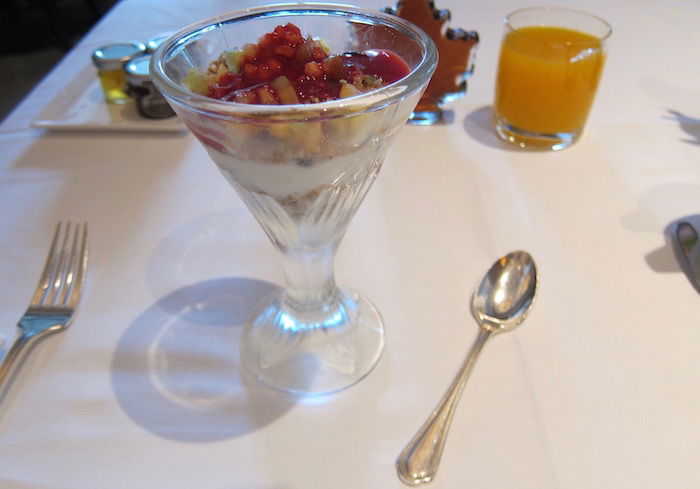 Park Hyatt Toronto breakfast — yogurt, granola, and fruit parfait
Once the main arrived I realized I had ordered way too much food. Breakfast consisted of toast, waffles with strawberries and bananas, scrambled eggs (which I requested well done), breakfast potatoes, and a side of fruit (which I was offered since I didn't want any of the meat which usually comes with breakfast).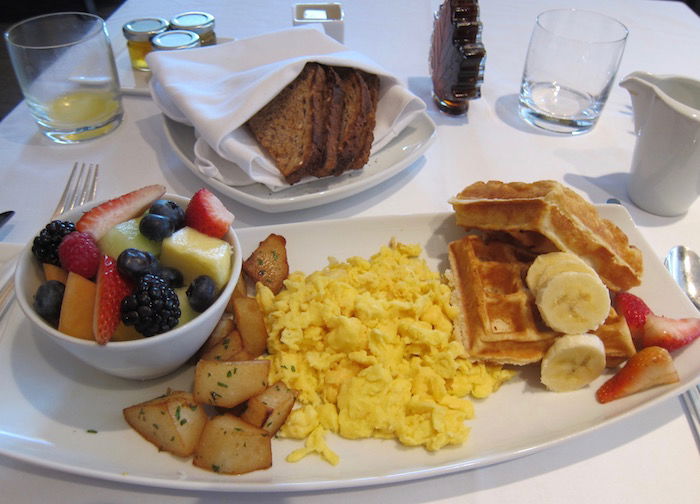 Park Hyatt Toronto breakfast — scrambled eggs, fresh fruit, and waffles
Breakfast was tasty, though service was slow. There seemed to be one guy serving the entire area, so when I was done it was 15 minutes before I could flag him down and sign the check.
I also ordered room service lunch one day (I know, Anthony Bourdain would be appalled), and ordered french onion soup, chickpea curry with broccoli, and coffee.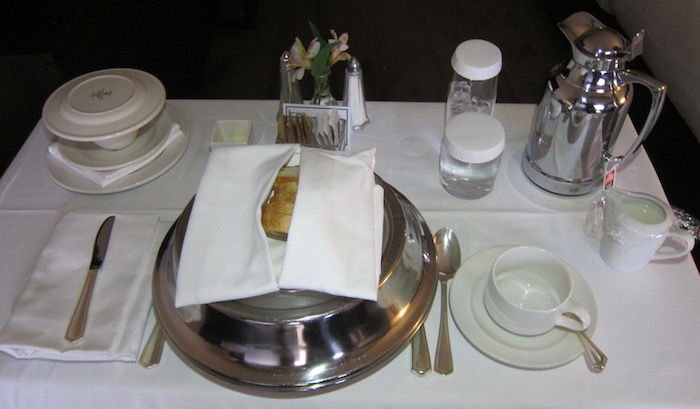 Park Hyatt Toronto room service lunch
Both dishes were excellent.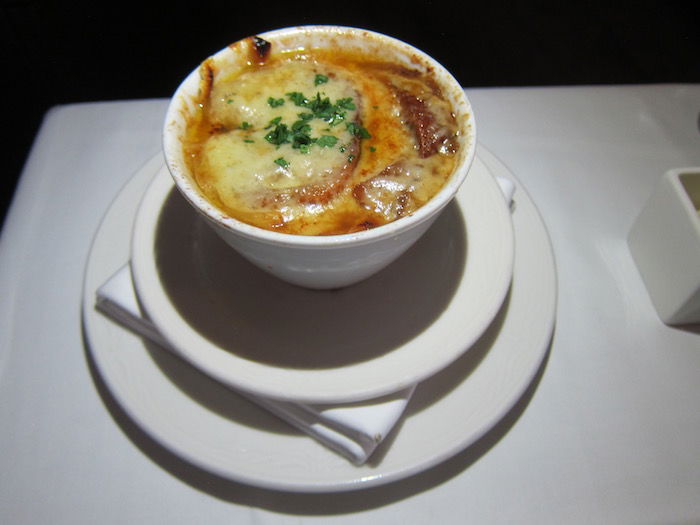 Park Hyatt Toronto room service lunch — french onion soup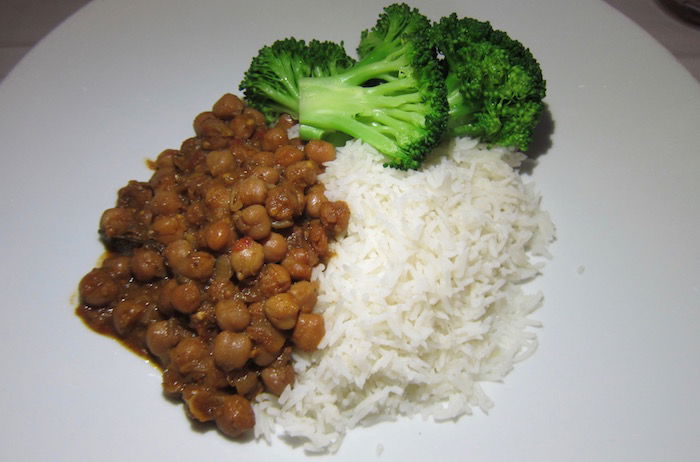 Park Hyatt Toronto room service lunch — chickpea and broccoli curry
I also used the hotel's gym once, which is on the basement level. I'm not sure if they're renovating the gym and just have a temporary setup or what, because the gym was abysmal.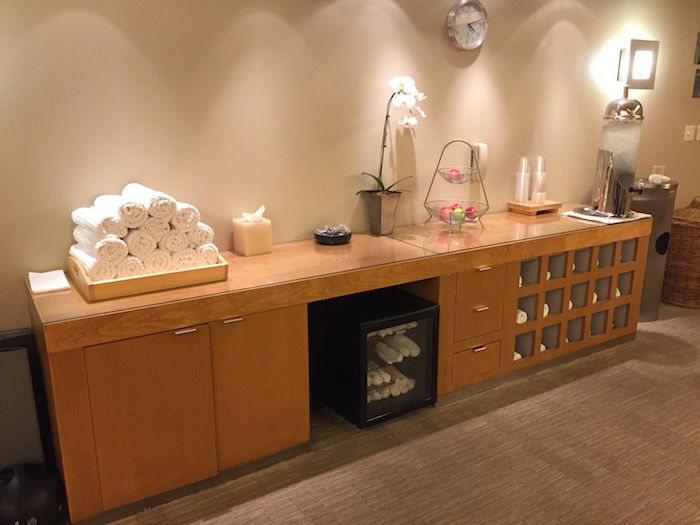 Park Hyatt Toronto gym
It had more than enough treadmills, ellipticals, and bikes, but other than that just had a set of weights and three weight machines. That would be acceptable for a secluded resort, but for a city hotel that seems rather underwhelming.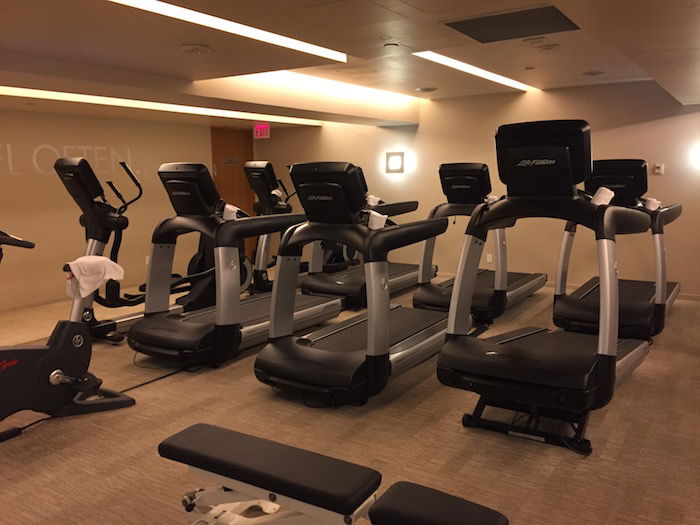 Park Hyatt Toronto gym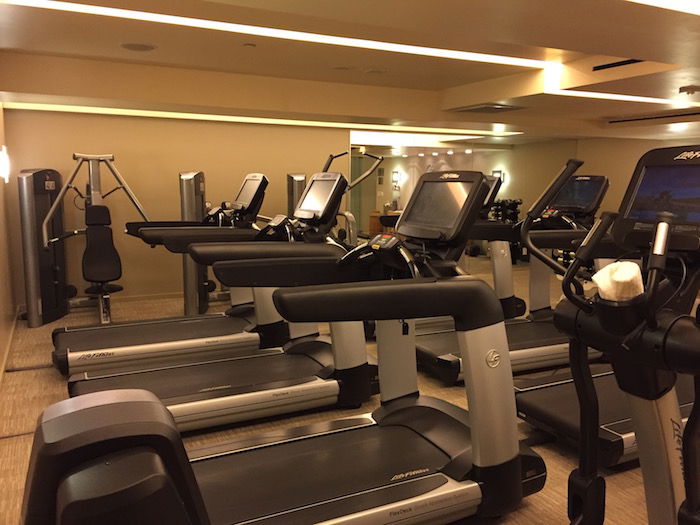 Park Hyatt Toronto gym
My flight on Sunday morning was at 8AM, so I left the hotel at around 6AM. Check-out was efficient, and the drive to the airport took about 25 minutes.
Park Hyatt Toronto bottom line
Is this property to the level of the Park Hyatt Maldives, Park Hyatt Sydney, etc.? Nope. But it's a solid city hotel, and given the price point, I'd definitely return.
The renovated room was well done overall, so it'll be great when the design is expanded to other rooms. I found the hotel's location to be good, though I'm also not an expert on Toronto. Service at the hotel was hit or miss, and the hotel lacked the lux feeling you get from some other Park Hyatt properties.
But overall Toronto doesn't seem like an amazing hotel market, so I'd recommend the Park Hyatt (at least the renovated room, which is all I can speak to as of now).
Do you have a favorite Toronto hotel?