As y'all know, I'm kind of a Qatar Airways enthusiast. I was on the Qatar Airways A380 inaugural flight, and am booked on the Qatar Airways A350 inaugural commercial flight from Doha to Frankfurt in January.
Today is the day that Qatar Airways is taking delivery of their first A350, and there's a pretty big ceremony planned. Originally it was supposed to be a couple of weeks ago, but it ended up getting delayed.
A friend managed to get me an invite to the event, and I can't even begin to say how excited I am.
Check out who's in attendance: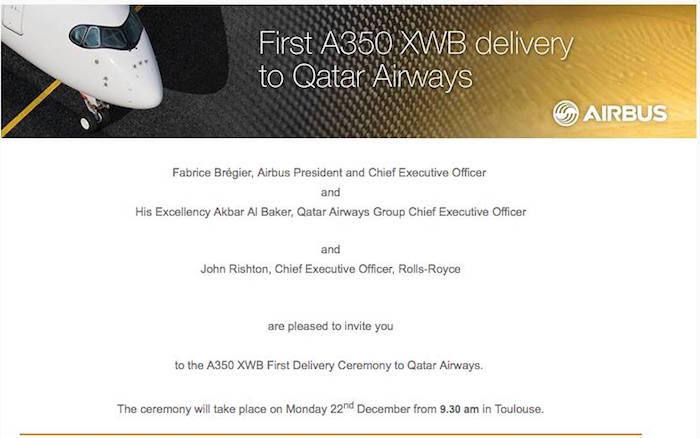 I'll be posting lots of updates throughout the day, so make sure you're following along on:
Apparently there will be a media flight around Toulouse, so if all goes as planned I may have a chance to fly the A350 today. Here's to hoping the photo ops extend beyond the A350 itself, and include opportunities to get pictures with His Excellency. If so, I'll be first in line!
Hope everyone is having an equally, ahem, "Excellent," Monday, and stay tuned for lots of pictures and updates on social media.