I've been meaning to visit the Andaz San Diego for a while now, since it's the one Andaz hotel in North America I've yet to visit. I love San Diego and I love Andaz, so when I found a reasonable fare to San Diego and time in my schedule, I booked it.
Andaz is a funny brand. Their three other properties in the US are in West Hollywood, New York 5th Avenue, and New York Wall Street. My first stay at each of those three hotels was subpar in some way (at least at the beginning), but in the meantime I've grown to love the brand as all my subsequent stays have been excellent.
My rate was originally $249 per night, since the hotel was sold out, and it was the "guaranteed Diamond rate." For a sold out hotel that's not a bad rate, but as my stay approached I kept checking back and noticed the rate dropped – first to $229, then to $209, and then to a AAA rate (including breakfast) of $193. So over my two-night stay I saved around $150 (factoring in the reduction in taxes due to the lower rate) just by checking back and constantly rebooking my stay. It's just another reason to never book a pre-paid rate, since the flexible rate might just end up being lower.
I took a cab from San Diego Airport, which took about 15 minutes and cost about $15.
In the lobby I was greeted by one of the "hosts." As is typical at Andaz hotels, there's no formal front desk, but rather "hosts" that roam around with tablets helping guests check-in.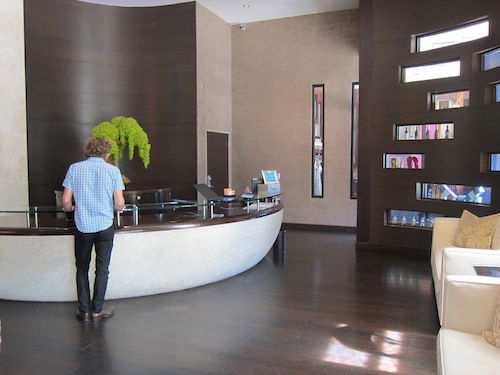 Lobby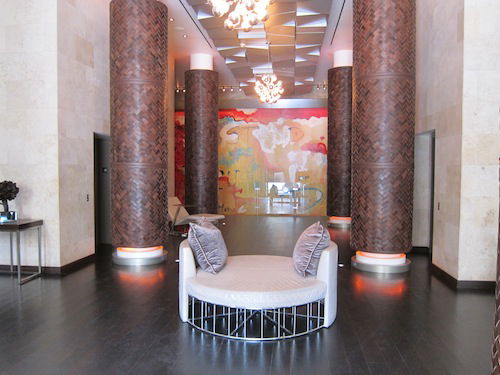 Lobby
I'm the least "hip" person out there so usually I kind of expect a pretentious attitude at these styles of hotels, but there was none to be found. I was addressed by my last name several times throughout the interaction and informed of Diamond benefits (including that I could have complimentary breakfast either in my room or the restaurant). The host explained my room would be ready in about 30 minutes (I was checking in at around noon), which I was perfectly fine with. He invited me to go up to the rooftop to hang out and use the Wi-Fi if I wanted, which I did.
The rooftop is probably the highlight of the hotel… sort of. It has plenty of areas to "lounge" and also a really cool pool. Unfortunately it's populated by the douchey, type-A, So-Cal crowd, which makes it almost unbearable. I'm not just talking about average Southern Californians, but rather girls who are absolutely convinced Katy Perry's "California Girls" song is written about them. I think I've met my overhearing "Oh my God, I'm like so hungover, but last night was AY-MAZE-ING" quota for the year. Anyway, that's a function of the location and not the hotel as such, so take it with a grain of salt.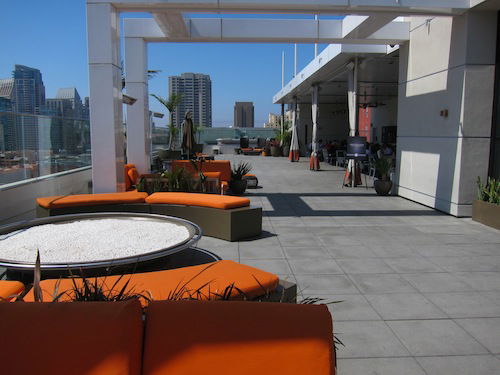 Rooftop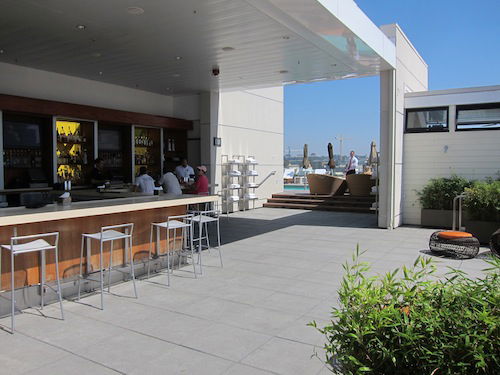 Rooftop bar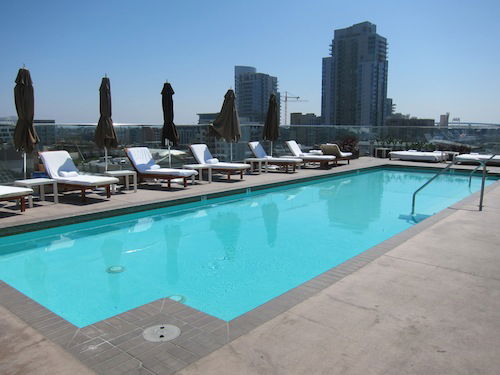 Rooftop pool
After spending about 45 minutes on the rooftop I went back to the lobby. The agent remembered my name and said my room was now ready, so made the keys for me.
I was assigned room 421, which was as far as I could tell a standard room. I was traveling alone so didn't mind not receiving an upgrade, especially since the hotel did seem to be full.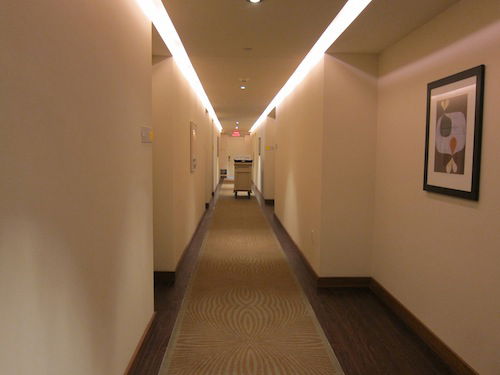 Hallway
The room was fairly small though well appointed.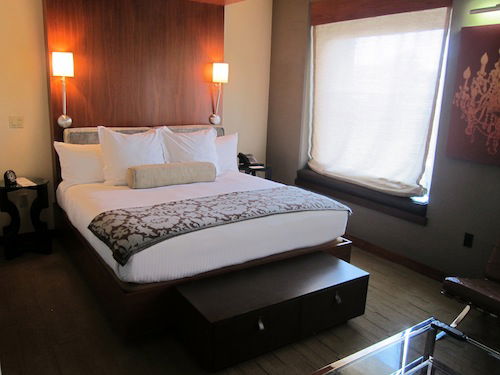 Room 421
In addition to a king size bed the room featured a modern couch and workstation.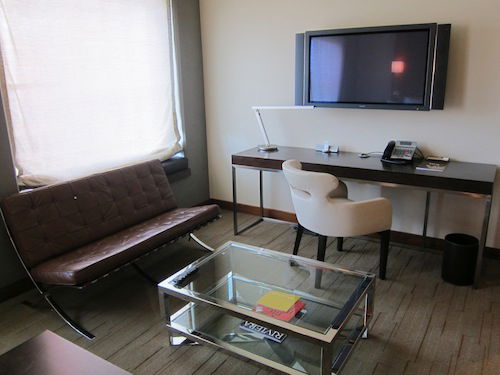 Couch and desk
The bathroom featured one of those fancy showers that should require a manual. Interestingly it had a glass wall on both sides, so you could see into the bathroom and into the bedroom. No problem if you're traveling alone or with a spouse, though be sure you also close the blinds or else someone from the building across the street could look straight into your shower.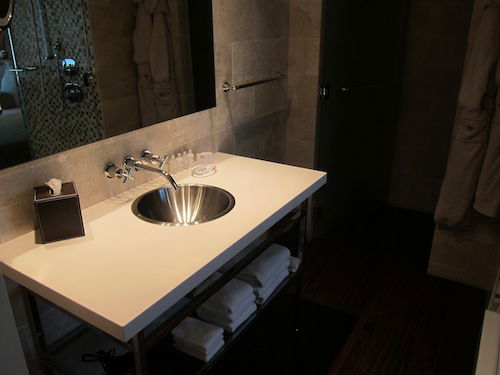 Sink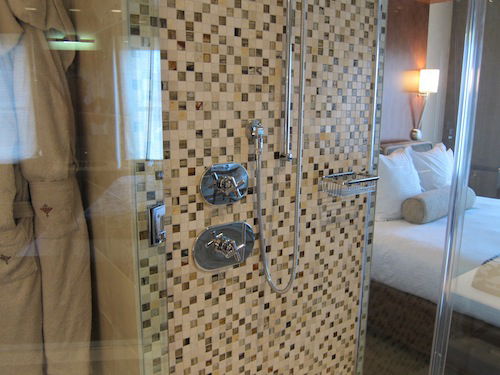 Shower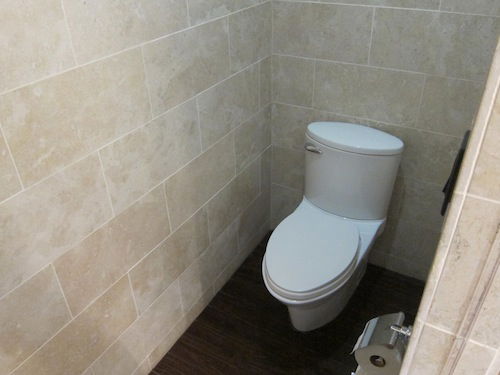 Toilet
There was also a minibar, and as is always the case at Andaz hotels, the soft drinks and some of the snacks were free. Typically all the snacks are free, though in fairness the Andaz San Diego has a much more extensive snack selection than any other Andaz I've visited. Unfortunately the "Booty Parlor" intimacy kit and vibrator that were with the snacks weren't free. 😉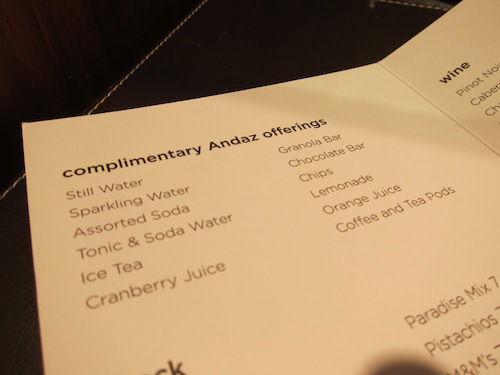 Free minibar items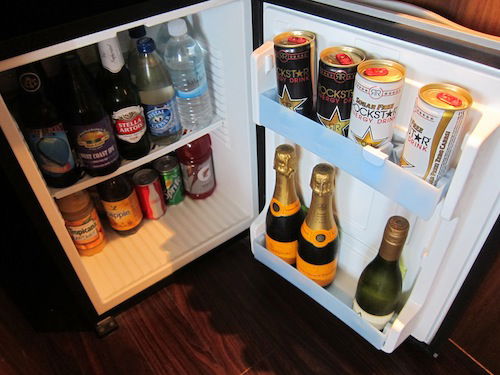 Minibar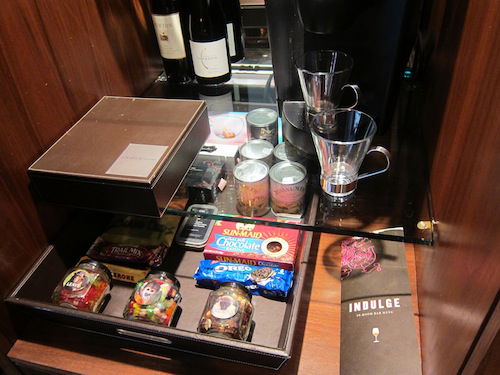 Minibar
As far as the features of the room goes, one area they could improve on is outlets. There weren't any near the desk. While it worked out fine because I had my longer cords with me, it's ridiculous that there aren't more outlets near the desk, especially given that the hotel was only recently rebranded.
On the plus side, I really liked the blackout curtains they have. I had taken a 6AM flight from Tampa and pulled an all nighter the night before, so I was happy to be able to get some "real" sleep during the day.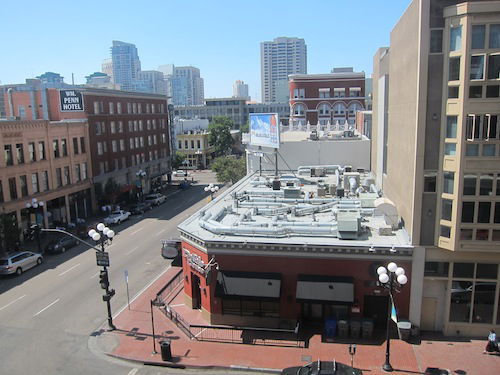 View from my room
Speaking of keeping the outside world out – while the blackout curtains were great, there was a ton of outside noise. The Andaz not only has its own nightclub, Ivy, but there's also another bar right across the street, called Double Deuce. The noise was so loud from around 11PM till 2AM that I literally couldn't sleep. I don't know if the sound insulation sucks or if the bar was just that loud, though for anyone that is a light sleeper, this could be a serious issue.
Another highlight of the hotel was the breakfast. The first morning I ordered an omelet and fruit plate via room service. It was delivered within 20 minutes and was delicious. The omelet had veggies and cheddar cheese, and was served with potatoes and two slices of multi-grain toast.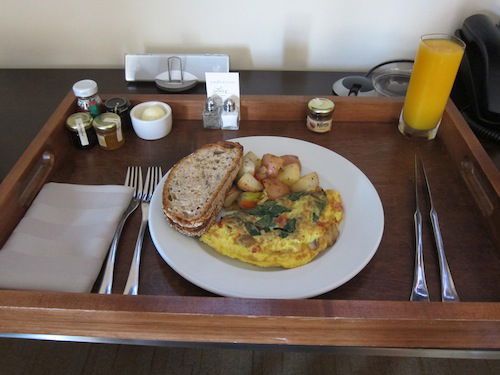 Room service breakfast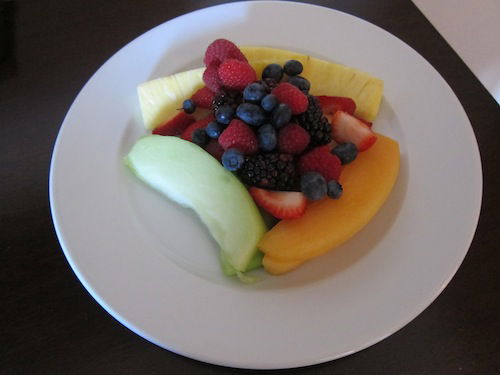 Fruit plate
The second morning I had breakfast in the restaurant, Quarter Kitchen. I got there just before it closed at 11AM so it was fairly empty, though the service was still good. What I found interesting is that the omelet cost $15 via room service, while it cost $10 in the restaurant. While I realize there's a premium for room service, a $5 difference, plus a $3 delivery charge, plus the forced 20% gratuity seems pretty substantial. That being said I thought $15 was reasonable to begin with, so the $10 charged was especially reasonable for a hotel restaurant, for those that aren't Diamond members or might be locals.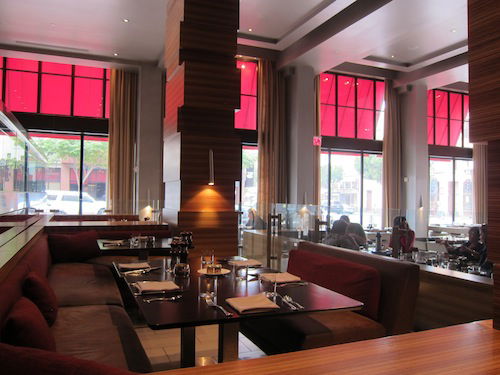 Quarter Kitchen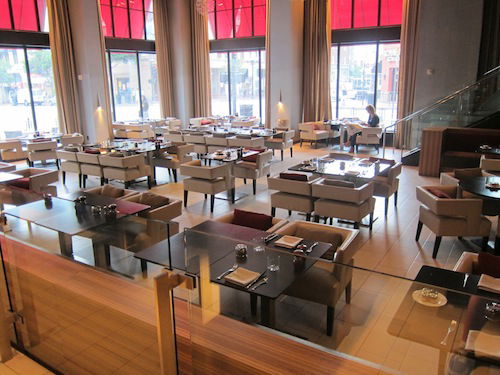 Quarter Kitchen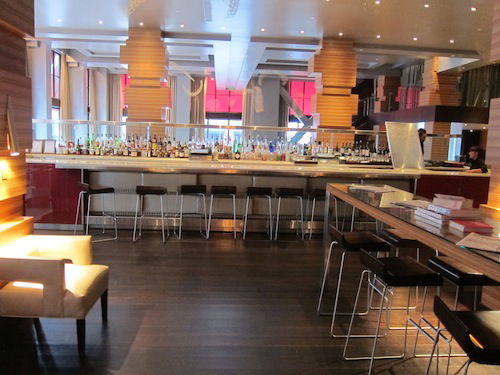 Quater Kitchen
One night I also ordered dinner via room service because I caught a cold while traveling, which was also good.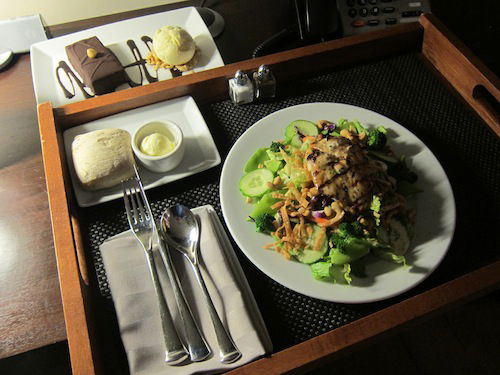 Room service dinner
On the whole I'd definitely return to the Andaz San Diego. Having tried all the Andaz hotels in the US, I can officially say that I love them all. I'd return in a heartbeat, though I'd be sure to take a nap during the day in anticipation of being up until 2AM due to the nightclub at the hotel and bar across the street.