As we all know, Delta is constantly trying to move their SkyMiles program to a revenue based model in every way, both on the earning and redeeming side. This is evident based on the fact that there are increasingly ways to redeem miles for things other than flights, and they generally seem to be pegging each SkyMile at about a cent of value.
The increasing ways to redeem SkyMiles is both good and bad, depending on how you look at it — it's good if you're someone who isn't great at redeeming miles, since this makes it easier to "cash out," while it's bad if you're someone who is good at maximizing miles, since it brings all redemptions down to a similar level.
Delta has now introduced a new way to redeem their miles. You can now redeem Delta SkyMiles for Delta gift cards. Specifically, you can redeem miles for Delta gift cards in the following increments:
Buy a $50 gift card for 7,150 SkyMiles
Buy a $100 gift card for 14,300 SkyMiles
Buy a $250 gift card for 35,700 SkyMiles
Buy a $500 gift card for 71,450 SkyMiles
Buy a $1,000 gift card for 142,850 SkyMiles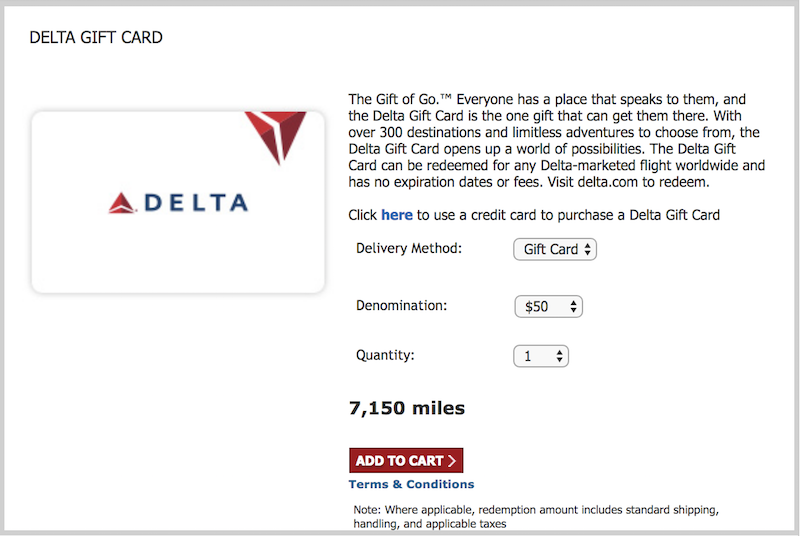 This price is for physical gift cards that don't have an expiration date or fees, and shipping and handling are included.
As you can see, in all cases you're getting about 0.7 cents worth of gift cards per mile.
In general Delta seems to be pegging the value of each mile at about one cent each, so this is an especially lousy redemption.
Those with Delta's co-branded credit cards can already redeem miles towards the cost of a revenue flight using the "Pay With Miles" perk. With this option you can redeem miles for one cent each towards the cost of a ticket, in increments of 5,000 miles. While you still earn MQMs for flights when you do that, the catch is that you don't earn MQDs or redeemable miles for the portion of the ticket that you're using "Pay With Miles" for.
If you're using a Delta gift card you'd earn MQDs and redeemable miles for the entire cost of the ticket, since this is like paying cash.
More options are always a good thing, though personally I'd expect to get more than 0.7 cents per mile, so this isn't how I'd choose to redeem my SkyMiles.