Last year Qatar eased their visa requirements a bit, allowing travelers from select countries visiting for 5-96 hours to receive a free transit visa. I remember prior to that having to pay a significant amount to enter Qatar, even if just entering the city for one night on a transit.
To me that policy seemed backwards. Qatar has the highest GDP per capita in the world, and they're using their national airline as a way of putting the country on the map otherwise. So you'd think they'd want to do everything they can to encourage you to visit and spend money there, rather than penalizing you for the privilege.
So while they eased restrictions last year, it looks like Qatar is taking it a step further in welcoming visitors, and I suspect it's not unrelated to the current issues they're having with their neighbors.
Per Gulf Times, Qatar has introduced visa-free entry for nationals of 80 countries with immediate effect. Eligible travelers will be issued a multi-entry visa waiver free of charge at the port of entry, upon presentation of a valid passport with a minimum validity of six months, and a confirmed onward or return ticket.
The exact policy varies by country:
For nationals of 47 countries (including Australia, the United Kingdom, the United States, etc.), a visa waiver can be obtained on arrival, and will be valid for 30 days from when it's issued, and for multiple entries if needed
For nationals of 33 countries (including most EU countries), a visa waiver can be obtained on arrival, and will be valid for 180 days when it's issued, and allows people to spend up to 90 days in Qatar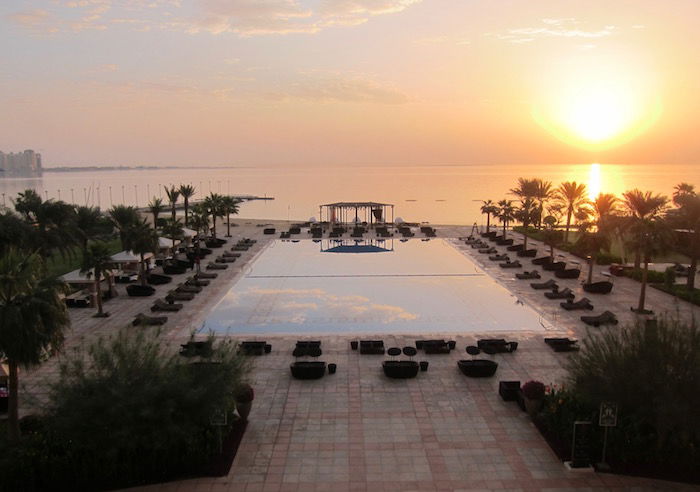 View from the St. Regis Doha
The Chairman of Qatar's Tourism Authority said that "with 80 nationalities eligible for a free visa waiver upon arrival, Qatar is now the most open country in the region and we are delighted to invite visitors to discover our renowned hospitality, cultural heritage and natural treasures."
While I won't personally benefit from this (I don't see myself spending more than 96 hours in Qatar, so last year's change had me covered), this is a positive development.