Note: This is an update to a story from a couple of weeks ago, as Qatar Airways has now made an official announcement.
---
We've seen a ton of innovation from airlines when it comes to their premium cabin products. From onboard showers in first class to suites with doors in business class, flying is better than ever before for those in the pointy end of the plane.
Qatar Airways is historically incredibly innovative, and many of you may recall that in 2017 they introduced Qsuites, the name of their spectacular business class product. As far as I'm concerned this is by far the world's best business class.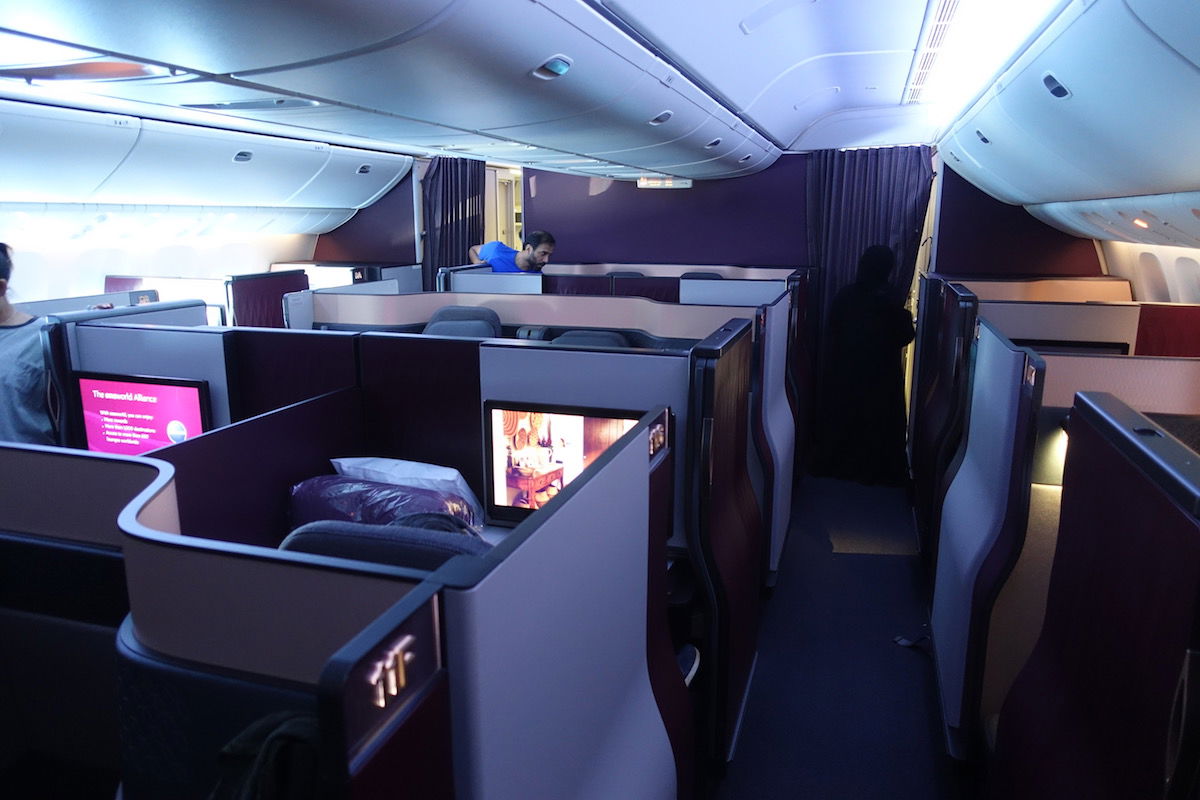 Qatar Airways Qsuites
However, Qatar has always taken pride in all of their classes of service, and in the past their CEO has even said that there's no need for the airline to introduce premium economy, because their economy is as good as premium economy on other airlines (which is a complete lie, but that's what he claimed).
I asked @qatarairways CEO if he'll reconsider Premium Economy now that partner @AmericanAir has announced it. #PaxEx pic.twitter.com/xBRdwIJMMh

— Jason Rabinowitz (@AirlineFlyer) December 9, 2015
Qatar Airways' plans to revolutionize economy
Qatar has made an interesting promise. Just under a year ago I wrote about how Qatar Airways CEO Akbar Al Baker said the airline planned to introduce a revolutionary new economy product within the next few years. Now, a few things to note:
Al Baker is known for being outspoken and often just outright making stuff up; sometimes what he says is true, but more often than not, it isn't
Airline executives in general are notoriously optimistic, so when I hear something may be coming "in the next few years," I assume it'll be at least five years
Airline executives love to throw around the word "revolutionary" in a way that's completely unwarranted
As of now I don't think a single airline has introduced an economy seat that's truly "revolutionary." Sure, some are more comfortable than others, but there's not much actual innovation.
Anyway, there's an official update on this front.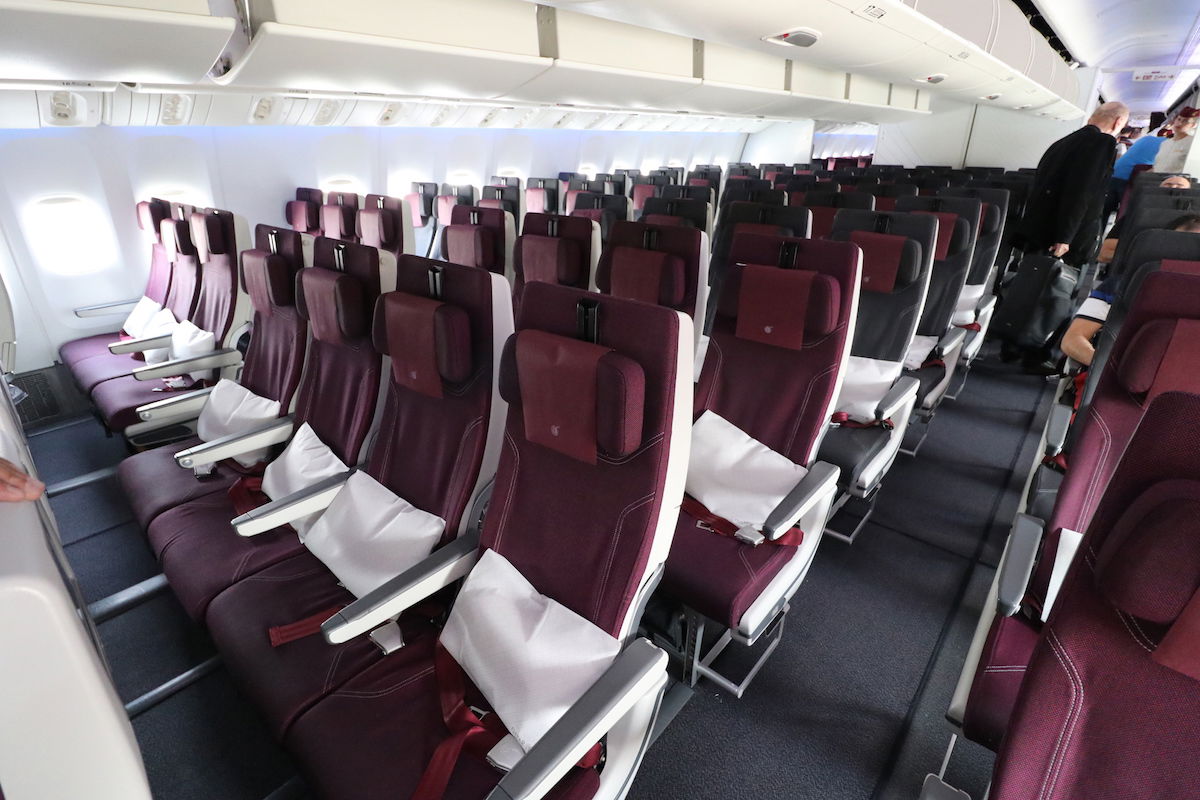 Qatar Airways' economy
Qatar Airways about to introduce new economy seat
Qatar Airways has confirmed that they will be unveiling an "enhanced" economy class product on Wednesday, March 6, 2019, at ITB Berlin 2019. ITB Berlin is the world's largest travel and tourism trade show, and it's where the airline has historically made a lot of product announcements.
The reveal is expected to take place at Qatar Airways' exhibition stand on the first day of the show, and will be followed by a press conference at 12PM.
Here's what Al Baker had to say about this announcement:
"It is always a pleasure to come to ITB Berlin, and this year is no different. Qatar Airways is known by travellers around the world for its continued commitment to innovation and to redefining the customer experience. This year we are delighted to reveal our newly-enhanced Economy Class product at ITB, a further testament to our dedication to improving passenger comfort at every level. We look forward to welcoming guests and visitors to our stand, where they can experience our world-class products and hospitality firsthand."
The expectation is that Qatar Airways' A321neos will be the first to get these new seats. They'll start taking delivery of these planes later this year.
"Enhanced" vs. "revolutionary"
Unfortunately I'm expecting that the reveal on Wednesday won't be for the "revolutionary" economy class product that Al Baker talked about more than a year ago.
In the press release from today, the airline refers to introducing an "enhanced" economy seat. That's very different than introducing a "revolutionary" economy seat.
Now, some airlines do underpromise and overdeliver, and as excellent as Qatar Airways is, they're not one of those airlines. They constantly hype what they're going to introduce to build buzz, and I feel like if they were actually introducing something they thought was revolutionary, they'd market it as such.
So my guess is that we'll just see a new seat with a slightly bigger television, maybe a comfortable headrest, and a couple of other features.
But I feel pretty confident that we won't see the "revolutionary" seat they've been hyping. I imagine at some point we'll see an airline introducing something along the lines of Thompson Aero's Cozy Suite, which essentially is an economy product in a staggered configuration.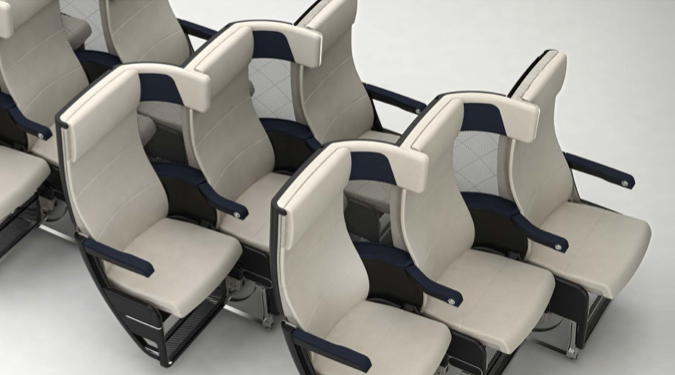 Cozy Suite concept
Each passenger would have roughly the same amount of personal space, but by staggering seats you benefit from more privacy.
Given that the concept has been around for years, I can't wrap my head around why a single airline hasn't jumped onboard with a concept like this. I'm not sure if the fear is that some passengers would actually be put off by the concept, if it's just that expensive, if it's not quite as efficient (since in the first and last row some space will be wasted), or what.
Nonetheless I think it's safe to say that any sort of "revolutionary" economy product would need to have seats staggered in some sort of way (not necessarily the above, but in some way), because I can't think of any other way to be truly innovative.
Bottom line
I don't expect Qatar Airways' "enhanced" economy product will be anything earth-shattering. Rather I think they'll just introduce a slightly improved product. Then maybe they'll introduce the "revolutionary" new economy seat a few years down the road.
After all, just over a year ago Al Baker said the revolutionary economy product would be available in a few years, so I guess it was too soon for it to be introduced now anyway.
Anyone have a different read on this than I do, and think Qatar will actually introduce a revolutionary economy seat?