I'm writing this post live from the Qatar Airways Al Safwa First Class Lounge in Doha at 4:25AM. I was hoping I'd be in one of their fantastic bedrooms right now, but I'm not. Not because one isn't available, but because the lounge has asinine rules (or just employees who like to make up rules). I'm not sure which it is, based on how many different reasons I've been given for why they can't help me.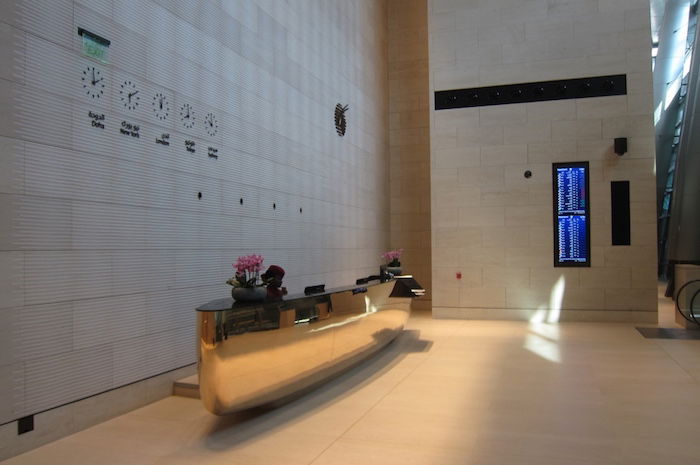 Let me start by saying that the Al Safwa Lounge is gorgeous — I ranked it as one of the world's best first class lounges. However, from the day it opened they've had some ridiculous policies.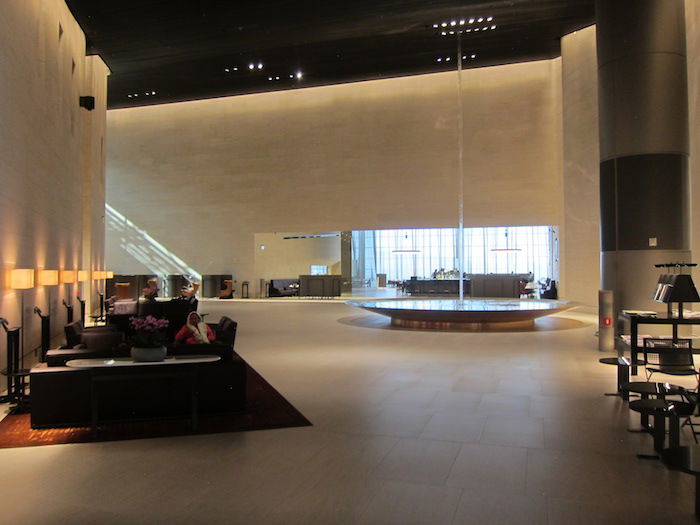 For example, the lounge has showers in the spa area, and showers in the awesome individual bedrooms. The individual bedrooms with showers are free, but if those are full and you need to shower in the spa, then you have to pay for it. How ridiculous and illogical is that?
So the lounge having strange rules is nothing new, though today I got screwed by the rules firsthand for the first time.
My flight arrived in Doha shortly before 3AM, while my connecting flight in Qatar Airways first class is shortly after 7AM.
So my friends and I were exhausted when we arrived in Doha (keep in mind my usual bedtime is 8PM), and were looking forward to a nap room. We immediately went to the desk, where after a bit of typing my friends were given a "double" room, and I was told nothing was available. However, there was something odd about the way the guy explained it to me. He said "there are no single rooms available." I didn't think much of it at the time, so wandered around the lounge for a bit.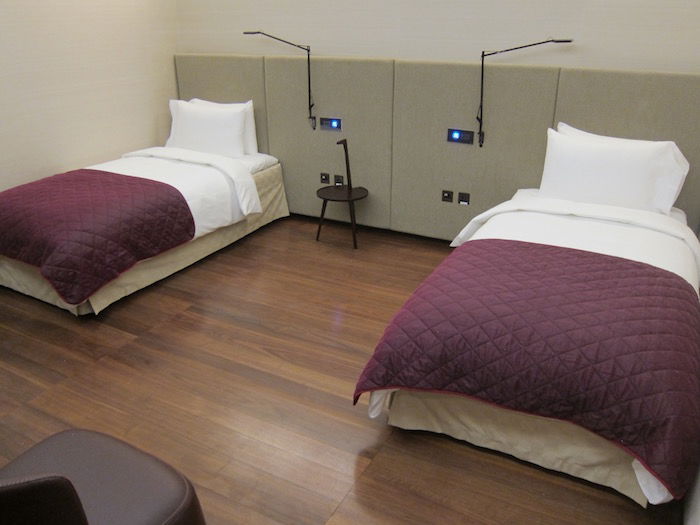 An hour later I was really tired, so went back to the desk. This time someone else was working, and he informed me that a couple of nap rooms were available. Yay!
He made a few calls, and eventually he informed me that I couldn't use a nap room.
"You can only use a nap room if you have a layover of at least six hours. Your flight is in three hours."
"Is that a new rule? An hour ago my friends were given a nap room, and they're on the same flight I am."
He was confused, so got back on the phone and made another call. He then came back to me to explain.
"The supervisor made an exception then, but can't make another exception." He invited me to stay seated there for a bit, and a few minutes later a lady showed up and approached me.
"You can't use the nap room because it's a double room, and you're only one person."
"But the nap room is empty, isn't it?"
"Yes, but it has two beds."
"Right, so why can't I use it if no one else has requested the room?"
"Because it is meant for couples traveling together. It's our policy, and it's also our policy that you need at least a four hour layover to use the nap room."
"A moment ago I was told the policy was six hours. If the policy is in fact four hours, then my layover was four hours, I was just denied the room earlier."
"Well you can't have a double room."
"So you'd rather let it sit empty because there aren't two people to use it, rather than let one person use it for a couple of hours?"
"That's our policy."
I don't think I've ever been in another lounge with such customer-unfriendly policies…