Update: Qatar Airways has modified their rebooking policy. See here for everything you need to know.
Yesterday I wrote about a Qatar Airways policy that seemed too good to be true, but it appears that this in fact the policy, so I wanted to update this post to reflect what we know.
Qatar Airways recently announced that they'll serve 52 destinations by the end of May, and 80 destinations by the end of June. Obviously a lot of people still don't want to travel, and even those who want to travel are apprehensive. What happens if your flight is cancelled? What happens if it's not safe to travel? Are you going to be out-of-pocket for thousands of dollars?
That's why I'm impressed by Qatar Airways' new "Travel With Confidence" guarantee. We've seen all kinds of airlines introduce flexible booking options, though Qatar Airways' new policy is in a different league, in my opinion.
Qatar Airways' reassurance to passengers
Qatar Airways is giving passengers an impressive amount of flexibility if they book by September 30, 2020, for travel through December 31, 2020.
If you book a ticket on Qatar Airways and change your plans, you have the following options:
You can hold onto your ticket value for two years from the date of issuance, so you can travel at a later date
You can exchange your ticket for a future travel credit, and get a further 10% bonus
You can make unlimited changes to the travel dates and destinations free of charge; not just that, but you can change the origin to another city within the same country, or can change the destination to fly to anywhere within a 5,000 mile radius of your original destination
You can swap your ticket for Qmiles, with each USD worth of airfare getting you 100 Qmiles, so that's a rate of one cent per mile
If your flight gets cancelled you can receive a cash refund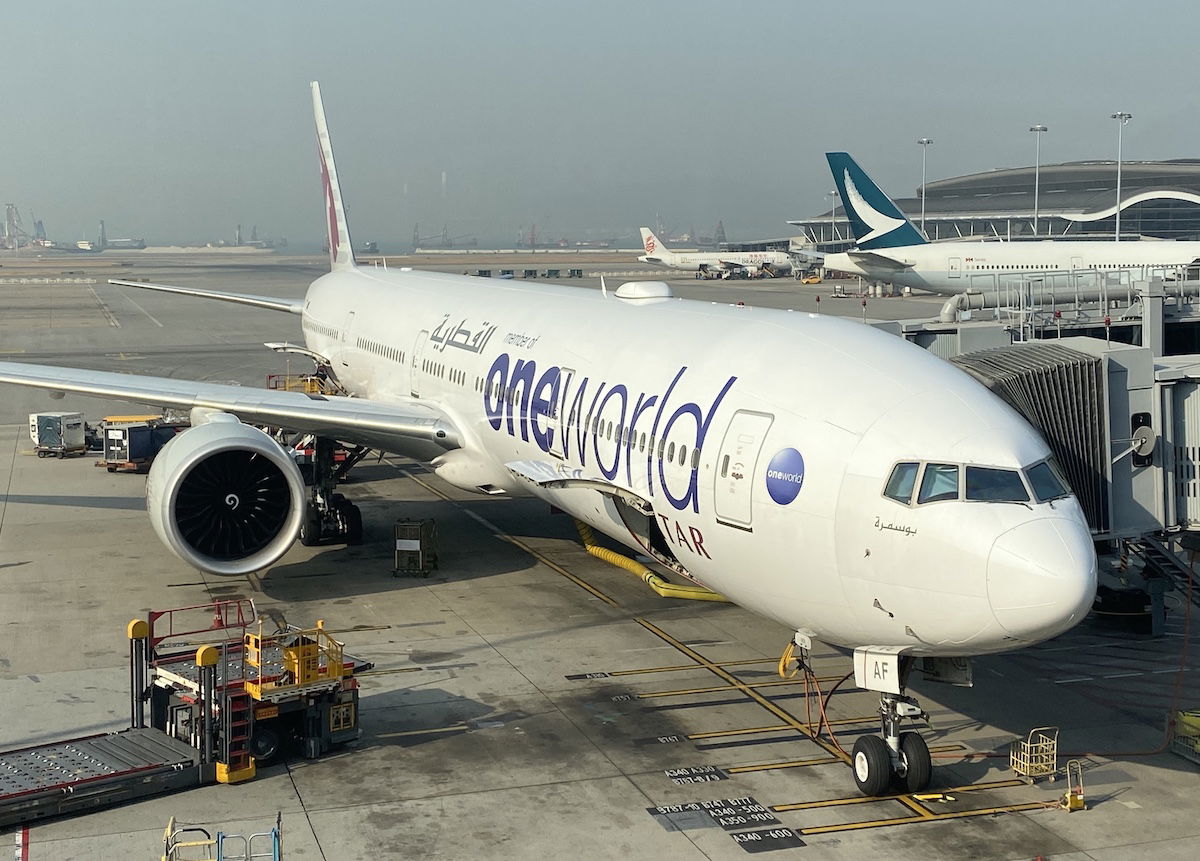 Qatar Airways has a new "Travel With Confidence" policy
Qatar Airways' lucrative rebooking options
I have to give Qatar Airways credit for the sheer number of options they're giving customers. Three in particular stand out.
First of all, being able to convert tickets into Qmiles is a cool option, as this is basically a way of buying Qmiles for a cent each. Personally I think Qatar Airways' frequent flyer program is among the weakest oneworld programs, though some may still find it worthwhile to pick up miles for a cent each.
Second of all, it seems like you should be able to book a ticket and then immediately exchange it for a voucher worth 10% more. If you're actually going to book a Qatar Airways ticket, you might as well book a cheaper ticket first and then pick up a 10% bonus (though in fairness there will be some hassle associated with all of this).
The third option is perhaps the most interesting, given how much flexibility they're allowing to change your flight. You can change your destination by up to 5,000 miles and there's no additional charge. At first I assumed that they were just waiving the change fee and that you'd have to pay the fare difference, but that doesn't appear to be the case.
What does this mean in practice?
You could book a ticket from Delhi to Doha to Hong Kong and then change it to a ticket from Delhi to Doha to Sydney at no cost, since Sydney is within 5,000 miles of Hong Kong
You could book a ticket from Doha to Athens and then change it to a ticket from Doha to New York at no cost, since New York is within 5,000 miles of Athens
That sounds too good to be true, eh?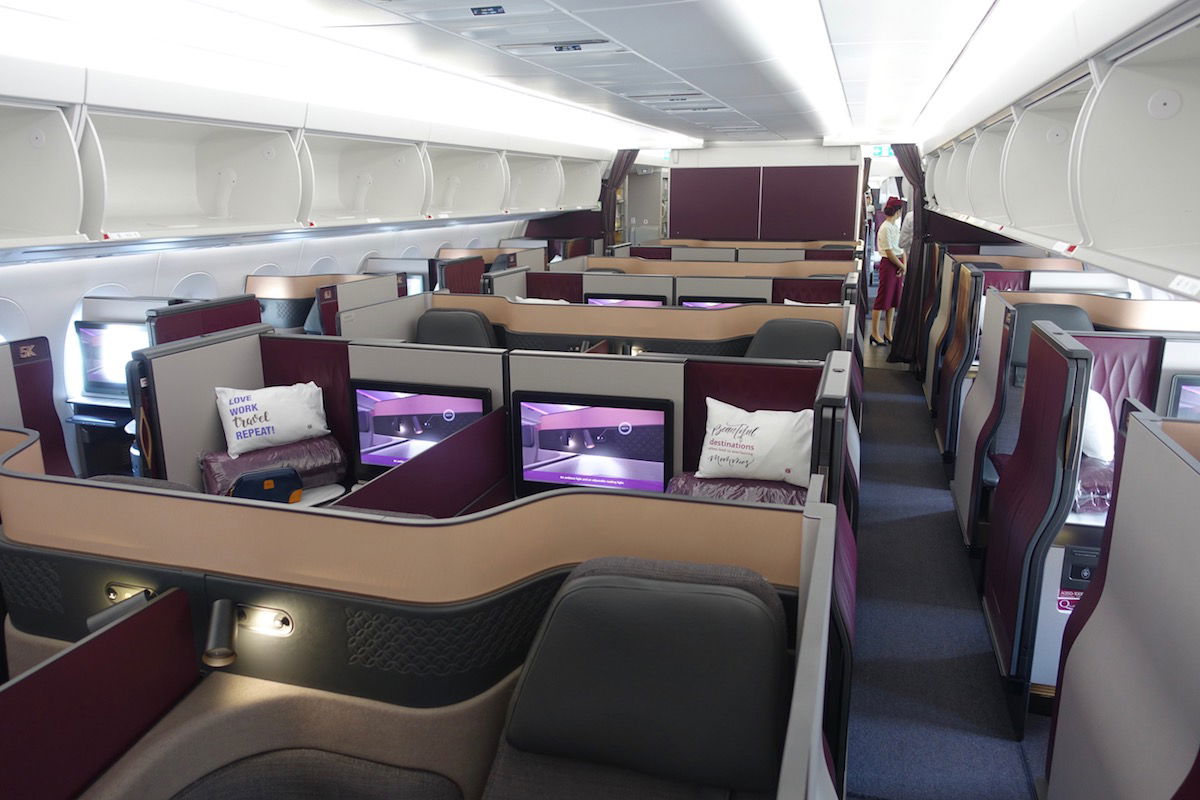 Qatar Airways is letting people change destinations by up to 5,000 miles
Is there a catch to these options?
One has to wonder if there's more to the story, if this is was a typo, or what. Interestingly the terms listed on the promotion page support this working as expected:
"Rebooking fees will be waived if reservations are amended before departure (for travel on/before 31 December 2020).

Rerouting is possible from the same origin within 5,000 miles internationally at no additional charge."
But now there's an added piece of proof that this policy is actually intended to work this way. Check out Qatar Airways' new passenger guidelines, intended for travel agents, published on May 13, 2020. If you read this document then you'll see:
The generous rebooking option applies not just to involuntary changes, but also to voluntary changes
It's made very clear that when rebooking the airline will "waive difference in fare, taxes, fees, charges, surcharges, rebooking penalty"
It's also made clear that passengers "may reroute within same country as original embarkation point and/or within 5,000 (five thousand) mile radius from original disembarkation (turnaround) point"
This is pretty cut and dry, there's not really any question as to whether or not this is the rule. What's less clear is:
If Qatar Airways intended for this rebooking policy to be so generous, and as a result if they could backtrack
How Qatar Airways phone agents will handle this in practice
Personally if booking a ticket I would be going through a savvy travel agent, as they should be able to rebook based on the guidelines given to travel agents.
An example of how generous this could be
Qatar Airways has ~$1,600 roundtrip business class fares from New York to Kiev via Doha.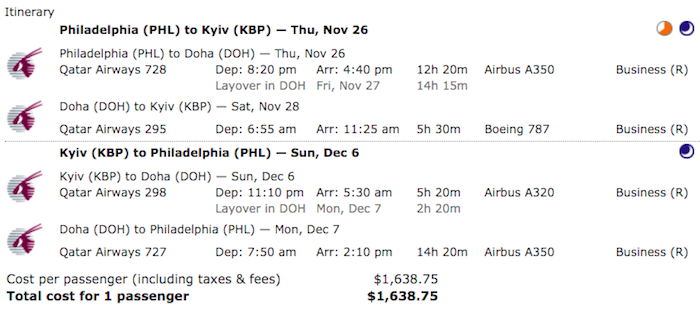 You could book that fare, and then could change the destination to anywhere within 5,000 miles of Kiev.
To show that on a map, the lightly shaded area is what would be possible for rebooking: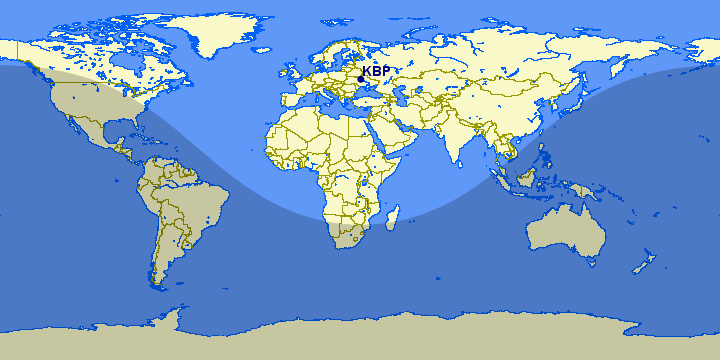 As you can see this would allow you to rebook to most points in Europe, most points in Africa, most points in Asia, etc.
Just for fun, you could also book Muscat to Delhi via Doha roundtrip for $900, and change the destination from Delhi to Perth.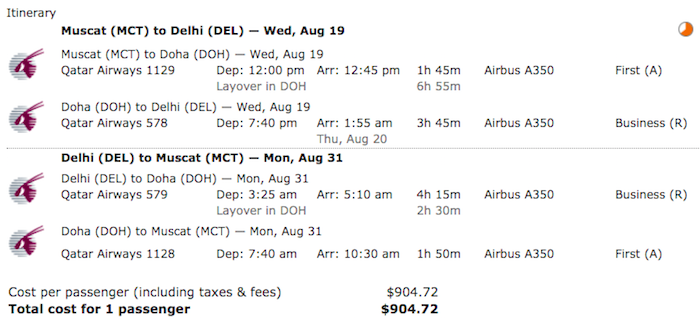 Bottom line
While most airlines are trying to get customers comfortable with the idea of booking flights again, I have to give Qatar Airways credit for their new policy.
They have a lot of different choices for customers to choose from, including converting tickets into miles at the rate of one cent per mile, and even changing your destination by up to 5,000 miles.
While this does seem too good to be true, I'm actually going to say that I think this could potentially be a really smart promotion. Many airlines are more or less writing off 2020, so if this gets people engaged and booking, it might not be a bad option.
Personally I'm going to skip this opportunity (at least for now) despite how generous it is, since travel does have to be completed by the end of 2020, and I'm just not very confident in global travel before the end of the year.