"Ask Lucky" forum member LivinLIfeFrankly posed an interesting question today that I figured I'd chime in on, and I'm curious what you guys think.
Finding a worm in your airline lounge salad
You can read the entire original post here, but to summarize the situation:
S/he was flying Cathay Pacific business class from Sydney to Hong Kong on December 2, 2018, and using the Qantas Business Lounge
S/he had a plate of the rocket potato salad, and when about 80% done with the salad, spotted a worm
After bringing this to the attention of the lounge staff, the staff called over the food and beverage manager, who was apologetic, but that was it; nothing was offered, with the primary goal being getting the situation out of public eye
Since there was no resolution at the lounge, s/he decided to Tweet Qantas, and while there was an immediate response from Qantas, customer service only reached out in January, about a month later
Customer service offered some Qantas points, but since the passenger was a Marco Polo Club member, s/he declined; eventually they offered a 100AUD Qantas voucher valid for a domestic flight
Even after trying to escalate, Qantas said that was the most appropriate compensation, and offered nothing more
Here are the pictures that are included in the post: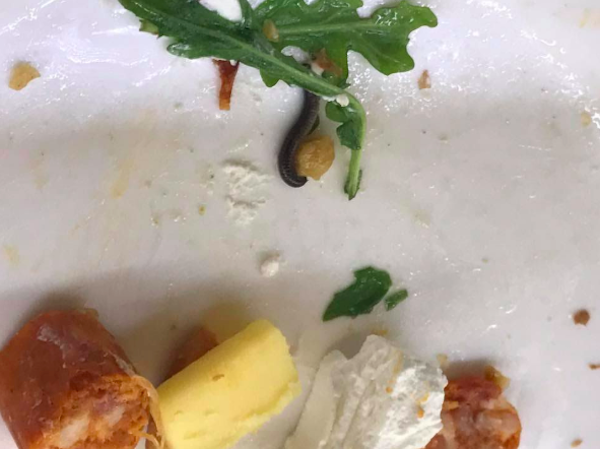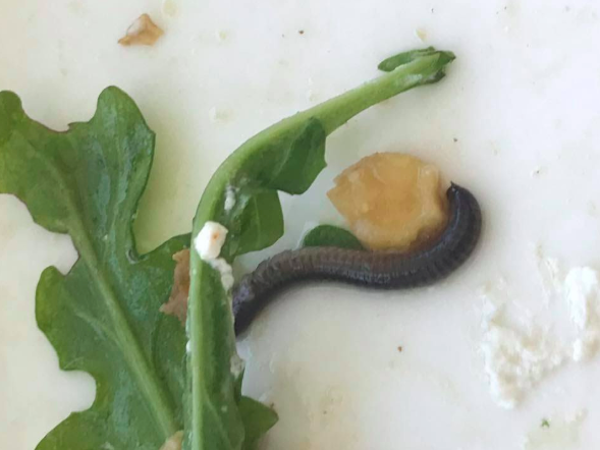 What's the appropriate compensation?
LivinLIfeFrankly asks:
Am I being too demanding to ask for something more? Or you guys think, I'm being way too lenient with what has occurred to me? What would be an appropriate compensation?
In my case the answer is "I don't know." It does get me thinking, though. I guess my initial thoughts are:
How much responsibility does Qantas have here? Were they negligent at all? I assume they use an outside company to cater, and presumably this kind of stuff will happen every so often no matter where you're eating? Should the lounge be digging through every leaf to make sure there's not a worm?
I'd be completely disgusted if this happened to me, and it would probably take me a long time to eat salads "normally" again, without picking apart every piece and analyzing it. Heck, even having seen the pictures may have me doing that.
However, I'm not sure to what extent Qantas is to blame for that, and what they owe a passenger beyond an "I'm sorry." I'd pay good money not to have something like that happen to me, but at the same time I'm not sure I'd expect a third party to pay me that amount.
So yeah, I'm not sure. It does sound like Qantas could have handled the situation better to begin with, both in terms of how seriously they took the situation while at the airport, how they apologized to the guest, and with the speed with which they responded to the complaint.
At the same time, I'm not quite sure this situation is on the same level as someone who gets food poisoning on a plane, or if there's a piece of ceramic in food on a plane that causes someone to chip a tooth, for example.
If this happened at a restaurant, I expect at a minimum the salad would be taken off the bill. Would the entire meal be comped? I'm not sure, I've never had it happen, but I'm curious what you guys think. And how does an airline lounge compare to a restaurant situation for these purposes?
I'm curious where you guys stand — what should someone expect in this situation?