I'm pretty loyal to American when it comes to my domestic travel. Do I think they have an amazing product? No. But I almost always clear upgrades, their miles are valuable, and I know what to expect. What I care about on a domestic flight is Wi-Fi, a power outlet, a seat spacious enough so I can work on my laptop, and access to bottled water. That's about it. So I rarely have a reason to look elsewhere.
I do still have status with Alaska, however, which is back from my good old days of living in Seattle (not only do they have a great elite program, but their miles are valuable as well).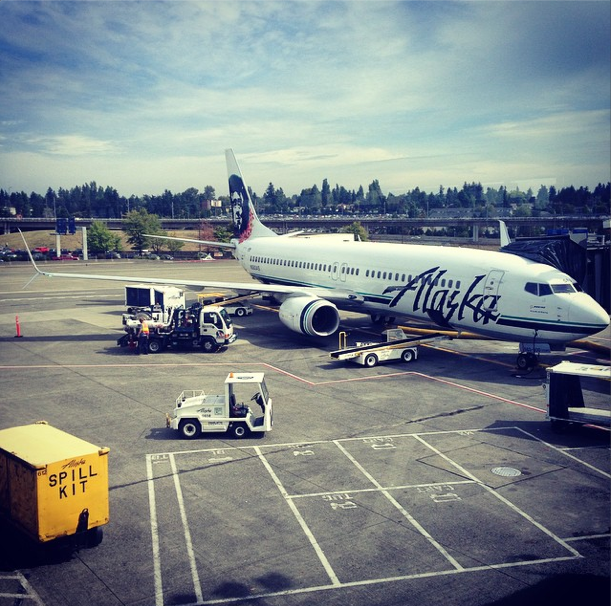 As any long time blog reader knows, for a while there has been a battle going on between Alaska and Delta, despite the fact that they partner with one another. Nonetheless at this point they're more enemies than anything else, and we've seen an erosion of elite benefits between the two carriers.
I needed to fly from Tampa to Los Angeles this morning, which left me two practical options, based on availability/pricing:
Fly US Airways through Phoenix, with a good shot at an upgrade
Fly Delta nonstop
Now, while reciprocal elite benefits aren't what they used to be between Alaska and Delta, Alaska Mileage Plan elites do still receive space available upgrades on Delta.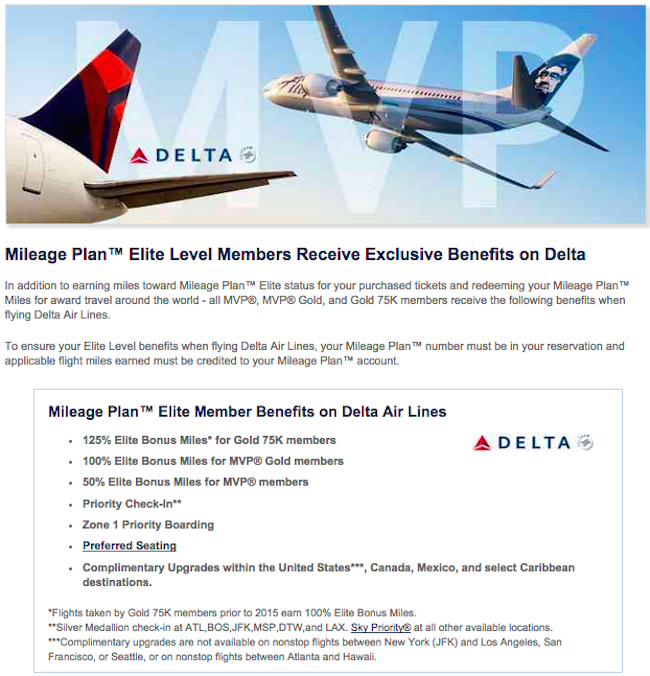 The catch is that you're literally dead last on the upgrade list, and clear behind all Delta elites, Delta companions, etc. So your chances of clearing on mainline flights are slim to none.
And you don't actually get priority seating otherwise. So it's all (first class) or nothing. The only seat I could assign was a middle seat towards the back of economy, unless I wanted to pay extra for an extra legroom economy seat.
Nonetheless I was only booking my ticket yesterday, and noticed that first class was only about half full — only 11 of the 20 first class seats on the 737-900 were occupied.
I figured I'd take a (small) risk and book the flight.
Delta lets you refund tickets within 24 hours of booking (even within seven days of departure, which isn't mandated by the DOT), so I figured I'd book my ticket and check-in to see how far down on the upgrade list I was.
I booked my ticket, and as soon as I checked in I found myself as number one on the upgrade list with nine seats remaining.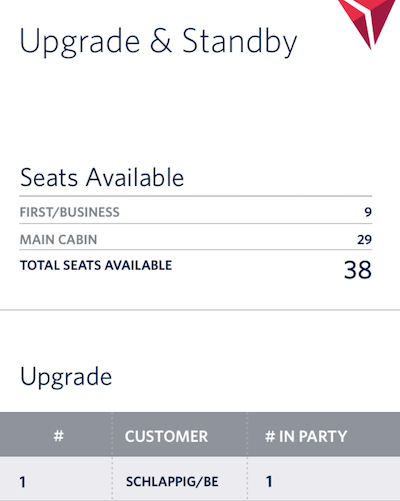 I felt pretty good about my odds of clearing, given that this was a 6AM flight on a Saturday, and it sure seemed like everyone else had cleared.
When I woke up this morning I found myself as number two on the upgrade list, with nine seats still remaining. Works for me!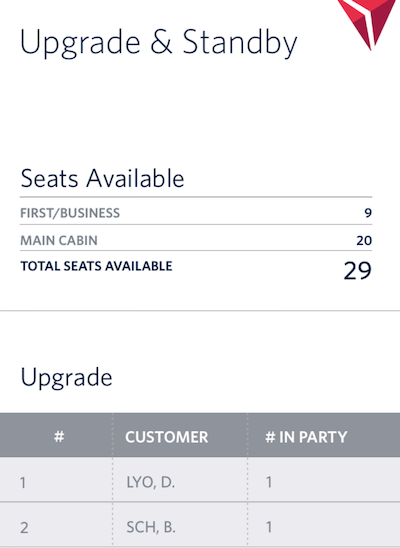 Sure enough I cleared at the gate, just a few minutes before boarding started (Alaska elites can only clear at the gate, and not at all in advance).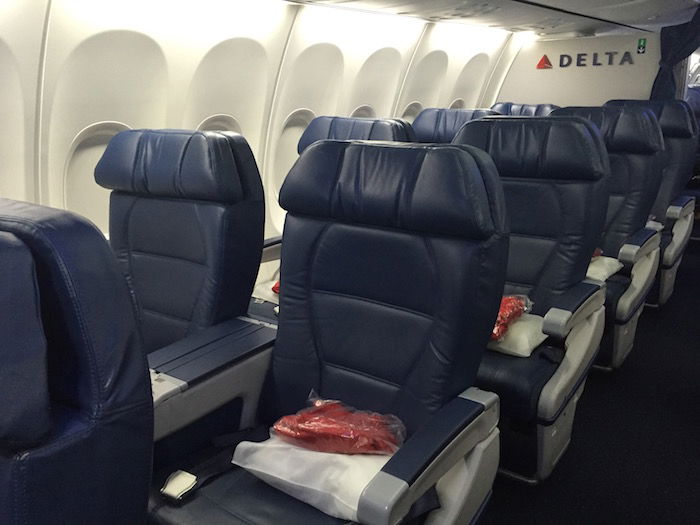 I've long said Delta is the US airline of the business traveler, and they really do have a solid product. That being said, I do still find it laughable when Nick claims Delta is "stylish."
Debating which US legacy carrier is most stylish is like trying to decide what type of Crocs to wear on a date.
You wanna talk about "style" on Delta? Let's talk about the tray on which Delta serves food.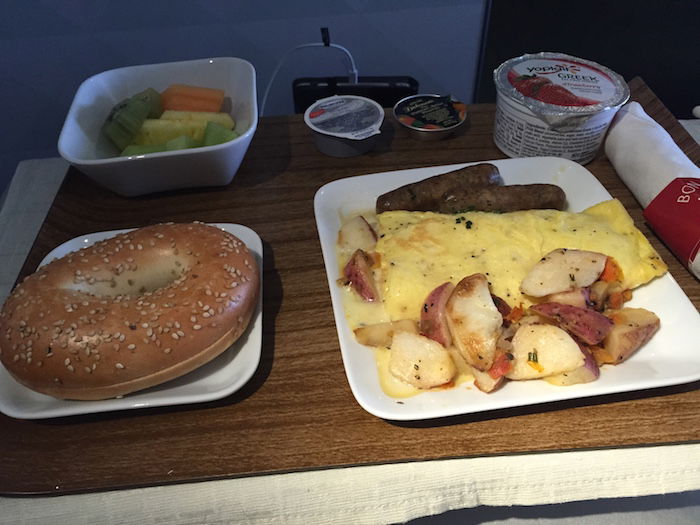 It looks like a bathroom floor you'd expect to find on SriLankan Airlines… no, really. But hey, everyone has the right to find eating off bathroom floors to be stylish! 😉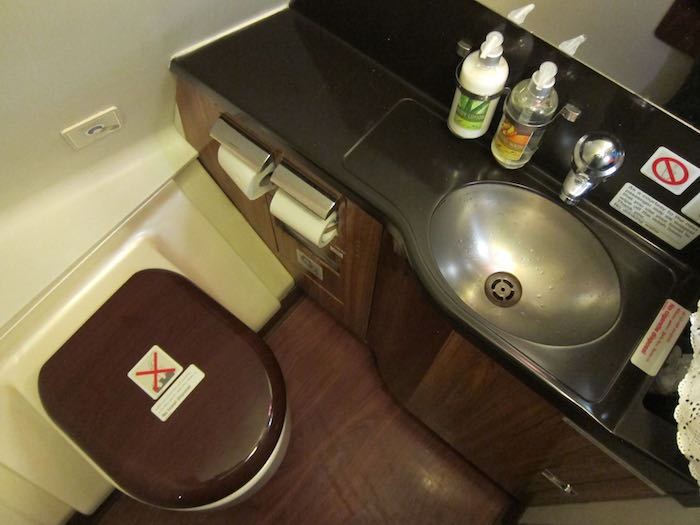 Bottom line
It's nice that clearing a domestic upgrade on Delta using Alaska status isn't completely impossible. However, ultimately I had everything working in my favor by only booking a day before departure, and by being able to predict how many people were on the upgrade list. If I cared about an upgrade on Delta using Alaska status I certainly wouldn't book further in advance than that, but in this case it worked out well.
To the Alaska elites out there, what precent of your upgrades on Delta have you cleared? In the above scenario, would you have booked US Airways with a connection or Delta nonstop?