This week I've headed off on the longest trip I've ever taken.
After traveling non stop for around three months last year, this year I'll be traveling for even longer, from now through to the start of next year. I'm starting with a few places in Western Europe followed by a lengthy trip through Northern Africa and the Middle East (working my way from west to east) and then I'm heading to the USA, followed by the Caribbean, and back to Eastern Europe for Christmas and New Years.
Almost all the flights are booked and about the first 85 nights accommodation is also booked. I'm purposely leaving the last few weeks flexible, as I quite like the opportunities that should bring to do things I wouldn't have otherwise planned.
I'll keep writing as I travel, and hopefully there will naturally be some travel experiences that provide good content to write about. As per the OMAAT philosophy, I won't be writing about specific destinations unless I think they are especially unusual or interesting. I'm taking plenty of flights from ultra low cost carriers through to legacy airline premium classes, both revenue and points redemptions, so should have plenty to write about.
Hopefully there is nothing unfortunate enough to warrant a fourth edition of my Series Of Unfortunate Events!
Packing strategy
For last year's trip, I took a medium sized suitcase (with a carry on bag) for some of the trip, and then just carry on for the remainder of the trip. I've taken the decision to travel with hand luggage only (HLO) for this entire trip, and that is what I wanted to write about today.
I always travel HLO for weekend trips away and have also managed it for longer individual trips of up to two weeks. I've written before about some tips of traveling hand luggage only.
While it may seem like a pain to not be able to take every single item you might want to, there are so many benefits of traveling hand luggage only. I'll be doing at least 15 flights on this trip so the time saved both checking a bag in as well as waiting for it to be delivered at the other end is enough of a time saver for me to commit to this.
Selecting the perfect bag
Last year's HLO trip to Asia involved a cheap, large Ebay backpack where two of the three zips quickly broke. It barely survived the trip and was pretty uncomfortable to lug around. This year I've been far more strategic and have done a lot of research to try and find the perfect bag.
The bare minimum requirements are:
While I have a hand luggage sized roll away, I'm heading through the deserts of Africa and the Middle East so I needed a backpack that I could walk decent distances with — I won't be on the polished tiles of major airports for most of the time!
Must be the maximum size allowed as hand luggage by strict low cost carriers like easyJet and my arch nemesis, Vueling, which I have decided to put myself through again. So I'm looking for a capacity of at least 40 litres, ideally 45 so I can still take everything I need.
A decent laptop sleeve so I can take my Dell XPS13 so I can keep writing for you all. This laptop is one of the best things I have ever bought.
Decent back support and adjustable straps, ideally with a waist/stomach strap. I won't be trekking up Mount Everest with it, but there will be plenty of walking with it so it needs to be comfortable.
Available for the shipping in the UK, so I can pack it at home before the trip.
Not look hideous.
Not horrendously expensive (so under $200 including shipping) — the trip is costing me enough already!
I'm traveling with my partner for the entire trip and we're both going HLO, so decided to purchase one HLO bag first, try that out on a shorter trip to Sardinia, Italy, and then either find a second, other bag, or purchase a second type of that same bag.
Bag #1 – Low Alpine Liteflight Backpack
This was good value at around $100, looks good (I've already had some friends compliment me on its appearance on a weekend away trip) and is certainly very lightweight without feeling cheap or flimsy, so even if my hand luggage is weighed it's unlikely to be overweight.
And it fits a LOT of stuff in it while also being completely cabin bag size approved.
Unfortunately the only laptop sleeve it has is a large net which is way too big for my small laptop, meaning it slides around inside, and doesn't otherwise have a lot of features. So it's a good bag, but not perfect.
So I decided not to purchase a second one.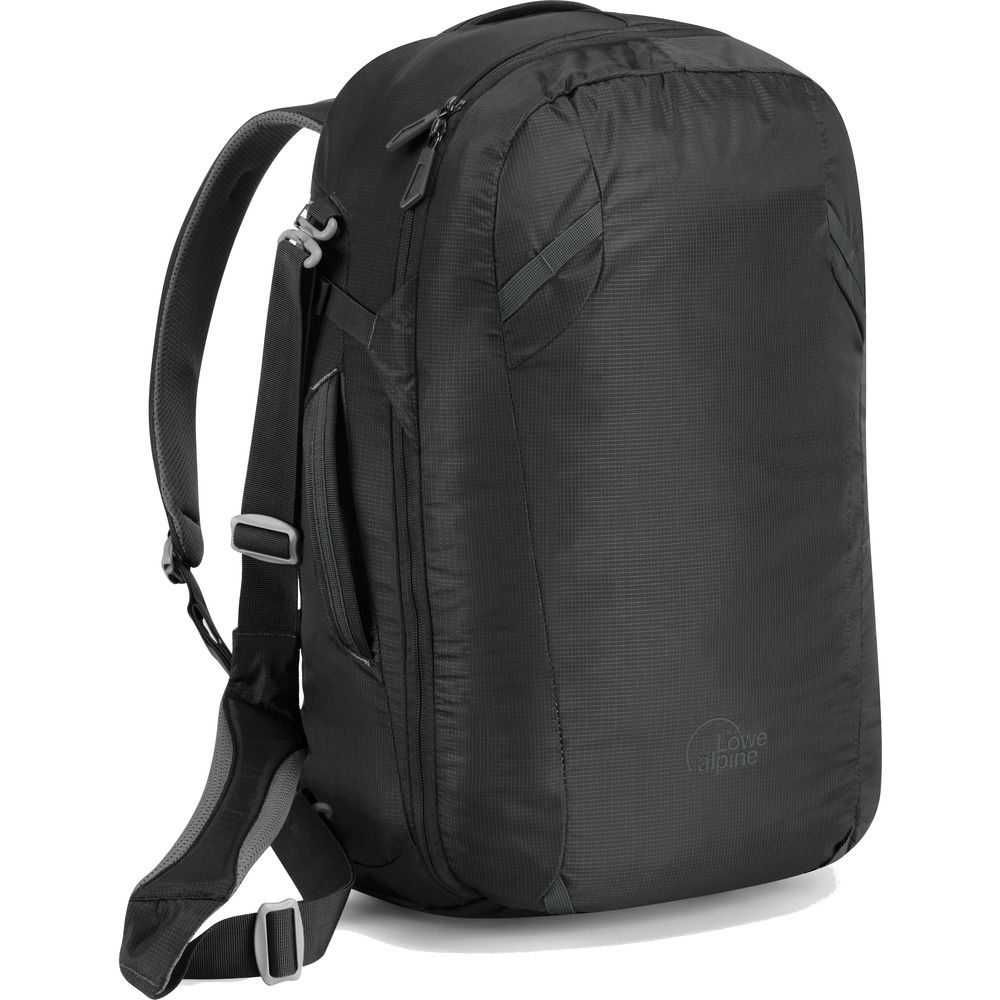 In looking for alternatives I was ready to stretch to invest in a Tortuga Outbreaker backpack as they were so well rated but they do not ship to Europe, and given it was already $250, I was not willing to pay the additional cost to use a mail forwarding service from the US.
I considered an Osprey bag as they're also well rated and quite affordable, but I really don't like the design.
So I kept looking.
Bag #2 – Standard Luggage Co Travel Backpack
This bag was significantly more expensive than the Lowe Alpine at around $180, but I can instantly tell it is better quality. It's heavier, sturdier and has more zippered pockets than I know what to do with. I've packed and started the trip and I'm still finding pockets!
This is both a positive and a negative — it's great to have so many places to store things so they're not just rolling around inside the main section of the bag but it means I have to spend more time looking for things because there's so many pockets they could be in.
It has various sleeves that would fit various sized laptops.
It comes with an odd, hidden detachable document satchel that I didn't even see on the product description and didn't find until I'd almost finished packing, and while it's great to have this 'freebie', it doesn't serve any purpose for me as I'm not carrying any documents around.
So I'm leaving the satchel at home.
It's extremely comfortable to carry because it is so thickly padded. It did seem quite slim when I first started to pack it, but I then realised one of its dozens of zips extended the size of it and it easily fits everything I need for four months.
It does look like a giant box on my back but that is because it is designed to fit perfectly into any measuring device an airline might use to ensure it is cabin bag compliant. It fits all my requirements so I'm very happy with it.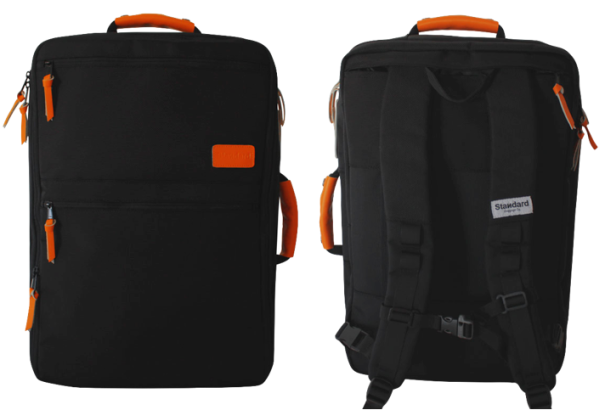 Day Packs
We will be out and about as much as we can each day, whether it's hiking, or exploring beaches. I was ideally looking for a backpack with a small attached day pack, however this took up valuable overall dimensions, and there were very few options available that met my other requirements.
Instead we eventually decided to both take very lightweight, cheap gym-type drawstring bags that were purchased for just a few dollars on Amazon.
I was very skeptical of these at first (and have never owned one), as I associate them with gay circuit parties and gym junkies, but I tried it out both on flights to Italy as well as on the beaches in Sardinia last week and they work great. They're not that sturdy because they are so lightweight so I don't put my laptop in there but they're ideal for throwing things like a phone charger, a hat and bottle of water into, and most airlines will allow you to take this as a second bag on board as it can go between under the seat in front of you.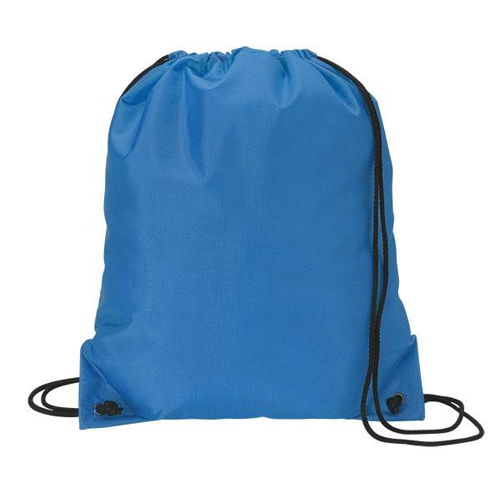 I think the only airline I'm taking on this trip that does not allow a second small cabin bag is easyJet, which I'm taking on the short hop from Munich to Berlin next month. I should be able to squeeze the items in the drawstring bag into my main cabin bag and this drawstring bag easily collapses into a pocket of my main HLO bag.
How to physically pack
Previously I would pack everything I thought I needed, and then if it didn't fit in my luggage I would regretfully remove one item at a time. Four pairs of shoes? No problem, provided they fit.
For this trip, I took a different strategy. Before I packed a single item I wrote a packing list of every single item I actually needed, and before adding it, thought carefully about what I actually needed it for. I ran through the various scenarios and situations I will be in for the rest of the year and thought about the bare minimum possessions I will need for them.
I purposely packed mostly plain, versatile clothes that can be worn either hiking up a volcano, or in a cocktail bar.
I'm taking almost no 'what if' items like non-prescription medicines, which I recognise is a bit of a risk but despite going to some unusual and remote places I won't be that far from civilisation so should easily be able to purchase things if I need them.
For all of my non-clothing items, like the chargers, cords, accessories, eye masks, I've used three old amenity kits (one from Qantas and two from Virgin Atlantic). It keeps everything neat and easy to grab, and because each one is a different color I instantly know which kit is which.
Packing this way was surprisingly easy.
I can't even really think what I needed all that space for when I would check in a suitcase before anyway. To be honest I haven't even needed to use the extension zip in the Standard Luggage bag, and I certainly didn't need to sit on the bag and squeeze it tight as I did up the zips.
https://www.instagram.com/p/Bn0hYd7lkwh/
Even my partner who I would classify as a 'mild hoarder' found it easy to pack HLO by following a strict packing list and still had space in his bag when he left.
Bottom line
I'm incredibly excited about starting this trip. I write every week about travel, and travel every few weeks but haven't done a really big trip since joining the team. I'm writing this on a TAP flight to the Azores islands in Portugal as we speak, which I must admit I had never heard before Ben visited there.
If you would like to follow the trip outside of what I write about on the blog you can follow my instagram @benjames_84 and I'm hoping to even takeover the OMAAT official instagram on occasion where I'm somewhere particularly special or unusual.
If there's anything you'd especially like me to write about during this gigantic trip please let me know in the comments below.
What is your trusty bag for extended, hand luggage only trips?