While I only travel about half as much as Ben, my ~250k miles a year is still on the high side for people in this hobby, much less the average person. So when I'm chatting with "normal people" I try to keep the conversation far away from travel topics.
When it does come up, the response is near-universal:
"I don't understand how you can travel so much. I find it so exhausting."
Which is tough, because I don't find it exhausting. I probably go to the airport as often as they go to Costco, and it's infinitely less stressful for me to navigate a foreign metro system than it is to spend even five minutes in a mall parking lot.
And let's be honest — part of what makes my experience so stress-free is that I rarely have to interact with many airline or airport employees:
I use mobile boarding passes whenever possible
I don't check a bag
I know which of my shoes (and bras — sorry guys, but it's a thing) can be worn through TSA without sounding the alarm, so PreCheck is a breeze
I go directly to the lounge, avoiding most terminal unpleasantness
I know the rules, and can make most changes myself, or by making specific requests of lounge and phone agents
I don't typically need anything from gate agents, and spend a limited amount of time in the boarding area
Flight attendants are generally decently nice people once you smile at them and convey some understanding of their life, and while they can certainly make an experience, bad service onboard doesn't really ruin your travel day in the same way failures at the other touch points can.
So I generally have a pretty easy time of it, and I'm aware of it, but I still haven't really understood why some people find the idea of flying as much as I do so revolting.
Well. My experiences flying American to and from Las Vegas this weekend cleared that right up.
Checking bags in San Diego
On my outbound flight from San Diego the priority desk was completely unstaffed, while the number of people waiting to use the kiosks stretched all the way outside and onto the skybridge.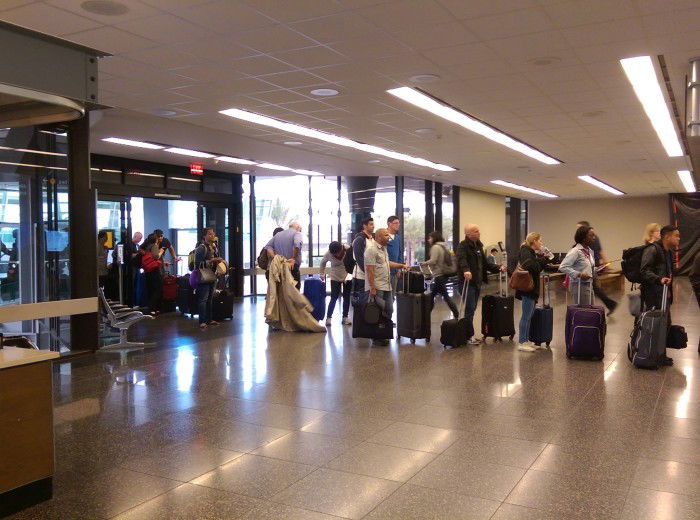 This isn't the first time I've seen this in San Diego, and it's generally not a problem for me, but this time I was checking a bag (I'd brought a suitcase full of amenity kits to give away during my sessions at Frequent Traveler University).
I had my husband in tow, and he likes to get to the airport yesterday, so we had plenty of time, but the process of queuing for the kiosk, working through the prompts (no, I don't want to buy miles, no, I don't want to change my seat, no I'm not traveling with an infant, for the love just let me give you my bag!!!), queuing again to drop off the bag, and having an agent check my ID took nearly 20 minutes.
Rolling Delays
As we entered the PreCheck line, my phone buzzed to let me know our flight was delayed 30 minutes. Not a problem for me — I had a long connection, and a lounge to work from — though it meant my husband would be dealing with more LA traffic than anticipated. And the San Diego airport doesn't have amazing retail (though they're trying), so an extra 30 minutes isn't ideal for your average traveler.
Once we got to the Airspace Lounge though, I did a bit more research, and this is where I could see it starting to get ugly for those who aren't "in the know."
You see, when I checked the status of our inbound aircraft, it hadn't left Los Angeles yet. It's a short flight, and they can turn those E-175s pretty fast, but if the plane is still in LA, it's probably not leaving San Diego in 55 minutes.
These little American Eagle flights often shuttle up and down the coast, so I then checked just to make sure the aircraft was actually in Los Angeles.
It wasn't.
Supposedly we were leaving in 55 minutes, but our plane and crew were still in San Francisco, and had to stop in LA. It was going to be at least two hours.
And that's what irks me on behalf of the less-frequent traveler. By 2PM I could tell that we wouldn't be leaving until after 4PM (we eventually pushed back at 4:39PM), but American never posted more than 30 minutes of a delay at a time.
There's a big difference between being 30 minutes and 90 minutes late — you could get actual food rather than something fast in the terminal, you could look at options to avoid misconnecting, etc. — but most people don't know to check the location of the inbound aircraft, and I felt badly for the people who were relying upon American for information, and then had to sort out their missed flights upon arrival in Los Angeles.
My connection in LA was fine, the flight to Vegas was fine, but we waited nearly 45 minutes for our bags. Even then, the bags were delivered to the wrong carousel without an announcement being made or the indicator boards being changed.
Not a big deal for me, but things like that add up when you don't travel much, you know?
Checking bags in Las Vegas
Ben has already told you about the obtusely unhelpful check-in staff in Vegas, which sets the stage nicely, though I think he was maybe too generous in his retelling. In addition to getting him added to the standby list, I again needed to check my bag, so we queued in the priority line for a few minutes before abandoning that for the kiosks.
Unlike in San Diego, the very slow kiosk process didn't even result in a bag tag, so I had to interrupt the three American agents chatting behind the counter.
"Hi! I just need to drop my bag off please."

"You have to use the kiosk."

"Umm, I did — it didn't have the option to print a tag?"

"Well, did you pay?"
Which, I may have been outrageously tired after our D-licious hotel experience, but I kept it together and did not say any of the things running through my head (like, "seriously? Not only am I an Executive Platinum, I have a half-dozen credit cards that give me free checked bags, and even if I didn't, would it be so hard to just ask for my boarding pass or ID and look up the answer to that yourself?").
I just smiled (always smile).
With more eye-rolling and huffing than is generally found in a room full of teenagers being asked to put their phones down and do chores, my bag was tagged through to San Diego (this will be important later).
Now a ground stop!
When air traffic control declares a ground stop for a particular airport, there isn't much the airlines can do about it. So we sat on the tarmac in the penalty box while we waited for LAX to allow us to take off.
Ground stop, ground stop, go away, come back another day…

— Ben Schlappig (@OneMileataTime) May 2, 2016
I had a great seat in 12F, my phone can be a hotspot, and the crew was friendly, so the ~50 minutes went quickly.
https://www.instagram.com/p/BE4wOlZg1CN/?taken-by=tebfunk
Not American's fault, and these things do happen — frequent flyers are all too familiar with this stuff, but the people around me in economy were definitely getting antsy.
My connection in LA was only about an hour this time, and while I was anxious to get home, I also knew I'd booked the last flight of the night, so started preparing to spend the night in LA.
Looking like a ~19 minute mainline to Eagle connection at LAX tonight. Odds?

— Tiffany Funk (@tebfunk) May 2, 2016
I also DM'd the American crew on Twitter, asked them to protect me on a flight the following day, and told them I was going to run. They wished me luck, and said they'd send a message to the gate.
We arrived at the gate 25 minutes before the departure of my next flight, so I ninja-d my way off the plane, around the corner, down the escalator, and directly onto the shuttle for the remote terminal. Thankfully I've made this connection a few hundred times, because there wasn't any extra time to familiarize oneself with the terminal, or lookup departure gate info.
The bus driver radioed ahead that both I and another passenger (to Denver) were on his bus, and that we'd be arriving within three minutes.
A quick dash off the bus and through the tiny terminal, and I was at the gate 18 minutes prior to departure. The door was open, and boarding was even still in process. Success!!
But we're not done yet!
Any frequent flier will tell you that if your upgrade has already cleared, no good comes from additional beeps at the boarding door. And the staff at the American Eagle terminal….well, they're not the best in the system.
I slid my phone under the scanner, [at T-17], and was met with a "MRPP" noise and a red error message that filled me with dread.
"Are you going to San Diego?"

"Yes m'am!"

"What seat?"

"2F"

::lazy typing::

"Do you have ID?"
I fished my license out of my bag, and she typed some more.
"You're not on this flight."
Now, at this point I know what has happened — someone at American assumed I wouldn't make my connection, and booked me elsewhere (without telling me). But I can see her screen, which shows three empty seats in First and six in Economy, and boarding wasn't over yet, and she didn't seem to know what was going on, so there was still a chance to fix it.
"I was booked on this flight, I have a boarding pass, and my bags are checked through. Can you please put me back on it?"

::glowering stare::

"Who gave you that boarding pass?"

"Excuse me?"

"Where did you get that boarding pass, because you're not on this flight!"

"Umm, American's mobile app? Like I always do as an Executive Platinum?"
(I know, I played that card, don't judge me).
"That's not how it works."

"Huh?"

"This shows you're booked on United. If you buy a ticket on United you don't get to just decide to take an American flight. That's not how it works."
Let me tell you, I have never in my life been so grateful for the thousands of hours spent on the phone with incompetent agents, my retail background, and generally being raised properly. Without that, y'all would have seen me on YouTube, I'm sure.
[deep breath] [T-16] [deep breath and digging nails into palms]
"I agree, that shouldn't be how it works. Similarly, if I buy a ticket on American, as I did in this case, and check my bags through to my final destination on American, as I did in this case, you should not just decide I'm flying another airline if I arrive at the gate and present my boarding pass more than 15 minutes prior to scheduled departure, as I did in this case."

"You're booked on United."

"M'am, there is clearly some confusion here. I know you want to get your flight out on time, and I would like to be on it. Can you please call a supervisor to look at the ticket?"
She reluctantly called someone, ranted at them about how "some woman who was booked on United wants on this flight" and reminded them that she had one minute to close the flight out.
On the other end of the line, a voice agreed I was booked on United.
"I know, I see that, but she's saying she's an Executive Platinum and that's not what she booked."
More conversation ensued, punctuated with things like "So she has to buy a ticket?" and "That doesn't make any sense."
[T-15]
Eventually the increasingly flustered gate agent stomped over to her printer, ripped a boarding pass from the machine, and sputtered "Fine. You're in 12C."
And because I was tired, and cranky, and my hair smelled like an ashtray after two nights in Downtown Las Vegas without having hot water in my room, I rebutted.
"I have boarding passes for 2F?"

"I don't know how you got those. You're in 12C."
I decided to sit in 2F anyway.
To punctuate the trip, upon arrival in San Diego my bag came out on the wrong carousel once again, more than 30 minutes after arrival. Sigh.
Nothing horrible, but nothing great
Ultimately, the final count for my "easy" trip was as follows:
Two delayed flights (totaling 2.5 hours of delays)
One incompetent gate agent
Four agents with horrible attitudes
Two rounds of mis-labeled luggage (and 75 minutes of waiting for it)
I'm not really complaining, and none of this really impacted my life, but it did provide a new perspective on what most people experience when flying these days.
I can totally see how if this was your one trip of the year, the delays, poor communication, and other shenanigans would have been a complete hassle, and probably soured you on air travel, even though this was still pretty tame compared to what can happen.
If this is what normal travel is like, no wonder people hate it.
What do you think? Is this better or worse than you'd expect for air travel in the U.S.?