So I flew American yesterday from Salt Lake City to Los Angeles to New York in first class. I planned a long layover in Los Angeles so I could visit the new Qantas First Lounge since it was opening day (more on that later).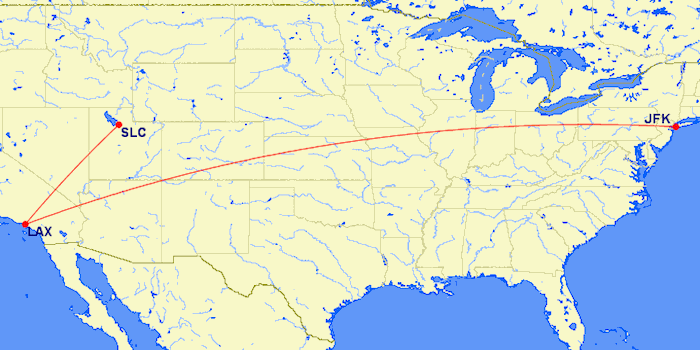 The flight from Salt Lake City to Los Angeles was operated by a Mesa CRJ-900, so I had to check my bag plane side.
That means at the gate they put a tag on your bag, and then at the bottom of the jet bridge a ramper takes the bag. When you check a bag plane side you receive it upon arrival at your immediate destination (this is different than gate checking a bag, where it's tagged to your final destination). Plane side bags don't have electronic tags in most cases, since they're literally just being hand-carried about 20 feet to the plane, and then loaded on a cart for passengers to claim as they disembark.
I always make a point of being nice to the ramp agents as they take my bag from the jet bridge, since the fate of my bag rests in their hands. So as I handed the ramper my bag I smiled and said "thanks so much, I really appreciate it."
Where's my "plane side" bag?!
The flight from Salt Lake City to Los Angeles was uneventful, and upon arrival I waited right by the plane for my gate checked bag. The baggage handlers brought out the cart with gate checked bags, and my bag wasn't on it. I wasn't the only one waiting, so I figured there was a second cart coming.
After about 10 minutes of myself and two other first class passengers (and fellow Executive Platinums) waiting there, we realized that our bags weren't coming. One of the passengers called over a ramper and explained the situation. He said he'd go take a look, but then just walked away and never came back.
Thanks for trying, captain!
At this point the crew from our flight was leaving the aircraft, and a new set of crew were boarding. The same guy stopped the captain from the new flight and explained the situation. The passenger was kind of pissed off in his tone. It's understandable he was pissed (as was I), but the captain was just trying to help.
The captain went on the ramp and was clearly engaging in conversation with the ramp workers for several minutes, before returning and saying "I did everything I could and even looked myself, but we can't find them."
The other passenger got angrier. I tried to calm down the situation, and said "thanks for trying captain, I really appreciate it. It's certainly not your fault, and you're going above and beyond." But everyone was frustrated.
"I am the supervisor"
At this point we came to the realization that our bags had actually been misplaced. I've seen a lot in my millions of miles of flying, but how three valet checked bags on a nonstop flight can be misplaced is beyond me. Especially since we were among the first three passengers to board, so it's not like we boarded last minute and the bags were somehow left behind.
So I asked the outgoing crew to please have a supervisor come to the jet bridge.
Within a few minutes a lady showed up — let's call her P.
"Hi, we all valet checked bags in Salt Lake City and have connections, and the bags aren't here."
"You need to go to baggage claim and file a report."
"I don't think you understand. We valet checked bags plane side on a nonstop flight, and everything we have is in them. Clearly this is a very basic oversight either here or in Salt Lake City, and the other guy has a tight connection and can't go to baggage claim."
"What do you want me to do?"
Like, seriously? "What do you want me to do?" Really?!
This is kind of the point at which I realized I wouldn't get anywhere with her. If as an agent you can't realize that "what do you want me to do?" isn't the right answer when three people's valet checked bags are missing then I don't know what to say.
"To clarify, are you the supervisor?"
"Yes."
"Okay, well is there a way you could call your supervisor then?"
"I am the supervisor."
"Right, but surely you have a supervisor, and you don't seem interested in helping us."
"No, I'm in charge."
"In charge of…?"
"The American Eagle terminal."
"Okay, is there a chance I could meet a mainline American supervisor somewhere then?"
"I already told you I'm in charge. There's nothing I can do, I don't know what you want. You guys have to go to baggage claim and file a report."
"Ma'am, you have three Executive Platinums in first class here that…"
"I don't care if you're in first class or economy, a missing bag is a missing bag."
Her complete lack of any empathy was maddening. I happened to have a long connection, but one of the other passengers had a 45 minute connection, so there was no way he could get to baggage claim. And it's one thing to have your checked bag misplaced, but to lose your valet checked carry-on is exponentially more inconvenient, since it leaves you with basically nothing.
I'll admit this is the point at which I got a bit emotional. I didn't yell at her or anything, but I felt myself starting to shake a bit out of anger at the situation. As humans we often just want to be heard when things go wrong, and feeling alone and not understood is the worst feeling.
So I told her I thought her behavior was unacceptable (which I realize wasn't really constructive, but I wasn't cussing or anything), left the jet bridge, and went into the terminal.
"Do I need to call law enforcement?"
Hilariously, as I walked out of the jet bridge in a clear state of frustration, a good friend of mine just happened to be standing at the gate. He was preparing to leave on the same plane I just flew in on. Total coincidence, and small world!
I explained to him the situation and how ridiculous it all was, and we started swapping stories.
Then P — who had been behind the podium prior to that — came over to me.
"Are you photographing me?"
"Huh?"
"That's not allowed and I didn't consent to you taking my picture."
"No I didn't photograph you."
"Do I need to call law enforcement?"
"Look at my phone. Do you see your picture on here?" (I opened the camera roll in my iPhone)
"I don't need to see it."
"If you're gong to accuse me of this, look. Look."
At this point she walked away.
So not only did she accuse me of taking a picture of her — which I didn't do — but when I denied it she threatened to call law enforcement, and when I wanted to prove my "innocence" she walked away.
And just to be extra clear, I didn't have a camera out and I wasn't provoking her by "pointing" my phone at her or anything. I was just showing something separately to my friend.
Our bags are still in Salt Lake City
At this point I kept talking to my friend while we waited for his flight to board. After we talked for a few minutes P came over to me, and her tone was considerably different.
Suddenly she was friendly and helpful, and even addressed me by name. She explained that she contacted Salt Lake City, and that they found three bags sitting on the tarmac.
She explained those bags would be placed on the next flight to Los Angeles, which was scheduled to land at 3:30PM. Apparently they couldn't check the bag through to my final destination, but rather I'd have to pick it up at baggage claim.
Okay, my connection was at 4:45PM and that plane was scheduled to land at 3:40PM, so that should have worked… barely. Besides, I'm basically a lost puppy without my carry-on, so would have preferred picking the bag up so that I could be sure it was in my possession.


My flight


Flight my bag was supposedly on
Sadly this was only the very beginning of the saga.
To be continued…
Coming up next:
P calls me (twice!)
I get three "official" pieces of conflicting information as to where my bag is within a period of 15 minutes
I'm sitting at JFK at 3AM
I learn what people really want in life
Have you ever lost a plane side bag? What would you have done differently? What would you have done when a supervisor accused you of something you didn't do and then threatened to call law enforcement?