A few weeks ago I took a quick weekend trip to Milan on a combination of British Airways and American flights. While I've flown British Airways first class on several occasions, I hadn't previously experienced the business class "Club World" cabin. I was also able to book directly out of San Diego, so was doubly excited.
This was the same fare deal Ben and Ford took advantage of over their Thanksgiving trip, and while I don't doubt their Club World experience at all, mine was rather different, so I thought I'd share my thoughts.
The fare
As you may recall, British Airways had a fantastic sale last October, with business class tickets to several cities in Europe selling for ~$1400. This was stackable with the Chase and AARP discounts, so was quite the deal.
I generally like to take advantage of deals when I can take longer trips, but the combination of redeemable miles (including the transatlantic bonus) and getting a jump on 2016 Executive Platinum qualification was too tempting. I was only able to sneak in a weekend in January, but some gelato is better than no gelato, really.
All in, I paid $1009.15 for the roundtrip business class tickets, and earned the following miles:
28,830 redeemable miles
25,000 bonus redeemable miles from the transatlantic promo
20,044 elite-qualifying miles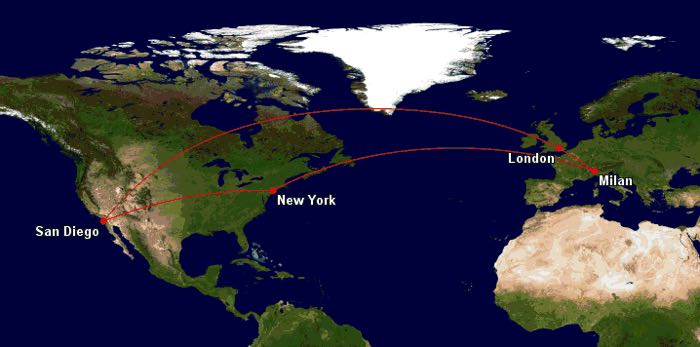 A very convenient routing, shockingly
The lounge
I live about six minutes from the San Diego airport, which isn't at all busy in the late evenings, so I left my apartment at 6:30PM. By 6:45PM I was through security and in the lounge, so we were off to a great start.
British Airways (and American, and JAL) uses the Airspace Lounge in San Diego. There's a separate menu for BA passengers, which basically consists of the same things that are usually on offer, but without a charge. British Airways passengers get a stamp on a Post-It to use as a voucher of sorts.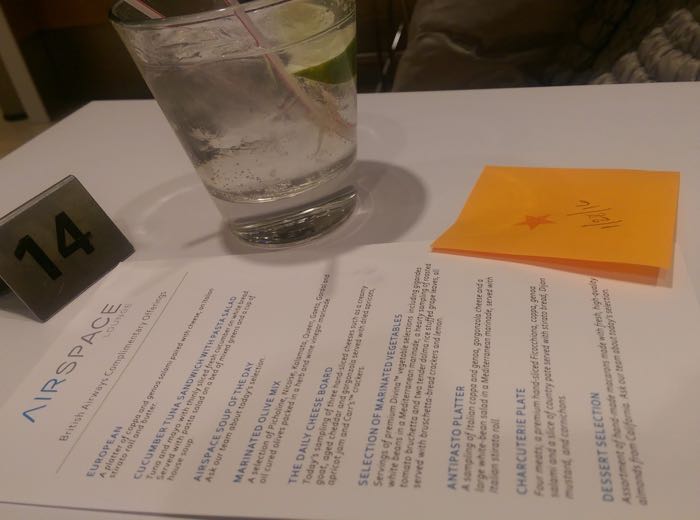 An odd system, but it works
I wasn't particularly hungry, so had a bowl of soup along with a gin and tonic while I did exciting work things like syncing my email so I could draft responses offline. Very glamorous lives we lead here at OMAAT.
Boarding was scheduled to begin at 7:20PM, and despite the gate areas in San Diego being designed to manage a 737-worth of passengers, the scene wasn't too chaotic.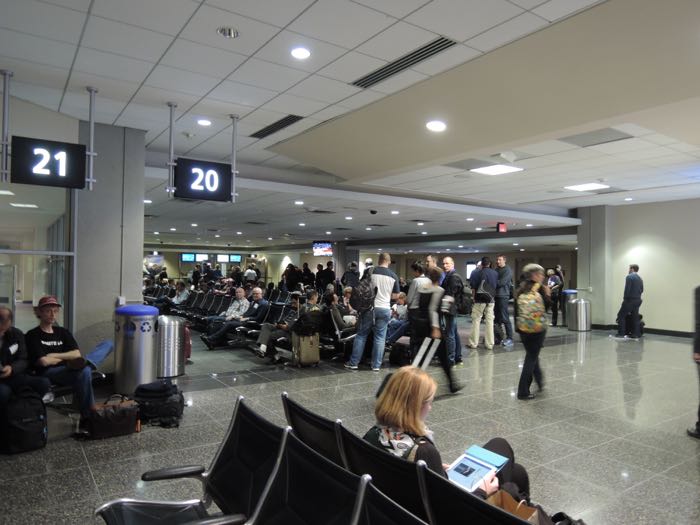 British Airways boarding area in San Diego
As is fitting for a flight to London Heathrow Terminal 5, the jet bridge was about a mile long. I basically walked back home before seeing the plane.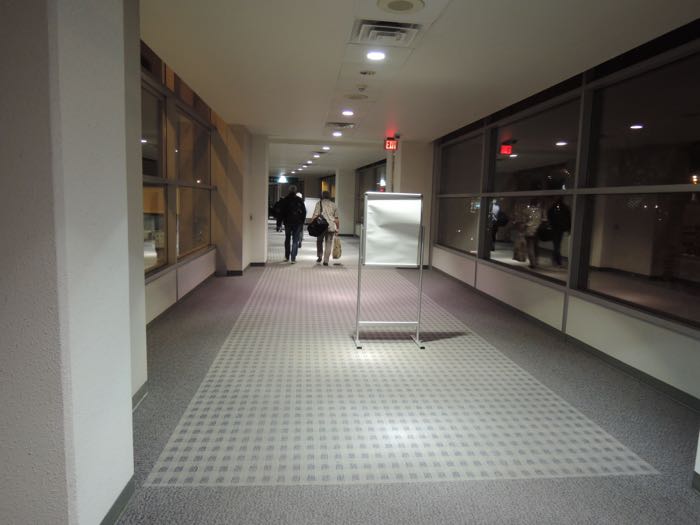 I didn't even know we had jet bridges this long!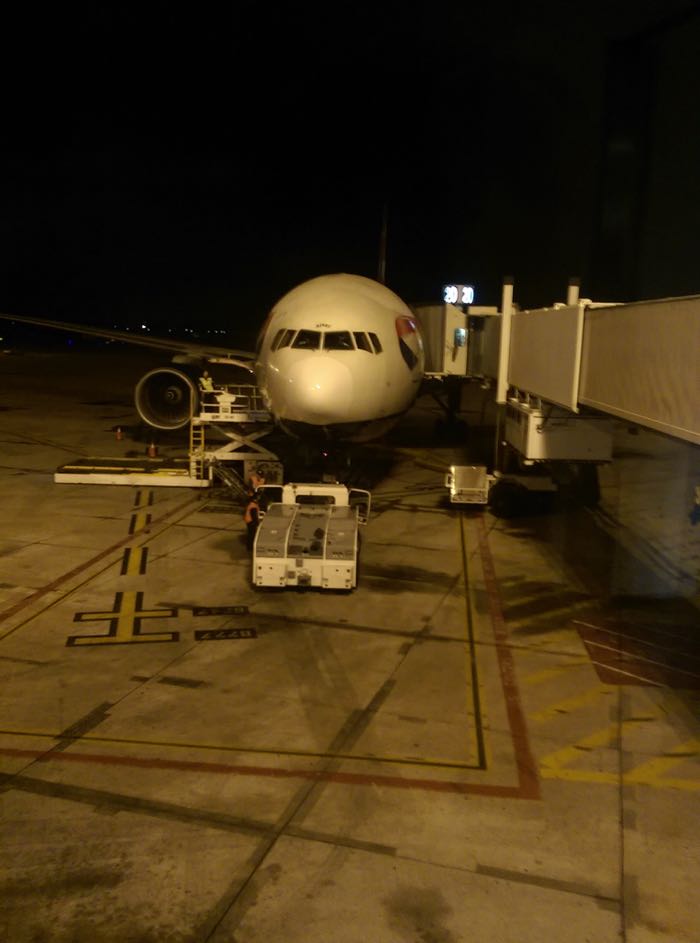 The biggest plane at SAN
The crew
From the moment I stepped on board I could tell the crew was going to be phenomenal. The Customer Service Manager was stationed at the door, and welcomed each business class passenger, prior to passing them off to a colleague who then escorted everyone to their seats.
If you haven't experienced it, boarding Club World is a little chaotic. With the eight-across configuration everyone is Tetris-ed in, so there's a lot of shuffling as folks store their belongings. The lack of storage space at the individual seats exacerbates the situation, and it seemed like everyone was in and out of the overhead bins about four times.
As things settled down, a delightful flight attendant came around and warmly addressed each passenger with an enthusiastic "Welcome to Club World!" and a selection of beverages. She clearly loved her job, which is such a refreshing attitude.
In fact, all the Cabin Crew I interacted with seemed equally excited to be onboard and assisting passengers. Even though I was in the window seat the crew never passed things to me over the divider, instead taking a few steps into the seating area to deliver drinks and trays.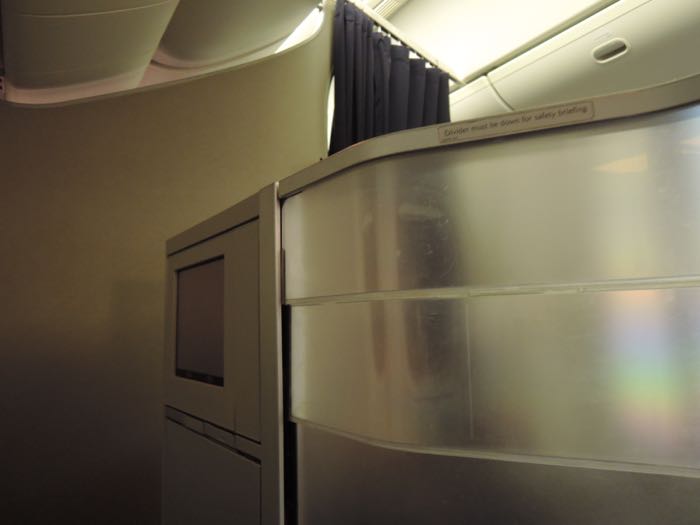 This divider stayed up the entire flight
I assume this is the proper way to service Club World, and that most crews just don't bother, as I've heard lots of complaints from others. So this is a clear point of difference, and seems like an easy way to improve the Club World experience.
I was also blown away when I walked through the galley mid-flight. I'm used to being ignored by crew in the galley – it's their space, and I don't really need anything anyway, but the flight attendant on duty jumped out of her seat to ask about my flight experience thus far and offer drinks.
On a Western airline. In business class.
Unexpected, and quite impressive.
So the crew was just all-around fantastic, and hit that perfect blend of fun and chipper while still being professional and polished. They made the flight.
The cabin
The color palette on the 777-200 is different from the other British Airways planes, and features creamy taupe tones rather than the gray scheme on the 747 and A380.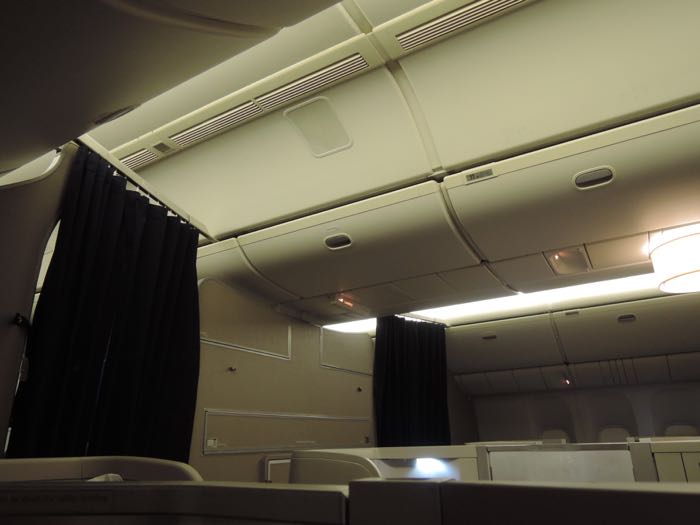 Hospital chic by night
This wasn't particularly appealing in the evening – the mood lighting made everything look a bit washed out and dingy – but the concept made much more sense in the morning. With natural light streaming in, the light colors with soft blue accents gave the cabin a fresh, modern mid-century vibe, which I really liked.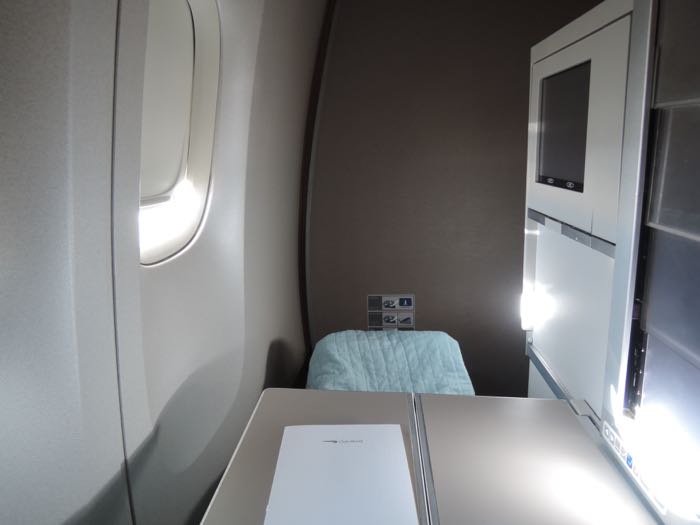 Modern minimalist by day
I also loved the drum shade in the center of the cabin. That alone made the space feel less like 16 people were packed into an area that should probably have had 12 at most, so that was a nice touch.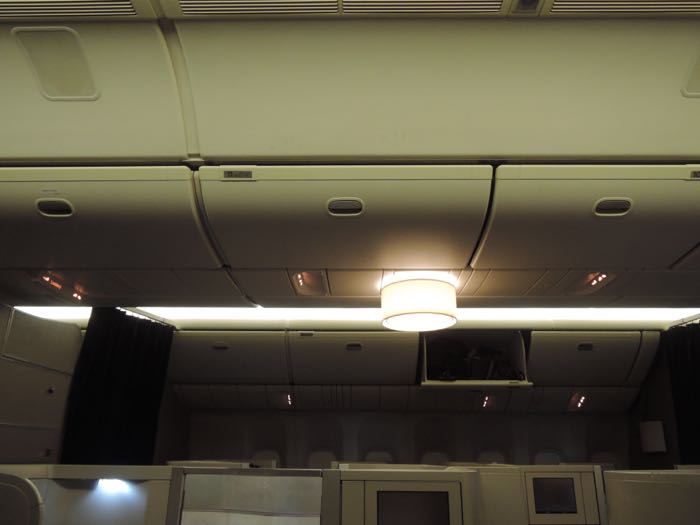 I might just like it because it's unnecessary?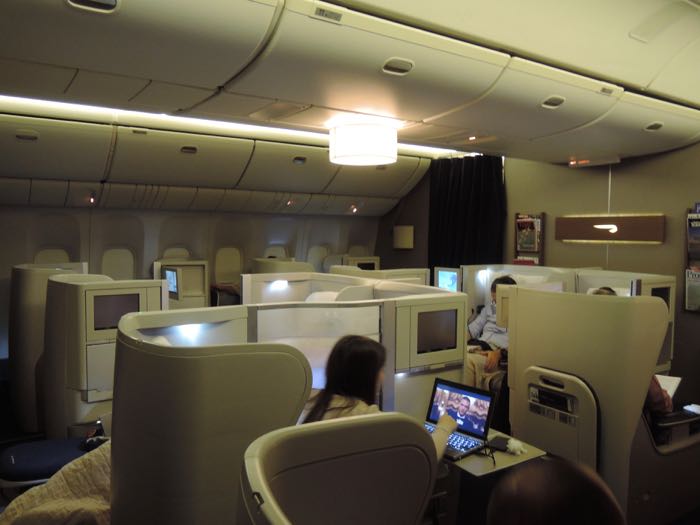 This is still a lot of people in a small space
The catering
The food on this flight was another pleasant surprise. I've had hit and miss experiences even in First on BA, so went in with low expectations for the Club World catering.
The menu was as follows: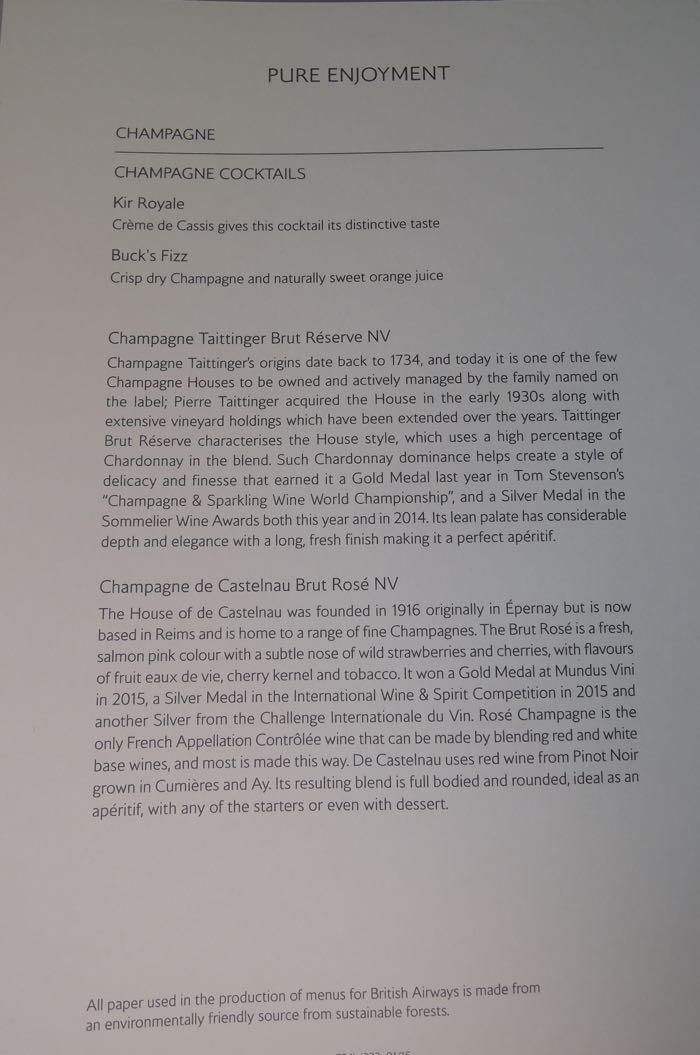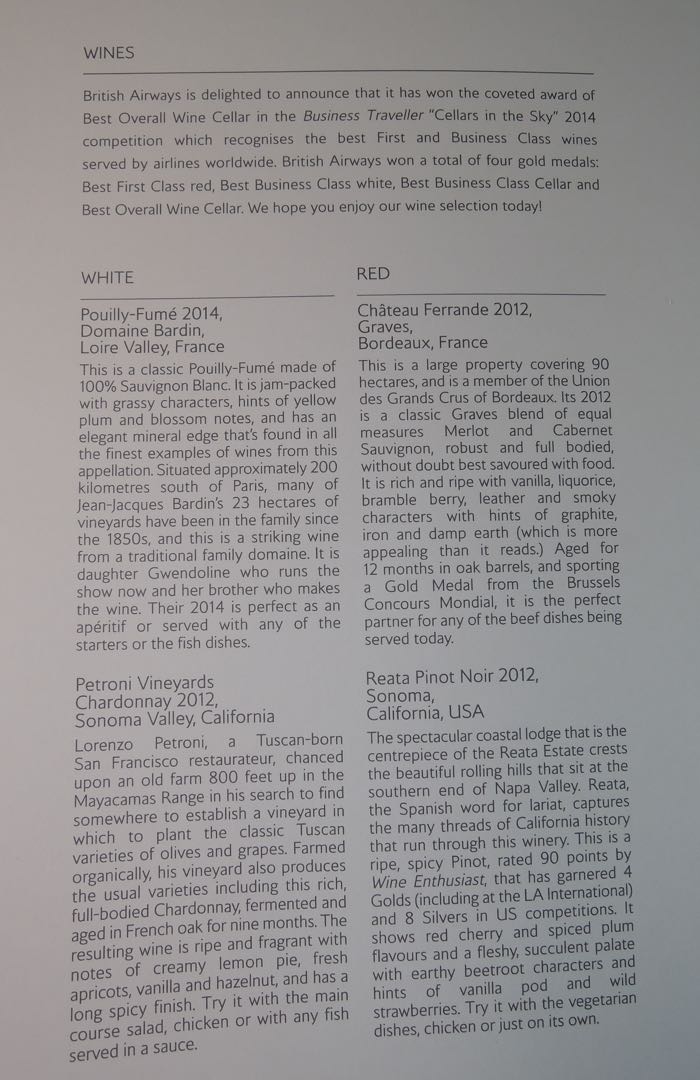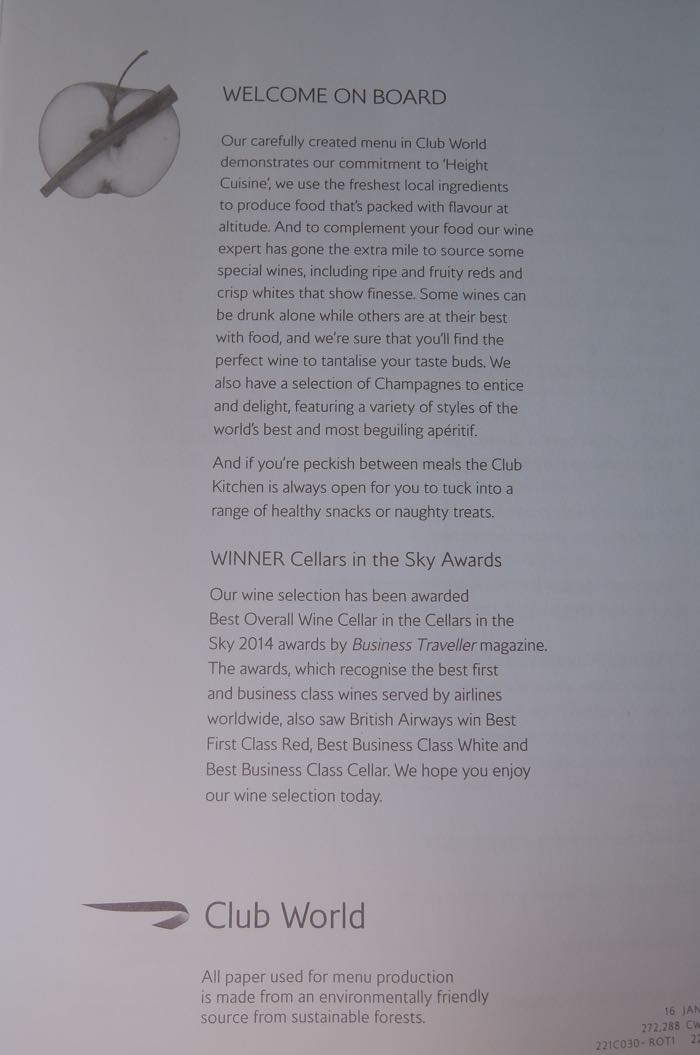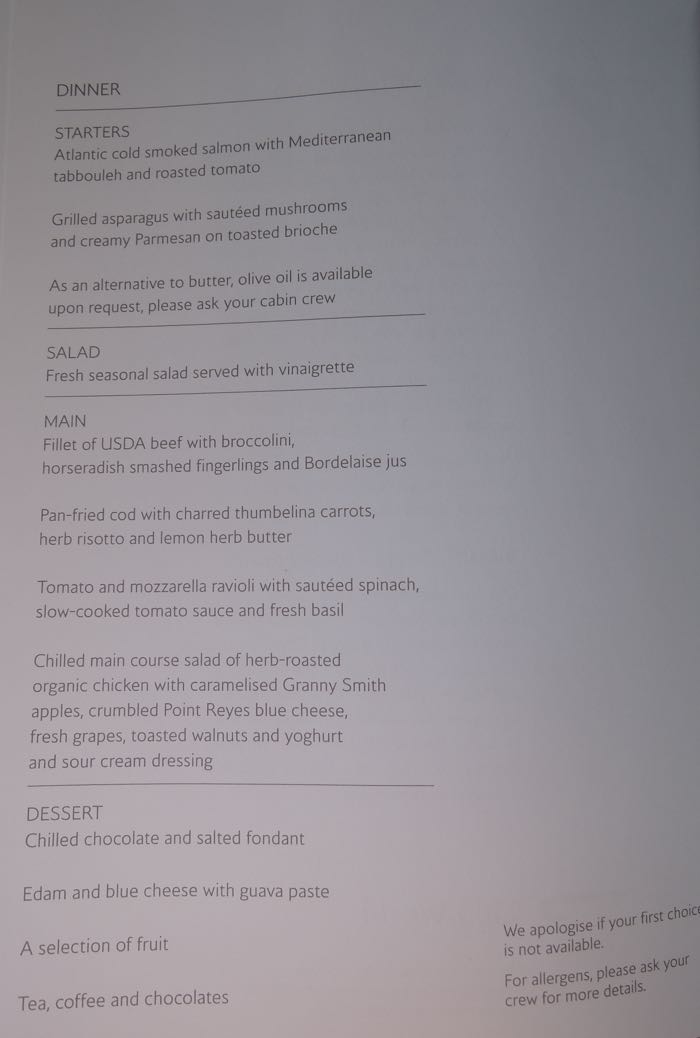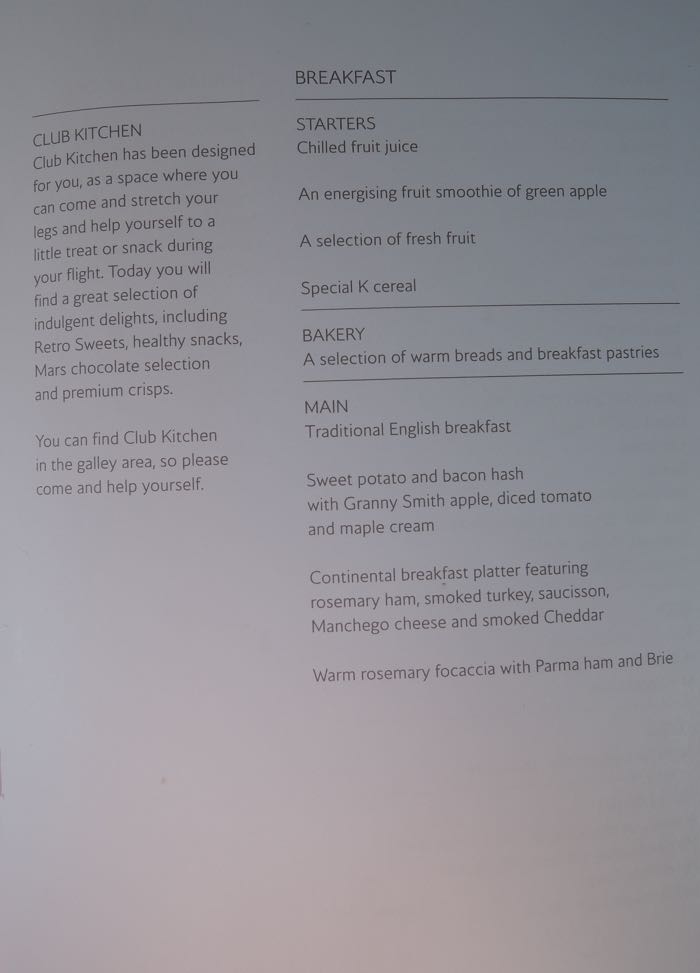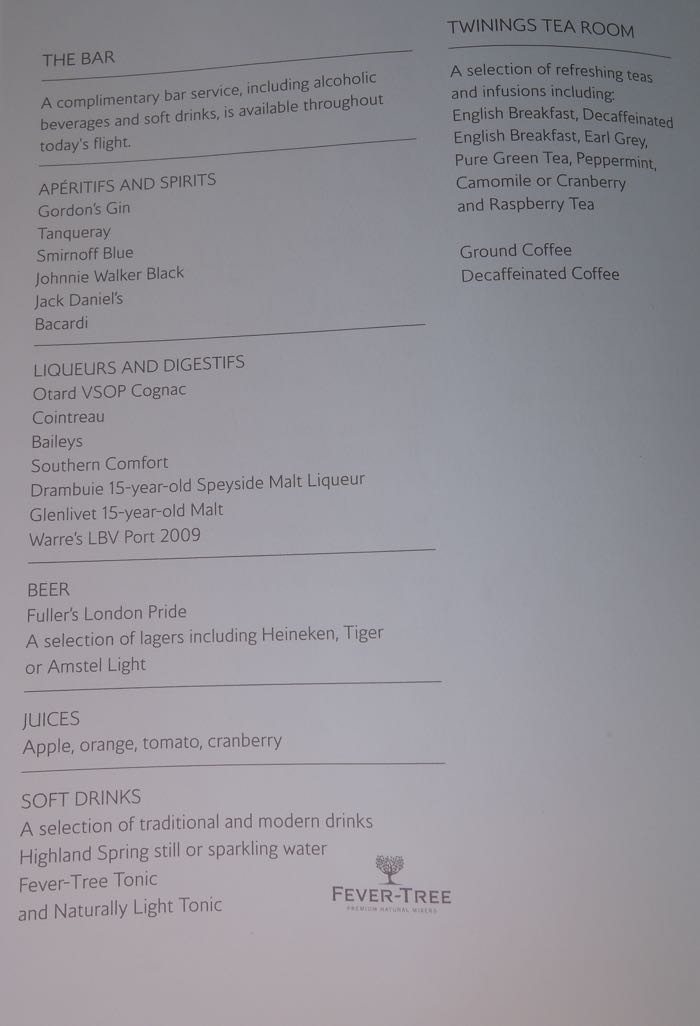 I started with a gin and tonic, and I have to say, having not only FeverTree but Light tonic is a great offering. Smart, too, as even crummy gin is better with the right tonic. Similarly to when Ben flew Club World, I was given gin and tonic ingredients rather than a composed cocktail, but everything was presented purposefully, and it didn't seem abrupt or rude at all.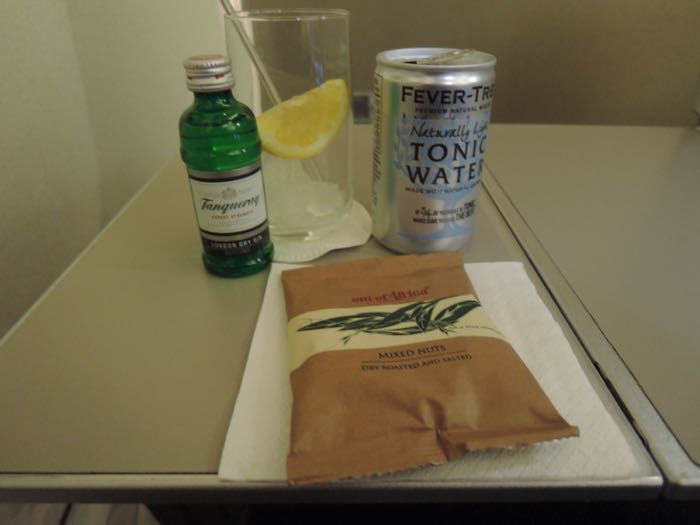 Now if BA would just improve the gin offering itself…
Attitude makes all the difference.
I chose the asparagus as a starter, which was served alongside a salad. Both were quite good!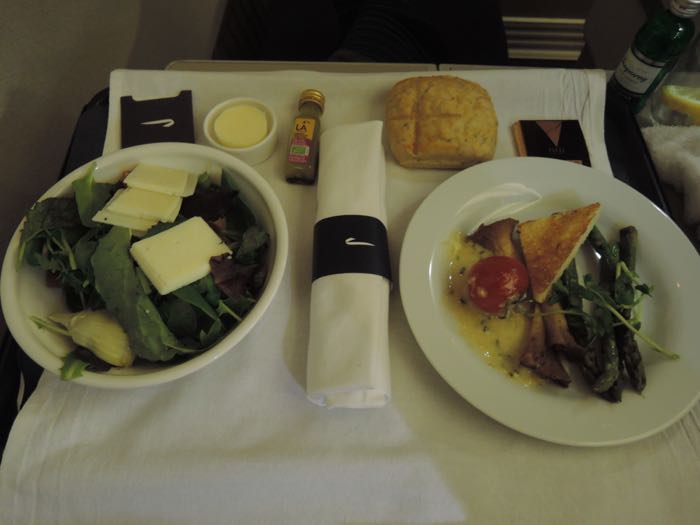 Club World starter and salad
I took a risk with the mains and selected the fish, and oh my gosh it was good. The cod was moist and flaky, and the risotto was light while still being creamy. One of the top five fish dishes I've had on any airline, in any class of service.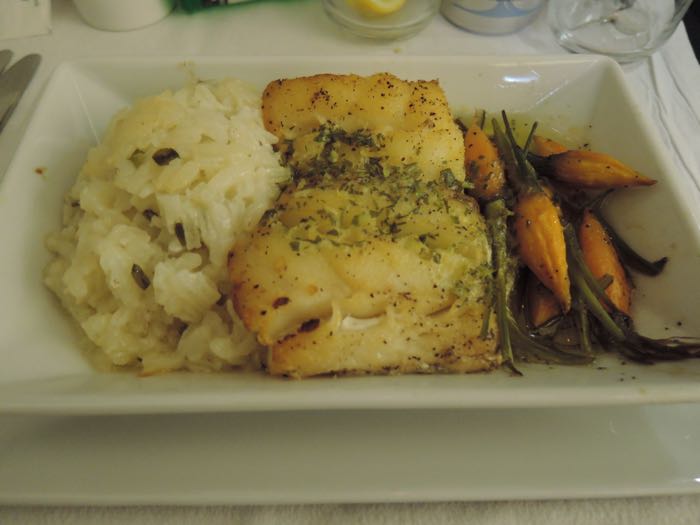 Club World cod and risotto
For dessert I had the fondant, which was the just the right size and not too sweet.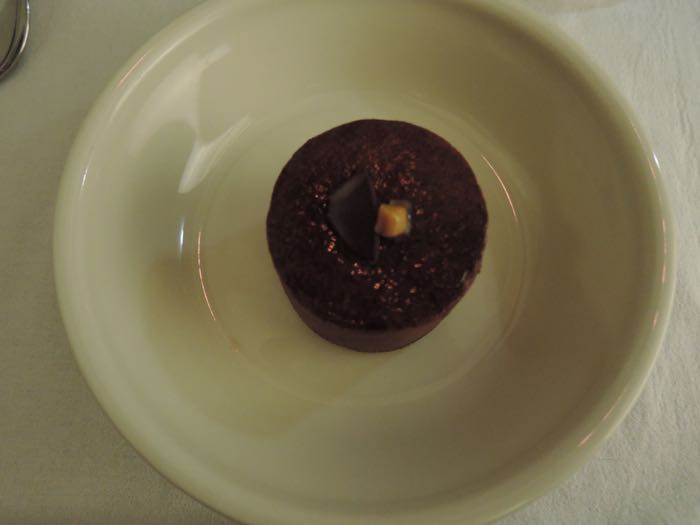 Club World dessert
I'm not a huge breakfast person, so in the morning I had a bowl of fruit and a croissant, and a truly terrible cup of coffee.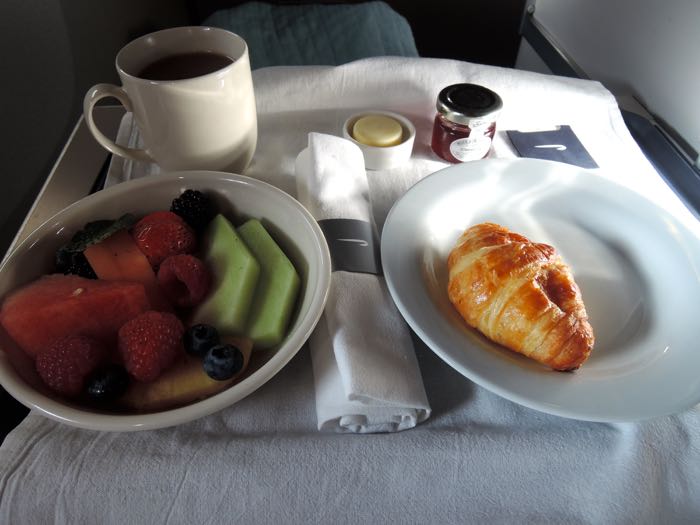 Love a fruit plate that has berries rather than just insipid melon slices
But on balance, the food selections were impressive.
The seat
Let me be blunt. The Club World seat is problematic.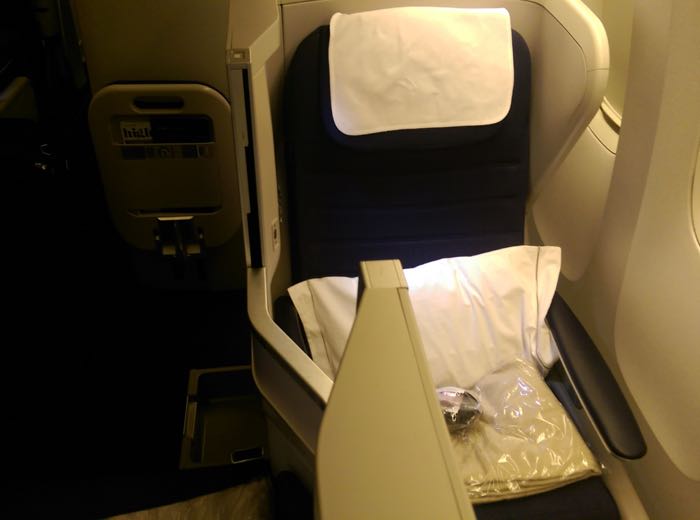 Cramped, or cozy?
I was in 11K, which is one of the best seats in Club World. The position of the cabin divider means you don't have to deal with anyone else's feet, and generally feels less like a block in a human game of Jenga than the other seats in the cabin. And being in the mini-cabin is always nice.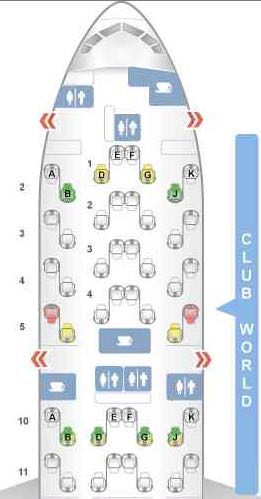 The seat itself is narrow though, the footrest is complicated and not really useful (I'm 5'7", and my toes could only just reach when I had my seat in a normal position), there's almost no storage, the TV screens are tiny and ancient-looking, and my power outlet didn't work.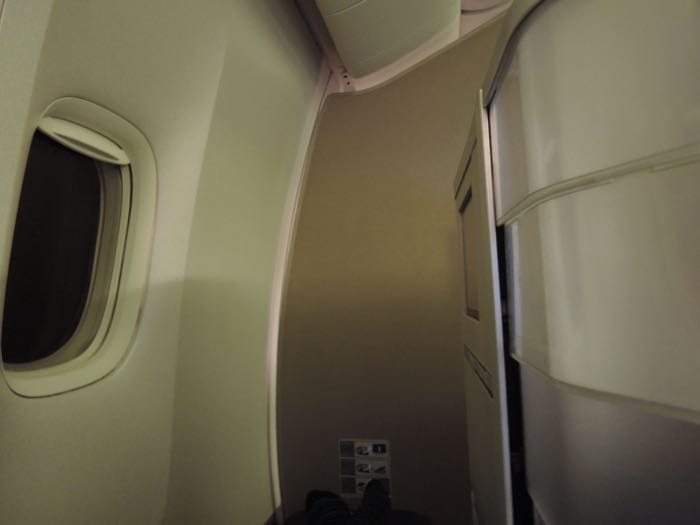 Plenty of legroom though
That being said, I felt like it was very private. I think this is almost entirely due to the location of my seat, and that the crew left the divider up for the entire flight. If either of those things had been different, I would probably have been borderline-twitchy from the feeling of exposure.
I have heard that the center rear-facing seats are equally private-feeling if you're traveling as a couple, but I can't imagine the forward-facing seats to be pleasant at all.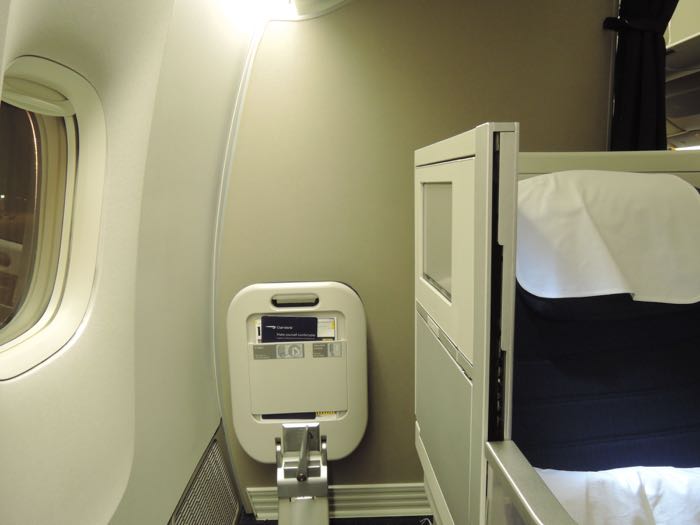 Being in kissing distance of strangers is still weird
As it was, I felt like I had a little cocoon, and slept very well. Even with the useless pillow I slept for a solid six hours, which is about as much as I sleep at home.
So I can't say the seat was entirely horrible, because I did sleep, and that's really the main goal of business class. But it wasn't comfortable for sitting or lounging, and I felt like I had stuff everywhere all the time.
Bottom line
Club World had everything going for it on this flight. I had the best seat, a phenomenal crew, and really impressive catering.
This was truly the best Club World could possibly be, and I enjoyed my flight.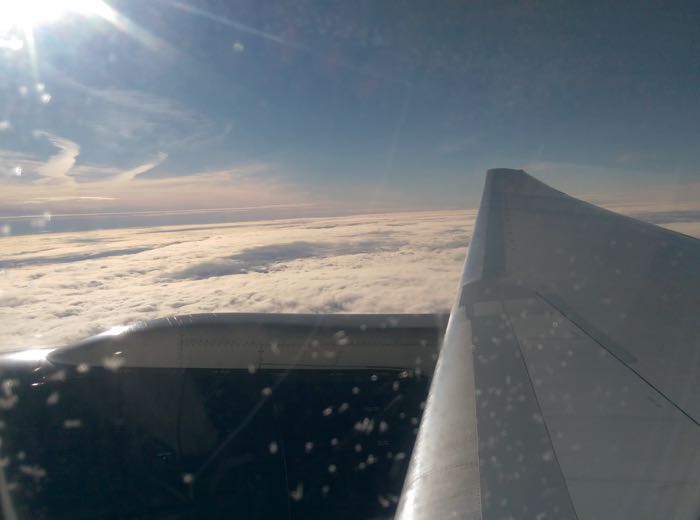 The views helped, for sure
But my final verdict is that British Airways needs to step it up. The hard product just isn't competitive with what other carriers are offering in the transatlantic market, and that's the reliable portion of Club World – crews and catering don't make up for a very narrow seat and generally dated setup. And if the crews and catering are off, Club World really has nothing to offer.
If you're looking to travel business class from Southern California to London, I'd rank British Airways a distant third behind American and Virgin Atlantic (which I think are basically tied in a "depends on what you value more" kind of way). In other markets you have even more options, so while I'd be happy to book Club World again, it would be more because of schedule than an active interest in the product.
Have you flown British Airways business class? Where was your flight on the service spectrum?