This is very exciting news! Late last week it was announced that a Park Hyatt will open in Auckland in 2017! Here's the press release:
CHICAGO (November 21, 2014) – Hyatt Hotels Corporation announced today that a Hyatt affiliate has entered into a management agreement with Fu Wah New Zealand for a Park Hyatt hotel in Auckland, New Zealand. Expected to open in 2017, Park Hyatt Auckland will mark Hyatt's return to New Zealand, and the first Park Hyatt-branded hotel to open in Auckland.

"This has been an exciting year for the Park Hyatt brand, and we are honored to collaborate with Fu Wah New Zealand on this landmark luxury development," said Ratnesh Verma, senior vice president, real estate and development, Asia Pacific, Hyatt. "Fu Wah New Zealand believes in the Park Hyatt brand, having recently purchased Park Hyatt Melbourne, and we are confident Park Hyatt Auckland will provide guests with the luxurious accommodations, culinary expertise and high-quality service for which the Park Hyatt brand is known. We remain committed to growing the brand in culturally rich cities like Auckland."

Park Hyatt Auckland will feature 190 luxurious guestrooms, three restaurants and bars, event spaces, a spa, a 25-meter pool, and a fitness center. Park Hyatt Auckland will be nestled in a prime waterfront location on Auckland Harbour, which is expected to undergo a major revitalization to turn the area into a world-class leisure, entertainment, culture, and dining destination.

The announcement of the Park Hyatt Auckland development complements a milestone year for the Park Hyatt brand globally, with the opening of Park Hyatt Vienna in June, followed by Park Hyatt New York in August. In addition to these recent openings, there are 16 previously announced Park Hyatt hotels currently in development around the world.
As stated above, this property marks Hyatt's return to New Zealand. They previously had the Hyatt Regency Auckland, which was converted into a Pullman property in 2011.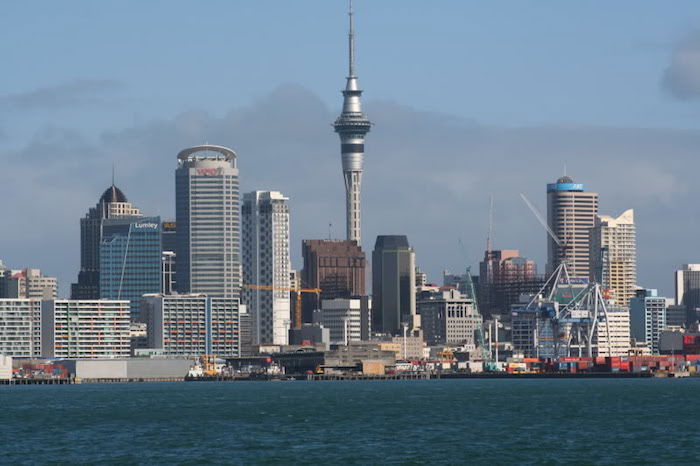 Auckland, New Zealand skyline
I can't even begin to say how excited I am about this. New Zealand is a gorgeous country, though I can't say I love Auckland as a city, at least based on the brief time I spent there a few years back. Then again, most people come to New Zealand for nature and not really for the big cities.
Still, most international flights arrive in Auckland, so it's a popular starting point for trips to New Zealand. Auckland is really lacking when it comes to luxury hotels, so this will be an amazing addition. As of now there's a Sofitel and Langham, and for those of us collecting more "traditional" points there's a Hilton, but that's about it.
It'll be great to have a luxury option in Auckland that's attainable on points — chances are it'll be the nicest hotel in the city.
And I realize I'm probably in the minority, but the quality of a city's hotels does to some degree dictate whether I travel there or not. At the very least it acts as a tiebreaker between two cities. While I'm hoping to make it to New Zealand very soon, I might skip Auckland altogether and go straight to the South Island to visit Queenstown, one of my favorite places in the world.
I'll certainly also return to Auckland when the property finally does open in 2017.
Are you interested in checking out the Park Hyatt Auckland when it opens?