As many of you may know, I recently flew Pakistan International Airlines business class from Manchester to New York, which was a fascinating flight. The crew was extremely friendly, while every other aspect of the product was pretty underwhelming.
The interior sort of felt like it was falling apart, as the seats were wobbly, and many of the controls didn't work. The crew even made a scripted announcement after takeoff apologizing in the event that the seats and entertainment don't work, indicating that Pakistan was in the process of refreshing their fleet.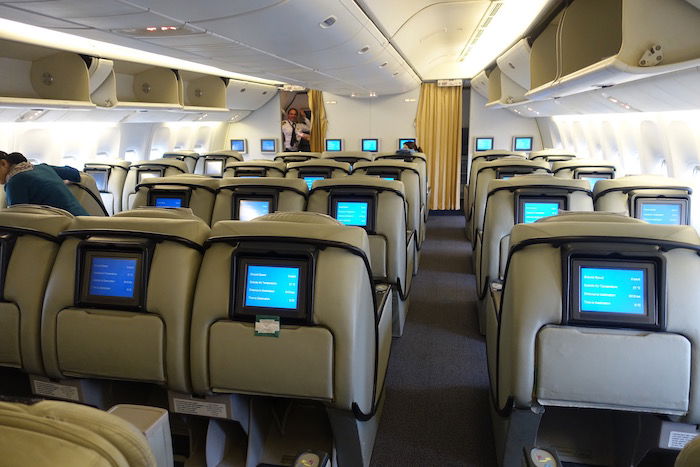 I have heard from several sources that the airline is trying to improve, and has a plan to refresh their aging fleet (in this case the 777s are hardly "aged," but rather they just haven't been maintaining them properly).
While not a permanent solution, PIA is leasing A330-300s from SriLankan, which translates into a huge product improvement for both business class and economy class. This is the same type of excellent A330-300 I flew on SriLankan last year between Colombo and Male, which features reverse herringbone seats in business class.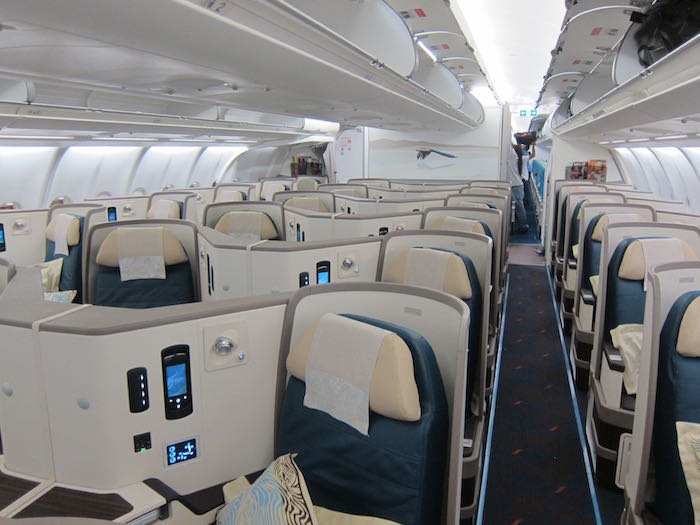 SriLankan has huge debts and is continuing to suffer big losses. So while they only recently acquired these A330-300s themselves, they're better off leasing them even just at a breakeven cost, rather than flying them and incurring losses. Per Reuters:
Sri Lanka's cash-strapped national airline is in talks to lease four of its Airbus A330 planes to Pakistan International Airlines Corp, a government minister said on Thursday, months after cancelling an order for four Airbus A350 aircraft.

"A team from the airline is in Pakistan for negotiations. We will lease one A330, latest next month, on wet lease," Kabir Hashim, Minister of Public Enterprise Development, told reporters in Colombo. A wet lease refers to when one airline provides an aircraft, crew and maintenance to another.

Hashim also said SriLankan would lease three more A330s "in the next few months", but did not discuss the type of lease.

Hashim said the airline paid around $450,000 dollars a month to lease each A330 and was looking to lease the aircraft to the Pakistani carrier "even at a break even" level.
Per PIA's spokesperson, here's a picture of the new A330 fresh out of the paint shop, and it's being called "Pakistan Premier:"
Full view of PIA's newly leased A-330 as it rolled out of Ispahani hangar after wearing PIA livery ✈️ pic.twitter.com/ymkXScXonN

— Danyal Gilani (@DanyalGilani) August 11, 2016
As you can see, they're not just introducing new seats, but also "better trained crew with new uniforms:"
#PIAPremier in 4 photos:
New livery,
Awesome IFE,
Elegant Business class
Better trained crew with new uniforms pic.twitter.com/tKJpzWeuLt

— Danyal Gilani (@DanyalGilani) August 10, 2016
In case anyone wants to try PIA's new A330, it will begin flying between Pakistan and London Heathrow next week, and as they take delivery of more A330s, the new product should be added to more routes. Unfortunately I doubt it will fly to the US, since an A330 can't easily fly nonstop from New York to Pakistan (the stop in Manchester is only on the westbound flight).
Congrats to Pakistan on these new planes. Given their excellent business class fares in many cases, this could be a fun option if traveling between the Middle East and Europe (though I'm not sure what the transit experience is like in Islamabad and Lahore).