Yesterday I began the story of our son's visit to a Korean emergency room.
To summarize, we had flown down to Jeju from Seoul that morning and were in the process of picking up the rental van from Sixt when he ran smack dab into a steel pole. We got the bleeding under control and headed off to hospital which the Sixt staff had programmed into the van's GPS. My wife took him into the hospital and told the story from there.
---
We found ourselves in a small waiting room, with maybe one other person in it. At the counter, I again showed the wound, now using the keyword "laceration," and presented my son's passport (but not my own). We sat for about five minutes before being called back to a triage bed just inside the door to the treatment floor.
We were first seen by a young male nurse. He spoke some English, enough to ask us pertinent medical history questions, about what happened, and how our boy's behavior had been since the accident. We explained slowly with gestures, and it took Boston Ben rephrasing my words a couple of times, but we all got our points across. There was certainly a language barrier, but it was not insurmountable.
After the nurse disappeared, the doctor — a short, middle aged woman — showed up to look at my son's head. She held his cheeks tenderly and told him, "You a brave boy." Then she turned to me and said, matter-of-factly, "Three sutures. Also we take head x-ray, just to check." I agreed with the treatment plan, and the male nurse reappeared to discuss the cost. He looked nervous about it. He said, "It will be…." and wrote down on his notepad "280,000 KRW." ($250) Sold, I thought.
X-Rays
The nurse escorted us back to the emergency room operating theater. It had a big overhead light and was storing a lot of equipment. We waited for several more minutes here and my son was asked to change from his shirt into a hospital shirt. Shortly thereafter, a tech came to take us back to x-ray, which was just across the hall from the back door of the room we were in. They arranged my slightly nervous son on the x-ray table, and we explained to him that the machine was just a big camera. I ducked out of the room into the hallway and left him by himself, as I am pregnant and wanted to minimize exposure to the x-rays. He did just fine and wasn't afraid at all.
After being escorted back to the operating room, we had our longest wait of the whole ordeal, perhaps 15 minutes. My son weathered it well — he played games on my phone — but I was feeling the fatigue setting in. Nurses ran in and out to get equipment as it seemed like someone else was having a more urgent problem than us. But it wasn't too long until the doctor was back with the nurse to confirm that the head x-ray showed no skull damage and to set up for the sutures.
Stitches
The doctor had a cloth with a hole in it. The hole aligned over the wound and the cloth covered my son's eyes. She played peek-a-boo with him a couple times and got him to giggle, before showing him where she would put it. It made him comfortable and relaxed. Of course, he did not like the shot of local anesthetic at all, but after that, he mostly calmed down, holding tightly to my hands and listening to me sing softly. The doctor also spoke to him softly throughout the procedure, in both Korean and English. I really appreciated her kind bedside manner — it put both him and me at ease.
The three sutures were in before we knew it. The doctor was able to give me post-op care instructions in fairly clear English, and we were summarily released.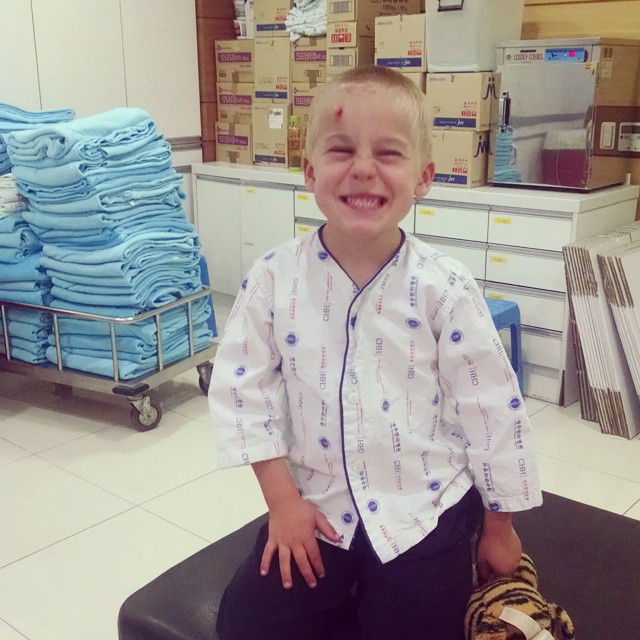 We headed back out to the waiting room counter to pay our 280,000 KRW ($250) with a credit card, and receive our receipt, printed entirely in Korean.
We were then on our way, a mere 45 minutes after entering the hospital doors.
Reflection
Unlike Ben, I've been to more than a few hospitals in my time, either for myself or accompanying friends and family members. I generally assume that any trip to the ER is going to take a minimum of several hours — if it's something serious, it takes a while to deal with it, and if it's not serious, they'll make you wait while they deal with somebody else who is. Either way, you're gonna be there for a while.
So I wasn't really surprised by Ben's ordeal at the German ER as I can easily see the same sequence of events playing out in the US.
We were, however, quite impressed with the care my son received in Korea. The care, the attention, and the compassion were all exemplary.
He got his stitches out by his pediatrician here in the US who said it all looked great. A little over two months later and the scar is barely noticeable.
Overall, it was a really good experience given the situation. I'd like to hope it's one we don't repeat, but given that my offspring seem to have inherited my adventure gene, I have a feeling we'll be in for more of this in the future.
Obviously, Ben's ordeal in the German ER and ours are mere anecdotes. The ages of the patients were (slightly) different. The ailments were hugely different — when someone shows up with a hole in the side of their head, it's pretty clear what needs to be done, whereas I imagine that it can be hard to get to the root cause of abdominal pain.
Then there is the language barrier. Ben was speaking perfect German and my wife and Boston Ben knew exactly zero words of Korean. Sometimes I actually wonder if you get more attention if you don't speak the language? Were the caregivers more inclined to show sympathy and compassion because they knew it was a foreign world for us? Or is it because where there is a language barrier, compassion becomes a universal language? Meanwhile Ben appeared like a local in Germany and therefore they didn't feel compelled to stick to his side? Obviously, I really have no idea.
I'm just very grateful that they were able to quickly and efficiently patch my son up and send us on our way.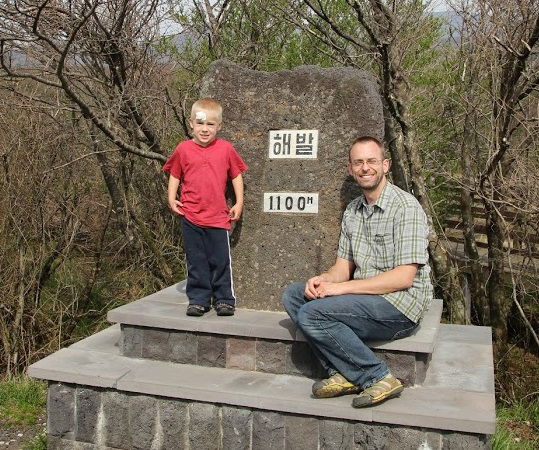 ---
Have you had to go to the emergency room in a foreign country? Was your experience more reminiscent of Ben's, or my son's?