Last September Jeff Smisek stepped down as United CEO, following the scandal involving the Chairman of the Port Authority of New York and New Jersey.
Smisek was replaced by Oscar Munoz, who seems like a good guy who genuinely wants to change United for the better. Unfortunately Munoz suffered a heart attack about a month into his tenure.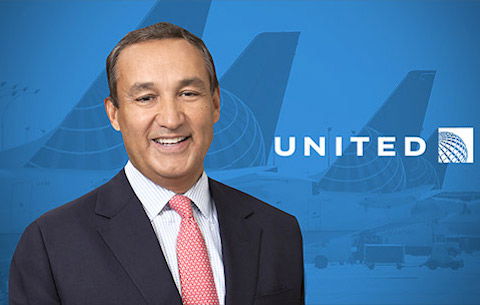 A few days after Munoz's heart attack, United named a new acting CEO, Brett J. Hart. Hart was United's executive vice president and general counsel. That seemed like an odd choice to me, given that Smisek was also general counsel at Continental back in the day. If United was truly trying to show their customers and employees that they wanted to take a new direction, you'd think they wouldn't appoint someone with a similar history.
Last November, Munoz shared an update on his condition and said he was "on the road to recovery," and that he planned on being back in his role at United by the first quarter of 2016. That seemed rather unlikely when we learned in January 2016 that Munoz underwent a heart transplant, and they still said he planned on being back in his role by the first quarter of 2016, which a lot of people doubted.
Well, it seems the recovery has gone well, as Oscar Munoz plans on returning to his role at United as of March 14, 2016. Per a press release United published today:
United Continental Holdings, Inc. today announced that President and Chief Executive Officer Oscar Munoz plans to return to those roles on a full-time basis on March 14, 2016 and resume all of his duties and responsibilities at that time. Munoz has already been participating actively in all major corporate decisions and meeting frequently with employees, shareholders, and other stakeholders during his recovery.

Henry L. Meyer III, Non-Executive Chairman of United's Board of Directors, said, "The Board is confident in the strength and potential of United's business – and very pleased that Oscar will be returning to the roles of President and Chief Executive Officer on a full-time basis. We expect him to continue leading the company's improving operational and financial performance, driving increased shareholder value, and innovating and elevating United's customer and employee experience. We would also like to extend our sincere appreciation to Brett Hart for his superb leadership as acting CEO."

Munoz said, "I am thrilled to return full-time to a job and the employees I love. Since September when I became CEO, our team has been focused on our employees, improving the operation and the customer experience, and the results are starting to show. In fact, over the past several months United has emerged as a top performer in on-time arrivals and completion factor among our largest industry peers. I am grateful to our 85,000 aviation professionals around the world at United for running such a great airline and taking care of our customers.

"Our progress isn't just limited to the operation. Financially, we have been performing well. United's 2015 earnings were one of the best in the Company's history, and we made significant progress shrinking the margin gap with our closest competitors, strengthening our balance sheet, and returning significant cash to shareholders. United spent $1.2 billion repurchasing shares in 2015 and plans to spend $1.5 billion on share repurchases in the first quarter of 2016. We have a lot of positive momentum, but this is just the beginning. There is significant work underway and we see substantial upside yet to come."
Oscar seems like a great guy, and it's great to see he'll be returning to United so quickly! Here's to hoping he doesn't overwork himself, given his recent heart transplant.