A few days ago I wrote about my puzzling experience with a paid upgrade on Vietnam Airlines. In the process I've learned quite a bit, so I figured I'd report back with my full experience.
The airline sent me an email about a week before departure asking if I wanted to upgrade to business class at a discount. Nowadays a lot of airlines offer paid upgrades last minute as a way of generating incremental revenue, so I figured it was worth trying to upgrade, partly so I could see what the process was like.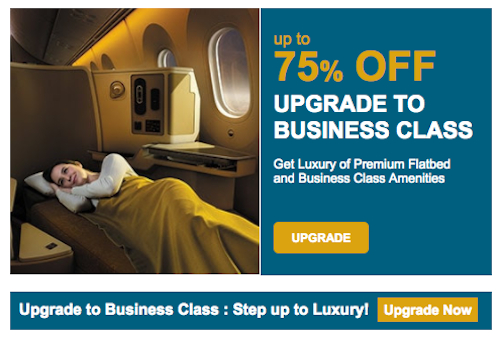 A few days before the flight I received an email saying that my upgrade had been accepted… subject to availability.
That's unlike any other upgrade I've received, because the way I see it, either an upgrade is accepted or it isn't. It's fine if they keep me on a waitlist, but I'm not sure how an upgrade can both be approved and subject to availability.
Anyway, we now took the flight that was eligible for an upgrade, and the process at the airport was quite an experience.
What is Optiontown?
Different airlines use different technology platforms to process these last minute upgrades. For example, many airlines use a system called Plusgrade. My understanding is that the airline is still processing the upgrade directly (because when your upgrade is approved it's actually approved), though they're just using an outside platform.
As it turns out, Optiontown is completely different. I don't know exactly how it works, but if my understanding is correct, this is a third party service that some airlines choose to partner with.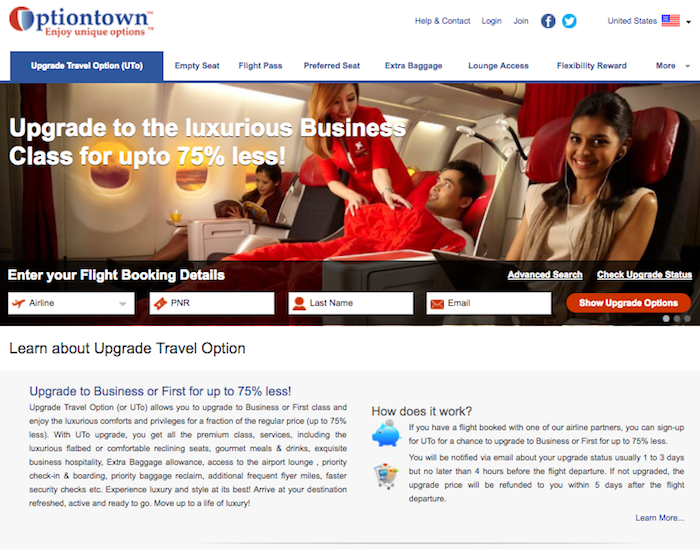 Based on their website, Optiontown partners with Adria Airways, Air India, AirAsia X, Biman Bangladesh, Cambodia Angkor Air, EgyptAir, Insel Air, SAS, Vietnam Airlines, and Vistara.

When you request an upgrade through Optiontown, the airline isn't actually clearing your upgrade in advance. Instead based on some metric Optiontown "accepts" your upgrade, which in reality means that they give you a piece of paper to bring with you to check-in. Then at check-in your upgrade will be cleared based on availability.
However, based on what I can tell, the airline has no advance notice of how many Optiontown upgrade requests there are. In other words, they have no clue if you've requested an upgrade, and if Optiontown has "approved" it subject to availability. For that matter, at outstations it sure seems like many agents don't even know what Optiontown is.
My experience at the airport with an Optiontown upgrade
We used this for a Vietnam Airlines flight from Luang Prabang to Hanoi. A few days out we got an email from Optiontown that we were told to print out and bring to the airport.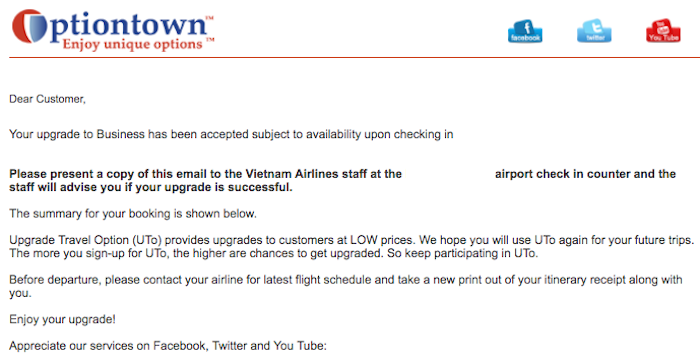 When we arrived at Luang Prabang Airport we were happy about our upgrade already, since the economy check-in line was really long, while there was no in the priority queue.
We presented the check-in agent the piece of paper, and he looked at us like we had two heads. He called over the supervisor, and then they went into a back room for 20 minutes. Best I could tell they made several phone calls.
They returned and said "okay," and then typed for another several minutes. Eventually they printed out boarding passes for us on business class card stock, but we were in row 15.
I said "sorry, but is row 15 business class?"
"Oh…"
After another 10 minutes of typing, we finally got our boarding passes for business class.
So it took nearly 40 minutes for the upgrade to be processed.
How long was the flight? 40 minutes.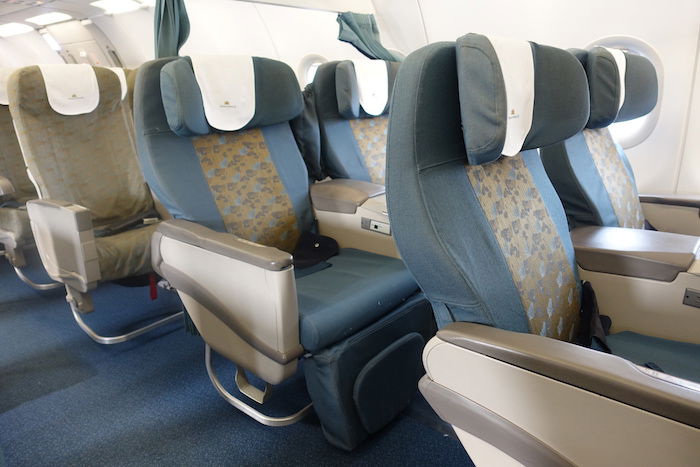 Obviously that wasn't worth it, though I'm happy I tried it so I can report back on my experience.
Bottom line
Optiontown needs a lot of work. I understand it's technically a separate company and the process is different than with other airlines, but they need to do a better job of explaining that. When I requested the upgrade I was told the following:
You will be notified via email about your upgrade status usually 1 to 3 days but no later than 4 hours before the flight departure. If not upgraded, the upgrade price will be refunded to you within 5 days after the flight departure.
If being told about your "upgrade status" means getting "approved subject to availability," then I suppose that's true. But I don't think anyone interprets the above to mean that the upgrade won't actually be cleared until check-in.
Then the process really needs to be streamlined at check-in as well. Taking over 30 minutes to process an upgrade is a waste of everyone's time and resources, including the airlines'. Just because the process is different on the back-end doesn't mean it should be so inconvenient and confusing for passengers.
So unless I'm somehow in economy on a longhaul flight with an airline that they partner with and this option is available, I don't see myself using Optiontown again.