If there's one thing I've learned over the past couple of million miles, it's that there's almost no aspect of the travel experience that can stress me out… or so I thought. I've just about seen it all, and I tend to think you can fly me around the world six times without stopping and I'd still call it an easy journey.
My return journey from Bali, however, was probably one of my toughest ever (within the realm of flying in premium cabins), and I think I've learned a few lessons. First of all, when we started planning the trip, my mom asked if she could check a bag. Usually I'm opposed to checked bags, but I figured what the heck, it's her birthday, she can do what she wants. If a checked bag makes her feel comfortable, then so be it. Now in the end she wore maybe 10% of the clothes she brought, but such is life.
To add to that, our return journey was somewhat complicated — Bali to Kuala Lumpur, then an overnight, then Kuala Lumpur to Hong Kong to San Francisco. From there I'd fly to Seattle and she'd fly to Tampa via New York. My hope was that the Bali to Hong Kong nonstop flight on Cathay Pacific would open up, but sadly there was no such luck. So we were stuck with a rather complicated routing, with a total of five segments for her. That would have probably been fine, though it certainly wasn't an ideal routing.
Fast forward to day three of the trip. We go white water rafting in Ubud. It was quite possibly the most fun thing I've ever done, though what we didn't realize is that you had to go down 600 steep steps to get to the river, and then climb 300 steps to get back up. That nearly killed my mom's knees, and she could barely walk for the next couple of days.
When we got to Amankila she could still barely walk, and the fact that Amankila probably has more stairs than any hotel I've ever stayed at didn't help. By the last day of the trip she was basically limping.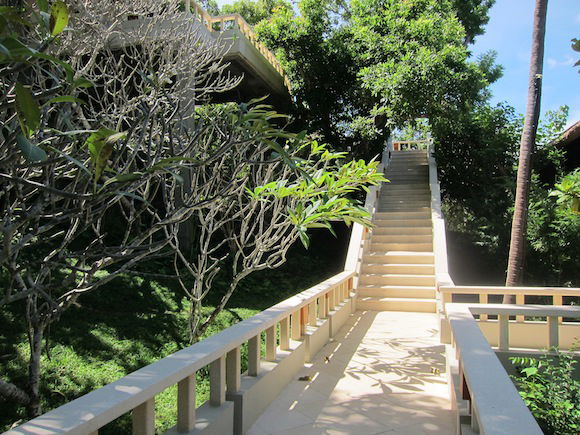 Steps everywhere!
So then we're off to the airport to fly from Bali to Kuala Lumpur. The traffic was horrible and even though we left plenty early we made it to the airport only about an hour before departure. Fortunately Aman has eight porters at the airport, and they nearly treated our situation as a damn national emergency. Suffice to say we made our flight with time to spare thanks to them.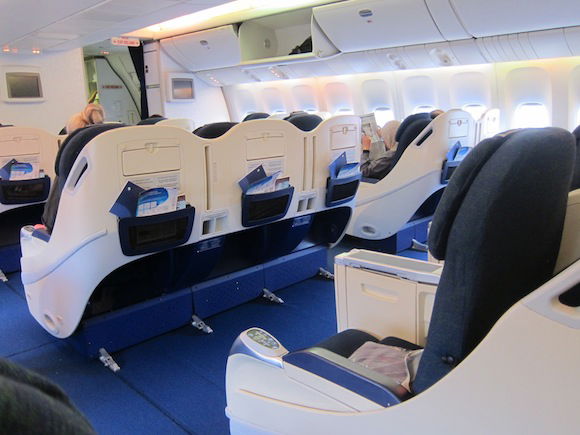 Flying Bali to Kuala Lumpur
Then we got to Kuala Lumpur, where we took the KLIA Express to Central. Fortunately the Le Meridien is located right above the train station, so it wasn't too much walking. But since my mom could barely walk I was trying to carry about six bags. As usual it was scorching hot in KL as well, so by the time I made it to the room I looked like I just got out of the pool. Plus side of the evening was that we made it to the hotel at 8:23PM and the club lounge serves drinks till about 8:30PM, so I managed to get my mom about three glasses (more like goblets based on how I poured them) of red wine, which made her a happy camper.
So that day wasn't too bad. The next morning my mom wakes up with horrible swelling in her foot, to the point that her shoe doesn't fit. Go figure she didn't actually bring any sneakers on the trip (something I should have reminded her to do!). So in addition to her knee pain she's totally limping at this point and can't really walk.
We get back on the KLIA Express to the airport, I'm trying to jockey about six bags, and she's trying to walk as fast as she can. We get to check-in just over an hour before departure. At this point her pride is still taking precedence and she doesn't request a wheelchair. At this point I decide we might as well check as many bags as we can, since I can't carry everything. So in addition to her checked bag I check my carry-on, something I otherwise never do. That left me with her small carry-on, my laptop bag, and two other shopping bags.
After a quick visit to the lounge we get on the Malaysia A380 to Hong Kong. It was the first flight of the morning, and go figure it left us just over an hour connection in Hong Kong. We're sitting on the ground and it's about a hundred degrees in the cabin because the APU isn't working. Yes, it's annoying, but there's no need to throw a hissy fit over it, in my opinion. The guy seated across the aisle from me seemed to disagree.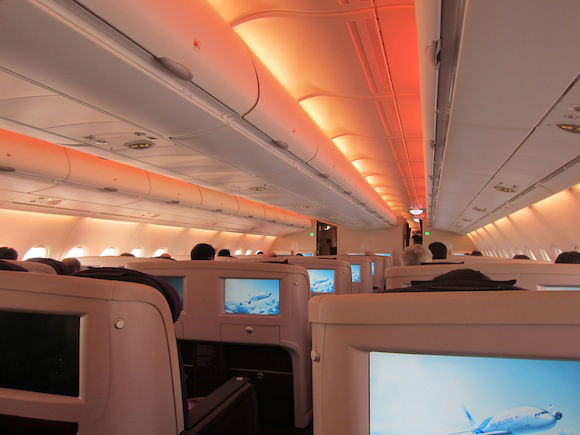 A380 business class
As boarding finishes up he asks the flight attendant why it's so hot. He explains it will be cooler once we take off. He doesn't accept that as an answer, so asks to be speak to the captain. At that point the purser comes over and explains that the APU is faulty, and that as soon as we push back and the engines start it will be cooler. At this point he loses it and asks why his colleague lied to him, since he didn't say anything was faulty.
He sits there like a complete drama queen fanning himself with a full newspaper (hint: if you're going to fan yourself with something, make it a laminated safety card, and not a pound of paper that requires more energy than the "cooling" effects). As another flight attendant walks down the aisle he grabs her and says "get me a cold towel NOW." She's courteous and apologetic and brings it to him. As soon as he's done with it he throws it on the floor and requests "an ice cold glass of water." He downs the glass, and yells "another." She brings him another, and then he yells "I want one more." He then says he wants to be seated somewhere cooler, "maybe the lower deck." Yeah, like that's going to happen. I was about ready to punch the guy at this point…
In the meantime I explained my mom's swelling to the flight attendants, and asked if they could maybe get her a bag of ice, which they gladly did. Unlike the Malaysia cabin crew from Bali, this one was spectacular, and couldn't have been more accommodating.
Go figure the flight was delayed about 30 minutes on departure, leaving us a very short connection in Hong Kong.
The only interesting thing to note about the flight is that we got treated really well on Malaysia Airlines. We were seated mid-cabin and the flight attendant came specifically to our seats to take meal orders, then went back to the rest of the cabin to take them front to back. We were also addressed by name at every interaction, while I didn't notice that for anyone else (except the guy seated across from me, but I think that's because he managed to piss off the crew sufficiently). So later I managed to take a peak at the manifest, and saw that next to my name it said "PLATINUM *EMERALD*," which made sense. But what I found odd is that all the other Emerald members on the manifest showed as "SILVER *EMERALD*," which doesn't make sense to me. Anyone know what the distinction is between the two? Kind of matches all my experiences on Malaysia so far, of being treated exceptionally well as a OneWorld Emerald.
Anyway, towards the end of the flight none of my mom's shoes fit anymore, so I asked if they have any slippers they could maybe give her. The nice flight attendant managed to dig up some slippers and socks, so my mom was planning on parading through the terminal in those. I think she may have just one upped my pajamas escapade.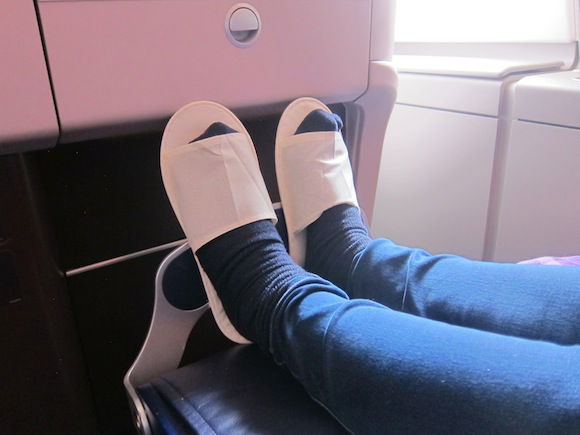 Stylish terminal footwear
Anyway, we arrive in Hong Kong with about 40 minutes to make our connection. Our arrival gate is 60-something, and we're leaving from gate three. If you're at all familiar with Hong Kong Airport, you know that gate might as well be in Macau based on the distance. While my mom was stylishly limping down the jet bridge in her slippers, I was trying to carry our four bags, so between us we looked like a bit of a circus act. I was delighted when I noticed that there was someone waiting at the bottom of the jet bridge with a sign with our name on it. I figured she had a Maserati waiting to take us to the other side of the terminal given our short connection.
Ah, who am I kidding, this is Cathay Pacific, the airline that offers one of the all around most solid first class products, yet can't do ground services for $*&%.
The problem is that the agent didn't even work for Cathay Pacific, she was a contract worker. She didn't speak much English, other than "hurry hurry." I pointed at my mom's feet, and said "foot swelling, has to walk slow." She proceeded to walk in front of us for the next 10 minutes while glancing down at her watch every few minutes, during which time I think we made it from gate mid-60-something to low-60-something. Ain't no way in hell we're going to make the connection at this point.
So I saw one of those "concierge" golf carts, which you can hire to drive you from one end of the terminal to the other. I stopped him and asked him to drive us to the other side of the terminal. Rather expensive at HKD60 per person, but well worth it. As we hopped on the agent that picked us up looked all confused, and I asked her to get on as well. I was happy to pay for her to come along so she could get us in the crew line at the transit security checkpoint, which I know is about the only thing they're useful for.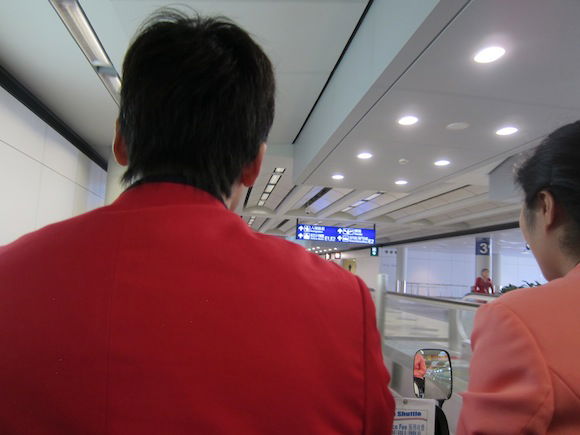 Finally making some progress!
Sure enough we made it to the gate at the final boarding call, and were the last passengers aboard. During boarding one of the gate agents got aboard to tell my mom something, and when she was gone I asked my mom what she had said. She said "oh, just that our bags won't make it and that they're being sent to New York." To New York?! Neither of us have New York as our final destination, so I wish I could've corrected that before the door closed.
Anyway, the flight itself was lovely, the crew was extremely concerned for her, and if there's one thing that puts me in a good mood it's Hong Kong style milk tea and egg tarts.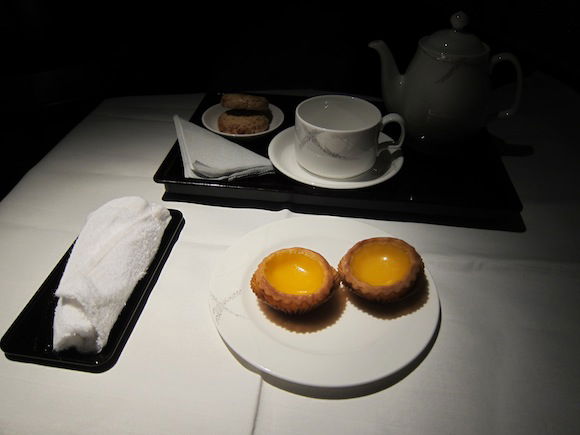 Best thing about Cathay Pacific
We arrived in San Francisco on time. This time around my mom agreed to take a wheelchair. I have Global Entry, so while she cleared customs I went to the baggage department. I was extremely impressed they already had a missing baggage report filled out, and all I had to do was write down the address I wanted each individual bag sent to — awesome!
The toughest part of the experience was actually upon arrival, as I was trying to decide what was best for my mom. I was booked on a 4PM Alaska flight to Seattle, while my mom was booked on a 3PM American flight to New York, and then a 7AM American flight down to Tampa. There was nothing more direct to Tampa available the same afternoon.
My original plan was to try and book her on the San Francisco to New York redeye instead and get her a day room in San Francisco to relax. I was even considering spending a day in San Francisco with her and having her fly out the following night instead so she could recover, but she insisted she needed to return to work. So I felt pretty guilty when she got on a San Francisco to New York flight set to arrive at 11:30PM, had eight hours there, and had to make her connection the following morning, all while hardly being able to walk.
Fortunately everything worked out in the end. That being said, it was definitely one of tougher travel days. Usually I'm in "the zone" when I'm in the airport, and there's no obstacle I haven't faced before. Or so I thought, till yesterday. After my experience yesterday I felt like a once-a-year flier as I was totally out of my element, so it was certainly a learning experience.
It's safe to say I learned a few lessons:
Friends don't let friends check bags. Or in this case, sons don't let moms check bags.
Always make mom bring sneakers on a trip. Always.
Cathay Pacific doesn't know how to do ground services.
Next time I'm planning a trip with mom (if she'll ever take one with me again — I'm not convinced), make sure you can keep it to as few segments as possible, even if it's a less comfortable routing.
Fortunately my mom is now safely at home and (hopefully) recovering!