Just yesterday I published my review of Norwegian's 787-9 premium economy, in which I noted that flying with the airline would become even more compelling once they install wifi.
In early 2018 Norwegian had announced that they'd install wifi on their fleet of 787s, though for a year I hadn't heard any update regarding this. So it's nice that they've now made some progress.

Norwegian's 787-9 Premium
Norwegian has just announced that they've become the first low-cost airline to introduce free wifi on intercontinental flights.
Norwegian's first Boeing 787-9 with wifi is now flying. This plane has the registration G-CKWP, and was delivered to the airline on December 18, 2018.
There's no way to know for sure in advance if your flight will be operated by this plane, though you can always look it up day-of on a flight tracking site. You can also easily identify the plane visually because it has American author Mark Twain on the tailfin.
However, don't expect that there will be any fleet consistency when it comes to wifi anytime soon. Norwegian says that over half of their 787-9 aircraft will feature wifi by 2020, so even in 1-2 years getting wifi on a Norwegian flight won't be a guarantee.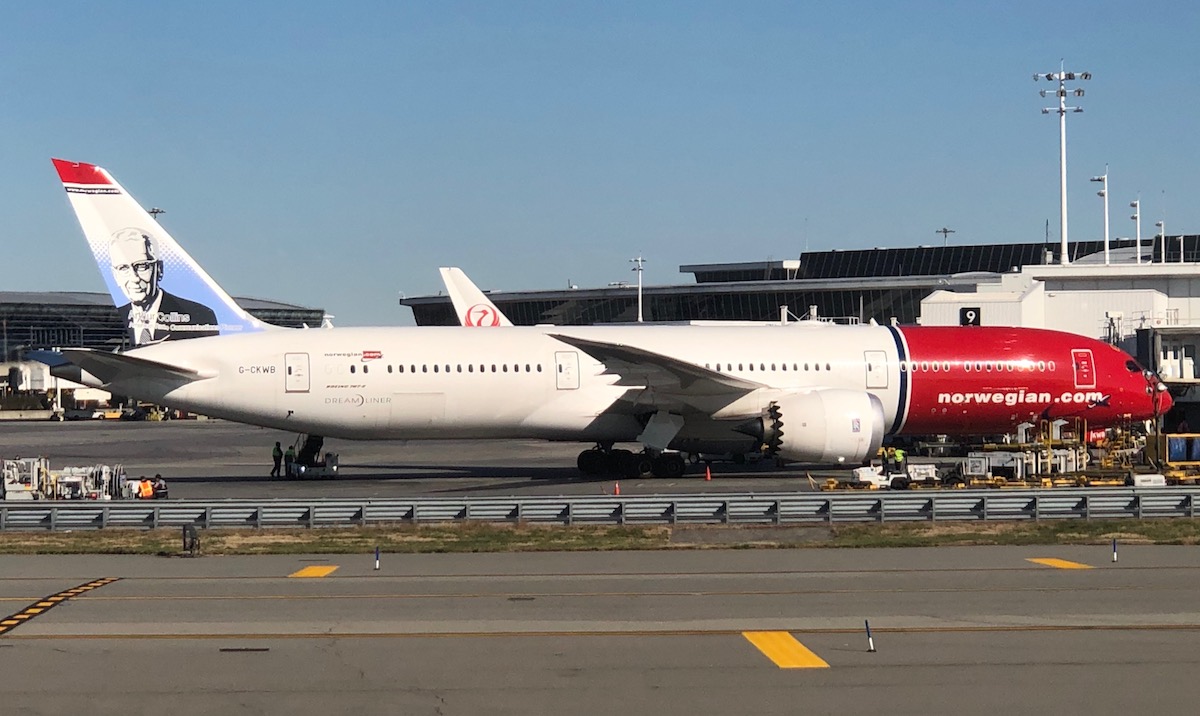 Norwegian 787-9
The airline also says that they'll begin installing wifi on their Boeing 737 MAX aircraft starting in mid-January 2019, which they also use for some of their transatlantic flights.
Norwegian will offer two wifi options, including a paid option and a premium option:
The basic option is free, and will allow passengers to browse the web and social media, send and receive emails, instant message, etc.
The premium high-speed option will be available at an introductory price of $14.95 for a three hour package, and will be fast enough for streaming
There will be no data limits for either option. Assuming the premium high-speed option is actually fast, paying $5 per hour for that isn't bad.
Still, it does seem a bit extreme that you have the option either between free wifi for the entire flight, and paying $45 for premium wifi (since most longhaul flights are over six hours). Then again, I guess most people wouldn't be buying the premium wifi for the full duration of the flight.
Are you excited about Norwegian introducing wifi on longhaul flights?