Norwegian is one of the fastest growing transatlantic airlines, as they operate both 737 and 787 aircraft to a growing number of US destinations. This morning the airline put out a press release revealing their "biggest ever year of growth in 2018."
Partly the press release just rehashes previous announcements, like that they're adding flights to Austin, Chicago, and Buenos Aires, though there are two announcements that are new, as far as I know. One is good news, and one sounds like it may be bad news.
Norwegian is adding more Premium Cabin seats to their 787s
Norwegian has an interesting premium cabin product on their 787s. It's called "Premium Cabin," and featured 32-35 spacious seats in a 2-3-2 configuration. SeatGuru claims these seats have 46″ of pitch, while Norwegian claims these seats have 55″ of pitch (9″ is a big disparity). Daniel has reviewed this product in the past, and I'd like to try it soon as well, as it seems to be an exceptional value.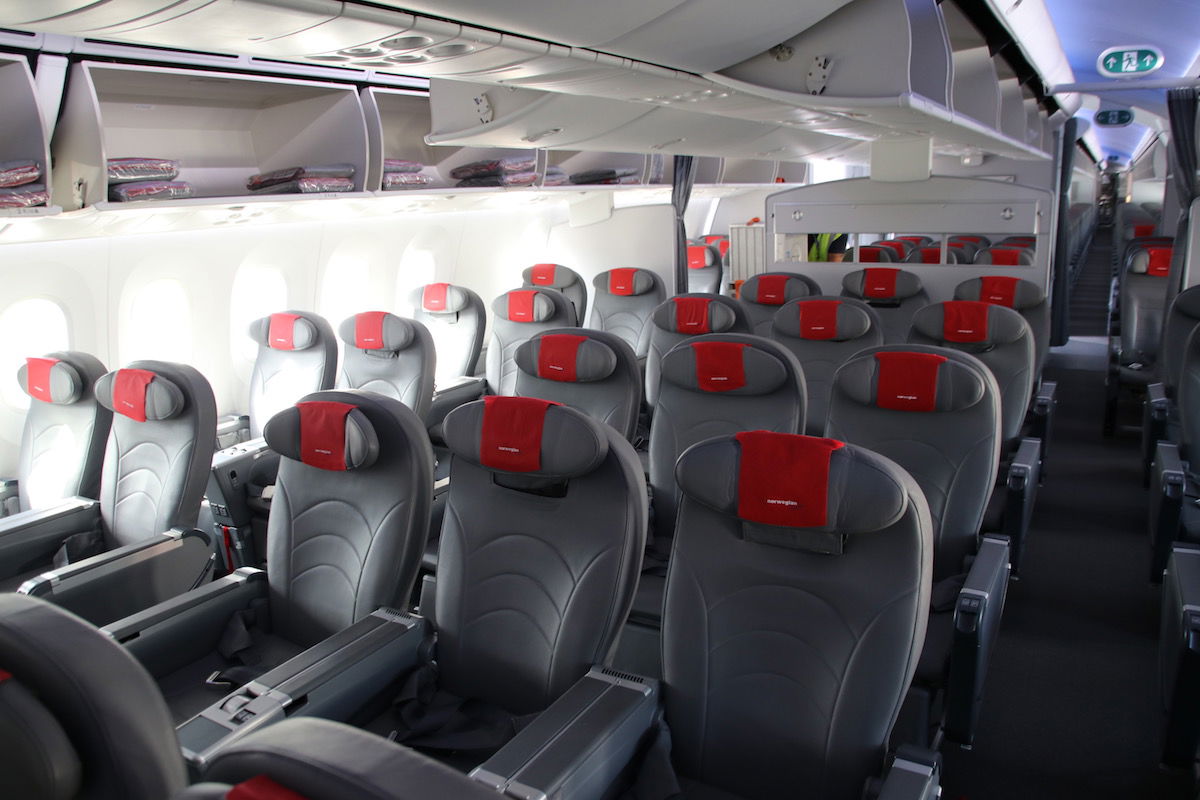 While this is essentially a premium economy product, in reality it's much more spacious than that, as most premium economy products have somewhere around 36″ of pitch, or so. So they have at least an extra 10″ of legroom over what most of their competitors offer in premium economy.
Starting in 2018, Norwegian will introduce 60% more Premium Cabin seats on their 787s. They'll go from having 32-35 seats, to having 56 Premium Cabin seats. The new cabin will be fitted on Norwegian's final 20 787 orders set for delivery from 2018 onwards. Norwegian is planning on taking delivery of 11 787s in 2018, so you can expect all those 787s to join the fleet in the next couple of years.
Norwegian's new Premium Cabin will be less spacious
When I first quickly read through the press release I assumed there had to be a catch. For an ultra low cost carrier, this seems like a mighty big premium cabin, especially given how spacious Norwegian's Premium Cabin seats are. Reading further into the press release:
The new 56 seat cabin configuration will offer passengers more than a metre of legroom and 11" Panasonic monitors providing hours of complimentary inflight entertainment.
Now there's a difference between "legroom" (by my definition, literally how much space there is for your legs) and "pitch" (the amount of space each seat takes up, measured from one point on one seat to the same point on the seat behind it). A meter is roughly 39″, and that's more legroom than I think the current seats have. However, I suspect that's not what Norwegian is referring to.
Norwegian claims on their website that their current Premium Cabin features "140 centimetres (55 inches) legroom."
So while Norwegian doesn't explicitly state it, I'd be willing to bet good money that their new Premium Cabin will feature significantly less legroom, as they're going from 1.4 meters to "more than a meter." That's not really surprising, given that most airlines in premium economy have significantly less legroom, and Norwegian isn't really able to get away with charging a premium.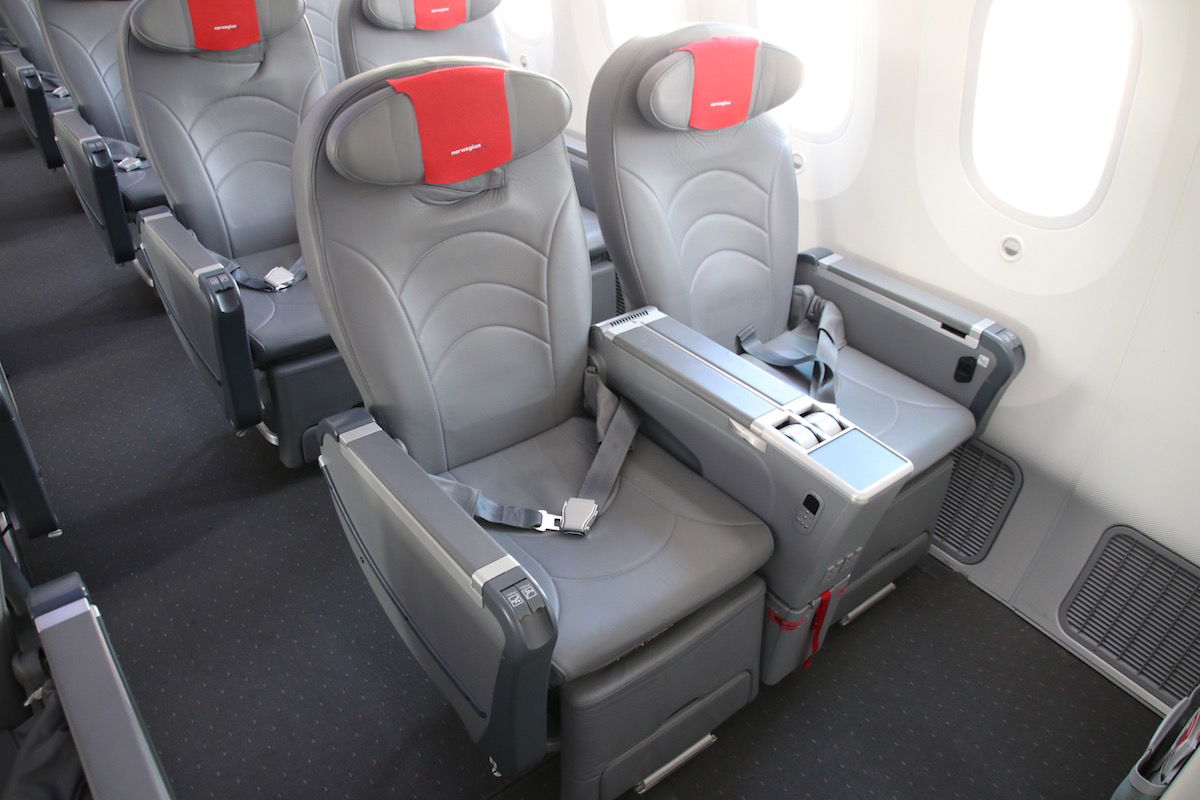 Heck, their current Premium Cabin seems like one of the best bargains in travel. For example, a one-way fare from London to Los Angeles in Premium Cabin is $679, and that includes the $200 premium departure tax out of the UK.
Norwegian will add Wi-Fi on their 787s
As it stands, Norwegian has Wi-Fi on some of their 737s, but not on any of their 787s. That will change. Norwegian will roll out Wi-Fi on longhaul flights starting "later in 2018." While we don't have more details yet, it's great to see that this is something they're planning on in general.
Bottom line
It has been interesting to see Norwegian's growth the past few years, and how other airlines have had to adapt to compete with them. While Norwegian has been growing at a fast pace, their financial performance hasn't been great, so I suspect we'll continue to see changes from them. I'm happy to see them add Wi-Fi to their 787s, though it will likely be several years before their entire longhaul fleet features Wi-Fi.
More interesting to me is that they're adding more Premium Cabin seats to their 787s. While it's not explicitly stated, reading between the lines it sure seems to me like it will be a less impressive product than they currently have. While I'm sad to see that change, I guess it was inevitable.
(Tip of the hat to @trevon_1)