Yesterday I posted about how American would no longer be providing charter service to six NFL teams for the 2017 season. Those teams included the Arizona Cardinals, Baltimore Ravens, Indianapolis Colts, Jacksonville Jaguars, Miami Dolphins, and Pittsburgh Steelers.
American cited a lack of resources for the reason why they can no longer offer this service. To me, that just means they think they can make more money with their regularly scheduled service than they can providing charters. In fact, I sort of expect that they simply raised the price for next year and only three teams were willing to pay it.
I didn't really view this as too big of a deal since other airlines offer charter services to the sports teams as well and would probably be interested in picking up these contracts. But it turns out that a whole lot more teams might soon be affected.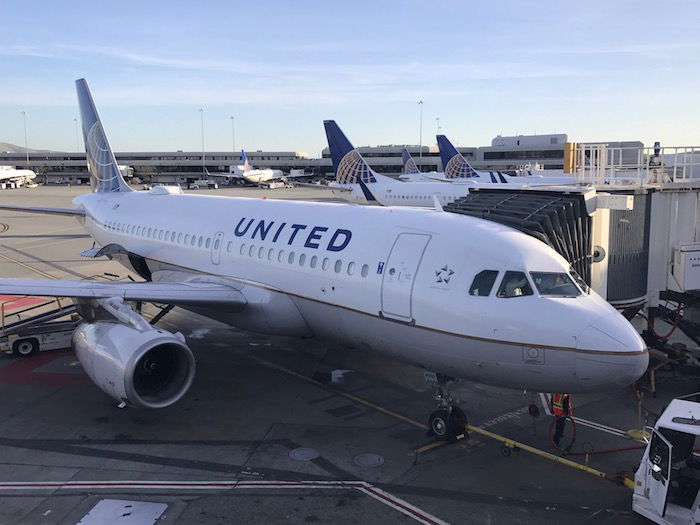 American might not be alone in dropping some of their NFL customers
ProFootballTalk is now reporting that as many as 20 NFL teams may be on the verge of losing their charter contracts, as Delta and United are believed to be following American's lead.
Sports and aviation are two of my favorite hobbies, so I decided to take a quick look at which teams charter from which airlines. Between lists compiled by Brian Sumers and Chibears85 over at Reddit, I think this is what the charter arrangements looked like for the 2016 season. (Crossed out teams have already been dropped.)
United Airlines
San Francisco 49ers
Denver Broncos
Tennessee Titans
New York Jets
Washington Redskins
Buffalo Bills
Cleveland Browns
Houston Texans
New York Giants
Los Angeles Rams
Chicago Bears
Tampa Bay Buccaneers
New Orleans Saints
Detroit Lions
Kansas City Chiefs
American Airlines
Carolina Panthers
Pittsburgh Steelers
Baltimore Ravens
Miami Dolphins
Dallas Cowboys
Indianapolis Colts
Arizona Cardinals
Jacksonville Jaguars
Philadelphia Eagles
Delta Air Lines
Atlanta Falcons
Green Bay Packers
Minnesota Vikings
New England Patriots
San Diego Chargers
Seattle Seahawks
Tampa Bay Buccaneers
Cincinnati Bengals
Hawaiian Airlines
I was unable to find much information on the Oakland Raiders. It seems that they have an on-again, off-again relationship with Hawaiian Airlines who provided charter service to them at least as recently as the 2015 season. Can anyone confirm that this is still the case?
Also, it's not entirely clear who provides the charter for the Tampa Bay Buccaneers as I've seen references to both United and Delta.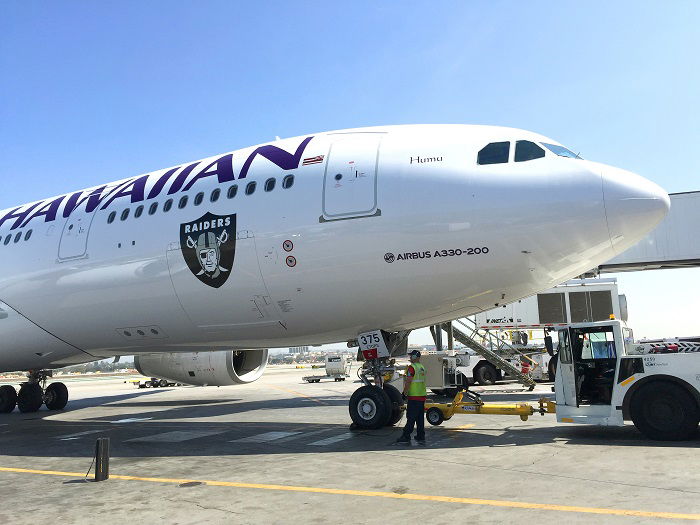 Courtesy of Hawaiian Airlines
Which teams are next to lose their charters?
Playing with the numbers, we already know that six have been dropped and United provides service to 15 teams. So if United pulled out of the NFL charter business completely, that would result in "roughly 20" teams getting dropped as ProFootBallTalk is reporting.
Then again, PFT mentions Delta is considering dropping some teams too, so perhaps it is a combination of teams served by United and Delta?
I guess we'll have to wait and see.
Why is this happening?
I originally speculated that American was pulling the plug on these contracts because domestic flying was more lucrative so it made sense — at least in the short-term — to allocate aircraft to those routes.
But a few readers commented that NFL teams typically charter widebodies given the number of players, coaches, staff, and of course equipment, that needs to be transported. That would seem to imply that these aircraft would displace those on international routes, which haven't been nearly the cash-cow of late. Plus, the NFL season doesn't really pick up until the busy summer travel season is over. So who knows.
It's also sort of interesting to note that four of the six teams that American dropped play in London next fall. That could be a factor, but then again, the consensus seems to be that the league arranges that travel directly. So for now, I'd file it as an interesting coincidence.
Bottom line
Six NFL teams have already lost their charter provider for the 2017 season, with the potential for 15 more to lose their contracts. On one hand, this might just be business as usual with billionaire airlines trying to wring out extra revenue from billionaire sports owners. Or it could be, in the words of the source at ProFootBallTalk, a "real issue" for the league.
It'll be interesting to see how this shakes out.
Which teams do you think are next to lose their charters?