Here's a really cool concept that will almost certainly never see the light of day…
Boeing 787 designed specially for athletes
Professional athletes travel quite a bit, and the logistics of that can be complicated. Teams travel with a lot of people, and more often than not they charter planes.
Well, Nike and Teague have partnered to design a plane for athletes, and specifically for a basketball team. This is based on a Boeing 787. As it turns out this design was revealed a while back, though I missed it, so I wanted to cover it now.
Nike and Teague conducted interviews with team physicians, coachers, operations staff, and sleep specialists, in order to come up with this concept. Their conclusion is that busy schedules and travel by air is a fact of life for athletes, but it comes at a steep price — injuries and suboptimal performance.
Based on that, design efforts were focused on four areas of performance innovation that are not addressed by commercial charters:
Recovery: Equalizing the negative effects of air travel on the mind and body; bringing the training room to the sky through in-flight biometrics and analysis to accelerate injury diagnosis and treatment.
Circulation: Fostering natural mobility by building in equipment that ensures optimal circulation and promotes healing.
Sleep: Designing ideal sleeping conditions for individuals and sleep strategies for entire teams to maximize physical readiness.
Thinking: Creating spaces for key mental activities and enabling in-transit film review both before and after games.
Here are some pictures of the prototype plane interior: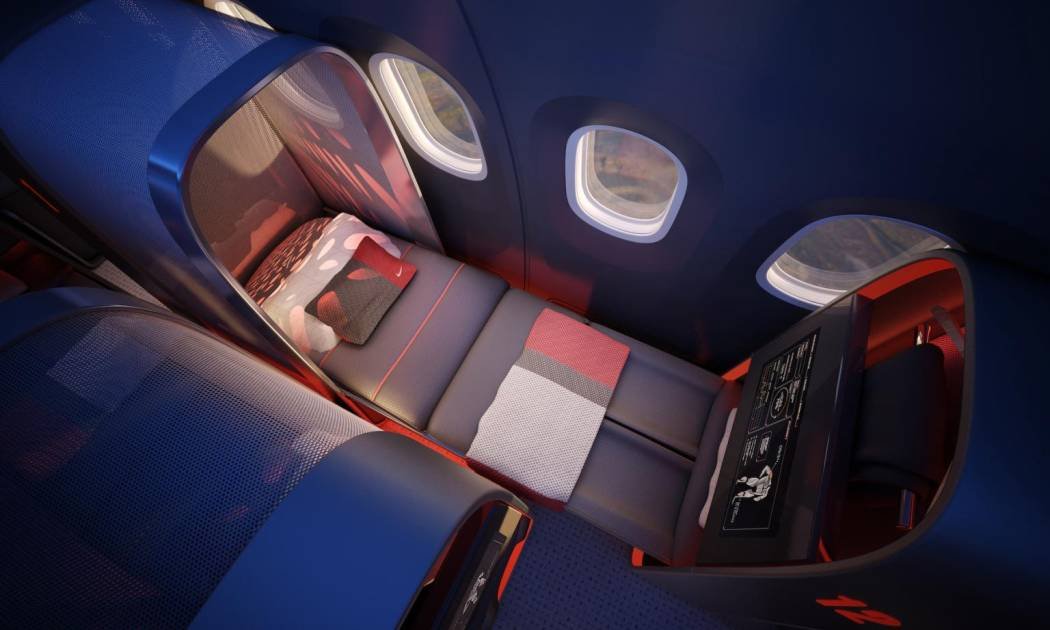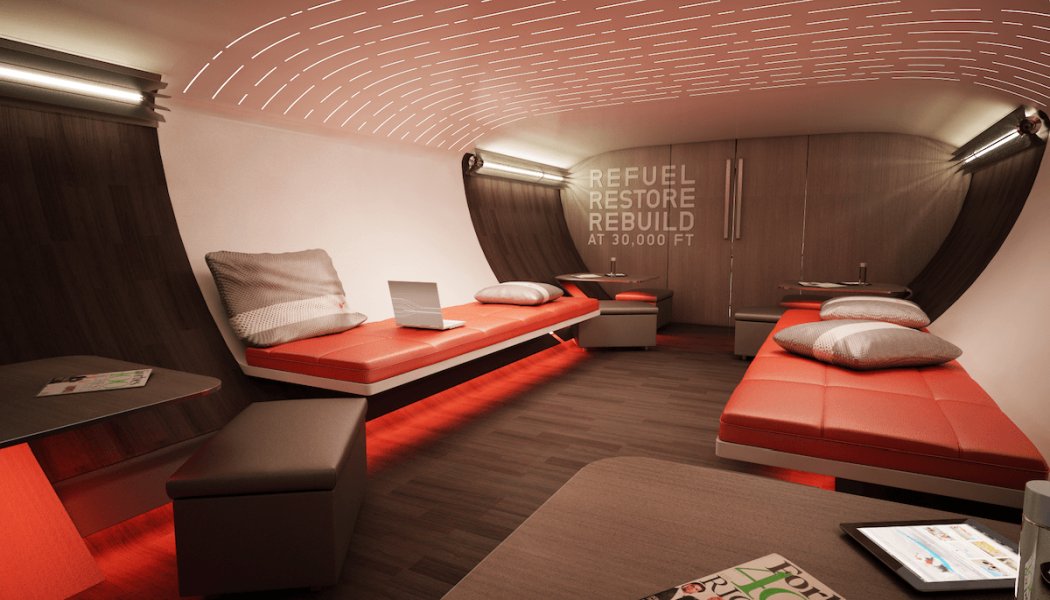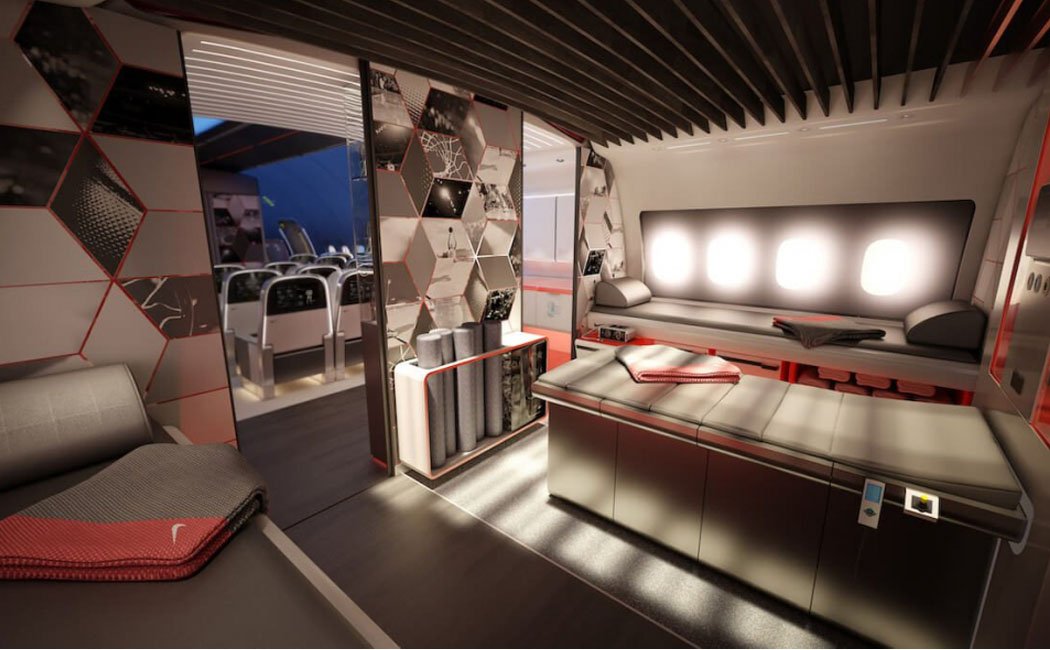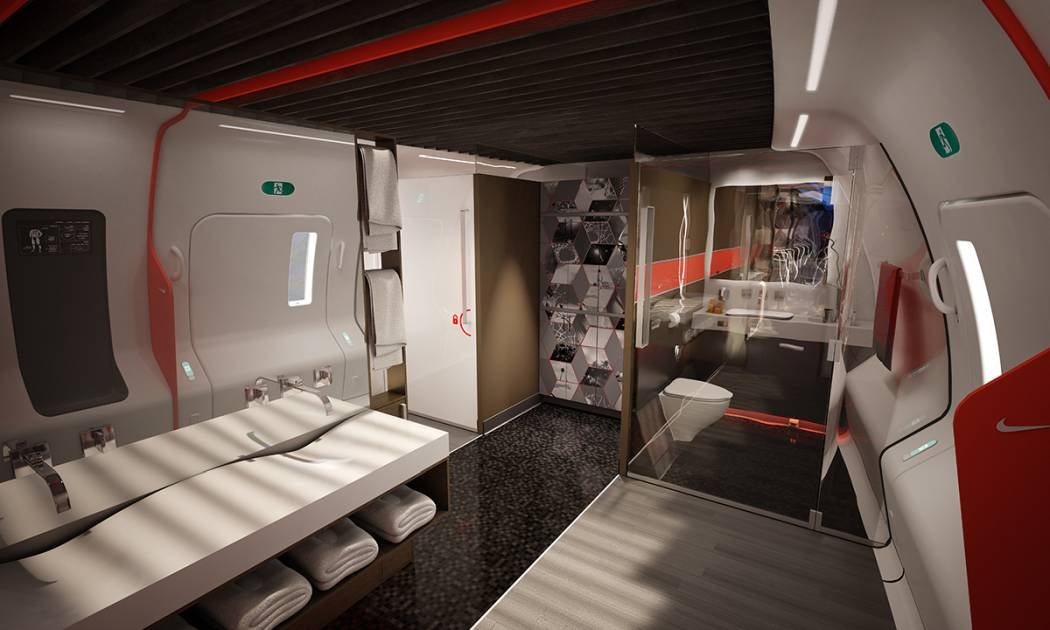 And here's a video of the cabin:
Suffice to say that if this concept ever came to fruition, this would be one of the spiffiest planes in the sky. What an incredible interior!
Could we ever actually see a plane like this?
As an aircraft interior nerd this plane looks unreal. I'd obviously love to see something like this flying one day, not that we'd ever actually get to redeem miles for it. 😉
That being said, I think it's highly unlikely a plane like this will ever actually be viable:
For the most part sports teams charter planes rather than owning them, since in many cases it's more economical
If a sports team were to buy a plane, it's much more likely they'd get a used 767 or 777 that costs a fraction of what you'd pay for a new 787
In addition to the cost of a new 787, I have to imagine a customized interior like this would easily add tens of millions of dollars to the price tag, if not more
While the concept of maximizing rest sounds great, for the most part these charter flights are just a few hours, so it's not like there's a huge opportunity to get rest anyway
Just to give an example of a team that did buy a plane, back in 2017 the New England Patriots bought a pair of 767s for around $10 million. This made sense, since the team was apparently otherwise spending about $4 million per season on charters.
I totally get the economics could work out of buying a used plane, but there's a difference between spending about $5 million for one plane, and spending $200+ million.
Nike and Teague argue that getting a plane like this could be a good investment as a way to attract talent:
"Every professional team is focused on attracting the best players and getting the best performance out of those players. Modern weight rooms, better playing surfaces, and cutting-edge rehabilitation spaces all contribute to this. But something obvious is missing: investments in how professional sports teams travel. So we collaborated with researchers, strategists, and designers at Nike to develop a highly customized Boeing 787 Dreamliner interior, crafted to cater to professional athletes during their time on the road."
There's no doubt that this would be cool and any athlete would love to be in a plane like this, but is that worth hundreds of millions of dollars?
Not surprisingly the concept has garnered press coverage, and apparently there has also been "interest from around the world, from both individual teams and entire leagues alike." Whether or not there will be any customers remains to be seen…
Bottom line
Nike and Teague have partnered to design a Boeing 787 specifically for a basketball team. While the concept is super cool, I think it's highly unlikely we'll ever see a plane like this flying.
Most sports teams currently charter planes, and even if they were to outright buy a plane, they could get a used wide body plane for a tiny fraction of the cost of this decked out Boeing 787.
Ultimately this seems like a project designed to generate publicity for the creativity of Nike and Teague, rather than something that will actually happen…
What do you think — will we ever see the Nike 787 flying?