The major US airlines aren't just in the business of flying scheduled routes, as most also run a thriving charter service on the side. Sports teams have become one of the biggest customers for these services. That's because the days when professional sports teams fly commercial are long gone. For that matter, many college teams now charter planes to travel to road games as well.
In the case of college and professional football teams, flying commercial really isn't an option anyway given how many players, coaches, trainers, and other personnel travel with the team, not to mention the equipment needs.
Well, Forbes is reporting that American Airlines is terminating their relationships with six NFL teams, citing a lack of aircraft to service these teams.
Which teams are affected?
The teams that American is discontinuing their relationship with include:
The Arizona Cardinals
The Baltimore Ravens
The Indianapolis Colts
The Jacksonville Jaguars
The Miami Dolphins
The Pittsburgh Steelers
American will continue to fly the Dallas Cowboys, Carolina Panthers, and Philadelphia Eagles.
It's interesting to look at which teams chartered with American to begin with. Miami and Dallas were both American hubs, while Philadelphia, Charlotte, Phoenix, and Pittsburgh were US Airways hubs, though US had sort of given up on Pittsburgh even before the merger happened.
That leaves Indianapolis and Jacksonville as oddballs. Northwest tried to operate Indianapolis as a focus city once upon a time, so if I had had to guess, I would have associated the Colts with Delta.
At any rate, these teams will be left looking for other options for the 2017 season.
What does this tell us about American's business?
To me, this just shows just how insanely profitable domestic flying is right now. American can say they lack the resources all they want, but the reality is that they have plenty of planes to serve these teams — they just don't want to allocate the aircraft to this use because it would mean curtailing frequencies in other markets.
In fact, my guess would be that American didn't just outright discontinue their charter service to these teams. More likely they tried to raise the price and a few NFL teams decided they could get service elsewhere. I mean, for the right price, I imagine American could have magically found enough aircraft. And how often do you just fire six major customers? As we know, the domestic aviation market is booming right now.
That said, I do wonder about the long term impact there. Sports charters are a mostly stable business — these teams play a consistent schedule from year-to-year and are mostly resistant to recessions and the like. When (not if) the next economic downturn comes, I wonder if American will regret their decision to suspend these contracts, especially if they end up having to park planes in the desert.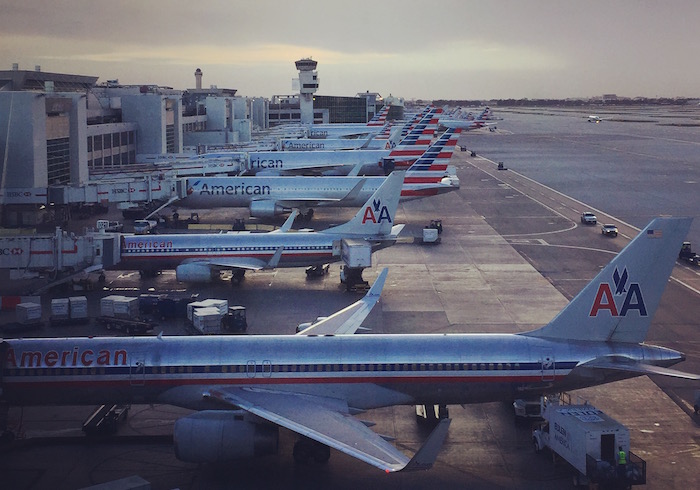 Bottom line
I don't think we need to worry about any of these six teams having to take Greyhound to their road games as there are plenty of other air charter companies that will be happy to pick up the contracts. But it is certainly telling that American has decided to end relationships with six major (and stable) customers. It must be nice to be able to turn down such a consistent revenue stream.
Finally, I'm a little disappointed that my team, the Cleveland Browns, aren't affected by this since they charter with United. I mean, I'm not sure anyone would notice if the Browns simply failed to show up to their road games since the outcome would be about the same.
What do you make of American's decision to stop flying six NFL teams?