United Airlines and Southwest Airlines compete fiercely in Denver. Both airlines have a hub there, and Southwest has been growing market share in Colorado in recent years. The two airlines have been advertising heavily in the market. The ads are pretty consistently shady toward the other airline, and here's the latest example of that.
United emphasizes that it's Denver's most flown airline
United's newest Denver specific ad is out, and will appear across United's social media channels, as well as at Denver International Airport. The ad is pretty simple — it highlights that United is Denver's most flown airline, and you won't need a magnifying glass to read the fine print related to that.
One version of the ad simply states that United is "Denver's Most-Flown Airline," and then adds the following disclaimer in big font:
This is our legal disclaimer. Yes, we know it's ginormous, but we aren't trying to hide anything in the fine print. Based on U.S. DOT O&D Summary reports and ASQP reporting for 2022, United has carried more passengers into and out of Denver, with more on-time arrivals, than any other airline.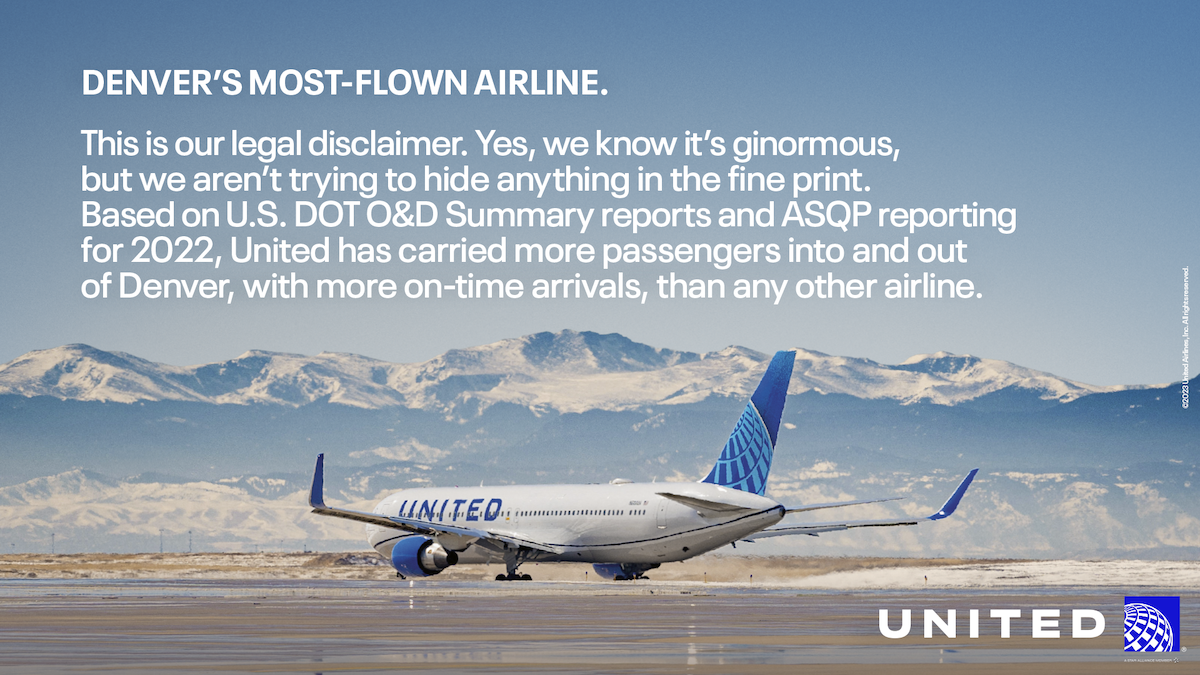 Without context, this ad is probably a bit confusing. What's United's motive for an ad like this? Well…
Southwest recently made a similar claim
Over the past few months, Southwest has been running an ad campaign in Denver, highlighting that it's "the most-flown airline in Denver." The ad contains the following fine print, written in small font:
Based on U.S. DOT Summary Reports, for each year from 2011 through 2021, in total for such year, Southwest has carried more Passengers into/out of Denver than any other airline.
Indeed, for the period from 2010 until 2021, Southwest did carry more "local" passengers to and from Denver. This refers to those either originating in Denver or terminating their travels there. Meanwhile during that period, United carried the most total number of passengers, including connecting passengers.
In 2022, United carried not only the most total number of passengers through Denver Airport, but also the highest number of passengers originating or terminating there.
Admittedly that can probably largely be attributed to Southwest's meltdown in Denver in December 2022, whereby the airline canceled a large percentage of its flights. In 2023, Southwest may once again be back to carrying more local passengers to & from Denver… only time will tell.
But in the meantime, you can't blame United for fact checking Southwest, as the airline uses outdated and incomplete data for making its claim.
Bottom line
United Airlines' newest Denver ad asserts that the airline is the biggest carrier in Denver, after Southwest made a similar claim in an ad recently. For most of the past decade, Southwest has carried more "local" passengers to and from Denver, while United has carried more total passengers (including those connecting). Meanwhile in 2022, United also overtook Southwest when it comes to local traffic, and the airline is now trying to highlight that.
What do you make of United's new Denver ad?