United Airlines has today debuted new amenity kits, which will be available on select domestic flights. These replace the amenity kits that were designed in collaboration with Away, which were previously available on some flights.
United's new transcon & Hawaii amenity kits
As of August 2023, United is rolling out two new amenity kits, available on premium domestic flights. This is the first time that United is collaborating with different brands for route-specific amenity kits, as the airline is trying to customize the passenger experience.
The first new product is known as the United x Asutra amenity kit, and it's available in business class on premium transcontinental flights between Newark (EWR) and the West Coast:
Asutra is co-owned by Venus Williams, and offers cruelty-free skincare made without any parabens, phthalates, or petroleum; the company is also headquartered in Chicago, much like United
The kit includes an Asutra cleansing face towelette, nourishing lip balm and hand lotion made with magnesium, bamboo toothbrush, toothpaste, eye mask, and ear plugs, all held in a reusable, Asutra-branded pouch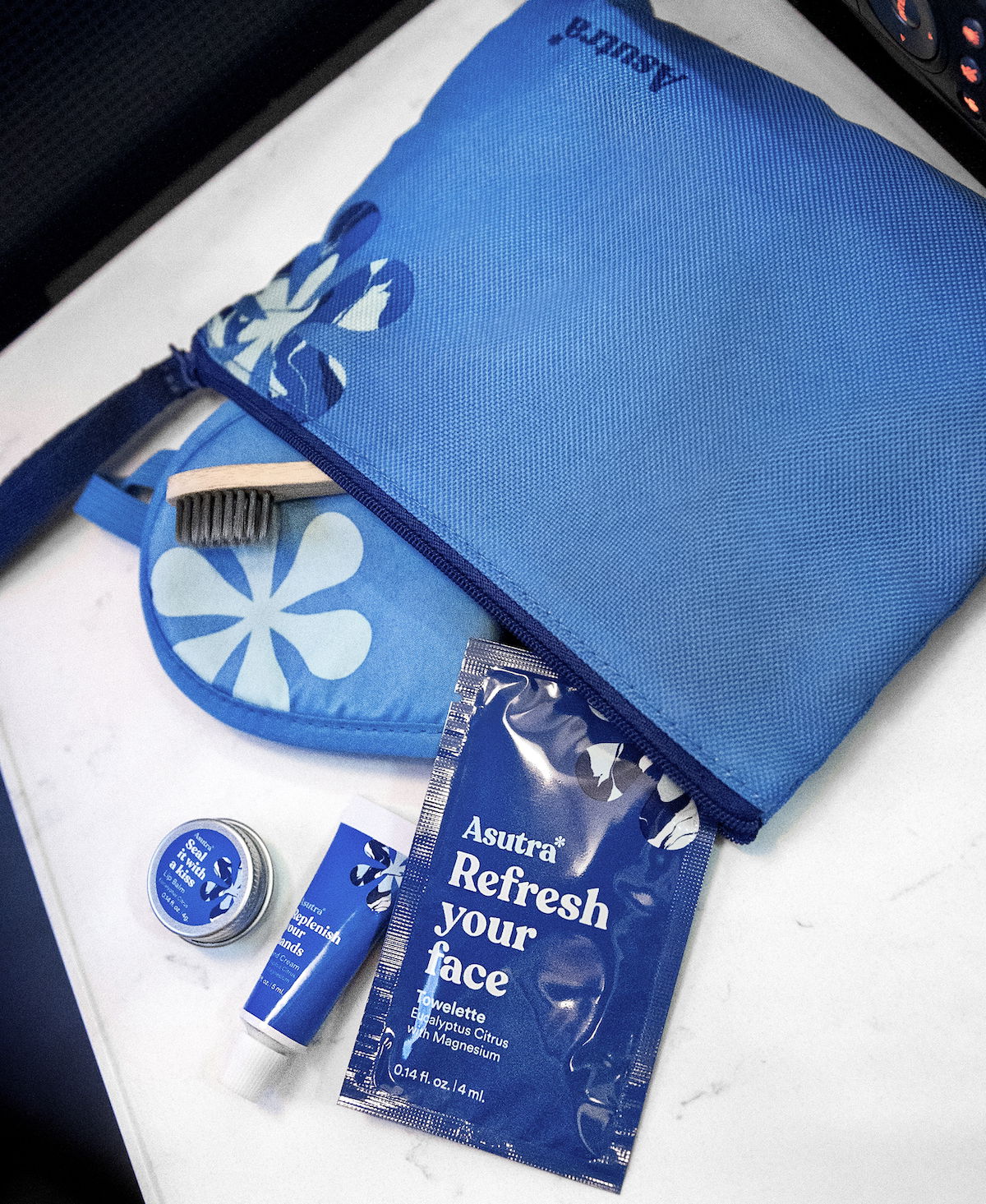 The second new product is known as the United x Ua Body amenity kit, and it's available in first class on flights between the mainland and Hawaii (this debuts in late August 2023):
Ua Body is owned, operated, and made in Hawaii, and features local scents and ingredients
The kit includes a Ua Body lip balm, hand cream and refreshing face mist, plus a bamboo toothbrush, toothpaste, eye mask, and ear plugs, all held in a reusable pouch featuring artwork from Hawaii-based artist Christie Shinn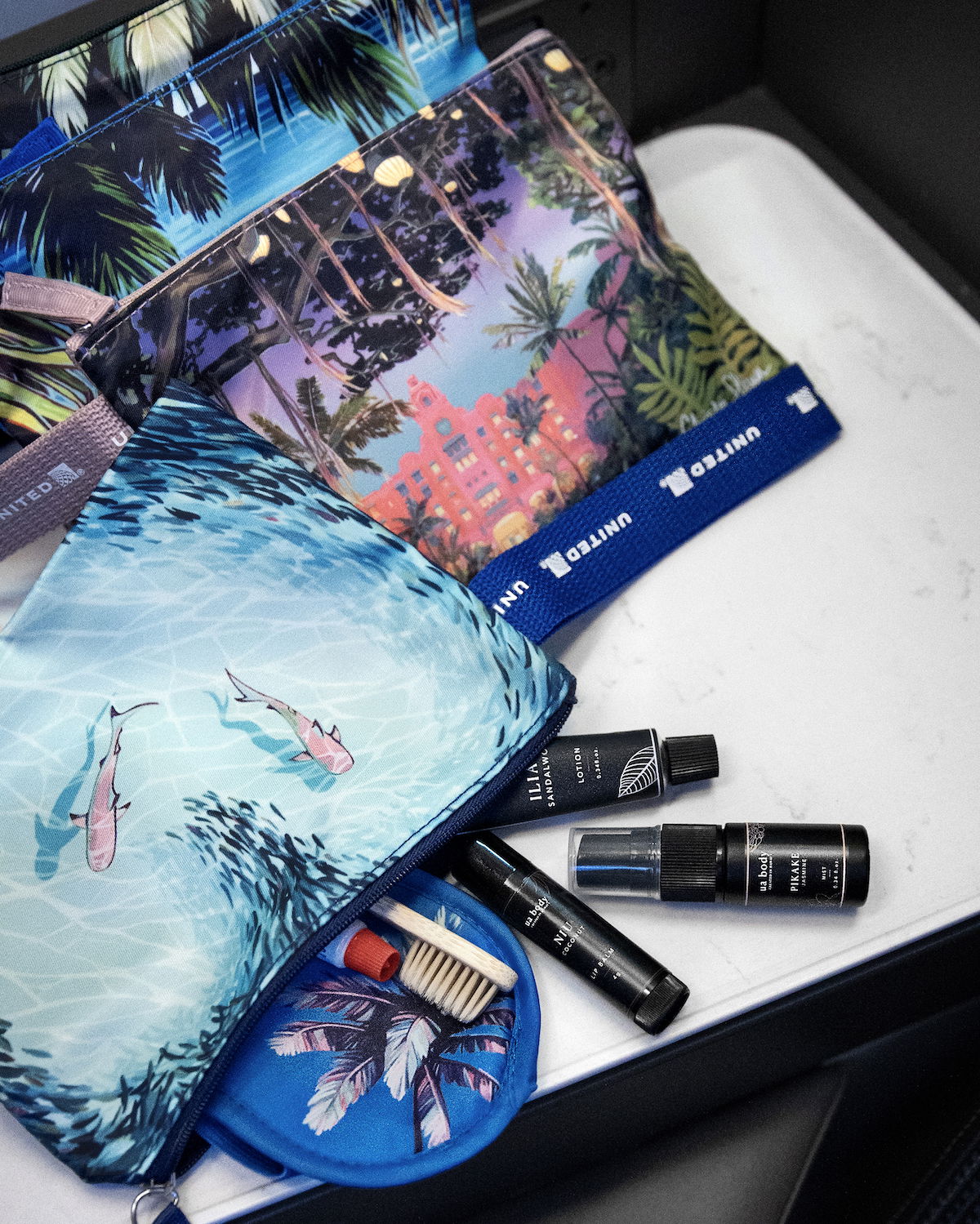 United distributes these kits to roughly 65,000 passengers per month, so quite a few people will be seeing these kits. United is also expected to debut new international amenity kits in the near future, replacing the current Away amenity kits.
My take on United's new domestic amenity kits
Let me start by saying that I haven't seen these kits yet "in the flesh," so all I can go off of is what United is sharing. With that in mind, a few thoughts for now:
Airlines constantly change their collaborations with brands on amenity kits; that's because airlines get the products for next to nothing, as it's a win-win — airlines can offer something premium to their customers while paying very little, while brands get access to an affluent and desirable customer base
Among the "big three" US carriers, United deserves credit for probably putting the most effort into its amenity kits; for that matter, United is unique in offering amenity kits on all flights between the continental United States and Hawaii, even from the West Coast
From a business perspective, I'm a bit surprised by the increased collaboration with smaller brands; I can appreciate they probably want to get their name out there, but I have to imagine more people are likely to make a purchase based on an amenity kit if it's a brand they've previously heard of
As much as I appreciate when airlines put effort into their soft product, I can't help but find amenity kits to be a bit wasteful, especially on non-long haul flights
Bottom line
United Airlines has debuted new amenity kits for domestic flights. This includes one type of kit for premium transcontinental flights, and another type of kit for Hawaii flights. The kits look pretty nice, though I'm curious to hear what OMAAT readers think, especially those who have firsthand experience with them.
What do you make of United's new domestic amenity kits?