United Airlines has today announced what it's calling "the largest overhaul since 2016 of United Polaris." I wouldn't say that these changes are all that substantial, so perhaps it reflects how little has changed about United's international business class product (well, other than the reduction in food quality). Let's go over the details of what's changing.
United Polaris gets Therabody amenities
United Airlines is partnering with Therabody to introduce a variety of wellness products across the travel experience, including onboard United Polaris flights and in United Polaris Lounges.
For now, United is partnering with Therabody on its new Polaris amenity kits, which include TheraFace skincare products that are intended to help passengers refresh (United also recently introduced new domestic amenity kits). The new amenity kit is in a reusable belt bag made with recycled plastic, and includes:
TheraFace eye serum, with niacinamide, caffeine, hyaluronic acid, Vitamin B5, and allantoin; United is the only US airline to offer eye serum in its amenity kit
TheraFace face spray, with hyaluronic acid, Vitamin B5, calendula flower extract, aloe leaf juice, and glycerin
TheraFace cleansing towelette, with ingredients like Vitamin B5 and E, calendula flower extract, aloe leaf juice, and glycerin
TheraFace hand cream, with ingredients like niacinamide, shea butter, hyaluronic acid, sweet almond oil, and Vitamin B5
The kit also includes a bamboo toothbrush, toothpaste, eye mask, ear plugs, socks, and a pen
United is also promoting how customers will have access to free Therabody wellness videos onboard flights, intended to help passengers incorporate simple wellness practices into their trip, like movement, breath work, and guided meditation.
On top of that, United will be opening Therabody Reset Suites at Polaris Lounges. The first will open at Newark (EWR) and San Francisco (SFO) as of late October 2023, followed by Chicago (ORD), Houston (IAH), Los Angeles (LAX), and Washington (IAD).
Each lounge will offer at least one semi-private room outfitted with Therabody wellness technology, including one Theraobody Lounger, which combines sound and vibration therapy for full body relaxation. There will also be Theragun and RecoveryAir JetBoots to support circulation, lymphatic drainage, and muscle recovery.
TheraFace skin and body care products will also be available in the bathrooms and shower suites of United Polaris Lounges.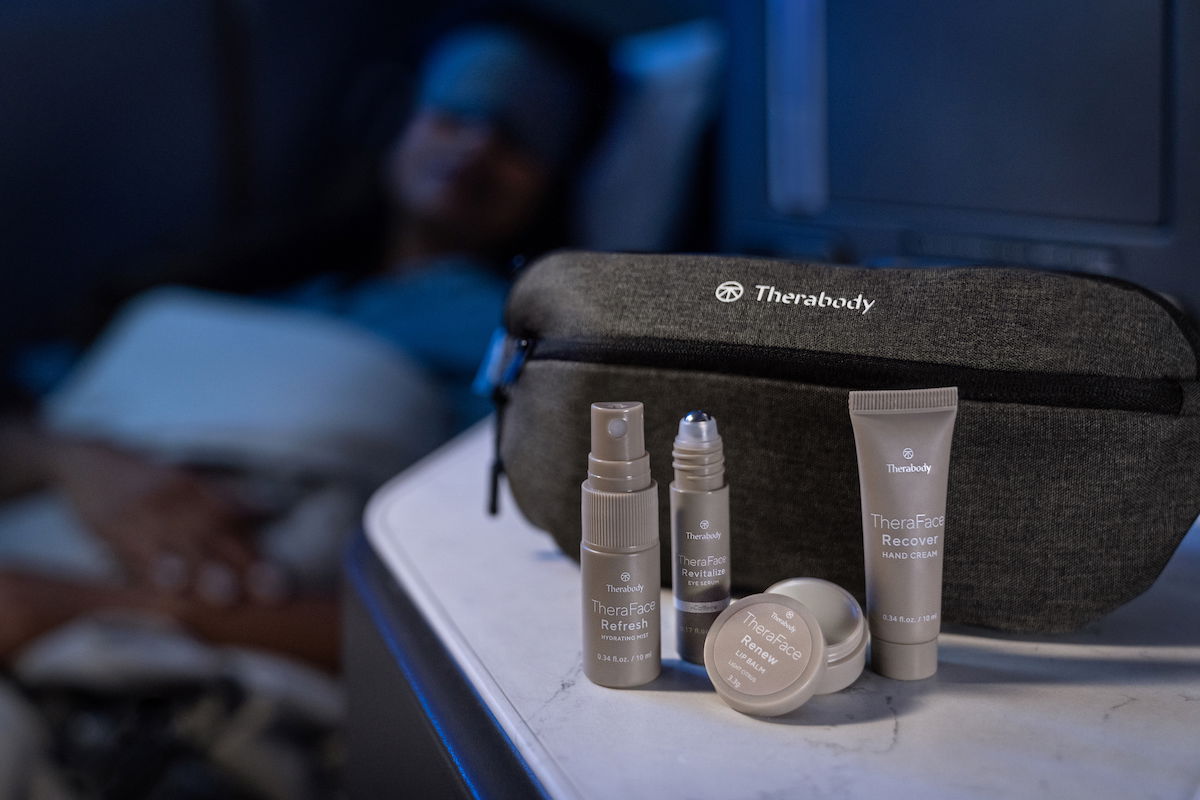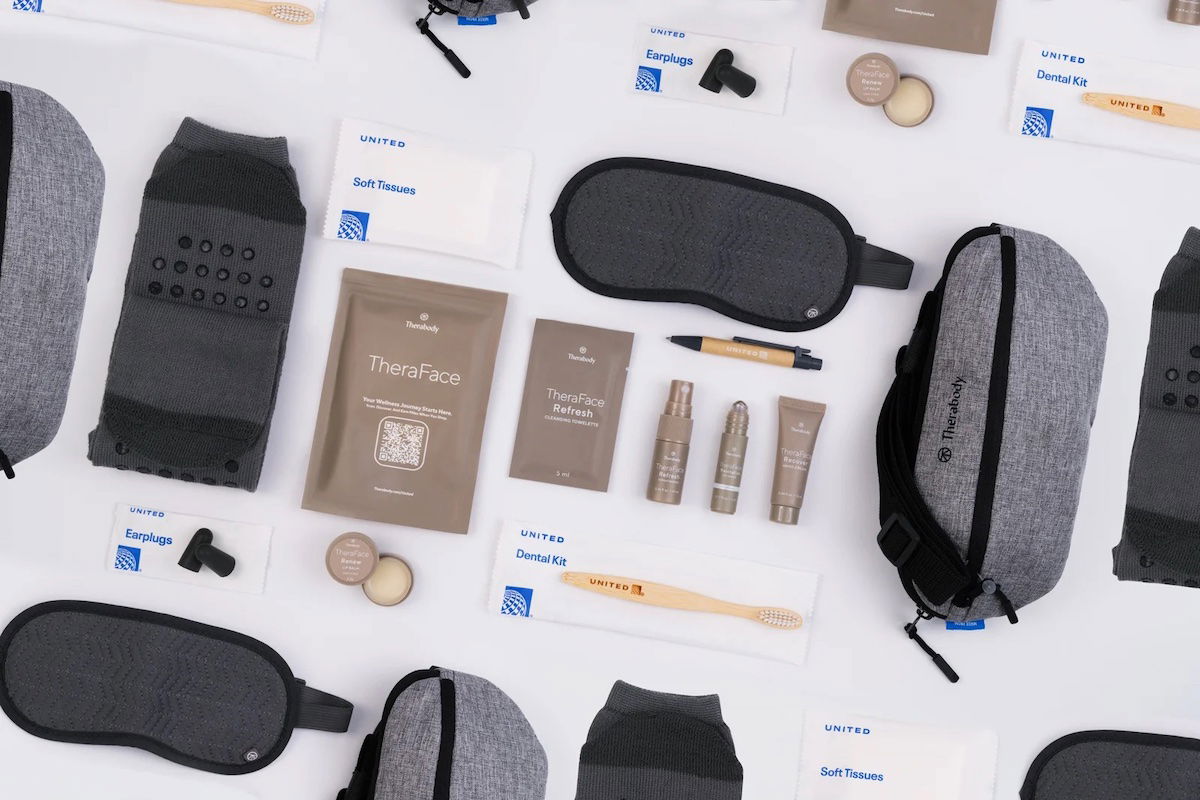 United Polaris gets refreshed Saks amenities
A major part of the Polaris soft product since launch has been Saks bedding, which has been very popular with passengers. United will be refreshing this going forward, with some very minor changes. As before, United will offer a duvet, a day blanket, a large pillow, and an extra cooling gel pillow, to each passenger.
So, what's changing? United will be updating the day blanket, and it will feature a pattern by fashion designer Claude Kameni, made from 100% recycled plastic. This new blanket will be available in early 2024, and the designer has a cool story:
Kameni is a self-taught, Cameroon-native designer who won a competition to design the new United Airlines x Saks Fifth Avenue day blanket, as part of Saks' designer accelerator program, The New Wave. The design reflects Claude's sharp eye for patterns and colors and Saks' fashion-forward point of view, in addition to the modern United brand experience.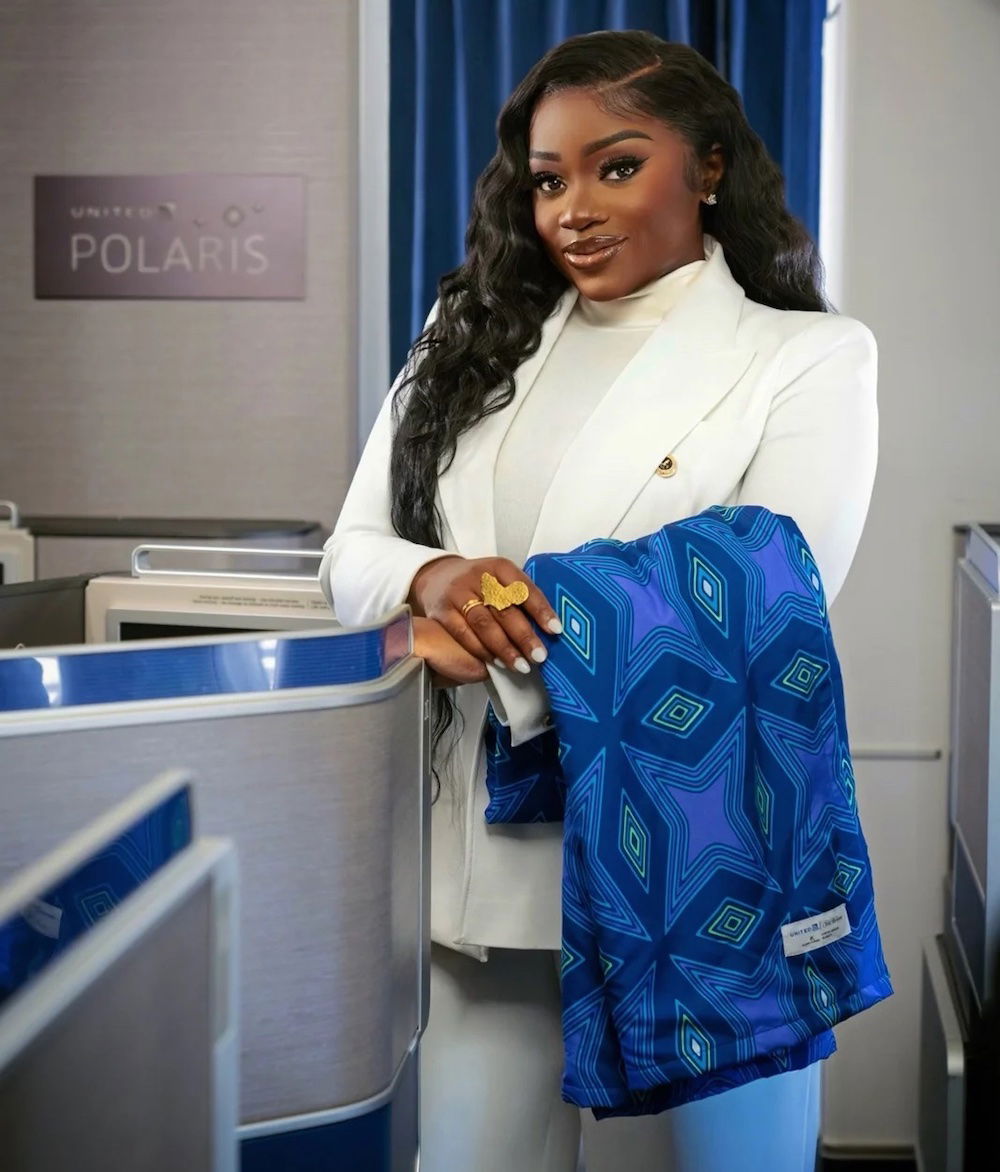 Bottom line
United Airlines is making some minor changes to United Polaris, including introducing new Therabody amenity kits, along with adding some Therabody amenities in Polaris Lounges. On top of that, United is updating the Saks day blankets in Polaris, with a cool new design.
I suppose this is nice and all, but calling this "the largest overhaul since 2016 of United Polaris" seems like a bit of a stretch… or perhaps reflects how few positive changes there have been since the product was introduced?
What do you make of United's new Therabody and Saks amenities?